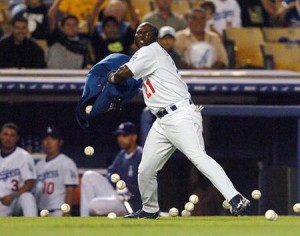 It's always something with the Cubs.  It took them thirty years to find a third baseman to replace Ron Santo.  It's been longer than that now since Billy Williams left left field and they still haven't found anybody to stand out there for more than a couple of years at a time.  So the revolving door in right field to fill the muscular, pimple-backed void left by Sammy Sosa should be no surprise.
The Cubs dumped Sosa on the Orioles in time for the 2005 season and since then they've thrown good money after bad right fielders like Jeromy Burntiz, Jock Jones, Cliff Floyd, Kosuke Fukudome and now…well, I'm not even going to finish the sentence.  I'm afraid the guy will chase me up to the press box.
The Cubs agreed to terms today with talented but irrational and oft-injured outfielder Milton Bradley.  He's going to make at least $30 million to supposedly play right field for the Cubs for the next three years.
There's a lot to like about Milton.  There's a lot not to like about him, too.
First off, how can you not like a guy named Milton Bradley?  It proves his parents have a sense of humor, a shitload of board games or both.  The Cubs are just a set of Parker Brothers to man left and center away from a kickass outfield.
Secondly, Milton has always been able to hit a baseball.  He's a switch hitter with good power, an impressive ability to get on base and hit for a high average.  There is no doubting his talent.
Third, for a team with a volcanic manager, the Cubs of recent years have been awfully passive.  Sure, Carlos Zambrano occasionally pulls his hat down over his head far enough to make him resemble a 270 pound Jughead while he screams profanities in Spanish, but the rest of the Cubs are a pretty placid bunch.  Carlos will have a kindred spirit in Bradley.  His teammates in recent stops in San Diego, Oakland and Texas all claim that Milton is for the most part a pretty nice guy.  Funny, easy to talk to, charming, even.  But when he snaps, look out.
Simps will immediately worry that he and Lou Piniella will clash.  I doubt it.  I have a feeling they'll get a long just fine.  Lou certainly knows the value of taking a bad at bat out on the water cooler once and a while.  Lou treats his players like men, and Milton will like that.  The guys Lou tends to dislike are the ones with a handy ability to blame somebody else for everything.  (I'm not going to name names, but his initials are Jock Jones.)
Bradley's only 30.  Two years younger and a lot more athletic than righthanded hitting Pat Burrell who signed with the AL Champion Tampa Bay Rays today for one less year and two million less per season.  Betting on a good hitter continuing to be good during his 30, 31 and 32 year old seasons is a fairly good bet.
Oh, and good news to all you dopes who are still squeezing into your old SOSA 21 jerseys.  In two his last four stops he's worn 21 (the Dodgers and Rangers).  So chip a few letters off, add a few and you're all set.  Now if you have a Marquis 21, well, you've just got problems.
OK, so what's not to like about Milton?
He lost his first job in the big leagues because he was such a raving asshole that Indians manager Eric Wedge went to GM Mark Shapiro and said, "Just get rid of him."  Milton was 25 and coming off a season in which he hit .321 with a .421 on base average and .922 OPS.  Who did the Indians get in their haul for Milton?  Franklin Gutierrez (the black kid from Peanuts) and Andrew Brown (Charlie's younger brother).
Milton was a good player for the Dodgers, but he lost his mind fairly frequently.  Two incidents stick out, both from 2004.  Let's let our friends at Dodger Blues tell the stories.
Incident #1 Milton Bradley goes apeshit, tossing balls — June 3, 2004

Milton Bradley joined the Dodgers just before the '04 season with a reputation for rage. It wasn't until a couple months into the season, though, that Los Angeles got to witness the rage firsthand. With the Dodgers down 1-0 in the 6th inning, Bradley came to bat…. well, he came to the plate at least. After a just couple words with the home plate umpire, Bradley was ejected. After being restrained by Jim Tracy (who has no business trying to restrain a guy of Bradley's intensity), Milton took off his batting gloves and helmet, calmly leaving them in the batters box along with his bat. Ah, the calm before the storm. The calm before the hurricane. The calm before all hell broke loose.

After making his deposit near home plate, Bradley walked back to the dugout en route to the clubhouse. Ah, but not so fast. Combine inner rage with a full bag of baseballs and you get one thing: fun at the ballpark. The Dodgers failed to entertain the fans that Tuesday evening, but Milton Bradley succeeded. And all it took was about six dozen balls on the field, courtesy of Milton. Lest the fans in the left field corner not enjoy the fun, Bradley picked up one of the balls and tossed it down the line. A spectacular sight. You've gotta love it when a grown man has a fit in front of 30,000 people. Pure entertainment.
Incident # 2 Milton Bradley goes apeshit, tossing a ball — September 28, 2004
A couple months removed from his ball-tossing tirade, Milton Bradley was ready to blow again. After a fan tossed a plastic bottle at Bradley in the eighth inning, all hell broke loose.
The fan threw the bottle onto the field one play after Bradley dropped pinch-hitter Mark Sweeney's liner with the bases loaded, allowing two runs to score and giving the Rockies a 3-0 lead.

Bradley picked up the bottle, left his position and angrily approached the stands, yelling like a crazy person. He then slammed the bottle into the stands. Several Dodgers players came out to right field and tried to calm down Bradley, who was arguing with umpire Jim Joyce and was soon ejected. As Bradley walked from right field to the Dodgers' dugout, he ripped his jersey and hat off. With the crowd behind the dugout booing, Bradley gestured with palms up, urging the fans on. Coach Jim Riggleman eventually pulled Bradley into the dugout.


Bradley was suspended for the final five games of the season—in the midst of a pennant race.
OK.  That was four years ago.  Surely, the guy has grown up.  Who wasn't a little nutty at 25 or 26?  There's haven't been more incidents, have there?
Incident #3 Milton Bradley goes apeshit after ump calls him a piece of one — September 24, 2007
Three years to the day (obviously, September 24 is officially Milton Bradley Day) Milton had his most absurd incident ever.  An incident in which he was ejected from a game after a confrontation with umpire Mike Winters that escalated when (both Bradley and Padres first base coach Bobby Meacham insist) Winters called Bradley, "a fucking piece of shit."
Bradley was so enraged that he charged after Winters and while being held back (then tackled) by manager Bud Black, Bradley tore his ACL and was done for the season.  It's why he was a DH last year for the Rangers because the knee hadn't fully healed in time for the start of the year.
According to the San Diego Union Times,
Meacham said when Winters told the other members of the crew what had happened, "he lied."

"Milton held his cool until something was said by Winters that would have had me sprinting at the umpires," said Meacham. "Me, Milton and Todd Helton (the Rockies' first baseman) are the only three people who know what was said."

Helton took the baseball equivalent of the Fifth Amendment, saying, "It was very interesting."
Incident #4 — Milton Bradley goes apeshit after Ryan Lefvebre wonders why he can't be more like Josh Hamilton
Last year's incident was relatively tame compared to having an ump call him a piece of shit and being tackled by his own manager, but honestly just like incident three, I side with Milton on this one, too.
Let's let our buddy Kevin Kaduk of Yahoo! Sports set the scene.
As some readers of this blog might know, I lived in Kansas City for three years. Not coincidentally, that's also the same amount of time I spent wondering how Royals announcer Ryan Lefebvre had (and kept) a broadcasting job with a Major League Baseball team…

…

As you read in this morning's Juice, Lefebvre ignited a controversy when he criticized the Rangers'  Milton Bradley on-air for not being more like teammate and everyone's saint-du-jour Josh Hamilton. Bradley heard the exchange on the clubhouse television and stormed up to the press box, looking for Lefebvre. Bradley was restrained by his manager and GM and never found Lefebvre, but the damage  was done. He returned to the locker room and broke down in front of his teammates.

"I'm tired of people breaking me down," Bradley told reporters. "All I want to do is play baseball, that's it. Raise my family, raise my sons, so they've got a better life than me. I'm strong but I'm not that strong, you know? It wears on me."
Here's a transcript of what Lefebvre said:
"Here's a guy, with all the troubles he's had, he's showed that if you work at it, you can get your life back in order. And that would be a pretty good role model for Milton Bradley, who clearly has no control over himself, because it's the same thing year after year …

This game, this country, really, if you follow baseball, has really embraced Josh Hamilton and I think they've wanted to do the same for Milton Bradley, but Milton Bradley has refused to allow himself to be put in that position.
Well, sure.  Who wouldn't want to be just like Josh Hamilton.  There's nothing better than basically stealing millions of dollars from the Tampa Bay Rays while you do heroin and smoke crack.  That's the kind of upstanding individual that a guy like Milton ought to be.  Shame on you Milton.  You should do some crack!  Ryan Lefebvre says so!
So you can hardly blame Milton, right?  Well, maybe more than hardly.  Winters seems to have snapped first in his argument with Milton, and the knee injury was a freak thing.  And if Ryan Lefebvre is anything close to being as big of a prick as his dad Jim is, who hasn't tried to crash the press box to get him?
Ideally you'd probably like to pay your $10 million to a guy who's a little cooler under pressure (even if Bradley did go 9-18 with two homers in his lone LCS appearance).  But the big red flag on Milton isn't necessarily his temper.  It's his injury history, and failure to play in many games.
Only once in his career has he played in more than 140 games, and only twice more than 125.  He can play when he plays, but too much of the time he's not playing.
Huh?
It kind of reminds you of an outfielder the Cubs traded for in 2000, Rondell White.  Rondell was a good all around player, but the turf in Montreal had taken an early toll on him.  But even he'd played in 130 games three times.  He played really well for the suprising 2001 Cubs, hitting 17 homers and driving in 50 runs, in only 95 games.  But that's the point, it was only 95 games.  He hit .307 with a .371 on base and .529 slugging, but he was only healthy for 323 at bats.  No wonder they called him Ron-DL White.  Of course they could have called him Ron-GIDP too.  He hit into 14 of them that year.  A regular D-Lee type pace.
IF Rondell had been healthy…
Sigh.  Let's hope we're not wondering what would have happened IF Milton had stayed healthy.
So really, that's my only problem with it.  It's another case in the long line of Jim Hendry hitching his star to a guy who's available because of injury.  Usually they're pitchers.  But he's branching out.