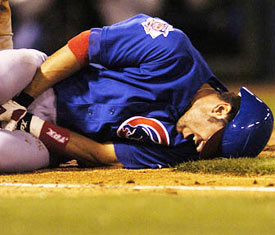 It's Groundhog Day, and fittingly the Cubs are clearing space on their roster, and it might just mean we get to relive one of the most disappointing chapters of a recent Cubs history so chock full of them that it boggles the mind.
On Monday the Cubs traded overthinking lefty Rich Hill to (his doom in) Baltimore, and then turned around and traded the homely Mike Wuertz to Oakland (where he'll look great in white shoes).
They acquired a player to be named later for Hill, which begs the question, what are we supposed to call the guy while they get around to naming him, and two minor league duds for Wuertz.  It opens just one spot on the 40 man roster because something named Richie Robnett had to go on the 40 man, and the timing suggests that Jim Hendry is about to bring somebody in to round out the roster before pitchers and catchers start trickling in next week.
Next week?  Oh, thank god.  I thought this winter would never end.  Oh, well who's it going to be?  Who's coming in to compete for the last spot on the roster?
The Cubs have talked to Nomar Garciaparra about a return to Wrigley Field.  The popular, once-talented, made of papier mache Nomar would presumably take the last bench spot, which, if he could ever actually get on the field would be a nice fit.
Consider the Cubs are going to carry 12 pitchers which means they have 13 spots for position players.
They're keeping two catchers, Geovany Soto and either Gabor (oh, fuck why?) or Koyie Dolan Hill.  They'll carry five outfielders, which figure to be Milton Bradley, Alfonso Soriano, Reed Johnson, Kosuke, and Joey (oh, fuck why?) Gathright.  That leaves six spots for infielders, which would be Derrek Lee, E-ramis, Ryan Theriot, Mike Fontenot, Aaron Miles and…
Nomar?  We know he can play first base and third base.  He can probably still stand out at shortstop for an inning or two late in the game and wave as the ball rolls past into left field (you know, just like Theriot does) and he could do the same thing at second.
Other candidates for this position are less than appealling.  Micah Hoffpauir can play first and…, yeah.  I'm sure Maude thinks the Cubs should put Bobby Scales on the 40-man roster and let him flail around to open the season.
Even with the Cubs opening a 40 man roster spot, it fills one each in Baltimore and Oakland, which means there are only 19 spots left for the more than 140 free agents still on the market.  Granted, most of the time when a team signs a free agent they waive a player, but still, it puts into perspective the kind of uphill battle guys like Nomar and douches like Kevin Millar or Rich Aurilia, have trying to find a job.  Even if you accept a minor league invite, to make the team you have to bump somebody off a 40 man roster.
Now why would the Cubs want to bring back Nomar?  He didn't exactly set the world on fire in his first go-round, though he certainly set his crotch on fire when he left his groin in a heap in the Busch Stadium batter's box.  He's 35, he hasn't had a good year since 2006 and it probably means we'll have to sit through another Mia Hamm Day.
Honestly, I don't even know if it's a good idea.  Except that I have a Nomar 5 Cubs t-shirt that I'd like to get a little more wear out of, and I do enjoy screaming No-marrrrrrr at odd times.
Basically, the Cubs roster is already set.  We're just sitting around until the beginning of April waiting to see if a Jake Peavy trade happens, or otherwise we're going to be left wondering if Angel Guzman, Kevin Hart or Jose Ascanio can win the final spot on the pitching spot.  Feel the excitement.
What the hell.  Bring Nomar back, and we can start a pool as whether his season ending injury happens before or after the first 70 degree day in Chicago.
Bruce Miles just told me he guesses it would be Rich Aurilia, but how much fun is it to yell Au-reee-lee-yah!  Not that much fun.  I'm sticking with Nomar.