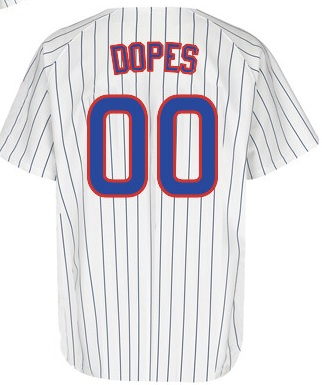 The Cubs are so old they actually predate the time when every player wore a number.  No Cub wore a number on his jersey until 1932, nearly a quarter century after the Cubs last won a World Series.  Oh great, another thing to add to the list of things invented after the last World Championship (radio, TV, fire, the wheel, numbers on jerseys, herpes…)
You know what would be cool?  It would be cool if somebody would write a book about all of the Cubs who wore different numbers.  I'd pay at least $15 for that.
No, wait.  That's a horseshit idea.  Can you imagine anything more boring?  (Actually if you can, then George Castle has probably written a book about it.)
Just to prove how pointless the whole thing would be, let's take a look at some of the great Cubs of the recent past to wear certain numbers.  (You are so excited now you can hardly believe it, I can tell.)
Since I'm not a thousand years old, I'm only going back to the '80s with these guys.  I know, you were hoping for a couple hundred words on Carmen Fanzone.  I have a feeling somebody can hook you up.
Just for the record, these aren't the best players ever to wear these numbers.  Some of them are, most of them aren't.  Most of them are just guys I want to rip on.
1. Larry Bowa — It's always confused me that players regarded Larry as such a hardass manager and coach.  He's 5'2 the the most.  Just because his face is bigger than when he was a permed freak playing shortstop (poorly) for the Cubs of the early '80s.  Remember when in 1984 he inexplicably started wearing glasses?  Harry Caray saw them and said, "Wow, look at those things, I'll bet the baseball looks like a beachball to him now!"  When Harry's busting you on your glasses, they're too damn big.  And apparently he couldn't hit a beachball either.  (.234 in 1984)
2. Vance Law — He narrowly beats out Rick Wilkins here.  Talk about two guys having one fluke year in their career.  Vance was best known for two things before 1988, he was Vernon Law's squeaky clean Mormon son, and his twin brother Rudy and he were key parts of the White Sox for a few years.  In the first half of 1988, Vance hit .303 and impressed NL manager Whitey Herzog by grounding into 13 double plays and he inexplicably made the All-Star team.  He didn't even really drop off that much in the second half (though he only hit into two more double plays).  By 1989 he wasn't good enough to keep Luis Salazar off the field.
3. Wendell Kim — Kim was the third base coach for the Cubs in 2003 and 2004, and is best remembered for killing more rallies than Damian Miller.  Wendell loved to send runners home, regardless of where the ball actually was on the field.  He'd have made a top notch little league third base coach.  He actually ended Tony Womack's season in 2003 in a game in Arizona when he sent him home, Tony was out by a good 30 feet and hurt his elbow in the collison.  Ahh, it's only Tony Womack, who cares?  Kim is apparently a black belt in Karate or Jujitsu or Jumanji or something.  Yeah, well so are about 12,000 12 year olds.  You know, kids taller than he is.
4. Don Zimmer — What was there not to love about Don Zimmer?  He was the third base coach on the 1984 team and the manager of the 1989 team.  In other words, since World War II no Cubs team had done shit without Don Zimmer in the dugout.  (Of course he played for the Cubs in the '60s and that didn't work out so well.)  Zimmer has a plate in his head from being beaned in the noggin during his Brooklyn Dodgers days.  Not only can't he get through an airport security check, but it led to what had to be a great scene in 1990.  Mitch Williams was pitching for the Cubs in Pissburgh when he was hit in the head by a line drive.  As the trainer ran out onto the field, Don threw up in the dugout.  It was pretty much the same reaction he had when Greg Maddux tipped his pitch by saying "fastball in" during a mound visit one pitch before Will Clark hit the NLCS Game One grand slam.
5. Ronny Cedeno — Dumbest.  Player.  Ever.
6. Keith Moreland — Went from backup catcher to right fielder when Mel Hall was traded to Cleveland in June of 1984 for some hack named Rick Sutcliffe.  He never really hit that well, and he couldn't play defense for shit, but we loved him anyway.  He actually had a really good year in 1985 hitting .307 driving in more than 100 runs, posting a .374 OBA and stealing 12 bases.  What got into him?  When Andre Dawson arrived in 1987, Moreland moved to third.  He hit 27 homers, and he made 28 errors.  You can't make that up.
7. Jody Davis — If you are of a certain age (like in your mid 30s right now) you were at an age when Jody Davis was catching for the Cubs that you thought he was really good.  He wasn't.  He wasn't really bad, by any means, and given the Cubs catchers who had come before him and after him, he was a dramatic improvement.  He had a nice run from 1983 to 1986 where he made two All-Star teams and won a Gold Glove.  Nobody's really sure why he won the Gold Glove, apparently Tony Pena died that year.  I liked Jody because he hit a fair amount of homers for the '80s, Harry Caray used to sing about him and well, that's about it.  I fondly remember a fourth of July doubleheader in 1983 against Montreal when a Cubs sweep would have tied them for first place and Jody came up with a chance to win game one…the crowd stood and cheered "Jo-dee, Jo-dee, Jo-dee" and he struck out.  Then in game two, he had another chance, "Jo-dee, Jo-dee, Jo-dee" another whiff.  And we booed his ass off the field.  Good times.
8. Andre Dawson — Andre Dawson was the balls.  I hope Michael Barrett got a rash from wearing 8 that he can never get rid of.
9. Parade of shitty catchers — When Randy Hundley left the Cubs in 1973 (the first time…he came back) he had proudly worn 9 for a number of very productive years.  No catcher to follow would ever be able to say the same.  Whether it was Steve Swisher, Tim Blackwell, Damon Berryhill, Matt Walbeck, Scott Servais, Benito Santiago, Randy's bastard son Todd, Gabor Bako or Hank White.  Swisher and Berryhill had their moments, but Hank had to switch numbers halfway through the 2005 season just to salvage his career.
10. Leon Durham — You could have gone a lot of ways here.  The post-Ron Santo playing, pre-number retirement parade of 10s had a lot of starts.  Just think Bruce Kimm…  But we go with Leon Durham, half of the Cubs haul for their terrible trade of Bruce Sutter to the Cardinals.  Durham, despite his enormous thighs played all three outfield spots and only moved to first when the Cubs traded Bill Buckner to Boston in 1984 for Dennis Eckersley.  Durham was a good player, and a slick fielder.  Did you know that in '84 he only made seven errors all season.  Yes, I'd like to kill myself now, too.
11. Ron Cey — Look, I know Ryne Sandberg is in the Hall of Fame and is arguably the best all-around second baseman in baseball history, but did it really make sense for the Cubs to move a perfectly good third baseman to second just to open a spot for the 35 year old Cey in 1983?  Wouldn't they have been better off to let Sandberg play the spot they hadn't filled since Santo left (and wouldn't fill until 20 years later) and find a second baseman?  Hell, passable second basemen grow on trees, don't they?  Cey had two good years for the Cubs, he was pretty good in 1983 and though he only hit .240 in 1984 he did hit 25 homers and drove in 97 runs.  But I stil shudder at the thought of a left side of the infield of Larry Bowa and Ron Cey.  They had less range than the cast of "Dude, Where's My Car?"
12. Shawon Dunston — As a kid, Shawon was my favorite player on any team, any place.  And yes, even at the time I knew that was just dumb.  Supremely talented, Shawon's complete lack of plate discipline doomed him to settling for a slightly above average big league career.  But give him credit, nobody played harder (or threw harder for that matter).  He made two All-Star teams, and if Dusty Baker wasn't such a dumbass his homer in game six of the 2002 World Series should have been the blow that won it for the Giants.
13. Turk Wendell — It was tempting to go with the great Neifi Perez here, but Turk deserves some attention.  Acquired from the Braves with the great Yorkis Perez for Damon Berryhill and Mike Bielecki, Wendell is better remembered for all the crazy shit he did than for his pitching.  He jumped over the foul line coming on and off the field, he wouldn't start an inning until the centerfielder returned his wave, he wore the jawbone (teeth included) of some creature on a necklace as he pitched, he chewed black licorice and brushed his teeth between innings.  He was a complete mental case, and it drove Jim Riggleman nuts.  And for that, Turk should be congratulated.  Riggleman deserved to have somebody fucking with him.
14. Retired for Ernie Banks — I'm pretty sure Ernie's first wife got the number in the divorce, too.
15. Domingo Ramos — One of a horde of otherwise faceless, nameless middle infield backups the Cubs had in the 80s and 90s.  Domingo sucked.
16. Anthony Young — AY had gone a combined 3-30 in his last two years with the Mets and was on a 10 game losing streak when the Cubs traded Jose Vizcaino (another great 16) for him before the 1994 season.  Even for the Cubs that is sad.
17. Mark Grace — Looking back on his Cubs' career, Grace was so overrated (by women mainly) that he's actually underrated now.  He suffered by the comparisons to his cross-town rival, Frank Thomas who was in the most productive stretch of his Hall of Fame career.  But Grace could always hit, just not for power.  And defensively he was great.  On any normal team he'd have batted second and thrived, on the Cubs he hit third (and sometimes fourth) because Ryne Sandberg wasn't comfy hitting anywhere but second (and people give Alfonso Soriano shit for wanting to lead off).  His records for the most hits and doubles in the NL in the '90s are crap, because that record is such a function of timing, but they do show that he was pretty damn good for a pretty damn long period of time.
18. Dwight Smith — Mitch Webster manned left field to start the 1989 season and thankfully he got hurt because Dwight Smith came up and hit .324 as a rookie, finishing second to teammate Jerome Walton in the Rookie of the Year voting.  That was as good as it ever got for either Dwight or Jerome.  Dwight's decline was a mystery because he looked like a really good hitter as a rookie.  The Cubs let him leave after the 1993 season as a free agent and he went to play for the Angels (the ones in California, he didn't die) and he ended up a valuable reserve on the Braves one World Series championship team during their long run in the 90s and 00s.
19. Brooks Kieschnick — A closer and slugger for the University of Texas, Cubs GM Ed Lynch drafted him in the first round and tried to make an outfielder out of him.  That didn't take.  The Brewers tried to use him as  a reliever and pinch hitter and that didn't work, either.  In between Tampa took him in the 1997 expansion draft and the Rockies and Reds gave him shots.  At every turn every team wondered, "Why the hell did the Cubs waste a first rounder on this guy?"
20. Corey Patterson — Speaking of first round duds, here's Corey!  One of the most frustrating players in Cubs history, Patterson was a five tool, tool.  Blazing speed, good defensive instincts, solid arm, good power (too good for his own good, maybe) and occasional ability (like for a week or so at a time) to hit for average.  The best thing he ever did was tear up his knee in July of 2003, as it probably added two years to his career.  In 2003, Patterson had excellent and April and May, but reality had hit in June and it was kicking his ass in July.  He tried to avoid a sweep tag at first, hit the bag funny, tore up his knee and his stats froze forever at .298 with 13 homers, 55 RBI and 16 steals in only 83 games.  (The Cubs either didn't notice or didn't bother to notice his 77 strikeouts.)  When he came back in 2004 he picked up like it was July.  By 2006 he was in Baltimnore where he stole 45 bases (with a whopping .317 on base average) and he's looking for a new team again after Cincinnati sent him packing this past offseason.
21. Sammy Sosa — His numbers are mind boggling, starting in about 1995.  He was a 30-30 man that year.  He had 40 homers when he broke his wrist after only 126 games in 1996.  In 1998 he hit 66 homers and drove in 158 runs.  His best season was 2001 when he hit 64 homers (the third year in four he hit 60 homers) drove in 160 and hit .328.  In 2003 his bat exploded against Tampa Bay and it was corked.  In 2004 he skipped out on the last game of the season, after a final stretch nosedive that he helped crash.  A couple years later he appeared before Congress in a steroid inquiry and forgot how to speak English.  Even before we all knew he was a fraud we expected it, as even among baseball players his selfishness had always stood out.  But for too long, we cheered him on as a hero, and enabled him.  His faults are his, but they're ours, too.  Will he ever be voted into the Hall of Fame?  Honestly, at this point, other than him, who cares?
22. Bill Buckner — Before Dunston, Bill Buckner was my man.  Maybe it was the pornstache, maybe it was those caterpillar eyebrows, or maybe it was just the fact he could flat out hit, but I loved Billy Buck.  I was pissed off the day he was traded to Boston, and in a series I otherwise couldn't care about, my heart was broken when the ball rolled through his legs in the 1986 World Series.  His feet and knees betrayed him.  The error made him infamous.  He had to put up with Tommy Lasorda's bullshit far too long.  He deserved better.
23. Pete LaCock — What, you thought Sandberg?  What's the fun in Sandberg?  He was a great player, a deserving Hall of Famer and one of the greatest Cubs of all-time.  But he's no Pete LaCock.  His dad was Peter Marshall, the host of Hollywood Squares, his real name was Ralph Pierre LaCock.  He was a first round draft pick of the Cubs in 1970 and made his big league debut at 20 years of age.  It was way too early.  He only played two full seasons for the Cubs and never hit even .230 for them.  They traded him to Kansas City for the great Jim Dwyer, though he did play in three LCS's and a World Series for the Royals.  And, he was pals with Paul Lynde.
24. Brian Dayett/Henry Blanco (tie) — If the Interwebs had existed in 1987 you'd all be wearing Brian Dayett Fan Club t-shirts.  The Cubs got him from the Yankees in a trade (with Ray Fontenot) for Porfi Altamirano, Heny Cotto, Rich Bordi and Ron Hassey.  I mean, talk about a blockbuster!  Dayette never got a chance to really play for the Cubs, which was just dumb.  He hit .277 but with a very un-Cubslike .348 on-base average and slugged .452.  Gene Michael didn't like him (though he pushed for the trade) and Gene got canned anyway.  Jerry Mumphrey played left most of that season, and played well.  Besides, he was 34 (old) but only four years older than Dayett.
Blanco was, of course, the greatest Cubs backup catcher in history.  Do not argue this with me.  You will lose, and you will leave crying.
25. Tuffy Rhodes — Some people think Tuffy Rhodes' career pretty much started and stopped on opening day 1994 when he hit three homers off of Dwight Gooden (all solo homers, of course) in a Cubs 12-8 loss (of course) to the Mets.  But that was just the beginning.  After that Tuffy…uh, he um…hey, he hit 55 homers for the Kintetsu Buffaloes of the Japanese Central League.  He tied the great Sadaharo Oh's single season record and would have broken it, but once he got to 55, Japanese pitchers would not pitch to him.  Bastards.
26. Retired for Billy Williams — Before Andre Dawson was the balls, Billy Williams was the balls.  Still is, as a matter of fact.
27. Mel Hall/Scab name redacted (tie) — If there was a predecessor to the kind of showboat and teammate Sammy Sosa was, it was Mel Hall.  You can't spell Mel without M-e.  He had the Jheri curl, gloves in his back pockets with the fingers sticking out so they could wave "good bye" to the pitcher as he rounded the bases one one of his infrequent home runs, and the ability to throw any ball from the outfield into the stands.  Mel was traded to Cleveland with Joe Carter for Rick Sutcliffe and Ron Hassey, and good riddance.  Even if the 11 year old me was upset because Mel was "cool."  Mel was just "cool" enough to get you beat.
The other guy caught for the 2003 should have been NL champions, but like in video games, I can't use his real name because he crossed the picket line in the 1994 strike.
28. Kal Daniels — Named Kalvoski after a man his dad served in the army with (couldn't he have used the guy's first name?), he is best remembered by Cubs fans for coming over to the team in 1992 after his knees were completely shot.  He was on his way home with the tying run one summer's afternoon when he simply fell down between third and home, and lay there like a beached whale until he was tagged out.  Great.  Nice job.
29. Doug Dascenzo — He's not on the list for his hitting, as this plucky little dwarf had a career batting average of a whopping .234, or for the day he bunted on Rob Dibble and Dibble fielded the ball and deliberately threw it at Doug instead of to first base.  No, he's on the list because of his three career pitching appearances for the Cubs in 199o and 1991.  In all he pitched five innings of scoreless baseball, striking out two and walking two and allowing only three hits.
30. Jeremi Gonzalez — He was a key part of the Cubs pitching rotation in 1998 until he hurt his arm.  He returned to Wrigley in 2003 and threw the pitch that busted Sammy's corked bat.  Then he got struck by lightning and died.  And I'm not making any of that up.
31. Greg Maddux/Mark Guthrie (tie) — If you've spent more than ten minutes at this site in the last 12 years you know how I feel about Greggie.  He's only the greatest pitcher I've ever seen.
As for Guthrie, he deserves to be in the Alex Gonzalez-Steve Bartman-Dusty Baker Hall of Dumbassedry for his role in the 2003 NLCS.  Remember when Sammy blew the roof off Wrigley with that ninth inning, two out, two run homer off of Ugy Urbina to bring the Cubs back from the dead.  Well, Dusty brings in a lefty, this pathetic lefty to pitch the tenth, and he promptly gives up a homer to Mike Lowell (running on one leg, swinging with one arm and rolling with one testicle).  Ugh.
32. Danny Jackson — In 1988 Danny Jackson was 23-8 for the Cincinnati Reds.  He threw hard, he had a great curve, he looked like a star.  Even though he was injured and bad in 1989 and 1990 the Cubs paid big money (for them) to bring him in starting in 1991.  He was great.  If great was 1-5 in 1991, 4-9 in 1992 and traded at midseason to the Pissburgh Pirates.
33. Lance Dickson — The Cubs drafted Dickson out of the University of Arizona on June 4, 1990.  They signed him on June 11, 1990.  He started a game for them on August 9 and lost to the Cardinals 3-1.  Not bad.  He started again on August 13 (yeah, three days rest, why not?) and lost to Houston 7-2 (not so good) he started on the 18th against Atlanta and lost 17-6, his arm hurt and he never saw a big league mound again.  Nice job, Cubs.
34. Kerry Wood — You can have the 20 strikeout game (not that it wasn't awesome) and the game seven homer (another goosebump moment), but Kerry, we'll always have game five against the Braves, when the Cubs won a game the world expected them to lose and gave Chicago its first postseason series victory in 86 years.  As Sarah would say, "Wheeeeeeeeeeeeeeeeeeeeeeeeeeeeeeeeeeee!"
35. Randall Simon — If anybody has motive to hunt down Bartman (and Gonzalez and Guthrie and Dusty) it's Simon.  His game three homer brought the Cubs back from the abyss and they won a game they never win.  His late season and post season clutchiness were going to make him a Chicago folk-hero for life.  Alas, they Cubs went into the dumper and so did Randall's folkloriness.
36. Gary Matthews Sr. — He was a shitty hitting coach and a pretty bad announcer, but for one glorious summer in 1984 the Sarge kicked the Cubs' asses right into the playoffs.  He played hard, he worked hard, he anchored the lineup and he couldn't catch a flyball with a laundry basket.  You can still him, that weirdly shaped body taking that way too big turn at first, flipping his helmet off and sliding into second just in time, then getting up, making a show of slapping the dirt off his pants and gloves, adjusting his McDonald's wristbands and walking towards Sandy Alomar to get his helmet back.  It's the little things we remember.
37. Jermaine Van Buren — Remember when the Cubs sold him to the Red Sox in 2005 and fans at a certain four letter messageboard called Jim Hendry all kinds of names and espoused how great he'd be for Boston?  He was great alright in the 13 innings he pitched for them ever and the 11.77 ERA he put up.
38. Carlos Zambrano — He's had quite a career so far.  He lost the Cubs first chance at wrapping up the 2003 NLCS when Josh Beckett outpitched him in game five in Miami.  The next year he was unbelievable roaring down the stretch trying to drag the Cubs into the playoffs by himself.  He's won two Silver Sluggers, he's pitched in four postseason series for the Cubs.  He's punched out his catcher, he's berated his second baseman on the field, he's hit Lassie Edmonds on purpose, and he threw the first Cubs no-hitter of most of our lifetimes against the Astros in Milwaukee of all places.  He's crazy and we love him for it.  So far, at least.  You stay crazy, Carlos.  We like it that way.
39. Laddie Renfroe — The dumbest name ever.
40. Rick Sutcliffe — The Cubs didn't exactly have a great track record in the trade department when they took a chance and traded for a one-time Rookie of the Year who the Dodgers had dumped on Cleveland.  All he did was go 16-1 after the trade in 1984, win game one, hit a homer in the game and throw a tantrum in the clubhouse when he was passed over to start game four.  He lost game five, and then tore his hamstring off his leg in 1985, but he was a damn good pitcher for eight years in Chicago.  Now he's kicking cancer's ass, playing drunken golf with Bill Murray and marveling over what "George Clooney is doing in Africa!"
41. Jeff Pico — If God had given him the Jeremi Gonzalez beach treatment the night of May 31, 1988, Jeff Pico would have died the happiest man in history.  That day he had thrown a nine inning shutout and beat the Reds 1-0 in his big league debut.  Six days later he lost a start 11-7.  He finished his career 13-12 and was out of baseball at 24.  But damnit, you can't take May 31, 1988 away from Jeff Pico.
42. Rich Bordi — I had no idea he was so racist until rewatching the Sandberg Game from 1984.  Pico came in after Steve Trout had made a horrible mess of things and put the Cubs down 7-1 in the second inning.  Bordi came in, got out of the second with no further damage, then cruised through the third and fourth as the Cubs started pecking away, setting the stage for Sandberg's heroics.  But I had forgotten that Bordi told the Jackie Robinson family to cram it and he brazenly wore 42 that year.  (Yeah, I know they didn't retire 42 until 2006, but I was rolling, so just go with it.)
43. Dennis Eckersley — Only the Cubs end up with this story.  Eckerlsey had been a really good young pitcher in Cleveland, then a successful starter in Boston before he came to the Cubs.  He was pretty good in 1984 and 1985 with the Cubs but he really struggled in 1986.  They started looking for someplace to dump him, and sent him to Oakland.  Where they took a look at him, made him a closer and he fashioned a Hall of Fame career.  Guh.  Only the Cubs.
44. Kyle Farnsworth — He's best remembered for throwing really hard, hanging a shitton of sliders, pile driving hapless Reds' pitcher Paul Wilson into the turf for daring to think about charging the mound, and for banging every Trixie he could get his hands on.  Not a bad career, really.
45. Terry Mulholland — The underrated star of the 1998 Cubs, Mulholland's ability to pitch every day in September (not really, though he did pitch September 2, 6 (start), 8, 9, 11, 12, 13, 16 (start), 22 (start), 27 (start) and 28.)  Holy crap.  I mean, holy crap.  Terry, we owe you a beer, or maybe a keg, or a tanker truck.
46. Lee Arthur Smith — Was he lazy?  Probably.  Was he blind?  Quite possibly.  Did his threats to quit baseball and play in the NBA if the Cubs didn't give him a raise make him sound like the dumbest person ever?  Of course.  But for six years he was the best closer the team had run out there since Bruce Sutter invented the position (I know, he kind of indirectly followed Sutter, but shit work with me here).  The Cubs traded him to Boston in 1988 because his knees were so bad they thought his career was over.  They got the great Calvin Schiraldi and Al Nipper.  Lee only pitched ten more years and saved 478 games.
47. Rod Beck — Like his buddy Terry Mulholland, Beck pitched whenever Riggleman needed him down the stretch in 1998.  He was even on the mound September 23, 1998 when Brant Brown dropped the flyball.  Rod had a light month he only pitched on September 1, 2, 4, 5, 9, 10, 12, 13, 15, 16, 17, 22, 23, 26, 27, 28.  He was on the mound throwing all he had left (which wasn't much) and saving the one-game play-in against the Giants, his 51st save of the year.  All in all he pitched in 81 of the Cubs 163 games that season, and basically left his arm on that mound.  How much did he love his season and a half in Chicago?  He's buried in his Cubs uniform.
48. Jay Baller — Jay was the best looking Cub ever.  I mean check this out: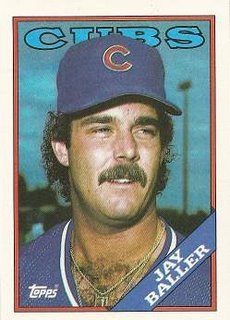 49. Jimmy Anderson — On June 14, 2004 Jimmy Anderson saved a tired Cubs bullpen and pitched the sixth, seventh, eighth and ninth innings of a 7-2 win at Houston and earned his only career save.  The tubby lefty so impressed the Desipio GameCasters that night, that I found out what hotel the Cubs were staying at in Houston and had a pizza sent to Jimmy as a thank you.  He never thanked me, but I'm sure he ate the damn thing.
50. Kent Mercker — He yelled at Chip Caray on a flight in September 2004 and called up to the WGN-TV booth to complain during a game that Chip and Steve Stone were sucking off on Roy Oswalt pretty hard that same season, certainly unbecoming behavior for a professional athlete, no matter how right he might have been both times.  His crazed rage was indicative of a Cubs' team that went off the rails late in the season, when they had enough raw talent to win the World Series.  But they had to make the playoffs first, and didn't quite do that.
51. Mel Rojas — Can you believe he didn't even pitch a full season for the Cubs?  Brought in for the fabulous 1997 season, Mel was a key part of the Cubs starting the year 0-14, the first team to be officially eliminated from postseason contention before tax day.  When the Cubs did have a rare lead, he was so careless with it, that on August 8, he and Turk Wendell and Brian McRae were traded to the Mets for Mark Clark, Lance Johnson and Manny Alexander.  Amazing that all that talent had already cleared waivers, isn't it?
52. Ramon Tatis — All I remember about Ramon is that he got tired of the Cardinals throwing at Cubs hitters and he smoked Gary Gaetti and Jim Riggleman took him out of the game as punishment for "not playing the game the right way."  Whatever, Riggs, no wonder you have a career winning percentage of .445.
53 Francis Beltran — Frank is best remembered for putting on the boxing gloves and standing in the middle of the Cubs clubhouse as he and Carlos Zambrano beat the crap out of each other…for fun…often. Basically, he trained Carlos for the Barrett "fight."
54. Goose Gossage — Was completely washed up when the Cubs dragged his carcas out to close in the 1988 season, and somehow even though he was done, he pitched SIX more years in the big league.
55. Koyie Dolan Hill — All you need to know about Koyie.  He cut three and a half fingers off his right hand, he put them in a bag with some ice, drove to the hospital, and had them sewn back on, then he went out and won the Pacific Coast League MVP and played for the 2008 NL Central Division Champion Cubs.  He's a MAN!  A MAN!  And his middle name is awesome.
56. Brian McRae — All he did for the two and a half seasons he played for the Cubs was bitch and moan about everything.  He put up solid, but unspectacular numbers (especially given his salary) the first two years, and he mailed it in in 1997.  Now I'm not saying the 1995-1997 Cubs were a lot of fun, but at least the 1995 Cubs made a run at the crazy new Wild Card thing until the final week.  Ooh, and they traded for Todd Zeile!
57. Antonio Alfonseca — This freak of nature had six fingers on each hand and six toes on each foot (I say each instead of both because I don't want to assume he didn't have extra limbs, too).  He was a lousy, unreliable closer, and he once got kicked out of a game for bumping an umpire with his belly, while he was in the bullpen.  (For the record, Moises' ball was fair, so El Pulpo was in the right.)  His trade cost the Cubs Dontrelle Willis, and there was a time when that seemed like a bad thing.
58. Geovany Soto — He wore this number during his first two call ups in 2005 and 2007, before his Rookie of the Yearedness kicked in in 2008, and he hit a playoff homer wearing it.  So there you go.
59. Ismael Valdez — The Cubs had him before he turned the z into an s, and he pitched like crap.
62. Bob Howry — A bullpen stud for two of his three years in Chicago.  He'll be immortalized for the very long homer he served up to Ryan Braun on the final day of the 2008 season in a game that meant nothing for the Cubs and everything for the Brewers.  He'll also be remembered for blowing a huge lead in a July game against the Rockies in 2007 and having a drunken fan run out towards him on the mound.  He shook it off, finished the inning and the Cubs came back and won it anyway.
72. Robert Machado — A solid backup catcher, he had a great throwing arm and he hit a seventh inning homer off of Al Leiter in a 2001 2-1 win over the Mets.  Why do I remember that?  I have no idea.
76. Daniel Garibay — You know when Don Baylor knew the Cubs job wasn't going to work when he opened with this guy earning a spot in his bullpen.
99. Todd Hundley — His homecoming was a complete disaster, replete with the team having to make excuses about how he had a "gland problem" that would cause him to overheat when we all knew he was just sweating out his alcoholism (and worse) during games.  His one bright moment?  He inexplicably had two homers and three hits against the White Sox on June 14, 2002.  The other bright spot is that he was actually traded for two useful players when the Cubs got Eric Karros and Mark Grudzielanek from the Dodgers for him during the 2002 offseason.
So there you have it, 5,500 words on Cubs players and their numbers.  Aren't you glad it was free?