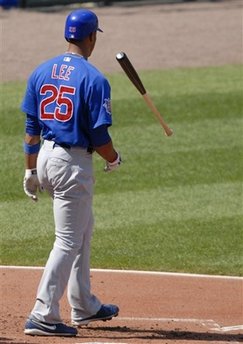 On Tuesday night in Phoenix, Len Kasper marveled that the Cubs were 9-9 on the season and had "exactly the same home and road records–five and five at home, four and four on the road."  While fives and fours aren't the same, Len is apparently precient, as the Cubs would win that night, then lose miserably yesterday afternoon and they actually did have identical home and road records.  That was before they crapped all over Thursday night's game against the previously staggering Marlins.
And while there are a lot of reasons for them being a mediocre team so far (injuries, shitty bullpen, dwarves all over the field) three men are, possibly through little fault of their own, completely screwing up the roster.
For all of the grief and accolades that Jim Hendry gets every year, he's terrible at putting together a 25 man roster.  The only time he's come close to getting it right was last year.  It was the only time the Cubs have gone through the bulk of a season without a glaring weakness on the roster.  Oh, sure there was a crappy player here or there or no reliable lefty in the bullpen, but last year the Cubs had a deep team in every regard.  (OK, not every regard, I doubt that the guys were discussing Sartre or anything, but deep from a manpower perspective.)
This year?  It's shallower than a sorority girl.
There are three reasons for it in particular.  And they are shocking, because a team with a $134 million payroll should not be put together the way this one is.
Unless your goal is to win 81 games and have your October free for duck hunting.  Then?  Well, then this roster is aces.
Roster killer #1 — David Patton, relief pitcher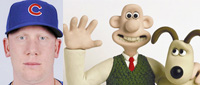 The fact that David Patton is even on the Cubs is ridiculous.  And it's not just because he looks like a character out of a Wallace and Gromit cartoon.  He's a 25 year old middle reliever who spent the last four years in class A.  That's not bad enough, because he's a Rule V pick the Cubs can't send him to Iowa even though he's got three options left, because they risk Colorado taking him back if they try to demote him.  Well, I've got news for you, Colorado might not want him back at this rate.
OK, of course they would, he's dirt cheap and has all of his options left.  But it's hard to fathom that a team with realistic World Series hopes feels the need to try to carry a Rule V pick through an entire season.  It's just dumb.
You know who can contend and stash a Rule V'er?  American League teams.  Because they rarely have to use their bench.  They can play with 24 and get away with it.
Minnesota did it in 2000 (actually they sucked, they only won 63 games) and managed to keep a guy named Johan Santana.  But few Rule V picks go on to decent careers, much less turn into a Cy Young winner.
You know who else can stash a Rule V player?  A crappy team like the 2007 Reds, especially if the player is the former number one overall pick who cracked and heroined away his career with a different team.
If you try to hide a guy on your roster in the NL, you will have to use him.  And you will pay for it.  Like on Saturday when Lou had to go to Patten in a close game and he had to pitch to Albert Pujols with the bases loaded and Pujols hit a ball so hard that when (if) it landed, it filled in that huge hole they have behind center field.
Keeping Patton meant the Cubs had to waive Chad Gaudin, a far more useful Major League pitcher.  Granted, Gaudin was so ready for the season to start that he finally made his debut this last week for the Padres (and threw five scoreless innings as a starter).  But even at his dumpster diving worst, he wouldn't have been as bad, or as utterly useless as Patton.
The early returns on Patton are pretty awful.  The first batter he faced in the big leagues homered off of him, and while he has struck out 10 in eight innings, he's walked six.  Maybe it will get better.  Maybe he'll end up being useful.  And maybe a million dollars in unmarked bills will fall out of an airplane and land in my yard.
Roster killer #2 — Joey Gathright, outfielder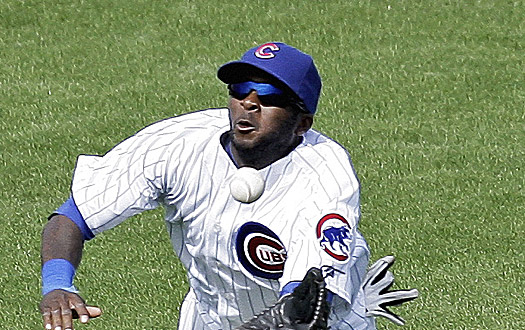 I'm blaming this one on Lou.  Hendry can't be helped.  He sees a fast, good defensive outfielder and he thinks, "Hey, we could use one of those!"  Lou knows better.  He managed Joey in Tampa.  Joey sucked then, and he sucks now.
The reason Joey's on the team is because the Cubs figured that he'd be a good defensive replacement late in games.  They could take out either Milton Bradley or Alfonso Soriano and play Joey in either left or center (presumably with Kosuke going to right if needed).  Here's the problem with that.  The Cubs already have Reed Johnson to do that.  And Reed's actually sort of good.
The Cubs need a guy on the bench who can play middle infield and maybe some outfield in a pinch.  I don't think Micah Hoffpauir is that guy.  He's 7'4 and lefthanded.  Joey's not that guy, either.  It is beyond ridiculous that the Cubs only have one backup infielder capable of playing any position other than first on this team.  It's embarrassing and reckless.  And, this last week it has bitten them in the ass big-time.
Since E-ramis hurt his calf on Friday night the Cubs have gone 2-5.  One reason is they've had to play Mike Fontenot at third, the other is that Lou can't make any moves that involve any of the three dwarves because there's nobody else to put there.
But there's Joey, sitting on the bench, being worthless.  He serves no purpose on this team.  And god forbid he have to actually play, because he's terrible.
Here's how bad things were this week.  We found out from Lou that with Aaron Miles, Ryan Theriot and Fontenot all in the lineup at the same time and with E-ramis unavailable, his backup third baseman was Koyie Hill (he played third in college–and sure enough we got to see him at third on Thursday night, showing all of the agility of the Harry Caray statue), his backup second baseman was Alfonso Soriano and his backup shortstop was…I'm not even kidding, Kosuke because he played short as a kid in Japan.  Holy shit.  This is the kind of depth $134 million buys you?
All because the Cubs feel the need to keep Joey Fucking Gathright on the roster?
Roster killer #3 — Derrek Lee, first base
I hate this, I really do, because Derrek Lee is one of the coolest guys ever to wear a Cubs uniform.  But you know what, so was Billy Williams, and we don't want him playing now, either.
People can make excuses for Derrek as much as they want, but the numbers are frightening, and sad.
Now, I'm not one of those dopes who thinks that Hoffpauir ought to be playing every day at first.  I like the big lug, but I have no doubt that a heavy dose of playing time would only expose him.  No, Lee's current level of play is more of a drain on the roster as a whole than the lineup.
Lou showed what he wanted to do when he went with the coolest lineup in recent years on Friday night.  The one that has Soriano third, E-ramis fourth and Lee fifth.  Then E-ramis got hurt and Lee ended up moving back up.  Lou is not a dumb man, and Lee will end up lower in the order again, maybe as soon as E-ramis returns from his calf injury (you know, in August.)
Here's where Lee causes the problem.
First, and least important, he's a big reason the Cubs are so righthanded in their lineup.  Teams who play a righty at first have a hard time balancing out the lineup, especially in the NL where you don't have the DH.  If the guy is Albert Pujols, nobody really cares that he's righthanded because it doesn't matter.  Derrek Lee is not Albert Pujols, even if Albert is aging much more gracefully.
Second, and maybe most important the Cubs painted themselves into a corner with Lee when they paid him in 2006 like his huge 2005 was the norm, not the exception.  But even the money wasn't the worst part, they gave him a full no-trade clause and that hampered them big-time.
Lee spent 2006 on the disabled list after being run over by a drunk driver (Rafael Furcal) early in the season.  His production has never been the same, but more glaring, it hasn't even rebounded to his 2004 level.
Even if the Cubs had wanted to trade him after 2007 they couldn't because of the no-trade.  They had one last shot shortly before the 2008 trade deadline but couldn't even if they wanted because of the clause.  After the 2008 season it became academic because he had reached his 10-5 (ten years in the big leagues, five with his current team) status and even without a no-trade clause he had that same protection.
Without that protection, Lee would not be a Cub right now.  It's a poorly kept secret that before he traded Mark DeRosa to the Indians, that Hendry gauged teams' interest in Lee.  The Giants were interested, but talks went nowhere when Hendry decided not to ask Lee to consider waiving his rights to void a trade.
Trying to get more left-handed, and unwilling to try to talk any of his players into waiving their no-trades (Soriano and E-ramis have them, too), Hendry was left with one option, trade DeRosa and play Mike Fontenot every day.
This move, and the absurd decision to sign and then keep Gathright left the Cubs without someone versatile enough to serve as a swing-man who could play infield and outfield.  When you feel envious of the Marlins for having a guy like Alfredo Almezaga, you know things are bad.
You can blame the move (rightly) on Hendry's single-minded, bull-headed attempt to slap lefties into the lineup, but it all goes back to having a past-his-prime, righthanded first baseman who can't be moved.
Third, there aren't any real signs that Lee is going to get better.  Last April, he went nuts, caught fire and you thought he was back.
That month he hit .364 with a 1.118 OPS, eight homers and 23 RBI.
How's he done since then?  If you add in this April, it basically makes a full season.  A season in which he claims, for the most part to have been healthy.
If you have a weak stomach, don't look.
Here's what $13 million has gotten the Cubs (and he's owed $13 next year, too).
.265, 13 homers, 77 RBI, 25 GIDP, .332 on base, .403 slugging, .735 OPS.
Thirteen homers and a .403 slugging percentage out of your first baseman.
For all of you guys who think it's a cute slam to compare Lee to Mark Grace, you'd better apologize.  To Grace.
In his 13 seasons with the Cubs he had a slugging percentage of less than .403 once, and an OPS of less than .735 once, and the slugging percentage was never close to being that low from 1993 on.
So what are the Cubs to do?  You can't trade him, you don't have a real option to bench him.  Sure, you can get Hoffpauir some starts and that might help, but how much?
The only thing to do is to treat Lee like the player he is, not the player he was.
So what is he?  He's still an excellent defensive first baseman (at least when he can bend his neck, which he couldn't on Wednesday afternoon in Phoenix), but he's a tall guy with a slow bat.  Batting him third or fourth is a joke.  Fifth is more like it, but honestly, he's probably a seventh or eighth hitter in this lineup at this stage.  His on base average has dropped so dramatically that you couldn't even bat him second if you somehow had thought that might be a good idea.
Assuming Geovany Soto gets his shit together sometime soon, the Cubs lineup probably should be:
Soriano
Fukudome
Ramirez
Bradley
Soto
Fukudome (Whoops) Fontenot
Lee
Theriot
Pitcher
Regardless, it's amazing that a team with 30-plusers at the corners and in left and an injury prone right fielder aren't built with more depth.  The only time it becomes important is if you, you know, actually want to win over the long haul.
The Cubs, like any 10-11 team have a lot of problems, but the biggest problems aren't even the terrible early play of guys like Neal Cotts, Soto, Lee, etc.  The biggest problem is an unwieldy roster and a confusing refusal to put injured players on the disabled list.
And yes, Gordon Wittenmyer, I realize that two of the three guys I singled out are African-Americans.  Despite the fact that they're pretty obvious choices, I'm sure we know your opinion on why a Cubs fan like me would single them out.