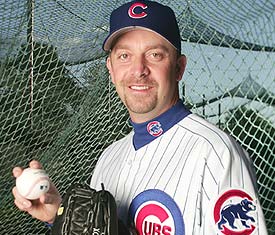 You can say a lot of things about Cubs' right hander Chad Fox, but you can't call him a quitter (he's had by my count 127 differnet surgeries on his right elbow), and you also can't call him good at throwing a baseball anymore.
In 2001 he pitched in 65 games for the Milwaukee Brewers.  In the eight years since, including last night's fiasco in Houston, he's pitched in 65 games.  That's good, right?  Most relief pitchers throw about EIGHT games a year?
In 2002 he hurt his elbow and only pitched in three games.
In 2003 he had some elbow problems but managed to pitch in 17 games for the Red Sox before they released him.  He signed with the Marlins, nine days later and pitched in 21 games in August and September, and nine more in the postseason.
Oh, and he was the winning pitcher in game six of the 2003 NLCS.  So yes, I hope he gets hit by a bus.
He managed only 12 appearances in 2004 before his elbow went bad again, and the Cubs, thanks to Jim Hendry's pathological obsession with signing any 2003 Marlin he could get his hands on signed him.  The 2005 Cubs were so shitty that Fox emerged as a real closer candidate, despite the fact his elbow was hanging on by a thread.
On April 24, Fox got a save against the Pirates.  Dusty Baker declared that Fox was going to get more save chances.  He even went as far as to say that it was really important to limit Chad to only save chances and to keep his pitch count low.  And then, Dusty did what he always did.  The next game the Cubs had a 10-3 lead in the ninth against the Reds.  Who did Dusty turn to?  Chad Fox.
Out comes his admittedly fragile pitcher, pitching back-to-back nights for no apparent reason.  Fox was terrible from the start.  He walked Sean Casey on four pitches.
Kind of a red flag.
He walked Joe Randa on five pitches.
There is now a flashing light on the pole just above the red flag.
Adam Dunn hits a three run homer that may still be in orbit.
The red flag is now white.
Fox clearly has nothing.
He gets Austin kEARnS to pop out to first.  Dusty is now convinced that Fox is fine.  No worries, dude.  Go get 'em.
Rich Aurilia is next.  He fouls some pitches off, Chad throws some balls, he fouls some more off.  On his tenth pitch of the at bat and 25th pitch of the inning (there's one out), Fox walks Aurilia, grabs his elbow and leaves the field.  Apparently for good.
He talks about how he'll retire and spend time with his kids.  He talks about how he's done putting an arm that obviously isn't up to throwing a baseball, through that.
And he didn't pitch the rest of 2005, or 2006, or 2007.
But he came back last year, and Jim Hendry was there with open arms.
After more than three years since the night his career ended at Wrigley Field, he was on a mound in Busch Stadium, in the wake of the last game of Rich Hill's big league career (so far, anyway) in the 10th inning of a tie game.  Hill had flamed out with four first inning walks, and nine innings later, Fox was the seventh Cubs pitcher of the night.  He knew he was going to pitch until the game ended.  Amazingly, it didn't end in the 10th.  Fox got Ryan Ludwick and Yadier Molina on deep flies to center and then got Cesar Izturis out on a fly ball.
The Cubs wasted a rally in the top of the 11th.  Hank White singled and Derrek Lee walked, but Mike Fontenot grounded out to end the threat.
In the bottom of the 11th some guy named Aaron Miles hit Fox's first pitch for a single.  Fox threw a wild pitch and Miles waddled to second.  Creepy Brendan Ryan bunted Miles to third with one out, and we all figured The Genius would show off and try to squeeze Miles in, but Skip Schumaker fucked up The Genius' plan and homered on the first pitch to end the game, and send Dogpatch Nation back to their trailers happy.
He pitched a third of the inning a couple of days later and a week after that he pitched an inning and two thirds against the Diamondbacks, after that his elbow hurt again and he retired.
Or so we thought.
Incredibly, there was Chad armed with an invite from Hendry in spring training.  And when Jeff Samardzija imploded on Tuesday, the Cubs decided to throw Fox another bone.
Guh.
He showed he's a fast learner, though.  See the Cubs' new bullpen strategy is to walk the first batter they face.  Fox did it with maximum efficiency.  Four pitches!
Then, he gave up a triple to his former teammate, 49 year old Ivan Rodriguez, that Joey Gathright nearly played into a homer.  He got Jeff Keppinger to ground out to third,  scoring Rodriguez.  Then, the rotting corpse of Darin Erstad hit what should have been a deep flyout to Gathright, but Joey decided to defer to Alfonso Soriano, who figured, correctly that any competent outfielder wouldn't leave it to him to catch a flyball, especially one he wasn't calling for.  It dropped for a triple.  Not Chad's fault.  Although, it's troubling to see Erstad hit a ball that far off anyone.
Chad was mercifully removed from the game by a clearly irritated Lou Piniella.  Lou's already pissed that Hendry and his henchman Randy Bush have stuck him with David Patton in the bullpen, now he's got Fox, too.
Kevin Gregg allowed the inherited runner to score, just to punish Fox, I suppose.  Then he ended the fiasco by striking out Lance Berkman.
Fox's ERA is 81.00.  Is that good?
I know it's only one outing, and that Fox had a 1.59 ERA in Iowa.  But I also know he's only pitched in four big league games since 2005, and it's four too many.
Over at Pollyellon's they're wondering if the Cubs could "fake" an injury for Fox and put him on the DL so he can earn the last few months of service needed to give him 10 years and a full pension.
My question is, why would they do that?  Because Chad's a nice guy?  I'm sure he is.  I enjoy sticking it to the man as much as the next guy, but what do the Cubs owe Chad Fox?  I'd cut him one day before he qualified just for game six.  Screw him.
The Cubs' bullpen is in bad enough shape as it is, without relying on a 25 year old dope who they can't send to AAA even though he's clearly not ready and a gimp.  If there's nobody left in the farm system to call up, then it's time to fire all of the scouts, or maybe just set them on fire.  I have a hunch there are better options down there than Chad Fucking Fox.
Then again, if nothing good comes out of his return, at least we got two more visions of what a piece of crap Joey Gathright was the day before they optioned him.
Look Chad.  You want to play baseball, but your arm doesn't want you to anymore.  How about you listen to it?  We're begging you.  Go away.