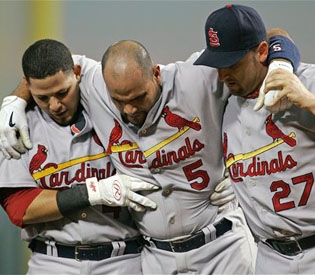 Intrepid reader Cory A. e-mailed me today to point out a column by CBSSports.com's (don't call it SportsLine anymore!) Gregg Doyle, where Doyle (who I enjoy listening to weekly on Steve Czaban's show) explained why he needs that extra g in his first name.
No, wait, that's not what he wrote about.  He wrote about how adding Manny Ramirez to the constantly growing pile of disgraced, steroid-abusing athletes, doesn't make guys like Ken Griffey Jr. and Albert Pujols look better by comparison, it just reminds us that somebody's going to be the next "star" to fall.
It's a good column, and Doyle basically points out what we've been hacking to bits for years.  Albert looks awfully big, and awfully old, for a (now) 29-year-old superstar putting up historic numbers.
Is he a cheat and a liar?  We don't know.  (Oh, we know, wink-wink-nudge-nudge, but we don't know yet.)
Since nothing makes a writer happier than a chance to re-run something he's already written, Cory A. was nice enough to remind me about the last time I wrote about Pujols' age and super-terrific-unnatural-healing-prowess.  It was buried in a very long column after the Cubs laid a huge steaming turd at US Comiskular last summer, and the commenters (you guys) wanted to debate the merits of a disabled Alfonso Soriano trying to get back in time to play in the All-Star Game.
But anyway, here's the Pujols part.  The timeline is the most interesting part.  It's always seemed ridiculous that he's the age he claims to be, and read through this and see if it doesn't seem to be impossible, if not improbable.
The reason for this rant was Pujols' return from a leg injury he suffered on a glorious evening in Cincinnati last June, more than three weeks earlier than the most optimistic prognosis.
Here it is, from June 30, 20098. Whoops, sorry Biff.
Many in the Cardinals' organization faked shock and awe when asked how Albert heals so darn fast.
"I don't think there's some magic button or special potion he's taking," Cardinals general manager John Mozeliak said. "Albert loves to play the game of baseball. That's where he gets his joy from. Regardless of whether we're 15 (games) up or 15 down, in first place or last place, he just wants to play baseball."
No magic potion, eh? You know, if only there were some sort of hormone that could promote the growth of tissue in humans? Wouldn't that be neat? Man, if an organization could just embrace the benefits of such a hormone and ignore the illegality of it, they'd really have a nifty little advantage, wouldn't they?
I for one, will continue to believe in the incredible healing powers of Albert Pujols, and to think, this great man is only 28 years old. Amazing.
His legend astonishes me. What a guy:
Baseball dominated just about every part of Albert's life. He worked out and practiced whenever and wherever he could, establishing a personal dedication to the game that still sets him apart from his peers. Albert had never worked at being a better player before going to Fort Osage. When he saw how quickly the results came, he was hooked.
According to this, Albert was a 16 year old freshman in high school when first seriously started playing baseball.
Stanke remembers Albert being fiercely proud—though not cocky—of his spot on the Fort Osage varsity. On game days he wore his uniform to school. Modesty, however, kept him from bragging about his performance on the field.
In his first season, Albert hit better than .500 with 11 home runs. Fort Osage coach David Fry couldn't believe his good fortune. The teenager was the hardest worker—and swinger—on the team. Fry remembers one mammoth shot Albert launched at Liberty High School that landed on top of a 25-foot high air conditioning unit some 450 feet from home plate.
Wow, that seems like a long way for a 16 year old to hit a homer. Maybe someone who was, say, 26, could do that. I'm impressed, Albert!
A naturally gifted student, Albert had extra motivation, figuring that the sooner he conquered the language barrier, the sooner he would make it to the big leagues.

The following year, opponents avoided Albert like the plague, offering little in the way of hittable pitches. Still, despite 55 walks in 88 at-bats, he managed to belt eight homers, lead Fort Osage to the state championship and earn All-State honors for the second year in a row.
So he walked 55 times in 88 at bats as a sophomore? And he's a great student? Wow, all of the big schools are going to be after this kid. After all, he's only 17!
By his junior year in high school, Albert was attracting the attention of pro scouts. Intrigued by his work ethic, baseball acumen and undeniable talent, they advised him to leave Fort Osage and find a college that would give him better exposure. The idea wasn't out of the question, particularly because an aggressive course load would allow Albert to graduate in January of his senior year and move right onto the college diamond. Convinced that this plan was his surest path to the majors, he spent the fall with his nose buried in his books.
Wow, a lot of big colleges would be interested in a guy like this. So where did he go? Stanford? Miami? Texas?
One of the few breaks he took was to appear in an All-Star Game for high schoolers in the Kansas City area. Among those in attendance was Marty Kilgore, the coach at nearby Maple Woods Community College. Kilgore was blown away by Albert's strength and knowledge of the game. He recruited the 18-year-old for the spring of 1999.
Oh, yeah, Maple Woods. They're awesome. They're a huge college (4,700 students) with a great athletic department (actually, they only offer baseball and softball.) And wait, how is Albert only 18 now? He was a 16 year old freshman, right? And he graduated from school in a three and a half years, right? Didn't it just say that? I'm confused.
Meanwhile, Albert was ready to meet another challenge, this one off the field. At a Latin dance club in Kansas City, he met a pretty 21-year-old named Deidre. Completely smitten, Albert lied about his age to get a date with her. When he eventually owned up to his fib, Deidre revealed a secret of her own. She had a daughter named Isabella who had been diagnosed with Down Syndrome. Albert bonded immediately with the infant, and Deidre marveled at the maturity of her teenage boyfriend.
It's probably not that uncommon for a 19 year old to date a 21 year old. So why was Albert lying? Unless, she thought he was too old for her. Nah, that would never happen.
Besides, I love the subplot, it reminds me of a great movie from about that time.
Any way, I just find the whole Pujols saga to be so amazing. Here's a kid, just 16 years old when anybody in America requires him to declare an age, who is physically advanced for his age and who plays baseball like a man among boys. Then, he signs with a franchise with no history of performance enhancing drug use and shows off his ability to defy science with a freakish ability to heal from serious injuries.
What good fortune it was that Albert happened to be 16 when he happened to end up in Missouri. You know, if he'd been just one year older he wouldn't have been able to attend high school, he'd have had to go the GED route and that would have cost him a chance to play three years of high school baseball. Wow, what a lucky guy!