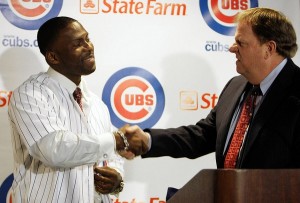 While nearly everyone covering the Cubs has expressed the opinion that Jim Hendry will return to his job as General Manager-Vice President in Charge of Screwing Up the Payroll, for the 2010 season, nobody can be sure.
Why?  Because the soon-to-be owners of the Cubs, the Ricketts family have not done what everybody from Phildo Rogers to Bruce Levine to the laughable Dave Kaplan have all said they have.  They have given no assurances that either Crane Kenney or Hendry will be kept on once the transfer of the Cubs from the Tribune Company to the Rickettses is complete.
As someone close to the Cubs loves to remind me, "The only person who ever talks about how certain it is that Kenney will be back, is Kenney."
The simple fact, is that while it is true that the Cubs have enjoyed the most on field success since the 60s (the 1960s, not the 1860s) since Hendry became the GM before the 2003 season, he has bungled so many contracts that he can't feel safe.
From giving Alfonso Soriano too many years, to inexplicably adding extra years to offers for completely not-in-demand signees like Jason Marquis, Jock Jones and Bradley, Hendry's been just as terrible at filling out the last spots on his 25 and 40 man rosters.
Most teams have a policy one way or another about no-trade clauses.  Some teams don't mind giving them.  Some teams refuse to give them.  And some teams don't want to give them and will pay players extra to avoid them.
The Cubs, under Hendry, have incredibly created a policy of paying extra money to players to avoid no-trade clauses, only to, in the end, give them the extra money and the no-trade.
Signing Milton Bradley to a three year deal at $30 million when no team was offering him for than two-years, $16 million (Tampa Bay) only to have Bradley predictably implode, won't be the move that gets Hendry fired.
Well, it wouldn't be, if it weren't just another in a list of bad signings.  Here's a guy who couldn't help but give superstars like Neifi Perez, Aaron Miles, Michael Barrett and Todd Walker an extra year on their contract than any other team was offering them.  Here's a guy who wasted a roster spot and $800,000 American dollars on a guy we all knew couldn't play (Joey Gathright).  In the offseason before the 2007 season, Jason Marquis was the Typhoid Mary of free agent pitchers.  The Cardinals had left him off the playoff roster in 2006 and supposed pitching sage Dave Duncan had washed his hands of Marquis.
Hendry apparently had a quick conversation around the batting cage one day with Greg Maddux, and Maddux put in a good word for Marquis.  Months later, when free agency opened Jimbo was there with his checkbook out.  Nobody else had made Marquis an offer.  Incredibly, Hendry signed Marquis for three years and $21 million dollars.
Who the hell was he bidding against?
He gave Jock Jones three years when nobody else was going to give him more than one (hell, most teams weren't going to give him one).
He gave Scott Eyre a three year deal, and Eyre wowed us all at the press conference by saying he loved the idea of playing for Dusty Baker because Dusty wouldn't make him run to get in shape.  Awesome.
On Hendry's plus side are two trades in particular.  The trade of Hee Seop Choi to the Marlins for Derrek Lee, and the trade of Jose Hernandez, Bobby Hill and Matt Bruback to the the Pirates for E-ramis Ramirez and Kenny Lofton.  To Hendry's credit, he's also since signed both Lee and Ramirez to market-value contracts.
Given the deals he's handed out to bums, both Lee and E-ramis should fire their agents.
But it is undeniable that the reason the Cubs won division titles in 2007 and 2008 is because the Tribune Company thought they would "sell" (as Chuck points out they don't like the word 'sale' or any derivation of it, it's a 'transfer') the team during the '07 season, or certainly early on in '08, and therefore didn't care what the payroll was.  They ripped open the checkbook and told Hendry to buy whatever he wanted, the new owner could worry about it, and since they had no interest in the long term, they just wanted a few wins to help keep the sale price high.
Without the ability to bury his mistakes in piles of cash, Hendry was paralyzed during the last offseason and all through this season.  He had no clue how to act like a "real" general manager.  He tried to clear space on the payroll to add Bradley, and did it by trading Mark DeRosa, but then flopped trying to replace DeRosa without leaving a gaping hole behind the oft-injured E-ramis.  He traded Marquis to avoid paying him all of the third year of that contract that should never have had a third year on it, but didn't realize any real savings, because he took a big, useless contract in Luis Vizcaino.
During the season, the Cubs couldn't make any serious moves because Hendry couldn't conceive of how to make a trade without taking on more salary.  It's like the idea of trading contract for contract had never occurred to him.
Here's a scary thought.  As much of a wet blanket as Andy MacPhail was on the Cubs, Hendry was a better GM with him around because there was someone to tell him that some of ideas were fucking lunacy.
Consider this.  After trading for Nomar Garciaparra in 2004, if Hendry had been left to his own devices, instead of signing the oft-injured Nomar to a one-year deal worth $8 million , what would Hendry have given Nomar?  Considering what he has given other, lesser, free agents who had even less market demand, you have to think he'd have offered Nomar at least, four years and $40 million.  To play shortstop.  A position Nomar has now played less than 240 innings of in the past five years.  (31 games.)
Have we gotten to the Juan Pierre trade, yet?
Never mind.  While I will concede Hendry has a better than decent chance of keeping his job for a season, he's going to have an awfully awkward conversation with Tom Ricketts at some point in October and November, and if it goes like this, Hendry will leave without his job.
Jim Hendry: Mr. Ricketts, I need to talk to you about what we're going to do with Milton Bradley.
Tom Ricketts: Sure, I knew this was coming.
JH: We owe him $21 million the next two years, but we have to move him.  We can't possibly try to put him back in that clubhouse with those players.  They hate him.
TR: Fine.  What are we looking at in return?
JH: Honestly, not much.  There are only a few teams that have any interest at all, and they don't want to pay much of his salary, and they don't want to give up any real prospects.  The best we could do would be to trade for a player with a bigger contract, like Aaron Rowand or Chris Young, and even then we'll have to eat some of Milton's contract.
TR: So we're in a position where we're going to pay a guy to not play for us?
JH: I think we have to.  It's better to pay him to not play here, than have him here poisoning the team and not producing.
TR: So it's your opinion, that the best solution to this is to not try to make something that's not working, work, but instead to cut the cord and eat the money and bring in somebody better equipped to do the job?
JH: Exactly.  Sometimes it's the best thing.
TR: For example, you have three years and $9 million left on your deal, right?
JH: Uh…yeah.
TR: So how about this?  How about I eat that nine million bucks, and pay you to not screw up our roster and our payroll anymore, and bring in somebody else to do the job, instead of having you try…again…to find somebody to bat lefthanded and not poison the clubhouse and underperform?  Because, as you read in the papers for months, I need to decide what to do with Kenney.  He thinks he's going to stay on to handle the Wrigley Field renovations and be your boss.  But I could bring in a baseball guy like John Schuerholz or Sandy Alderson to be the president, and instead of having them be your boss, they could just do your job.
JH: Uh…I guess.
TR: Great.  Now why don't you and Crane leak that to your little toadies, Levine and Kaplan?  I've got a completely fucked up payroll to worry about.