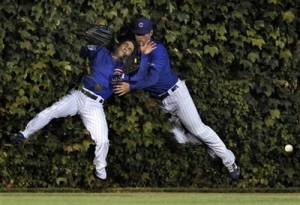 When the great Chris Iannetta homered to win Tuesday night's Rockies v. Brewers tilt, the Cubs were officially eliminated from playoff contention.  And you all thought that happened when Milton Bradley threw the ball into the stands against Minnesota in June.
And so came to end another frustrating Cubs season.  And the start of every hack columnist's favorite season began, the post-mortem.
As if you were afraid he wouldn't, Maude made that squinty eyed face he makes when he's thinking really hard, or trying to pass some large stool, and he crapped out another masterpiece.
Turning the page: Cubs
Listen to Lou Piniella these days and, what do you know, the Cubs are looking for that last piece of the puzzle — a run-producing hitter in the middle of the order.

Never mind that Piniella made this his mission at the end of the 2007 season, and the Cubs spent $48 million on Kosuke Fukudome. And that Piniella wanted a left-handed hitter after '08, and the Cubs spent $30 million on Milton Bradley. Or, for that matter, that they had previously commited $276 million to Alfonso Soriano, Aramis Ramirez and Derrek Lee.
Somebody needs to get Maude an English to Baseball dictionary.  Lou Piniella isn't the general manager of the Cubs.  He can tell the actual general manager of the Cubs what kinds of players he wants, but Jim Hendry doesn't have to do this.  In the offseason, Lou's only real mission is to drink tequila in the pool, where he can piss himself and nobody knows or cares.
But regardless of who is acquiring the talent, I don't get Maude's complaint.  OK, Milton Bradley sucked.  Kosuke's been just OK.  But does that mean you stop trying to find another hitter?  If failing meant you stopped trying, Phil Rogers would not have any younger brothers or sisters.
Well, maybe new owner Tom Ricketts will want to arrive with a splash. But the payroll is such in a tough spot right now, with so many oversized and back-loaded contracts on the books, and minimal money coming off after 2009, that the biggest name guys — Matt Holliday and Jason Bay — are out of reach.
Why do you care, Phil?  You just said they shouldn't spend any money on a hitter.
So with that in mind, we go searching for big bats whom Jim Hendry might be able to land for next season. It's a mixed list not guaranteed to make Cub fans too happy.

1. Adam Dunn — He coveted an offer from the Cubs last winter but didn't get one. He's a member of the Washington Nationals now, signed through 2010, but is a great trade chip for Nats GM Mike Rizzo. He'd be a good fit in right field, hittting enough to offset the fielding deficiencies, but it would take a lot of young talent to get him. Maybe more than the Cubs have.
Any list that STARTS with the 300 pound Dunn on it is going to be awful. Especially one that starts with an entry like this one that is just so full of bullshit.
The Cubs weren't the only team in baseball who didn't offer Adam Dunn a contract last year.  There are 30 teams in the big leagues and 29 of them didn't offer him a deal.  He was so excited about the Nationals offering him one that it sat there for weeks while he hoped someone, anyone else would make him an offer.
And Phil's choice of words about Dunn "hitting enough to offset the fielding deficiencies" is interesting.  What it suggests is that Dunn is going to be terrible in the field, but his hitting will make up for every run that scores because he can't move, catch or throw.  You know what that does?  It gets you to zero.  Shouldn't every player have to outhit his fielding to have any value at all?  This isn't like when Ozzie Smith was in San Diego and he couldn't hit, but he could save you runs in the field.  This is the opposite of that.  This is a guy who is going to allow runs to score and you are just hoping he can hit enough to make up for them. He's not taking opponents' runs off the board, he's putting them on and then maybe he can get some of them back for you.
Take those two things, the lack of interest in Dunn by any team other than Washington and the fact that at best his offense will neutralize his shitty defense, and the idea that any team would offer the Nats "a lot of young talent" is ludicrous.
2. Bobby Abreu — He's a free agent after having a good season with the Angels and this winter probably positioned to get a three- or four-year contract. Can the Cubs risk that? Probably not, unless they have inside knowledge about the NL adding a designated hitter in 2011 or '12.
What exactly did Bobby Abreu do in 2009 that would have better positioned him for a three or four year contract than he did in 2008?  I'll tell you what he did.  He drove in two more runs than he did last year (in more games) and hit five fewer homers and his OPS went down, and he got older.  Maude really understands the market, doesn't he?
3. Dan Uggla  — The Florida second baseman is available, and would be a huge upgrade for the lineup. But like Dunn, the price to get him would be high.
Despite the fact he has midget arms and strikes out a lot, Uggla actually posts above league average numbers in fielding percentage and range factor.  Of course, league average is by definition "average" which means he's still worse than half the second baseman in the game.  Since one of those is Mike Fontenot, it's just OK.  Uggla does walk a fair amount (90 times in 2009) and has power.  He also has posted a lower batting average, on base average and slugging percentage than Jeff Baker.  What are we talking about again?
4. Miguel Tejada — Houston loves Tejada but he's likely to reach free agency anyway. He'd be a good fit for one or maybe two years, as he'd allow Ryan Theriot to move back to second base, where he would be a better fit. Tejada won't win a Gold Glove but he's at least as good as Theriot, and his bat has thunder. The more I think about it, he's a really good fit, with the right contract.
No, no, no.  No, no, no.  No.  No.  Nope.  No way.
How many no's was that?  Tejada is "35" can't play shortstop anymore, and post steroids, his power is gone.  He hit .314 this year, but saw huge drop offs in batting average, on base average and slugging in the second half.  Besides, the idea isn't to find a shortstop to move Ryan Theriot to second base.  It's to find a shortstop to move Ryan Theriot to Japan.
5. Gary Sheffield — No, I'm not kidding. Sheffield, 41, is determined to end his career on a good note. He's going to work hard this winter and, wherever he is, will come to camp on a mission next February.
Oh shut the fuck up.  You're kidding now, right?  If you wanted to replace Milton with an older asshole why not put Wittenmeyer out there?
6. Brad Hawpe — The Rockies right fielder is another trade candidate.
Why is this sixth on your list?  Hawpe's a good, solid player.  He's a lefty, he can handle right field.  He gets on base.  He doesn't have a lot of power, but this isn't a terrible idea.  Oh, and he's the guy who broke Mark Prior's arm with a line drive.
7. Rick Ankiel — A free agent.
So is Corey Patterson and his dad isn't in jail for selling meth.
8. Paul Byrd — Another free agent.
PAUL Byrd?  PAUL Byrd?  The pitcher.  The 38 year old pitcher who admitted using HGH two postseasons ago?  He's on your list?  He's going to play outfield for the Cubs?  Oh, wait, you obviously meant Marlon Byrd of the Rangers.  Just like you meant Pablo Sandoval earlier this year when you wrote Pablo Escobar instead.  But why would you get that right, IT'S ONLY YOUR FUCKING JOB?
9. Chris Young — The Diamondbacks center fielder has to be an intriguing guy for someone. He lost his batting stroke and confidence completely in 2008 and '09 but is showing signs of improvement after returning from Triple-A. Arizona will look to move Young's contract, as he's guaranteed $25.25 million over the next four years. He'd be a high risk acquisition but there's major upside if the deal clicks. It helps that he's a great kid who would upgrade the clubhouse.
Ugh.  Come on.  Chris Young has never posted an on base average of more than .315 in the big leagues.  He struck out 165 times last year, 141 the year before that and only 129 this year (because he only played in 131 games).  His homers have gone from 32 to 22 to 13 in his three full seasons.  He sucks.  He's the Phil Rogers of outfielders.
10. Mark DeRosa — Think he should have been higher on this list? He's not exactly a huge run-producer and faces wrist surgery after the season. I'd love to see him back with the Cubs but I'm not sure he's the type hitter Piniella is looking for.
Go fuck yourself.
Just to prove I don't think all of Chicago's baseball writers are morons (just most of them), let's see what Bruce Miles has to say about Jeff Baker and Milton Bradley.
The scouts will tell you that spring training and September are the two worst times to draw conclusions about baseball players.
The scouts will also tell you they can tell how good a player is by looking at his face, and that if Gary Hughes and Tyne Daly were shirtless and standing next to each other you'd have no idea which one is which.
The Cubs are more than happy with Jeff Baker, and he figures into their plans for next year. And why not? Since coming to the Cubs in a July 2 trade with Colorado, he's 43-for-128 with an on-base percentage of .399 and a slugging percentage of .500 for an OPS (on-base plus slugging) of. 899.
They should be happy with him.  He IS Mark DeRosa.  Only six years younger.  He can play first, second and third, left and right.  The only thing DeRosa can do that Baker has yet to prove is to grow a beard in an hour and ground into series crippling double plays in the postseason.
That's a relatively small sample size, but he's right behind the Cardinals' Matt Holliday as a top performer with a new team. According to the Elias Sports Bureau, Holliday leads players with their new teams with a .379 batting average, followed by Washington's Nyjer Morgan (. 351) and Baker (minimum 100 at-bats).
Sample size, schmaple size.  After Tyler Colvin went 1-3 in his debut we all knew he could hit .300 for the rest of his career.  (Tyler Colvin is currently hitting .154.)
Baker could play a few games at second, a few at first and a few at third, where the Cubs had no suitable backup to Aramis Ramirez after Ramirez dislocated his shoulder and missed two months.
Duh, Bruce.  They had Baker!  When E-ramis went down for two months, Jim Hendry sprang to action and acquired Jeff to fill the void, saving the Cubs season.  (Oops, that was Ryan Freel he acquired.)  I mean, they brought up Jake Fox and let him play third base, saving the Cubs season.  (Fox was promoted from Iowa on May 27, but didn't start a game at third until June 19, and didn't start consecutive games at third until June 29 and 30).  Uh…but they got Baker while E-ramis was still on the shelf and wouldn't be back for weeks.  (Baker was acquired on July 2, and E-ramis returend on July 6 after missing 51 games.)  Holy crap, it's like they were trying to lose.
OK, maybe Bruce is right about this.
There's a bit of fiction going around that right fielder Milton Bradley "all of sudden starting hitting when it didn't matter."People who peddle that line are either lying or not doing the research.
He's calling you all liars!  But then, of course, you are.  Liars.
It "mattered" quite a bit to the Cubs in July, when they entered the month 4½ games out of first place and exited it one-half game out. They actually took a half-game lead over the Cardinals on July 30 and held a 2 percentage point lead over the Cards as late as Aug. 5.

In July, Bradley batted .275 with an OBP of .457 and a slugging percentage of .420. In August, as the Cubs were falling out of the race, Bradley went .308/.427/.484.
Do not distract us with these facts, Bruce.  It's annoying.
If you're looking to lay blame, lay it on the poor performances of Geovany Soto, Alfonso Soriano and Mike Fontenot.
I prefer to blame it on Jim Hendry for trading Mark DeRosa.  There is nothing wrong with the 2009 Cubs that couldn't have been fixed by what's right with Mark DeRosa.
DeRosa was the answer to every problem.  Why, when the Cubs were ready to make their move, DeRosa was warming up and single handedly keeping the Cardinals in front of the Cubs.  In his last 66 game he has hit a scorching .226 with an awesome .291 on base average and only 56 strikeouts to 18 walks.  So hah!
It's still difficult to say if Bradley will be back next year.
Woah, woah, woah.  Huh?  He's got about much chance of playing for the Cubs in 2009 as Richie Ashburn does.
It would have been nice had Bradley put up better numbers earlier. It also would be more pleasant if Bradley hadn't made himself a lightning rod for criticism by seeming to want to turn answers to innocuous baseball questions into larger issues about himself.
Hey, we know it was you that forced Milton out of town.  Don't play all innocent now.  You are the one who asked him the tough questions like "How does your knee feel," or "What do you mean when you say everything's negative here?"  Then, you had the gall to print his answers word for word!  Who do you think you are, Clarence Darrow?
After all is said and done, I'd give him another shot. Just as it took Moises Alou a year to adjust to Chicago, that may well be the case with Bradley.
Guh.
Moises was full of amusing quirks, like peeing on his hands and banging teenage girls in the stock room at Hi Tops.  Milton's most amusing quirk is his ability to sulk when he goes 0-3 with a walk in a 5-1 win over the Padres.
The Cubs won't have to go out looking to spend big bucks on a closer. Carlos Marmol is getting the experience he needs to go into spring training as the guy.
Marmol is 11-11 in save opportunities since Lou demoted the Mongoloid out of that role and gave it to Carlos.  That's nice.  Marmol's also been much better in the second half.  In the first half he struck out 46 guys in 42 innings, but he walked a ludicrous 42 (and hit seven.)  In the second half he has struck out 45 guys in THIRTY-ONE innings!  And walked only 23 (and hit five.)  Batters are slugging .241 against him in the second half.  It's not even fair.
If Jim Hendry is guilty of anything over the years when it comes to his bullpen, it's overthinking things and overpaying for veteran arms. Field manager Lou Piniella had a hand in things last off-season, when he basically ran Michael Wuertz out of town and Hendry traded for old favorite Aaron Heilman.

Wuertz, for whom the Cubs have nothing to show, is 6-1 with a 3.00 ERA and a tidy WHIP (walks plus hits per 1 inning pitched) of 1.01 with Oakland. Heilman is 2-3 with a 4.35 ERA and a 1.50 WHIP.
If Hendry is guilty of anything it's paying too much money to guys who went to Notre Dame.  The only person who likes this is Kermit, because he thinks he's next.
For next season, the Cubs ought to focus within. Keep Marmol the closer, let Angel Guzman set up and re-sign lefty John Grabow, who has been effective since his trade from Pittsburgh. Promote from within, and you might get the job done at a fraction of what it has cost the Cubs over the years for mediocrity and worse.
Grabow has been solid.  So have guys like Esmailin Caridad (17 K's and 2 walks in 17 innings and a 1.56 ERA) and Justin Berg.  Jeff Stevens showed some flashes and David Patton did, too.  (No, not Patton, just checking to see if you're still reading.)
The Cubs could assemble a pretty good bullpen out of guys currently on their 40 man roster and let the oversized dopes (Gregg and Heilman) walk.
Let's say the rotation next year ends up being Zambrano, Lilly, Dempster, Wells and Marshall (once Samardzija gets torched again next spring.)  You could still have a bullpen of Marmol, Angel Guzman, Grabow, Gorzelanny (or you could start him and put Marshall in the pen), Caridad and Berg or Stevens.  They've had worse (Daniel Garibay or Courtney Duncan ring any bells?).
The 2009 season was horrendous, but the Cubs have had worse seasons and not just record wise.  There were some real positives.
Randy Wells proved he was a good starting pitcher.  Think about how much money that saves on the 2010 payroll.
Marmol actually succeeded in the closer rose.  Think about how much money THAT saves on the 2010 payroll.
Jeff Baker proved he can hit big league pitching.
Alfonso Soriano no longer leads off, but more importantly won't come to spring training expecting to in 2010.  (And he's going to have a much better year.  Why the Cubs didn't make him get his knee fixed when he hurt it (in MAY) makes no goddamned sense.)
Kosuke made it through a whole season without nosediving in the second half (OK, not until September at least.  Hey, it's progress.)
Aaron Miles and Mike Fontenot played so poorly that neither one will likely be back for 2010.  The Cubs might even use middle infielders who meet the height requirements for roller coasters at Great America next year.
Derrek Lee turned back into a really good hitter.  And next year's a contract year, so it's likely to happen again.
Mike Quade grew a hair!  (Not really.  No miracles here.)
As lousy as they were, the Cubs head to the offseason not looking for the most expensive thing in baseball—pitching.  They need offense, and when you're stuck with a stagnant payroll, it's far better to be trying to add hitters than pitchers.
How much of it will they fix?
They're the Cubs, probably none, and most likely they'll create more holes by accident.
Guh.