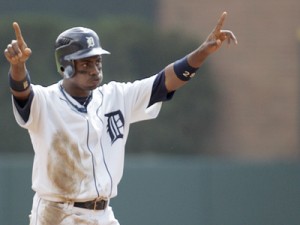 One of the best things to come out of the wildly exciting General Managers' meetings last week (held next to the Uno's Pizza kiosk in the O'Hare Bus/Shuttle Center) was news that the Detroit Tigers need to dump payroll, and are willing to part with their young, talented, All-Star centerfielder, Curtis Granderson.
Not only are the Cubs interested, but apparently the two teams talked about a trade that included Granderson.  That's great.  Center field at Wrigley has been a black hole last adequately manned by Tuffy Rhodes in the early '90s.  (No, wait, that's not right.)
(It's kind of ironic, though that the only consistently good center field play the Cubs have had in many years was provided by a pair of in-season rentals on the wrong side of 35 in Kenny Lofton and Lassie Edmonds.)
Immediately, the Interwebs rumor mills sprang to life, and baseball dipshits like Phil Rogers said the Cubs should offer up Carlos Marmol and shortstop prospect Starlin Castro to get Granderson.
This of course, supposes that the Tigers want a short reliever who throws his slider like the goal is to have Tommy John walk out to the mound to welcome him to the "club" on every pitch.  And that Starlin Castro is going to be one of those rare things that seem mythical–a Cubs prospect who can actually play.
Truth is, with a payroll stretched tighter than his size 48 Hanes, Jim Hendry probably can't trade Marmol and open up a huge hole at closer (one of the more expensive spots to fill), and instead of trading Castro, why not trade the guy he seems destined to replace.  Ryan Theriot?
Oh, I can hear the caterwauling now.  The same dopes who decried the trade of hunky Mark DeRosa last year will be apoplectic that their cute, scrappy, little shortstop would be gone, too.
I see their point, because Theriot is a goddamned five tool player on the Adorability Index.
1 – Unkempt hair that is perfect for running his stumpy little fingers through after he calls timeout after nearly being picked off first base when he only had a one step lead.
2 – Gritty, maximum effort throws from three steps to the shortstop side of second base that bounce five times before Derrek Lee can scoop them up and sprint off the bag like the runner –who has already touched first, turned around, handed his batting gloves to the first base coach and is now standing on the bag–is out.
3 – Ability to take the advice of his manager that every once and a while he needs to try to pull an inside fastball to heart, hit homers in back to back days, then hit .197 for the next month and a half until he remembers the "once and a while" part.
4 – Cute quasi-French name that spells out two words that 23 year old Trixies and 43 year old  housefraus can yell between "Whooooo!"s at the ballpark, the sportsbar, or during OB/GYN checkups.
5 – Dreamy blue eyes that are only enhanced by stick on eye-black, especially when worn in a dome at night.
Last year I openly mocked Theriot for somehow collecting 178 hits with 154 of them being singles.
So he proved me wrong.  Because this year he got 171 hits and only 139 of them were singles.  He raised his slugging percentage 10 points.  (And lowered his on base average by 44.  Oh, well.)
That's not to say he's not a gritty, hard-charging, young player.
No, what says that is that he'll be 30 this year.  Thirty.
So how the hell can you build a package for a high quality, spunky, young, centerfielder like Curtis Granderson, around Ryan Theriot?
Well, it helps that Theriot is a first-year arbitration player who will be fairly cost controlled the next few seasons, and that Granderson is owed $24 million over the next three years.
Oh, and that Granderson isn't as good as you think he is.
Remember what a closet case Kosuke Fukudome was against lefties last year?  He hit .164 with a .532 OPS in 55 at bats against southpaws and had to be platooned with Reed Johnson.
Granderson hit .183 last year against lefties with a .484 OPS against lefties in 180 at bats and should have been platooned with somebody.
Of course, Granderson had a down year last season.  In 2007 he was one of the best players in all of baseball.  He hit .302 put up a .913 OPS, led baseball in triples with 23, hit 23 homers and stole 26 bases in 27 attempts.  He was awesome.
A year later he had a good year.  He led the American League in triples with 13, he put up an .858 OPS and he hit 22 homers.
Last year his homers went up (30), but every average went down, he didn't hit .250, he finished ninth in the league with 141 strikeouts.
So what are you getting if you trade for him?  He'll be 29 during the 2010 season.  He's a platoon center fielder, with power, with speed and he plays good defense.  He's not a leadoff hitter, but that shouldn't matter to the Cubs.
Granderson would allow Kosuke to move back to right to take advantage of Kosuke's defensive abilities there and would give the Cubs two-thirds of an excellent defensive outfield.
Because he has power he could bat in between E-ramis and Alfonso Soriano.
But he and Soriano will likely combine to strike out more than 300 times.  And the Cubs will have a unique outfield where two of the three players are so helpless against lefties that both need to be platooned.  That's not ideal.
Granderson does bring some non-baseball intangibles, also.  He's a Chicago-area native (TF South) and went to UIC (Who even knew they had a baseball team?)  He's considered a great teammate, he kicked ass as an analyst during TBS' playoff coverage two years ago, and he likes to blog.
So is he worth pursuing?  Of course he is.  He'd be a huge improvement in the Cubs outfield and lineup.
So what, in addition to Theriot would it take to get him?
Well, on no planet can you trade Theriot for Granderson straight up, so the additional cost would be considerable(*).  It would take pitching, and some with real upside.  Sean Marshall is considered useful (if only for his sterling left field defense) but probably not much more than that.  So it might take some of the Cubs pitching prospects.  Guys like Andrew Cashner or Jay Jackson.  Every Cubs fan thinks Jake Fox would make a great DH for some lucky AL team, and that might be true (probably not 'great', though) his trade value can't be really high.  He's a throw-in.  If that.
So would Theriot, Marshall, Cashner and Fox get it done?
No.  But it might be the most the Cubs should offer.
(*)–Note the Simmons-esque footnote (I even used bold and italics) to point out that I'm being very clear that it will take a lot more than Ryan Theriot to get Curtis Granderson.
The truth is, the Cubs need to be careful not to fall into one of Hendry's favorite traps.  He gets his mind set on a certain player and he plows ahead, come hell or high water.
For all of Granderson's talents, the fact that you can bring a lefty–any lefty–in from the 'pen late in the game and get him out more than 80 percent of the time puts a big dent in his value.
He's a guy that, according to Baseball Reference, has a #1 comparable player of Kal Daniels.  He led the AL in strikeouts in 2006 and has finished top ten in that category twice in the last three years.  (He missed 21 games in 2008 and only struck out 111 times.)  He went 2-21 in the 2006 World Series (I thought that was cancelled?) against the Cardinals.  His 162 game career averages are of a good player.  .272 BA, .828 OPS, 113 OPS+, but not a great one.
The Cubs just need to keep that in mind.  This is a team that has to be conscious of it's payroll again, and adding $8.25 million in 2011 and $10 million in 2012 isn't insignificant.
So they need to be careful what holes they open if they trade for him.  If they trade someone like Marmol, they'll end up paying their closer something like $8 or $10 million instead of $500K.  But if they are replacing Theriot, they might be able to do it in-house with Andy White for cheap (improve the defense, and take a hunk out of the bottom of the batting order production) or sign a guy like Orlando Cabrera for a year relatively cheap ($3 million for one year.)
Fact is, because much of their offense is untradeable (Kosuke, Soriano, Lee, Ramirez) or fat (Soto), Theriot kind of floats to the top of the list (like a high fiber turd.)
Because I don't think the Tigers will go for an Aaron Heilman, Chad Fox, Aaron Miles trade.  (Damnit!)
So where does this leave the Cubs?
Honestly, it probably leaves them unable to meet a reasonable asking price for Granderson.  Because of his inability to hit lefties, I can't see how you could make a case that it's worth it to trade either Castro or Josh Vitters for him.  Especially given that he's now entered the most expensive years of his career.
If the Tigers ask for his perceived value (lefty batting All-Star outfielder with power and speed), the Cubs can't and shouldn't match it.
If they ask for his real value (which is still considerable) there's probably some hope.
But in the end, this smells like a winter of Brian Roberts and Jake Peavy trade rumors.  One that ends with us talking ourselves into how Marlon Byrd isn't so bad after all.
Guh.