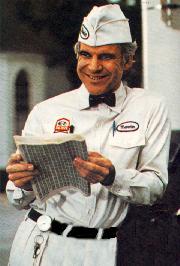 We interrupt our review of the fourth most awesomest decade in Cubs history…because Phil Rogers has done it again.
Does the man have a copy editor?  Does he own a Google machine?
You remember earlier this year when he confused Giants first baseman Pablo Sandoval with former Colombian drug lord Pablo Escobar.
And, you probably remember when he confused Caucasian pitcher Paul Byrd with African-American outfielder Marlon Byrd.
That's why we love the rampant incompetence that is Phil Rogers.
He's the dumbass gift that keeps on giving.
He opened today's offering with the idea that the Cubs acquire Tampa Bay 27-year old minor leaguer Fernando Perez  because he has a career minor league on-base average of .375.
He then kind of casually mentions that Perez is coming off of shoulder surgery.  One that limited his 2009 season to 17 minor league games and 18 major league games.  He is fast, and he made the 2008 playoff roster for Tampa and got into five games, doing mostly pinch running and stole the only base he attempted.
For Phil this is a surprise.  It's actually a fresh idea.  Probably not a good one, but you have to give him credit.
But the ending?  Oh, the ending.  It's priceless.
Hey Phil, take it away…
White Sox pitching prospect Clevelan Santeliz — a right-hander with Francisco Hernandez aspirations — continues to pile up impressive outings in Venezuela. He has held hitters to a .195 batting average through 24 2/3 innings out of the bullpen.
Wow, the Sox want Clevelan Santeliz to be the next Francisco Hernandez!
Which one do you think he means?
a) The 22 year old Sox prospect who hit .245 at class A Winston-Salem this past year?
b) The guy who pitched for the Orioles from 1995-1998, never getting past AA and posting a career minor league record of 13 wins, 14 losses and 49 saves?
c) Francisco Hernandez de Cordova, the 16th century Spanish conquistador who founded Nicaragua?
d) Or the other Francisco Hernandez de Cordova, also a 16th century Spanish conquistador who launched an ill-fated exploration of the Yucatan peninsula?
e) I assumed he meant Francisco Rodriguez aka K-Rod, thinking that Maude was optimistically thinking that the Sox had a future closer on their hands…
f) But, another writer who I e-mailed, to share a laugh at Maude's dopiness, thinks Phil meant Felix Hernandez aka King Felix, the studly ace of the Seattke Mariners.
So who knows?  That's the beauty of Phil's "writing" it can mean so many things to so many people.
Actually, I prefer to go with option g)
Father Carlos de Cordova, the infamous Cat Juggler of Mexico!
[youtube:http://www.youtube.com/watch?v=pyy50Penbvw]