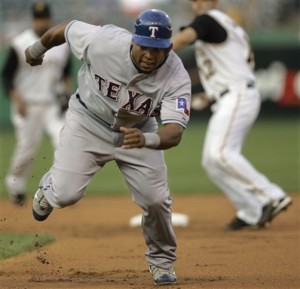 Last year, I was driving in my car on New Year's Eve when I heard that the Cubs had signed Aaron Miles to a two-year contract.  This year, I was in the car again, when I heard that the Cubs had signed Marlon Byrd to a three-year contract.
Clearly, I need to stop driving.
In the end this time, just like every other time, Cubs General Manager Jim Hendry became fixated on a problem to fix.  And just like all of those other times, his impatience has gotten the best of him.
It's not that Marlon Byrd is a terrible player, he's not.  He's also not that good.  He's not a guy you need to sign in December, and he's sure as hell not a guy you need to give a three year contract to.
Here's what we know about the Cubs new centerfielder.
– Phil Rogers thinks his name is Paul Byrd.
– He's a heavy legged player who can passably play any of the outfield spots, but his lack of speed will be a liability when the Cubs play in parks with big centerfields, like Pissburgh, or Houston.
– He was released by the Washington Nationals after the 2006 season.
– Let me reiterate that.  The juggernaut Nationals couldn't find a spot for him in their outfield.
– He has had three good seasons in his career.  His rookie season in Philadelphia when he was .303/.366/.418/.784 with no power.  And his first two seasons in Texas (2007 .307/.355/.459/.814 and 2008 .298/.380/.462/.842).
– Last year was not one of those seasons.  He saw precipitous drops in his batting average (who cares?) from .298 to .283 and in on base average (uh oh) from .380 to .329, in exchange for a higher sluggling average (but not enough) from .462 to .479.
– He's going to bat either fifth or seventh (let's hope Geovany Soto puts down the bong enough this winter to come back to hit fifth), and like the Rangers outfielder the Cubs signed last year (with the same initials), he's not a run producer.  The 89 runs he drove in last year were the most he's ever had.
– When you look at a player without great numbers, you start to wonder if he'd be better off as part of a platoon.  But Byrd, who hits right handed, actually hits righties better than lefties.
2009: v. RHP .300/.344/.491/.851 //Â  v. LHP .244/.293/.451/.744
Career: v. RHP .282/.342/.416/.758 // v. LHP .273/.335/.434/.768
OK, so it's not that pronounced over his career.  Last year's drop offs against the guys he should have the advantage against are just…weird.
But since the Cubs have a dwarf fifth outfielder named Sam Fuld who bats lefty but hits lefties better than righties, maybe they'll form the first counter-intuitive platoon in MLB history?  You just know that The Genius would try it.  The only problem I have with it is it would mean Sam Fuld is on the field.
– Byrd signed a contract for the same number of years as his old Rangers hitting coach did with the Cubs.  Rudy Jaramillo (which I just typed as Judy Raramillo–I kind of like that) is also signed through 2012.
– A lot of people are starting to discount the effect Jaramillo has on hitters and giving it all to the home ballpark the Rangers play in.  It is true that the Ballpark at Arlington is a hitters' paradise. Right?  Well, Byrd played there three years.  In 2007 it had a Park Factor (over 100 favors hitters, under 100 favors pitchers) of 97, and Byrd had a good year.  In 2008 it had a Park Factor of 103 and he had his best year.  Last year it had a Park Factor of 105 and his splits weren't that dramatic home or away.  Though he did slug more at home than on the road.
2009Â  Home .282/.327/.474/.801Â  //Â  Away .285/.322/.419/.740
So he didn't seem to take advantage of a great year to hit in that park.
Also, it's not like guys who have career years in Texas never go on to have similar success in other places.  And it's not just A-Rod, every Cubs fans' boyfriend Mark DeRosa was supposed to be an Arlington Wonder and he had two good years with the Cubs, and was on his way to a third before his wrist fell off in St. Louis last year.
– How bad is Byrd's contract?  Well, the total money, $15 million is probably a little too high, but it's not obscene.  I mean, this is a franchise that gave Jason Marquis $21 million when nobody else wanted him, and doubled the best money offered Milton Bradley last year.  It's the years that make it bad.  Why did they have to give him a third year, and why does the deal have to be backloaded?  According to our good friend Paul Sullivan, the deal breaks down as $3 million in 2010, $5.5 million in 2011, $6.5 million in 2011.
Byrd will be 34 in 2011, and it's safe bet he's already had his best seasons, so it's ridiculous to pay him that much in the final year.
However, it seems likely that the extra year was a way to work out his deal with Byrd taking "only" three million this year.  It's not a real stretch to think that Byrd could have gotten $12 million for two years somewhere, so Hendry basically countered with an extra year and $3 million to backload this deal to give him more money to work with this season.
The Cubs start to get off the hook with their big contracts next year.  Derrek Lee is in the final year of his and will earn $13 million this year, E-ramis can opt out of his deal after this season (uh oh) and he's owed $14.6 in 2011 if he stays and $16 million in 2012.  Carlos Silva's annual charity payments of $11.5 million end after 2011.
However, for a team that likes to brag that they're starting to produce actual prospects in their minor league system who don't pitch, they have a logjam in the outfield now through 2011.
Alfonso Soriano is signed through 2014.  (Sob.)
Kosuke Fukudome is signed through 2011.
And now Marlon Byrd through 2012.
That's a lot of money for not a whole lot of projected production out of the outfield.  When you factor in that the Cubs can't expect to get a lot of offense out of shortstop or second base, and…let's not think about it, OK?
So to sum it up, the Cubs gave too many years to a player who is too old, doesn't hit for a high average, or power, doesn't steal bases, and is only an average defensive player.  Other than that, it's great!
Guh.
Happy F'ing New Year.