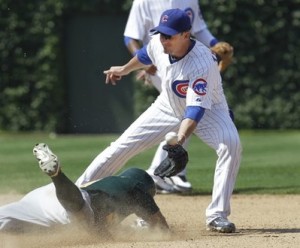 The Cubs, as all of us know, are really bad this year.  They're basically an unwatchable mess, every day.  Part of the reason I can't write as often about them as any of us would like is that I can't stomach watching them play.
A couple of years ago, I started to realize that there were TV shows that I once liked, but I was now dreading when I'd see they were stacking up on the DVR.  So I'd eventually find some time and plow through them.  Why?  Watching a TV show is supposed to be fun.  If it's not fun, if it becomes work, you just stop watching it.  Right?
So this past TV season, shows like CSI, and House, and 24, shows I used to really like, got their season passes revoked in casa Dolan.  And these Cubs?  If they haven't already, they're pretty goddamned close.
A couple of weeks ago, ABC had the season premiere of "Wipeout."  You know the show, people try to run a ludicrous obstacle course over a big pool, they get hit in the groin and fall a lot, and John Henson and John Anderson make fun of them, while the superhot girl from the Mercury TV commercials acts like a sideline reporter.  I watched two hours of that while the Cubs were on.  I knew the Cubs were on, I hadn't forgotten, I just chose not to put myself through it.
Last weekend when they played the White Sox, I watched one at bat all week long.  I turned it on Sunday night and saw Juan Pierre (one of my least favorite Cubs of all-time) break up Ted's no hitter.  I immediately changed the channel.
I don't hate the Cubs, and I have no plans to stop watching them altogether (yet, at least.)Â  Hey I watched the whole game today (it helps that they beat the crap out of Anaheim.
So, if I admittedly haven't been watching them, how can I write a column, where I go player by player and point out why they suck?
Because I HAVE A BLOG AND YOU WILL READ WHATEVER I WRITE AND BELIEVE IT!  At least that's what Al Yellon told me to say.
Ryan Theriot – Why does he suck? In 265 at bats he has SIX extra base hits.  Six.  His slugging average for the season is .302.  But you know what really sucks?
Check this out.  Nobody thinks that he should be playing shortstop anymore, especially now that we've been reminded what a real shortstop looks like, but check out Theriot's splits.
As a shortstop: .341 ba, .374 oba, .390 slg, .764 ops
As a second baseman: .221/.264/.229/.492
Seriously, he's "slugged" .229 as a second baseman.  You want to know why the Cubs suck?  A second baseman who hits like a pitcher, could be one of those things.  And screw him for not being able to hit at second base.  He's not a shortstop and the team is weakened when he plays there.  So just put his ass on the bench already.
E-ramis Ramirez: Seriously.  I mean, what the fuck?  In six full seasons with the Cubs, E-ramis had only put up a sub .900 OPS once, two years ago, and even then it was .898.  This year?  It's .517.  Theriot's laughable slugging average isn't that far off of the .285 E-ramis has posted this year.  Last year, in 306 at bats, Ramirez struck out 43 times.  This year in 179 he's already struck out 45 times.  I don't blame him for hiding on the disabled list.
Derrek Lee: In six full seasons with the Cubs, Lee's OPS is .909.  Not this year, it's .729.  The other night (I was watching.  I saw.) he made errors on back to back plays after not making an error since opening night.  Then after the game he said, "We played like a class A team."  Lou Piniella replied that Derrek was being a little rough on class A baseball.
If he doesn't start hitting, nobody's going to want to trade for him at the deadline.  But here's the thing.  He doesn't want to go anywhere.  The Cubs aren't bringing him back next season.  They have to get a lefty bat at first base.  So wouldn't he want to go someplace else?  Is it because he already has a World Series ring, so he doesn't care if he has a shot at another?  If that's true, it says things about him we don't want to believe.
Kosuke Fukudome: I'm not even going to bore you with another example of how his numbers tank month to month every year. How about this observation?  Every time his hitting coach from Japan drops by for a "tune up" Kosuke hits.  Then the guy goes away and he stops hitting.  If you're going to pay Kosuke $14 million a year, couldn't you pay his personal hitting coach enough for him to stick around for the entire season?
Alfonso Soriano: June: 6-43 (.140), 13 K's.
Geovany Soto: He's rebounded from a disastrous 2009, but how can  guy with a solid batting average and good OPS only drive in 17 runs?  Well, just go 4-32 (.125) with runners in scoring position.  That's how.  He has seven homers, so in 187 plate appearances he's driven in anybody but himself ten times.
Marlon Byrd: He's been great so far.  But he's been streaky.  Really good early, then terrible, now really good again.  Part of that problem is that in 274 plate appearances he's as likely to be hit by a pitch (nine times) as he is to walk (ten.)  You can't support a .365 on base average that way.  Which is probably why he's only done that once (2008) in nine seasons.
Mike Fontenot: He should be playing second more than Theriot (not that he's any good, though).  But one thing that might be keeping him on the bench is this:
As a starter: .294/.339/.404/.743
As a sub: .294/.368/.558/.957
Jeff Baker: Even though he put up good numbers for the Cubs last year, it's not like any of us thought he was really ever that good.  He's reminded us we were right this season.  But when you think of him right now, you think of a utility player who can't play defense, right?  Well guess how many errors he's made at four positions combined this year?  Two.  Both of them on Friday.  He still sucks.
Chad Tracy: He was the only guy on the opening day roster with any real pedigree as a pinch hitter, and he's been awful at it this year.  (1-13, .077, two walks.)  He did get to play in Iowa for a month, though!
Xavier Nady: As his elbow has healed he's played better.  His OPS per month is: April – .615, May – .679, June – 1.073.  But why does he suck?  Because he still can't throw, and even at first base his arm has been a liability?  You want proof, remember how the Thursday afternoon game in Milwaukee ended?  Yeah.
Starlin Castro: Let's get the provisos out of the way.  He's the youngest player in baseball.  He plays hard and he's got a lot of talent.  But nine errors in 39 games?  Holy shit.  But hey's he's only third in the league at errors at short.  He's also the only one in the top five who spent the first five weeks of the season in the minors.
Koyie Hill: He's a backup catcher, so you don't ask for much offense.  And he gladly obliges.  He's K'd 19 times in only 74 at bats.  His OPS plus is 44 and that's terrible.  Of course his OPS plus in 2008 was -40.  You didn't know those could be minuses did you?  Neither did I.
Tyler Colvin: There's not a lot not to like about Colvin.  He's put up good numbers and done it long enough now that it doesn't seem like a complete fluke.  He's even not as terrible against lefty pitching as we feared (.261 average, .726 ops), and he crushes righties (.315, 1.039).  But one thing that has to change.  In 112 at bats he's struck out a whopping 35 times.  That's 31 percent of the time.  Just wait until the Cubs sign Adam Dunn next season and these two bat back-to-back.
Carlos Silva: I'm stumped.  What's not to like about Carlos Silva?  He helped rid the Cubs of Milton Bradley.  He's 8-2.  He's walked 14 guys in 13 games.  OK, how about this?  The Cubs told him he was out of the game on Friday and he went back to the mound anyway?  Yeah, it's not much.
Carlos Zambrano: His good start Sunday will help, but before that he was 2-4 as a starter with a 6.23 ERA.  As a reliever he was 0-1 with a 4.15 ERA.  The move of sending him to the bullpen was asinine, but honestly, he's sucked most of the year regardless of when they've used him.
Ryan Dempster: He's been solid all year, but he didn't go 1-4 in May by accident.  His ERA in April was 2.78 and in June it's been 3.44, but in May it was 4.54 and on a team with offense this shitty, that'll help you lose four of five decisions.
Randy Wells: In his three wins his ERA is 3.32.  In his five losses it is 11.07.  Any questions?
Ted Lilly: The pre-Cubs part of his career was marked by two things.  He could give you close to 200 innings and he'd walk way too many guys.  With the Cubs, he's still given the innings, but he's cut way down on the walks.  Until this year.  He's walked almost as many guys in two months (21) as he did all season (36) last year.
Tom Gorzelanny: Did he pitch well enough as a starter to keep that job when the Cubs decided to put Zambrano back in the rotation?  Sure.  But when he got lit up in his last start and blamed the uncertainly of his upcoming role on his struggles, you knew why he's struggled in his career.  He's got no stones.
Sean Marshall and Carlos Marmol: They don't suck.
Bob Howry: How's this?  With the D'backs this year his ERA was 10.67.  With the Cubs it is 0.96.  Wait, how is that possible?  Well, he's given up seven runs in only nine innings, but somehow only one of them is earned.  So he sucks just as bad as he did in Arizona.  Maybe worse, even.
Andrew Cashner: He really is pretty good.  Righties can't hit him at all (.154 ave, .374 OPS), but lefties can hit him a little (.273, .606), so work on that, kid!
Jeff Stevens: His control is better than it was last year but he's still walked six in only 13 innings.
Jeff Gray, Jeff Samardzija, Smiley Caridad, James Russell, etc.: Enjoy Iowa you fucksticks!
And…
John Grabow: He's got an 8.10 ERA.  He's walked 13 guys and given up 33 hits in only 24 innings.  He's been complete shite.  He'd better hope he's really hurt, or he just plain sucks.  But hey, at least he's signed through next year.
Lou Piniella: You guys know I love Lou, to a fault.  And he's tried all kinds of shit.  Lots of batting orders, lots of lineups, lots of bullpen combinations, even the terrible Zambrano to the bullpen move.  I don't blame him for any of that.  What I blame him for is the number of starts that Ryan Theriot and Kosuke got (and in one case are still getting) even though they can't play.  If you're going to rant about only playing the best players and not worrying about salary, then you can't play either one of them as much as they have.  Would that make the Cubs not suck anymore?  No, but it might make them suck less.  And that would be a start.
They are eight games out.  They're terrible on the road and only .500 at home.  They suck.  Is it over?  Are they doomed to finish the season as a massive disappointment?
Yes.
But hey, we've still got Wipeout.  And Jill Wagner.