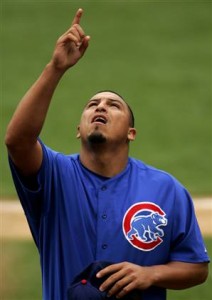 For any other team, this development would be manna from Heaven.  An overpriced, overemotional pitcher who the team had completely written off has turned himself back into one of the best pitchers in the National League with a stretch run that has taken his trade value from "non-existent" to "meh" and in typical Cubs fashion it's just confusing them.
When Carlos Zambrano threw his team-record 473rd career temper tantrum in June against the White Sox it was the end of his run as a sometimes charming, oft-infuriating, viable part of the team.  It was the tipping point in his relationship with the Cubs and far less importantly, with the fans.  It was time for Carlos to go somewhere else.
The problem was, who the hell was going to want him?  It was one thing when he was a headcase and a top notch starting pitcher.  But he was just a headcase now.  The Mets tried to pawn two of their problems (Oliver Perez and Luis Castillo) off on the Cubs at the deadline, but the Cubs said no.
The once huge obstacle of Carlos' no-trade clause was gone, as Zambrano admitted that he was ready to go somewhere else.
But a funny thing happened after Zambrano's trip to anger management and the minor leagues.
He started kicking other teams right in the ass.
He was activated from the crazy list on July 31 and he made a few relief appearances.
Then, on August 9 he made a start against the Giants.  Five innings, two runs, no decision.  Not bad.
Five days later he outpitched Chris Carpenter in St. Louis and beat the Cardinals 3-2.  He had a no decision against the Padres and allowed just one run in six innings.  Then he beat the Nats, giving up one run in seven innings.  Then he beat the Pirates and didn't give up an earned run.  Then he beat the Mets and gave up two earned runs in seven innings.  On Saturday he beat Milwaukee, giving up no runs and coming one out from a shutout.
In those seven starts he's 5-0 with a 1.60 ERA and 39 K's (and 23 walks) in 45 innings.  He's really hit his stride of late, striking out 32 guys in his last four starts.
So how can this possibly be bad?  He's proven he's healthy, he hasn't punched anybody, smashed a Gatorade machine, thrown a ball from home plate to the center field bleachers or thrown an umpire out of a game.  He's routinely throwing in the low to mid 90s (usually 91-93), which he hadn't been doing before his mental time out.
And, he's still only 29 years old.  He'll never be a number one pitcher again (we don't think), but he's surely a two or at least a three.  He's owed $35 million the next two seasons, so the Cubs are going to have to eat some salary to trade him, but they probably will no longer have to eat "most" of it.
How can this be bad?  How can the Cubs possibly fuck this up?
They might just keep him.
I'm an admitted Carlos Zambrano fan.  I put up with the displays of lunacy, mainly for two reasons.  1) I wanted to punch Michael Barrett in the face and Carlos beat me to it.  2) I'm a moron.  I have a little meathead streak in me, and when things go bad I don't mind seeing a player lose his shit.
But even I have my limits, and Carlos finally went past them.  That, and I didn't think he was ever going to be good again.  I'm shallow like that.  His act was tolerable when he was still good, once he wasn't, it was just tired.
Is he BACK?  I have no idea.
What I know is this.  He's 29, but he pitched for Dusty Baker for four years from 2003-2006, and during that time, Dusty did horrible things to Carlos and his arm.
From 22-25 years of age, Carlos threw 214, 209, 223 and 214 innings.  But it wasn't just the innings.  When he was 22, Dusty let him throw over 110 pitches 13 times.  At 23 he did it 20 times.  At 24, 19 times.  And at 25, 21 times.  That year, (2006), Carlos made 33 starts and the only time he didn't throw 100 pitches in a game was September 4 in Pissburgh when he got hammered and gave up five runs in an inning and a third, and still threw 43 pitches.
Dusty's abuse at a young age is very likely to shorten Carlos' productive career.  The Cubs need to squeeze two more good starts out of Carlos and then hope to cash in on a little better deal than they expected six weeks ago, when they trade him this offseason.
He might have another good season in him.  I don't know.  I hope he does.  But if the Cubs decide to find out for themselves, it's going to bite them in the ass.
Just like everything else always does to these sad sack dopes.