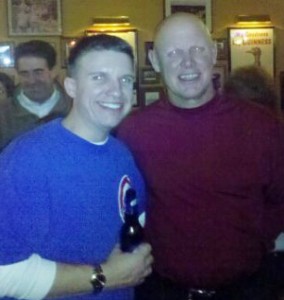 At and around the trade deadline the Cubs, wallowing in fifth place, traded away their best starting pitcher, their opening day shortstop, a second baseman, their All-Star first baseman and their manager retired because frankly, going home to a sick mother was a more attractive option than watching the team he was managing.
And since then, the Cubs have gone 14-7 (.667) which is just a little bit better than the abysmal 51-74 (.408) they had played to that point.
So what's the difference? How are they suddenly better?
The short answer: they aren't.
The thing about the "fire sale" that the Cubs had at and around the trade deadline is that it was mostly just a smoke sale.
Of the players they traded (Ted Lilly, Ryan Theriot, Mike Fontenot, Derrek Lee) the only one they actually miss is Ted Lilly.
Theriot was awful this year.  His punchless .284 average (it came with a miserable .320 on base average and humiliating .327 slugging average) wasn't doing the team any good.  (He's slugging .308 for the Dodgers.  Suckers!) He lost his shortstop job to Starlin Castro barely a month into the season and honestly, he should have been sitting on the bench, not wasting at bats and waving at routine ground balls.
Fontenot is a bench player, and a non-versatile one at that.  He's got decent power for a midget, but is barely adequate at second, horrendous at short and laughable at third.  You could find four passable replacements for him at a strip club in any town with a AA baseball team in it on any random July night.
Derrek Lee had suffered through a miserable season due to injuries and oldness, and except for an occasional outburst of competence for a two game stretch here or there, the Cubs were getting nothing out of him.  When the Braves miss the playoffs it's moves like trading for a guy the day after he got an epidural that will have made the difference.
As for Piniella, he'd stayed a year too long.  But not the way you think.  He was perfect in 2007 kicking a rebuilding team into shape, and in 2008 he got 97 wins out of a really good team.  But he and (especially) Jim Hendry overreacted to his team's righthandedness before the 2009 season and some bad moves turned into more bad moves and the 2010 Cubs were just bad.  When the 2009 team flopped, the Cubs should have started over, but like most teams they tried to patch it one more time.
The Cubs aren't necessarily better now, at least in terms of overall talent, but here's the sad thing…they really aren't that much worse, if they're worse at all.
Theriot has been replaced by a platoon of Blake DeWitt and Jeff Baker.  DeWitt has struggled, hitting only .235/.293/.346/.639 as a Cub.  But Baker, getting starts against lefties, is mashing the ball .361/.425/.444/.869.  I hope you like it, because despite efforts by Seabiscuit's Jockey and the horrendous Gordon Wittenmyer to prepare you for the Darwin Barney era at second next year, you're far more likely to end up with this same DeWitt-Baker combo.  And DeWitt won't always hit this poorly.  He had a 99 OPS plus with the Dodgers, so he's a league average second baseman.
The other thing you might want to get used to is Xavier Nady playing first base.  He likes it in Chicago and he'll be cheap.  Oh, and believe me, next year's Cubs are going to be cheap.  (And bad.)
Since Lee was traded to the Braves, Nady has posted a .337/.349/446/.795.  It's not exactly Adrian Gonzalez, but it sure isn't worse than Lee .241/.341/.367/.708.
And as I wrote on Tuesday, Zambrano has been tremendous since he came back from the Loony Bin, with last night's win over the Cardinals he's 5-0 with a 1.05 ERA in his last 28 days.
It also hasn't hurt that the Cubs schedule has been less than challenging.  Of the 21 games in the Mike Quade era, only six have been against teams with .500 or better records.  Three of those were against Cincinnati (the Cubs lost two) and the other three were against the team with the worst record in the NL over the past month (the St. Louis Cardinals!  The Cubs won them all.)
That's not to say Quade hasn't done an impressive job.  The Piniella Cubs this year weren't beating teams with sub-.500 records, so even that's an accomplishment.
What Quade has done is similar to what Buck Showalter has done in Baltimore.  He's got them playing hard (well, most of them), which means a lot in September, especially against the Pirates, Mets and yes, the Cardinals right now.  Old crusty scouts say the worst months to evaluate players are March (spring training) and September.  And the same holds true for managers, I suppose.  So even though the Cubs are playing .667 ball under Quade, there's no way in hell this is a good team.
They're likely to open next season looking a lot like they do now.  With an outfield of Alfonso Soriano, Marlon Byrd and Tyler Colvin, and an infield of Xavier Nady, DeWitt/Baker at second, Starlin Castro at short and E-ramis Ramirez at third, with Geovany Soto at catcher.
The starting rotation depends on whether or not they decide to trade Zambrano.  If they do, they're likely to make a run at bringing back Ted Lilly.  I don't think they'd add Lilly's salary to what they already have, so it's probably Carlos or Ted.  That gives you a rotation of Ryan Dempster, Zambrano/Lilly, Tom Gorzelanny, Carlos Silva and a fifth starter to come from Randy Wells, Jeff Samardzija, etc.  So yeah, they're going to blow.
I get the honest impression that the Cubs could do (and likely will do) worse than Mike Quade as their next manager.  For all of the blather about how Ryne Sandberg has paid his dues by going down to the Cubs minor leagues and working his way up, Quade must just laugh.  Quade won't be the sexy pick.  (Quade won't be the sexy anything.) But with Joe Girardi unlikely (at best) to be available, with Fredi Gonzalez off to Atlanta, and with the rest of the candidates unimpressive retreads, he might be the right one.
But what the hell does it matter?  If the roster is what I think it's going to be next year, the best thing that can happen to Sandberg is to be passed over.  If you thought 2010 was bad, brother you ain't seen nothing yet.