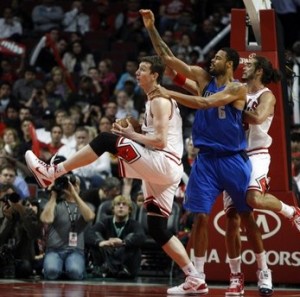 Back before I became your favorite Cubs writer dude who infrequently posts, I was an NBA blogger who actually got paid for it.  It's true, I even had to claim that shit on my taxes and stuff.
I had mostly quit the NBA writing thing until an ill-fated attempt to relaunch an NBA blog a few years ago.  Kind of like an ill-fated attempt to launch a baseball blog a few months ago.
But really, I was just waiting.  Waiting to be inspired.  Waiting for the itch to come back and write a few pithy basketball columns to pass the time over the long, cruel winter (and fall and spring and summer, since the NBA season never really ends).
And the Bulls, our beloved Chicago Bulls have given me that reason.
And that reason is named Omer Asik.  Yes, the Turkish Dervish himself.  Seven feet, 250 pounds of lithe, chiseled, semi-coordinated, foul machine.  I just can't fight excitement like this.  So I'm in.
So what am I in for?
Apparently LeBron James, formerly of the Cleveland Cavs and now a member of the Miami Heat (I refuse to recognize them as the Heat, they'll always be the Flint Tropics to me, I don't care who Jackie Moon sold them to), is turning over a new leaf.  After making the obvious choice when choosing between Cleveland and Miami for anything and taking a lot of shit for it, LeBron put the Hee Haw-checked-tablecloth-button-up back on and spoofed his ponderous "The Decision" program in his new Nike ad.
Nike's good at three things.
1) Making ads.
2) Creating a new Oregon football uniform combination every day for twelve years.
3) Making running shoes with a little hole under the left insole where I can put my Nike Running sensor, which has somehow forced me into buying nothing but Nike running shoes, even though they wear out roughly a 1,002,145 times faster than any Asics pair, just because if I'm going to run 30 miles a week, you damn well bet I'm getting credit for it on the Nike Running Web site!
Shit, what was I writing about?  Oh yeah, this:
You've got to admit that's a sweet commercial.  And it has Don Johnson in it!  I thought he'd peaked this fall by playing Kenny Powers' dad on the second (and friggin' awesome) season of "Eastbound and Down", but the Don is full of surprises.
Speaking of the Cavs, my old buddy Kelly Dwyer of Yahoo! Sports did a phenomenal job with his team capsules in the Yahoo! NBA Preview magazine.  And, Kelly took a look at the awful wreckage left behind in Cleveland and predicted them to win 12 games.
This made their new head coach, Byron Scott a little perturbed.
Take a good look at the Cavs roster and tell me where they're going to get a 13th win.
Basketball-Reference.com (the hyphen is for…godknowswhat) ran some simulations (likely involving playing a shitload of NBA2K11), and they had the Cavs winning slightly more than 12 games.
Try 46. And they had them winning the Central and beating the Bulls in the first round of the playoffs.
Well sure, I mean how can a team led by Jamario Moon and Jawad Williams be contained?
They also picked the Heat to win 64 games (not the 73 that a drunken Jeff Van Gundy predicted), the Oklahoma Sexuals (sorry, I always think that's what they named them) the Oklahoma City Thunder winning a paltry 43 games (they won 50 last year) and only one team in the Atlantic winning more than 37 games (the Celtics.)
Who am I to say their predictions are shit?
But come on, their predictions are shit.
Take the Bucks for instance.  We all know that the Bulls and Bucks are the class of the Central (such that it is) and they have Milwaukee finishing third with only 41 wins.  If that happens, it means Scott Skiles committed career suicide on Christmas Eve again.  But come on, the Bucks have Andrew Bogut back.  And how do we celebrate the Awesome Aussie's return?
Let's watch him dislocate his elbow again!
[youtube:http://www.youtube.com/watch?v=ex2ryik9j9g]
Guh.
So what do I think, you ask?  Here are my fearless predictions for the 2010-2011 NBA season.
Carmelo Anthony will be traded to the New Jersey Nets for Mikhail Prokorhov's tiny giraffe, and it will be totally worth it for the Nuggets! Look at that thing.  I jump ins it, too!
[Youtube:http://www.youtube.com/watch?v=rkB9OT2XVvA]
Vinny Del Negro will take the LA Clippers to new heights. That's like 40 wins, mostly because Blake Griffin is awesome, not so much Vinny's in game huddles that always consist of him holding a dry erase board with nothing written on it and yelling, "Energy!  Hustle! Rebound! Energy!" over and over again while the players all watch the Kiss Cam on the jumbotron.
I'm never going to get tired of those HughesNet commercials on DirecTV (and I'm not even sure what the hell HughesNet is, other than maybe the only part of the basket Larry Hughes hits when he takes an important shot) because their spokeswoman has the best boobs ever.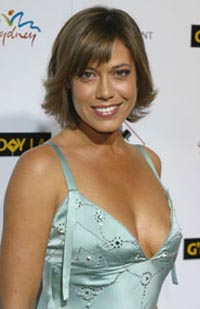 This shot doesn't do them justice.  Just do one of those Googles things for Kimberly Joseph and you'll see less family friendly versions of them.  And yes, she did play the stewardess on Oceanic Flight 815. Thanks for asking.
After reading how the moving Oklahoma City Bombing memorial has helped bring the Oklahoma Sexuals…damnit!…you know who I mean, together, the Portland TrailBlazers will bond by going to the park where Damon Stoudamire and Rasheed Wallace used to get really stoned together.
Bill Simmons will add another chapter or 12 to his 700 page Book of Basketball devoted to telling us things we already know (Kevin Durant is really good) and acting like he was the first white person to watch "The Wire" six years after it first aired on HBO. People will buy the book, but just like the hardcover edition, nobody will actually read the fucking thing.
Bulls analyst Stacey King will spend lots of time talking about hustle, defensive effort, and twelve other things he never gave as a player.
The next person who sees Mike D'antoni on TV and jokes "Amare, you can be my wingman, anytime" will be the 1,000,oooth person to make a "Hey, he looks just like Tom Skerritt" joke, and hopefully will die immediately of an aneurysm. Then again, if you make a joke about him having sex with Drew Barrymore on a car…nah, still just die.
The Heat are going to win the NBA title. Did you hear that they signed LeBron to go with Dwyane Wade?  They even added the skinny guy from Toronto who shrinks in big games.  But LeBron and Dwyane?  I'm pretty sure it was in the papers.
And finally…because it's just awesome (and I posted it on Fisted Foul, but nobody ever reads that so I'll awkwardly work it in here) nothing involving a singer at any time during the NBA season or playoffs will top this:
[youtube:http://www.youtube.com/watch?v=R60xxf75d3U]