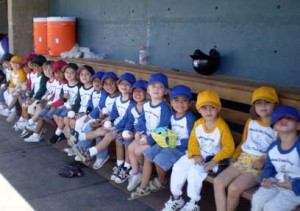 The Cubs know talent when they see it and they waste not time locking it up.
After signing super-smooth Mike Quade to a two year contract (with a club option) to manage the club, they had an opening on the staff to fill.  Alan Trammell left his post as bench coach to go join the staff of his former Detroit Tigers' teammate Kirk Gibson in Arizona.
So left without anyone to coach the bench, the Cubs looked no further than the best candidate imaginable.  A former big league star who had recently been named the manager of the year in the Pacific Coast League for his work managing the Iowa Cubs.
That's right, the Cubs have announced that Ryne Sandberg will be the new…
…wait, what?
Oh, right, Pat Listach was the PCL manager of the year in 2008 with the I-Cubs.  Whoops.  Sorry to get your hopes up, there, Ryno.  My bad.
Hey, I'm sure you'll be getting a call to manage a big league club here sometime soon.  How are all of those interviews going?
What?  You haven't been interviewed by anybody other than the Cubs yet?  Wow, I'm really stepping in it here, aren't I?  How about I just back away and we pretend this conversation never happened.
So there you have it.  Pat Listach becomes Quade's new right-hand man, his consigliere. And most importantly he's the guy who coaches the bench.  You think the bench just knows that to do?  No.  It needs constant coaching.
Listach and Quade are no strangers.  They've coached together before.  Here's a shot of Quade, Listach and Jerry Reuss during their days coaching the Cuban national team.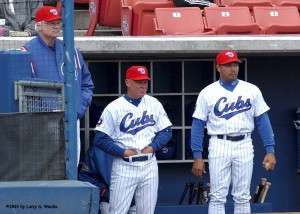 Now I think we can see why people say Quade is such a "hands-on" manager.
This is a great career move for Listach who has worked his way up steadily through the ranks.  Last year he was the Nats third base coach.  Now he's the bench coach for the Cubs.  In five or six years he might get to coach for a team that wins more than 75 games.  Dare to dream.