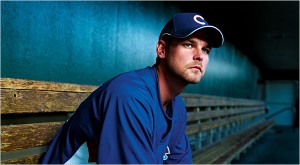 It's not official.  But we're Cubs fans and we know how these things work.
The New York Yankees had to decide whether or not to exercise an $11 million option on their second best reliever, and they decided not to.
Even though he was 2-0 with an 0.69 ERA for them after they acquired him from Cleveland on July 31, and even though he posted a 1.50 ERA in six innings in the ALCS (four appearances) and made three appearances in the ALDS, the Yankees, yes, even the Yankees know it's ridiculous to pay $11 million for a setup guy.
Especially a soon to be 34 year old setup guy with a Tommy John Disease scar on his elbow and another doozy behind his shoulder.
So Kerry Wood is a free agent.  Again.  Just like he was after 2008 when the Cubs decided they'd be better off spending the money he wanted on Milton Bradley and trading for Kevin Gregg.
But it's different this time.
This time he's not a closer anymore.  He went to Cleveland because they offered him more money than sanity could defend, so he could close games for them.  It didn't go well.  The team sucked and while years of being a Cub had gotten him used to that, he was bad, too.  And he was never happy in Cleveland.  He enjoyed himself in New York, playing for his old catcher, Joe Girardi and getting his mechanics "fixed" (again) by Dave Eiland.
Now both he and Eiland are looking for work.  Maybe a team will offer Kerry a big contract, but it's not likely.
And so, if he's going to sign a one or two year deal to pitch the seventh or eighth for somebody…you just know it's going to be with the Cubs don't you?
He didn't want to leave in the first place.
Now it's not going to be easy.  The payroll is being cut and the bloat of some of Hendry's greatest hits are still on the roster.  But the Cubs have two areas they need to shore up, and they're going to have to spend something to do it.  One is first base (we'll get to that some other time) and the other is on the pitching staff.
It's no secret that the Cubs want to make a starter out of Andrew Cashner at some point.  So you can see them signing Wood, giving him the eighth ahead of Carlos Marmol and starting Cashner's path to the rotation.
Does it make sense to sign Wood?
Not really.  As cool as it would be to have him back, the reality is that Cubs fans more than anybody know what his deal is.
a) He's an awesome guy.
b) He's a great teammate and a great guy to have in your clubhouse.
c) He's got the pitches to be a dominant reliever.
d) He's always going to get hurt.
Pitchers, by rule, are going to get hurt.  So it's rough to sign a guy who you know without a doubt is going to get hurt.  Hard to build bullpen continuity when your eighth inning guy is going to spend two months with a blister the size of a silver dollar (if you're lucky) or in a sling (if you're not.)
I'd love for the Cubs to bring him back and for it to work.
Unfortunately, I think only half of that is going to happen.