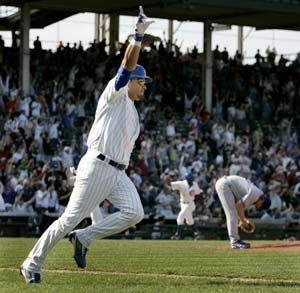 When the Cubs re-signed E-ramis Ramirez in the offseason after the wonderfully enjoyable final Dusty Baker year, it seemed like folly that they would give him a player option after the 2010 season.  Surely, E-ramis, one of the best third basemen in the game would at the very least exercise the option to get a new deal from the Cubs, if not to get the hell out of town.
But yesterday, E-ramis let the deadline to opt out of his contract pass, guaranteeing him $14.6 million for next year, but not attempting to find more money out in the open market.
So typical of the Cubs, that they get what they wanted.  But not why they wanted it.
Truth is, E-ramis was the Cubs best player as recently as 2009.  When he fell down and went boom on his shoulder early in that season in Milwaukee it was the first in a series of events that would doom the then two-time defending NL Central champions.  Most of the others had to do with either Milton Bradley acting like an ass or Carlos Zambrano pitching like one.
When E-ramis did play that year he was still awfully good.  He managed to get in half a season, and in 82 games he hit .317 with a .905 OPS.  It marked the sixth straight season (every full year as a Cub) that he had an OPS of better than .898.  So everything seemed to be cool.  He was "only" going to be 32 this season (it's a Dominican 32, so it could be anywhere from 32 to 48).
And in the spring everything seemed great.  He played well in Arizona and was ready to go.  And then…he sucked.  He sucked in ways that we didn't think were possible for him.  He is, after all, one of the most consistent, and best hitters in the National League.  So when he hit .152 in April, we were concerned, but not panicked.  When he fucked up his thumb and then continued to struggle in May, hitting .173, we went into this mode:
[youtube:http://www.youtube.com/watch?v=YjALX90wrA0&feature=related]
He finally went on the DL and got his thumb healed, and then he played OK, but not great.
He hit .265 in June, then .313 in July, .301 in August and then slid back to .240 in September.
That said, I'm glad he had nowhere else to go.  You can bitch and moan about his defense (lord knows Bob Brenly does) and you can question his work ethic (Barry Rozner has a macro on his computer that turns aramisloaf into three paragraphs), but when healthy he can hit, and the Cubs don't have that many guys you can say that about right now.  Granted the "when healthy" thing has been a huge issue the last two years.  And before that, he always seemed to be nursing something.
Another concern is that his power numbers are in pretty clear decline.  His slugging average has dropped every year since 2004.  Until last year they hadn't been huge drops, but they were very real.
2004 – .578
2005 – .568
2006 – .561
2007 – .549
2008 – .518
2009 – .516
2010 – .452
Those were offset by an on base average that had improved over the years, until it went from a career high of .389 in 2009 to a Corey Patterson-esque .294 in 2010.
Will E-ramis bounce back?  I don't see why he wouldn't.  He's still "only" 33 (snicker, snicker) and this is a contract year for him.  There's no chance in hell that the Cubs are going to pick up his $16 million team option for 2012 so he's got to produce to get a big deal either with the Cubs or (more likely) with some other team.
One of the things he has in his favor is that the Cubs have no in-house solution to third base.  They drafted Josh Vitters (ahead of Madison Bumgarner and Jason Heyward) in the first round in 2007 with an eye on him being ready to take over third next year.  He's still a long way off.
In four minor league seasons, Vitters has really only had two good runs.  Fortunately for the Cubs, they have been the last two years.  In 2009 when he was still young for the Midwest League, he tore it apart.  After a slow start he ended up hitting .316 with an .885 OPS and 15 homers and 46 RBI in 70 games.  The way he finished his run there made you think he was about to make the leap.
But then he struggled at high-A Daytona.  He hit only .238 with five homers in 50 games.
He started last year at Daytona and hit well, .291 with three homers in only 28 games and he got promoted to AA Tennessee.  A 20 year old playing AA is a good sign.  Not so good when he can't handle it, though.  Vitters broke a finger and ended up hitting only .223 in just 63 games.  He'll start 2011 in AA, and he does not seem poised to pull a Starlin Castro and show up in Wrigley in May.
The huge red flag with Vitters, of course, is his inability to take a walk.  If you liked Tyler Colvin's inability to get on base, you're going to LOVE Josh Vitters.  In four minor league seasons he's walked…
Wait, let me emphasize something here.  In four minor league SEASONS, he's walked FORTY-NINE times. That's seasons.  Forty-nine walks.  Holy fuck.  What do the Cubs teach down there?
Well, I guess if E-ramis leaves after next season and Vitters still isn't ready, there's always Bobby Scales.
E-ramis might be tradeable this season.  His no-trade clause in his contract has expired (don't get too excited, he's a 10-5 guy now so he didn't need a clause any longer), but it does not appear that if he's traded during the 2011 season that his 2012 salary becomes guaranteed.  That was a huge deterrent last year (that and him sucking) to any trade.  If you traded for him his player option for 2011 kicked in AND his team option for 2012 did, too.  That meant you were taking on whatever he had left in 2010 at the time of the trade and more than $30 million for 2011 and 2012.  It appears that if he's traded in 2011 that a team is only on the hook for the rest of that season and a $2 million buyout for 2012.
Let's hope the Cubs play well enough that they don't want or need to trade him.  But since that won't happen, it'll be interesting to see if he moves before the July 31 deadline.  It would still require trading him to a team he wants to go to.
I suppose Darwin Barney could take over third.  That is when he's not too busy making adorable little lip sync videos like this:
[youtube:http://www.youtube.com/watch?v=r3UGHFitODk]
OK.  All that said, I just want my E-ramis back.  I want the clutch hitter with the flair for the dramatic back.  He's the one Cub who doesn't suffer tight ass in big spots (during the regular season at least).  And I just love watching the dude hit.  It took a long time for the Cubs to find a real third baseman, and frankly, I'm just not ready to go through another 30 years of them fucking that up.
So how about E-ramis do everybody a favor and come back, put up big numbers and sign one more deal with the Cubs?
Is that really so much to ask?
(Yes.  Yes it is.)