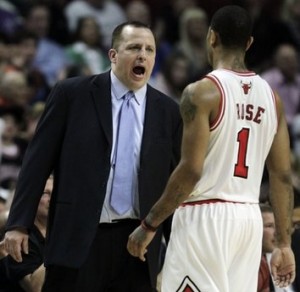 A lot was made of the end of the Bulls disappointing (and quite frankly, a little embarrassing) loss to the New York Knickerbockers last night.
The Bulls, who played much of the game as if they'd a) never seen a pick and roll before and b) as though they assumed there were land mines planted in the UC court right in front of whatever Knick happened to be shooting a three pointer, trailed by as many as 19 points in the fourth quarter.
Having seen enough of the starting five, Tom Thibodeau put in the likes of CJ Watson, Omer Asik, and Kyle Korver and the lead was trimmed to nine.
In fact, if Taj Gibson hadn't been stuffed on a dunk, the lead would have been down to seven.
So what's Thibodeau taking shit for today?
For not putting Derrick Rose or Joakim Noah back in the game in the fourth.  Fans are acting like Thibs didn't want to win and that he gave up.
They choose to ignore the fact that if Rose not turn Toney Douglas into Andrew Toney while he was in the game, that Thibodeau might have had more confidence that putting Derrick back in the game would have resulted in the necessary combination of more points for the Bulls and less for the Knicks.  As it was, it looked like it would have been more points for the Bulls and more points for the Knicks and a Bulls loss.
One thing Bulls fans are going to have to get used to is that the Bulls have a real coach now.  One who actually has a concept of trying to navigate a team through an 82 game schedule.  There is no doubt (because we saw it ad nauseum for two years) that Vinny Del Negro would have played the starters big minutes in the fourth in an attempt to win a game that really was quite lost.  Vinny did that shit all of the time.  It's one of the reasons we're glad he's busy fucking up the Clippers this year.
I don't even know how you argue that Thibodeau didn't try to win that game.  At the point that the Bulls fans started chanting "We want Rose" TNT helpfully put up a graphic that showed the Bulls were on a 15-6 run.
This is the kind of thing that Phil Jackson used to do when he coached the Bulls (and still does to this day).  Sometimes he would finish games with weird combinations of players on the floor.  Sometimes it worked (since one of the was always Michael Jordan it worked quite a bit) but sometimes it didn't.  Phil wants to see what combinations of players can and can't play together and how players react to different situations.
I have a hunch that Thibodeau was watching CJ Watson play the point in the fourth quarter and thinking, "Holy shit, is this guy really THIS bad?"
So get off the new coach.  If he's still doing this in March, you can worry.  For now, chalk it up as a coach trying to see the big picture.  Leaving Derrick and Joakim and Luol on the bench didn't cost the Bulls a game.  The game had already been lost.  It was lost due to a combination of the Bulls playing crap defense, and the Knicks making an absurd number of three pointers (16 of 24, that's 67 PERCENT!–you can leave them alone in the gym most days and they won't make 16 of 24).
Besides, when Derrick was in the game we got to see him do this:
[youtube:http://www.youtube.com/watch?v=Gc3yF2-a-A4]