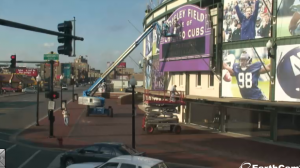 I'm not going to pretend to be angered by the Cubs' decision to paint the Wrigley Field marquee purple for this weekend's epic tilt between a couple of middle of the road Big Ten football teams.
I will say that it looks dumb, and that Northwestern better have paid a shitload of money for the honor.
The Ricketti knew that Wrigley needed to be rehabbed when they bought the team and the park.  I don't blame them for asking the state for money.  I will blame them if they can't renovate the park without the state money (because they had to factor in what renovations would cost when they made their bid on the franchise) but simply asking for cash isn't wrong.
So paint the marquee purple.  Crack the Harry Caray statue.  Put a noodle in the sidewalk for three months.  Go nuts.  But while you're at it, how about actually winning some baseball games once in a while?
Speaking of dumbasses.  How about the career arc of Ryne Dee Sandberg?  The Hall of Fame second baseman was so upset by being passed over for the managerial job with the Cubs (in favor of the more qualified Mike Quade) that he refused a chance to go back to manage the Cubs' AAA Iowa team in Des Moines.  And it worked out great for him because now he's the manager of the Phillies' AAA Lehigh Valley team in Pennsylvania.
In one respect it's a solid move.  He needs to get the stink of "desperate former Cub" off of him and changing organizations might actually make him seem like more of a real candidate for future open big league jobs.  On the other hand, his agent couldn't even get him a token interview for a big league job after the Cubs hired Quade.  Could it be that (gasp!) people just don't think he'd be all that good at it?  Nah, not our Ryno!  He won NINE Gold Gloves!
Just two days after Phil Rogers stunned us all with the news that he's not actually the head of an Urban Impact Commission:
I've never done my own economic study but I believe that ballparks/arenas built the right way, and in the right places, either pay for themselves or so enrich a town that they are worth an investment.
(I love that sentence.  I've never actually tried to learn the real answer so I'll just pull this really terribly wrong conclusion right out of my ass…)
We find out that he also isn't the head of a thinktank that researches the impact that dwarf arms on immobile second baseman in their 30s have on a payroll:
As was predicted a couple weeks ago, the Florida Marlins are shopping Dan Uggla after being unable to sign him to a long-term contract. Early reports suggest that Toronto and Colorado have been the most aggressive teams in pursuit of Uggla, but it seems to me he would qualify as one of those very good "two or three moves" that Cubs GM Jim Hendry hopes to pull off this off-season.
Sweet Jesus.  Really?  The answer to the Cubs ills is Dan Uggla?  They haven't employed enough sub 5'7 second basemen over the years.  They need to trade prospects (that they don't have) to fill a hole (that doesn't exist) for a guy who made $7.8 million last year (and is eligible for arbitration this year and will end up with at least $9 million for next year) which is money the Cubs don't have?
Uggla, a free agent after this season, could be signed long-term by the Cubs with the money that will come off the books from Aramis Ramirez and Carlos Silva after 2011.
Well sure, that's next year, Phildo.  They have to pay Uggla this year and unless they can convince him to take his compensation in the form of autographed Todd Ricketts urinal cakes they're going to have a hard time paying him this year.
He immediately would become their best hitter,
Did someone kill E-ramis Ramirez?  Was it a cockfighting accident? I knew that was going to happen.
and could be played at any of three positions — second base (his spot to this point),
Holy crap, Phil is going to suggest playing this immobile, short-armed freak somewhere other than second…
third base
Career games played at third base: ZERO
Career games played anywhere but second base: TWOÂ  (both of those…Designated hitter)
or even first base.
Holy shit, Phil.  The guy is 5'7.  He'd need to stand on the bag just so Starlin Castro could see him over there.  Are you really this dumb or is this just some elaborate ruse you've been playing on newspaper readers for 30 years?  Nobody can be as fucking dumb as you (hopefully) pretend to be.
But I love your idea.  The Cubs should shell out $9 or $10 million for a guy and have him learn a new position.  Oh, and they should trade players to the Marlins for the right to do that.  And, they should give him a contract extension (he's already turned down $12 million a year for four years in Florida) so he can play some undetermined position until he's 35.
Uggla is a smart hitter who works deep counts, unafraid to hit with two strikes on him. He strikes out a lot but makes pitchers work almost every time up, averaging 4.2 pitches per plate appearance. He would be a big step forward toward changing the tone of a Cubs' lineup in which guys just go up and hack.
He may be unafraid to hit with two strikes, and that's probably why he averages 150 strikeouts a season.  The Cubs need to think long term.  Spending $10 to $12 million on a second baseman who can hardly play the position now just seems stupid.  Which is probably why you like the idea so much.
The Cubs' best average in 2010 was 4.1 pitches per plate appearance, by Kosuke Fukudome, whom Hendry is trying to dump. The second-best total among regulars, believe it or not, was Geo Soto, at 4.0.
Why wouldn't we believe that Geovany Soto would have a good pitches per plate appearance number?  We actually watch games.  Soto had a .393 on base average…and despite the fact that he saw a whopping .2 fewer pitches per plate appearance than Uggla his on base was 24 points higher.
Swinging an Uggla trade would be difficult but could be done. The Cubs have a stable of prospects on the verge of reaching the big leagues, and Florida would perk up if the Cubs mentioned Josh Vitters or Chris Carpenter, the power right-hander who has looked great in the Arizona Fall League. The challenge for Hendry is shoehorning another eight-figure contract into the 2011 payroll, as Uggla earned $7.8 million in 2010 and is due a significant raise from there.
It's not a challenge.  It's a folly.  Uggla's a better hitter than anybody the Cubs have to play second base next year.  But it's just plain stupid to trade prospects and part with money you don't have for a player who you're not even sure could play the position short term, much less long term.
Just stop huffing that airplane model glue, would you, Phil?  Don't you have another Kosuke rumor to make up?