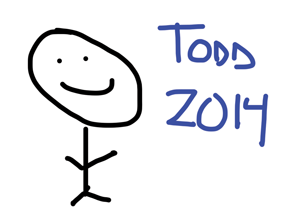 I really thought I had made it.  Last night I got an e-mail inviting me to Wrigley Field for a chance to see a presentation given by one of the owners of the Chicago Cubs about the plans for changes and improvements to the old ballpark.
I got to Wrigley Field this morning about 10 a.m. and I tried to get into the Captain Morgan Club to hear Tom Ricketts try to defend his bond scheme to get free money for the Cubs to rebuild their musty old claptrap of a ballpark, but I was denied entry.
Seems I hadn't been invited to Cubs 2016 (formerly Cubs 2014).  Instead, I was actually invited to something else.
Something else entirely.
It was a who's who of media heavyweights.  It was me, a guy from StreetWise and George Castle, and we were ushered down to a women's bathroom in the main concourse down the third base line.  We could see the firehouse through the gates.
We went into the freshly hosed down restroom, and sure enough, Todd Ricketts was there.  Soaking wet, still trying to remember which way to turn the nozzle to turn off the hose.
Then, one of the Cubs groundskeepers wheeled in an overhead projector, and we go to see Todd Ricketts' plans for Wrigley Field (which may or may not be endorsed…or even known about…by the rest of his family).
We got to see a presentation called…Todd 2014.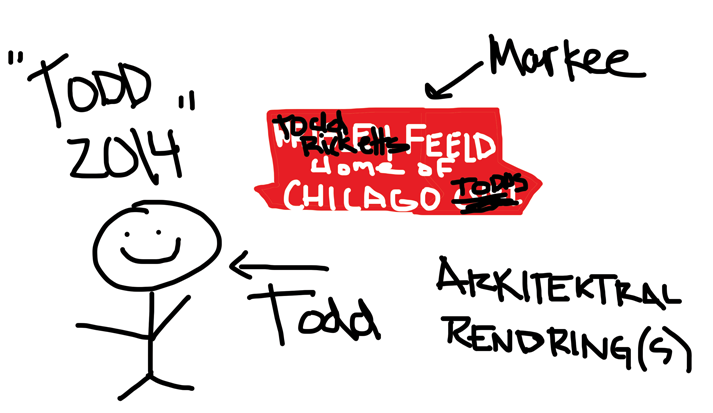 As you can see, Todd is going to not only rename Wrigley Field "Todd Ricketts Field" he's also going to change the team name to the Chicago Todds.
Castle told him he thought it was a dumb idea to "change the Cubs brand like that" and then went into a ponderous soliloquy about Preston Gomez and after a few minutes Todd got impatient, accused George of eating his own "boogers" and moved on to phase two of Todd 2014: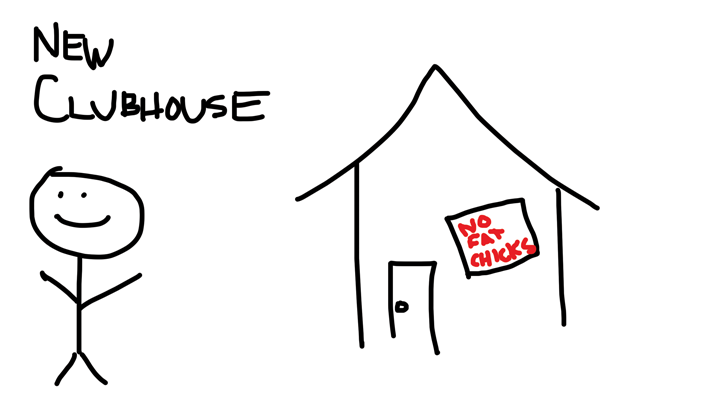 Todd wants to build a new clubhouse.  He even posted what he called "the only rule of the new clubhouse" right there on the front.
When pressed by the reporter from StreetWise about where the new clubhouse would be located, Todd pointed…south, we think, and refused to go into any greater detail.  When pressed by the StreetWise reporter if it was indeed south of our present position, Todd admitted he didn't know "which one south is."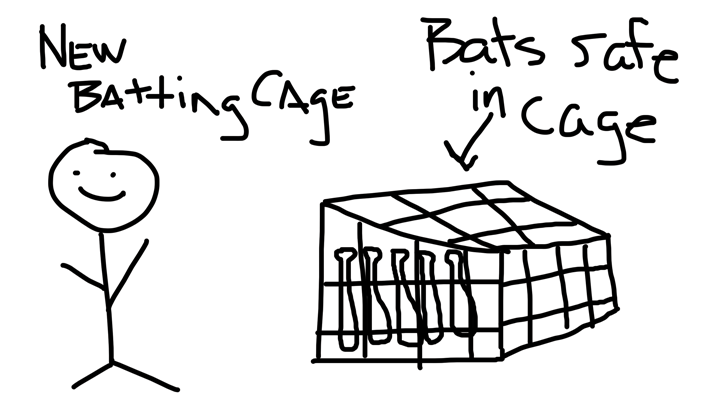 Todd was really excited about the new batting cage he's going to buy.  His drawing showed a cage with some bats in it.  When I asked him if that's what he thought a batting cage was, Todd threatened to put me in the bat cage and make me eat "a bullpen carp."  When I asked him if he meant a "bullpen car" he began to cry…and as far as we could tell (he was pretty wet to start with) he wet his pants…again.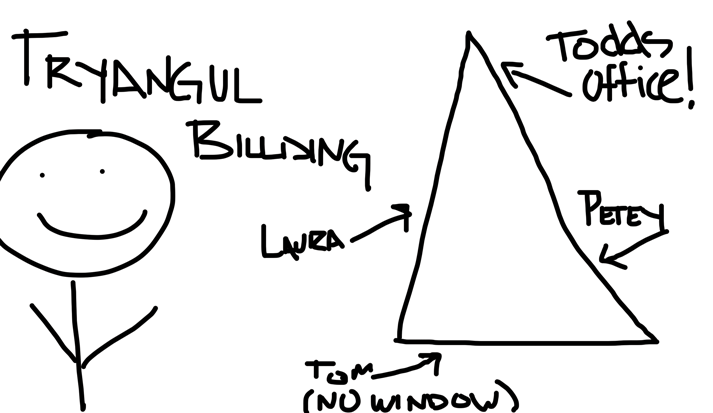 After composing himself (and repeatedly blowing his nose into his shirt), Todd laid out the plans for the infamous "Triangle Building."  Todd has some big plans for it.
As you can see, Todd saved the "pointy office" for himself.  He talked of how he won't need an elevator because he can just "parachute up" to it (we didn't even ask) he pointed out that Laura would have the office below him, then his brother Pete, and that only at the urging of his mother had he relented to giving Tom an office.  He stressed that Tom's would be on the bottom floor and would have "no windows!"
I knew it was trouble when Castle pointed out that because of the shape of the building, that Todd has given himself the smallest office and, Tom the largest.  Todd refused to believe this, and angrily accused Castle of smelling "like old cabbage!"  I can't say Todd is wrong about that.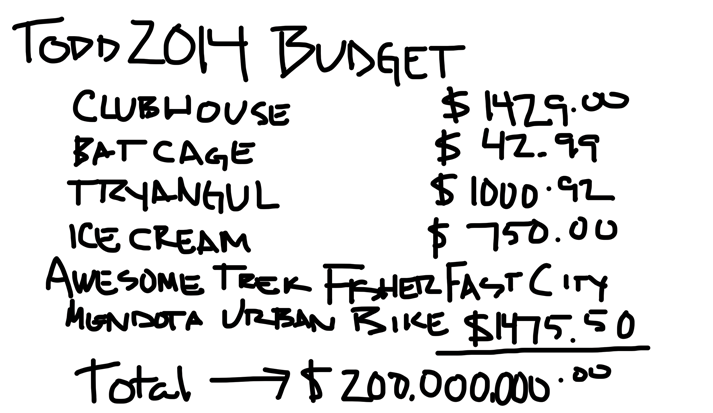 The StreetWise reporter wanted to know if Todd had done the "financials" on the plans and Todd asked if financials meant money.  When assured that it did, he proudly slapped this onto the overhead projector.
As you can see, Todd is going to build a new clubhouse and batting cage for less than $1,500 total.  The triangle building is only going to cost $1,000, and he's going to buy $750 of ice cream.  He explained to us that because he let Tom have an office in the triangle building that his mother would not make him also share any of the ice cream with Tom.  He said that Laura was welcome to as much of it as she wanted and that Pete is allergic to ice cream and that it makes him "fart."  Todd laughed for several minutes after he said "fart."
He was pressed to explain what an "Awesome Trek Fisher Fast City Mendota Urban Bike" was and he explained that it's a "kick ass bike" and that he'd need it to run the ballclub and that it was OK if he rode it inside the stadium.  He repeated that several times.  A little louder each time.  It made me a little uncomfortable, really.
We asked him why he needed $200,000,000 for a project that he only estimates will cost $4,698.41, and Todd said, "Something, something overruns!"  It was his most coherent answer of the presentation.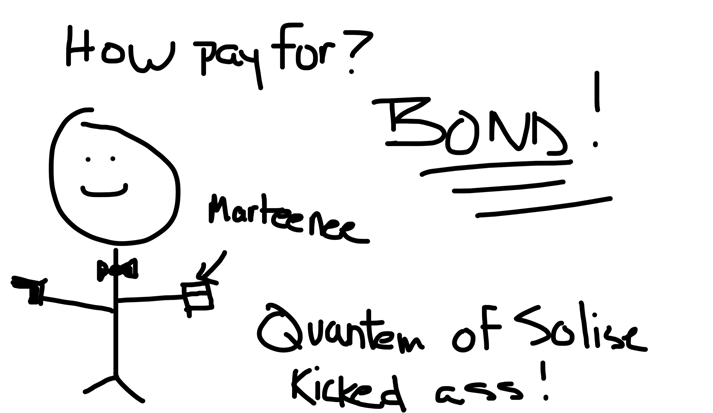 Todd said he had a plan to get the funds necessary for the project.  He said he would be "Bonding for money." And it's pretty clear he has no idea what that means.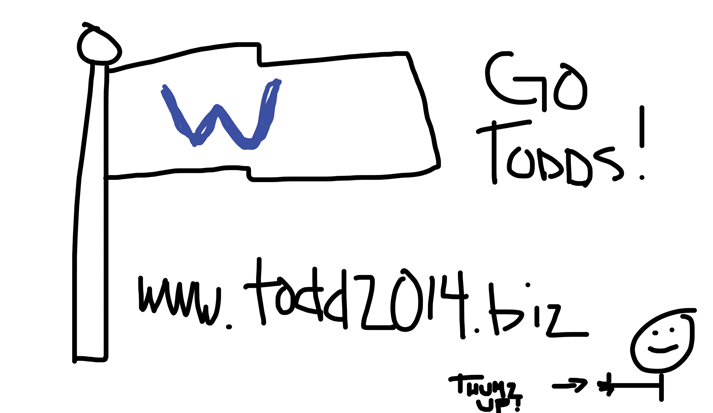 This concluded Todd's presentation, and he did it with a flourish, as you can see here with the "W" flag and a Web address.  Only Todd would buy a dot biz address.  (And, after checking with ICANN he didn't even do that.)
At the end of the presentation (which was the best part), Todd thanked us for coming, offered to create an award with a plaque and $1,000 stipend in honor of the StreetWise reporter, and then he turned the hose on Castle.
I really like the way this guy thinks.