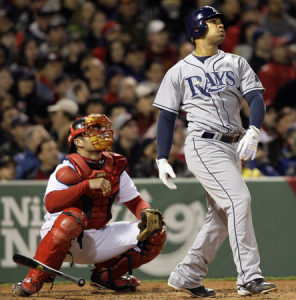 It was made clear to all of us that the Cubs did not have a lot of money to spend this offseason, and that they weren't going to be trading prospects to get players.  So the chance to get any kind of meaningful player to add to the roster was pretty slim.
So if you're upset by the Cubs signing Carlos Pena to a one year contract, you can't say you at least didn't see it coming.
The interesting thing is that this is a very un-Jim Hendry like move.  Not the part where you take a chance that a .194 .196 hitter with a bum foot can rebound, but the part where you don't give him three years and a no-trade.  Couple with the fact that Hendry convinced Pena's agent, Scott Boras, to allow half of the $10 million salary to be deferred to January 2012, and the move almost makes perfect sense.
Consider me not underwhelmed.  Or overwhelmed.  I'm just whelmed.
What the Cubs are getting is a Gold Glove first baseman who has averaged 36 homers and better than 100 RBI the last four seasons.  He strikes out a lot (about 180 times per 162 games played) but until this past year he compensated by getting on base a fair amount of the time (.368 on base average which includes a bad .325 last year.)
He's 32, so he's starting his descent, but the Cubs are hopeful that his plantar fascitis that slowed him in 2010 will heal and help him rebound.
It's kind of sad that one of the reasons you like a deal is that you feared it would be so much worse.  Pena's not the long-term solution at first for the Cubs, but for the first time in a while they haven't signed a guy who's not a long-term solution to a long-term contract.  This isn't giving Milton Bradley, Jock Jones or Jason Marquis three year deals.  This is a move you can get behind.  It's also a move you can conveniently run from if it doesn't work out.
The Cubs had somewhere between $12-15 million to spend this offseason, and Pena's deferred money means they still have $7-10 million left.  So there's still time for Hendry to screw it up and give a four year deal to a middle reliever or something.  But for now, let's bask in the glow of a move that drips of something approaching competence.