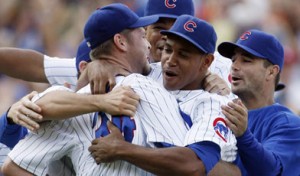 There's really no such thing as a rational fan.  By definition you're a "fanatic" and in practice you have made a conscious decision to devote a wildly disproportionate amount of your own time to become emotionally invested in things other people are doing that have no direct bearing on yourself.
So to those of you who think it's dumb that Cubs fans are happy that Kerry Wood is coming back, go screw.
There aren't many former Cubs rattling around the big leagues that I'd actually like to see come back to the team, but Kerry Wood is one of them.
If I ever wondered about that, it was erased during this year's playoffs when twice I found myself giving a fistpump to the TV as Kerry ended innings while pitching for the New York Yankees.  The Yankees, for chrissakes.  Just another reminder that while it's a team that you root for, there are always a few guys that you become attached to.
For all of the frustrations associated with watching Kerry Wood's Cubs' career…all of the unfulfilled promise, all of the unmet expectations and the injuries–oh, the injuries…if he's not my favorite Cubs player of all-time he's in the top two.  Not that you should care about my individual Cubs rankings, especially if you saw just how high Shawon Dunston, Hank White and Brian Dayett all stand, I'm trying to make a bigger point here.
Sometimes it's just cool to have a guy on your team.  Maybe he used to be better than he is now, or maybe he never was that good in the first place.  But you LIKE him, and you enjoy rooting for him.  That's my only relationship to Kerry Wood.  I've talked to him two times in my life.  So it's not about anything real.
If you want to be cynical and bitch that these are millionaires who don't give a shit about us and why do we really care about them, well, you'd be right, but that doesn't sound like very much fun.  Once and a while you need to make an exception.  He's one of my exceptions.
Maybe I like Kerry Wood because he never became the star he was supposed to be.  It's not like he wasn't good.  At times he was a great pitcher, not just a good one, a great one.  Of course, that greatness only came in flashes, and it normally ended with him walking off a mound with a trainer, but it was there.  And it was it was fun.  And it's always been fun to root for him.  Nobody ever accused him of not working hard, or playing hard, or wanting to do well, or not caring.  Kerry has always given a shit.  That ought to be a given, of course, but sadly, it's not.
His successes were brilliant.  His 20 strikeout game in 1998 was no less than one of the handful of most dominating pitching performances in the history of baseball.  He was incredible in the 2003 playoff series win (the only one the Cubs have had in 102 years) against the Braves.
His failures were just as brilliant.  He sat in the clubhouse after game seven of the 2003 NLCS and said simply, "It's my fault."  He was right…though only to a degree…the Cubs had enough blame to cut up and feed to a Norwegian fishing village.  But part of it, was his to take.  And he did.
His career was over in 2007 and he knew it.  The elbow that had sidelined his can't miss career had been joined by a bad shoulder.  He couldn't throw a baseball, and unlike many Cubs pitchers of the last century, Kerry understood that not being able to throw was a bad thing.
You know the story by now.  He was going to call Jim Hendry and retire.  His agent told him to wait a day, throw one more time and then decide.
He waited a day.
He threw again.
His arm didn't hurt.  He waited another day and he threw again.
His arm didn't hurt again.
He went on a minor league rehab tour and by midseason he was in the Cubs bullpen.  The next year he was an All-Star closer and he was on the mound when the Cubs clinched the 2008 NL Central championship against the Cardinals at Wrigley.
And since that day he's been playing with house money.  His career's over and yet here he is, still pitching, still (mostly) getting guys out.  He made a lot of money in his first go-round with the Cubs for not pitching very much, and some people think he "owes" the Cubs that.
He owes them nothing.  Baseball salaries are speculation.  You're paying for what you think a guy will do while you are paying him that money.  The Cubs were wrong, because they paid an injury prone pitcher and he got hurt…a lot.
Kerry signed a big contract with the Indians after the 2008 season.  The Indians were dopes.  We all knew Kerry's arm could fall off at any moment, and that he has a bad back, and that like a lot of hard throwers he's prone to tearing the skin off his fingers into big blistery messes.  The Indians looked at all of that and said, "You want $10 million a year?"  Kerry, like every one of us would have, said, "Hell yes!"
But he never wanted to leave the Cubs.  Jim Hendry had told him to go.  That he couldn't re-sign him.  Wood said at the time he wanted to stay, and he's said it since.  And so he's back.  Even after a two months (plus) stint in the Yankees bullpen that reasserted that he's a pretty damned good pitcher still.  He had bigger offers, but he wanted to come back to the Cubs.  And so they signed him at the ridiculous price of $1.5 million for one season.  John Grabow is getting $5 million for the same amount of time this year.  And no, I don't think he should give back the money, either.
And the fact is, Kerry wants to go year to year.  If his arm's still hanging on he'll pitch for the Cubs in 2012, too.
It might not be.  It might finally give it up for good next year.  Maybe it's his destiny.  He's supposed to come back and do what he has done so spectacularly since 1998.
He's supposed to come back and blow away a few hitters.
He's supposed to get an at bat and hit a homer.
He's supposed to throw a pitch, grab his arm and walk off the Wrigley mound forever.
OK, that last part would blow.  Let's hope that doesn't actually happen.  It wouldn't surprise any of us (and I'll bet it wouldn't surprise him, either) if it did, though.
It all comes down to this.
Kerry Wood's a pretty cool guy.  He's a rare breed of player who is just as attached to his team as its own fans are.
I'm glad he's back.  (You know, I actually predicted this on November 2, but I'm such a big man I won't rub your nose in that).
It just seems right.
Just remember, it's still OK to root for a guy just because you like him.
That's why I root for Kerry Wood.
Even, apparently when he was a goddamned Yankee.
Welcome back, kid.