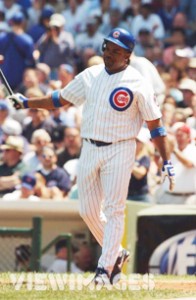 Even though (SPOILER ALERT) Ron Santo is dead, it doesn't mean that the day the Hall of Fame votes are counted isn't still painful for living, great, former Cubs.  Today, the baseball writers voted to induct two players into the crummy little snobatorium in Cooperstown, NY next summer.
Alas, a Cub who holds a vaunted and treasured all-time record fell just shy of election.
Where is the outrage?  Where is Garry Meier trying to get a statue erected for the snubbed great former Cub?  Where is Pat Hughes to wax eloquently about how much being in the Hall would mean to the player?
Where is the outrage that Lenny Harris, the Major Leagues all-time leader in pinch hits fell just short in the balloting?
Who is there to stand up against this injustice?
Well, considering that you needed 436 votes to be elected and Lenny got zero, I suppose there's no outrage, and probably no injustice.
Other former Cubs greats like Benito Santiago, Fred McGriff, Rafael Palmeiro and Lee Smith didn't get elected either.  Yeah, seriously, somebody (one person) actually voted for Benito Santiago.
McGriff got FORTY more votes (104) than Palmeiro (64).  Of course, Raffy did manage to actually flunk a steroids test, just months after telling Congress he never used the stuff.  Whoops.
I'm not really sure why Lee Smith isn't in.  Like Harris, he held a treasured record.  He had more saves when he retired than anyone to ever pitch in the big leagues.  Actually, Lee's record kind of was a big deal.  Lenny's just means that he never was good enough to start regularly.  Smith has since been passed by Mariano Rivera and Trevor Hoffman.
After Greg Maddux is inducted in 2013 it could be a while before another Cub is elected.
And even then, it's going to be bittersweet.
Let's just hope the Hall lets him wear his Cubs cap on his plaque.