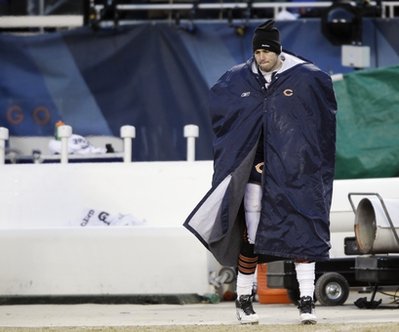 Ahh, the meatheads are out in full force.  They're all saying that Jay Cutler quit, that he couldn't handle being down 14-0 in the NFC Championship game so he just started limping around and then took himself out of a game so that his sterling backups Todd and Caleb could finish things up.
And I'll admit that yesterday, when Jay first got hurt I was in meathead mode myself.
Some of you got these tweets from my award-winning Twitter feed:
If Cutler can stand up he needs to play.
Unless he gets major reconstructive surgery on his knee tomorrow, Cutler will never live this down. And shouldn't.
It didn't take me too long to figure out just how wrong I was.
Look, we know Jay Cutler is a lot of things.  He's a punk.  He's got really weird hair.  He's careless with his footwork and where he throws the football, but he's not a quitter.  So I immediately regretted sending both of those twats.    The good news is that barely anybody actually reads my tweets, so it really doesn't mean anything.  It was just suffering the sheer panic of Todd Collins actually being in a playoff game taking snaps.
LaDanian Tomlinson got the same crap a few years ago when he limped out of an AFC Championship game against New England, while his own quarterback, Phillip Rivers was hobbling around on a torn ACL.  Does anybody really think that LaDanian Tomlinson isn't tough?
So let the meatheads have their fun.  They need someone to focus their rage on, and it might as well be Jay.  But Jay didn't quit.  He got hurt.  It happens, it's football.  The Bears, however, continued their lifetime achievement of failed public relations with the inept way they handled the announcement of Jay's injury.  He was out, and he probably deserves some credit for limping out for the first possession of the third quarter and giving it a shot, but instead they said he was "questionable."  So that made every dope on their couch, like me (and amazingly like half of the Jacksonville Jaguars–including Maurice Jones-Drew who sat out the final two games of the season when the Jags needed a win to make the playoffs) think that Jay should be doing SOMETHING to get ready to play again.
The only 'something' we saw was the sad (and really funny) sight of him on the bike on the sidelines trying to pedal it while still wearing his cape.
The Jay Cutler we've seen the last two years isn't going to quit.  He's going to get hammered and he's going to get up and he's going to throw some more interceptions.  That's what he does.
What he needs to do, apparently, is go the full Favre.  When he was in for that first possession of the third, and he realized that his bad knee wasn't going to allow him to back up or step into his throws he needed to crumple to the ground and force the training staff to carry him to the sidelines.  Instead he limped off and then stood there, while Bears fans built up rage and bile.
I could write a novella about the stupidity of not having a capable backup quarterback on the roster, but I'll keep it shorter than that.  The reason Todd Collins was the number two QB was that he knows the plays, he knows the reads and he gives you the best chance to still run your whole offense.  But..he's also 40 years old and can't move and so, he's useless when the bullets start flying.
The reason Caleb Hanie is number three is because when a team runs the most basic zone blitz in the world, he throws the ball to their nose tackle.  I will give Caleb credit though, he made some plays, he didn't play scared and he legitimately made the fourth quarter of that game interesting and fun.  He also shaved off his weird playoff mustache between the end of the game and press conference, which was a nice touch.
It would have been nice to have seen that second half play out with Cutler able to be in the game, though.  The Bears figured out the Packers offense about halfway through the second quarter and made Aaron Rodgers look mortal.  But that's now how the game works.
For now, I'll busy myself ignoring any further coverage of this Cutler injury story because I'm already tired of it, and apparently my view on it is the same as David Huh and Rick Telander.  So that makes me really uncomfortable.  So I'll leave you with this, Brian Urlacher's postgame quote when asked if he thinks Jay is tough:
"Jay was hurt. We don't question his toughness. He's tough as hell. He's one of the toughest guys on our football team. He doesn't bitch, he doesn't complain when he gets hit. He goes out there and plays his ass off every Sunday. He practices every single day. We don't question his toughness."