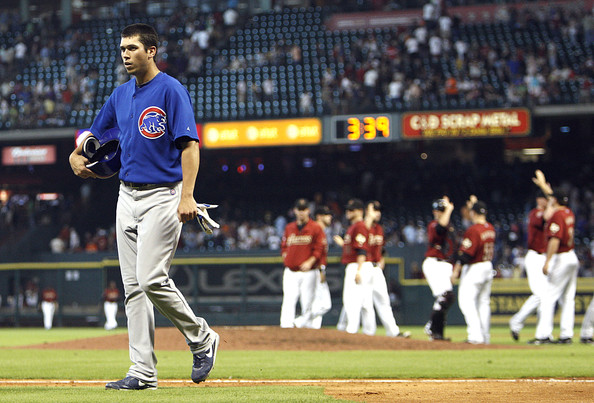 Maybe it's because we had 20 inches of snow dumped on us Wednesday.  Maybe it's because spring training opens in ten days.  Or maybe, it's just because we're bored (that's probably it), but instead of just taking a tour around the Cubs roster to get a handle on how good they're going to be (spoiler alert: not very), why don't we take the time to see how they stack up position by position in the NL Central?
Does that sound like something you'd be interested in?
Tough, I'm doing it anyway.
It's been a big offseason in the biggest division in all of Major League Baseball.  Teams are sparing no expense to get better.  (Well, actually, they all spared expenses, except maybe Milwaukee.)  The Central has been awesome in the postseason, going a combined 1-15 since 2007, and the division winners have lost 12 games in a row in the playoffs.
But look at all of the new talent coming into the division this year.  Zack Grienke is a huge addition for the Brewers, who also traded for Shaun Marcum.  The Cubs brought back Kerry Wood, signed Carlos Pena and traded for Matt Garza.
Cincinnati brought in Edgar Renteria…wait, why did they do that?  Houston added…is this right?  Houston got Bill Hall and Clint Barmes?  Were Paul Noce and Dave Owen busy?  The Cardinals gave Lance Berkman eight million bucks to try to play right field and they traded for Ryan Theriot?  Pittsburgh signed Lyle Overbay?
Wow.  That's a whole lotta bad there.
First Base
When Derrek Lee's baseball career appeared to die a slow, painful death in the first half of the 2009 season, some Cubs fan dopes called for the hot "young" prospect Micah Hoffpauir to take the job full time.  Two problems.  Hoffpauir blew and he was old.  Lee rebounded with an excellent second half of the 2009 season and quieted the masses.  But last year he was mostly hurt and mostly bad and in August he finally agreed to be traded to a contender, and he went to Atlanta to slowly torpedo their pennant hopes.
The Cubs, after much internal discussion, decided to play with a first baseman in 2011 (that's a lot of running for the pitcher if they have to cover first on every grounder) and they signed former AL home run champ Carlos Pena to a one year deal.  Pena has power, is smooth around the bag (by that I mean he fields his position well, contrary to what some of you thought it was not a joke about his genital grooming habits), strikes out a lot and hit .196 last year.  Let's just say $10 million doesn't buy what it used to.  Especially if you ask the guy to defer half of it until 2012.
The division is full of great first basemen (well, if half is full):
Position Rankings
1. Albert Pujols, St. Louis
2. Joey Votto, Cincinnati
3. Prince Fielder, Milwaukee
4. Carlos Pena, Cubs
5. Lyle Overbay, Pissburgh
6. Brett Wallace, Houston
The Pujols guy, regardless of age, is the best player in the game.  Votto is the reigning NL MVP.  Fielder is in a walk-year and is in the best shape he's seen in years…and yes, that shape is round.  Overbay is chubby, has no power, hasn't driven in more than 70 runs since 2006 and is the biggest name that Pissburgh added this offseason.  Wallace is supposed to be a top prospect, he's 23, has already been traded twice, is fatter than Overbay and posted a .615 OPS in 51 games for Houston last year.
Second Base
Some of us are old enough to remember when the Cubs had no worries at second base.  Ryne Sandberg had it on lockdown for a decade and could only be stopped by his now ex-wife's love of salsa dancing…or dancers or something.  Since Sandberg left (and came back and left again) it's been a revolving door.  Mostly the position has been manned by white guys who made the ladies swoon.  Like the terminally handsome Mickey Morandini (OK, not him so much), Mark Grudzielanek, Todd Walker and of course Mark DeRosa.  Last year, the adorable little Ryan Theriot manned the spot for most of the season and he was really, really, awful there.  This year?  The Cubs are going to platoon Blake DeWitt and Jeff Baker there.  On its surface, this is a pretty solid idea.
DeWitt hit .263/.342/.377/.719 with 4 HR, 46 RBI, 42 BB, and 69 K versus righties in 361 at bats.  Not great, but the Cubs have seen worse.
Baker hit .350/.395/.550/.945 with 4 HR, 18 RBI, 10 BB and 21 K versus lefties in 140 at bats.  Pretty goddamned good.
And Baker's numbers might not be that big of a fluke.  For his career he's a .308 batter against lefties with a .908 OPS.  Would you rather have these two or one Theriot?
That's what I thought.
Position Rankings
1. Rickie Weeks, Milwaukee
2. Brandon Phillips, Cincinnati
3. Neil Walker, Pissburgh
4. DeWitt Baker, Cubs
5. Skip Schumaker, St. Louis
6. Bill Hall, Houston
I realize that Phillips was an All-Star last year and won a gold glove, but I don't really care.  Weeks is a better player.  He's younger, he's posted back to back OPS+ of 125 and I know he still kicks the ball around the infield too much (he's a Brewer, it's what THEY do) and has no excuse to steal only 11 bases last year given how fast he is, I think he's just better than Phillips.  Phillips only stole bases last year so even that advantage isn't all that big.  My problem with him is that he's Dusty Baker's preferred kind of player.  He doesn't strike out that much, but he also rarely walks (his 46 walks last year are his career high…yikes) and he consistently posts on base averages of .330 or worse.  Last year it was .332 and that's his career high.  It's just too low.  Way too low.
Neil Walker's an interesting player.  He was always considered a top prospect despite less than eye popping numbers in the minors, and in his first full season he was pretty good last year.  At 6'3 he's a little big for a second baseman, but he's not going to knock Pedro Alvarez off third so it's where he'll stay.  Still a 118 OPS+ as a 24 year old is a nice start.
Skip Schumaker sucks.  He's just not a big league second baseman, but The Genius wants credit for taking an outfielder and making him into a starting middle infielder.  Sure, one who plays below average defense and an 83 OPS+.  Awesome job, Tony.
As for Bill Hall?  It's not 2006 anymore is it Danny?  I didn't think so.  What value he has left is as a super utility guy with some pop, certainly not as an everyday second baseman.
Shortstop
This is my favorite list because it's the one where the Cubs player is soooooo far ahead of any of the other guys it's ridiculous.  Starlin Castro will only 21 in 2011, and he's going to do weird things in the field and on the bases, because he's 21 and he's really talented and he's really aggressive.  He's also really good, and last year, every time you thought he was starting to get overmatched at the plate, he proved he wasn't.  He only walked 29 times in 463 at bats last year, so that needs to improve.  But, he also only struck out 71 times.  That's a great sign.  The kid's alright.
Position rankings
1. Starlin Castro, Cubs
2. Clint Barmes, Houston
3. Edgar Renteria, Cincinnati
4. Yuniesky Betancourt, Milwaukee
5. Ryan Theriot, St. Louis
6. Ronny Cedeno, Pissburgh
Sweet Jesus, what a mess.  When Clint Barmes is the second best player at his position in the division…and it's not even close…that's a bad position.  Barmes will be 32 on opening day and hasn't hit better than .245 in two years.  I know that Paul Janisch could and should get most of the playing time at short for the Reds, but you know who their manager is, you don't think he's going to play Renteria as much as Renteria's 49 year old body can take it?
Here's where the list gets really interesting.  You can make a pretty solid case that Yuniesky Betancourt was the worst every day player in the big leagues last year–he undeniably was in 2009.  People couldn't believe it when the Royals traded for him in 2009.  And as bad as Betancourt has been (and he's been awful) the NL Central offers not one, but two shortstops who are even worse than he is.
And both are former Cubs prospects.  Theriot has no business playing shortstop in the big leagues.  He has no range and even less of an arm.  He's also a complete zero at the plate and worse than that on the bases (on the rare occasion he gets there).  Cedeno is much more talented, but he's the dumbest player in big league history.  He gets the least out of that talent that he possibly could.
Wow, what a pile of turds outside of Starlin.
Third Base
E-ramis Ramirez was terrible last year.  Well, he was terrible in the first half and mostly crap in the second half, though he did hit 15 homers and drove in 51 runs after the All-Star Break, we expect more out of him.  The reason for that is that from 2004 to 2009 he put up OPS pluses of 138, 134, 126, 128, 126, and 130.  Last year?  92.  Oof.
He missed half of 2009 with a shoulder injury and a big hunk of last year with a bad thumb.  He's "33" this year and he'll be a free agent at the end of the season, unless the Cubs pick up his $16 million option for 2012 (sure, they're gonna do that).  So it behooves E-ramis to return to form for one more cash grab.  I have a hunch he'll do it.
Position rankings
1. E-ramis Ramirez, Cubs
2. Scott Rolen, Cincinnati
3. Casey McGehee, Milwaukee
4. Pedro Alvarez, Pissburgh
5. David Freese, St. Louis
6. Chris Johnson, Houston
Rolen turns 36 this April and he's oft-concussed, has a bad back and a bad shoulder.  He had a really good year for the Reds last year and has won eight gold gloves.  He's the best defensive third baseman of his era.  He also hates Tony LaRussa, so there's a lot to like.  But I think the "younger," better hitting E-ramis is a better player at this stage.
McGehee proved his 2009 season wasn't a fluke with a strong 2010, (even though his average, on base, slugging and OPS all dropped) and drove in 104 runs.  He's adequate at third…but like I said, it's the Brewers…none of them can field.  Alvarez is a big-time prospect who basically held his own last season.  He posted a 111 OPS plus in 95 games, but he struck out 119 times.  He enjoyed striking out in the minors, too, and that's something he's going to have to kick to become the kind of player Pissburgh expects him to be.
Freese was off to a nice start (.296 in 70 games) but he got hurt and disappeared.  He also struck out more than once per game.  What's with these kids?  They sure love to whiff.
Chris Johnson had a disappointing season for me.  I drafted him number one overall, and he promised to rush for 2,500 yards and…wait, this is a different Chris Johnson?  Oh, the guy from the Astros?  Sure.  He hit in his first extended big league action (.308, .881 OPS) but he made 18 errors in 90 games at third.  Is that a lot?
Yes.  Yes it is.
Left Field
The Cubs are stuck with Alfonso Soriano for four more years.  Just let that sink in.  His contract is only half over.  Guh.  When they signed it they knew the back half would be a challenge, but I'm sure they expected more than what they got from his first four seasons.  Now he's just an old, defensive challenged outfielder with erratic power and no ability to get on base.  But hey, at least he only makes $18 million a year.  He did post increases in batting average, on base average, slugging, homers and RBI in 2010 over 2009.  Of course in the counting categories that should have been a given, he played in 30 more games than he had the year before.
So where does he stack up?
Position ranking
1. Ryan Braun, Milwaukee
2. Matt Holliday, St. Louis
3. Alfonso Soriano, Cubs
4. Carlos Lee, Astros
5. Jonny Gomes, Cincinnati
6. Jose Tabata, Pissburgh
Braun's one of the best players in the league.  He's hit over .300 in three of his four seasons and he's got power, a great eye and he's a really terrible outfielder.  In fact, with the exception (maybe) of Tabata, every left fielder in the NL Central blows defensively.  Soriano, Braun and Lee are all converted infielders, and you can imagine why when you watch them try to chase flyballs.  Braun saw his average, on base and slugging drop in 2010, but he's only 27 so it's not like he's started his decline.
Holliday is a good player paid like a great one.  That never works out well long term.
Lee is an example of why that doesn't work out.  When the Astros signed him in the offseason before 2007, Lee was putting up good numbers, but they've dropped every year since, and last year they bottomed out (or so Houston hopes) at .246/.291/417/.708.  When you add in that he covers no ground in the outfield.  That's a disaster.
Gomes is best used in a platoon or off the bench, but he's now at the age (30) where Dusty is just about ready to let him play every day regardless of production.  He paid his dues, dude.
Tabata was another in that long line of Yankees prospects who is gonna be just awesome, until they trade them and they're not very good.  Tabata had a solid showing as a rookie, and given how low the hurdle is at this position in this division to rise up, another solid showing this year will do just that.  In fact, he doesn't need to get better, because Soriano, Lee and Gomes are all sure to get worse.
Center Field
Marlon Byrd enjoyed a solid season for the Cubs, was their lone All-Star and made a great defensive play in the game to help end the NL's long winless streak.  Byrd made an impact on the team because he wasn't Milton Bradley.  He played hard, he led by example and by words and he produced.  But the biggest problem is that he's really just not that good.  He hit .298 with a .345 on base average, he slugged .429 and his OPS plus was 102.  He's not a basestealing threat (five in six attempts) and he doesn't have much power (12 homers in 630 at bats).  He also never walks (31).  He does get hit by a lot of pitches though.  He got nailed 17 times last season.  So that's something.
Position rankings
1. Andrew McCutchen, Pissburgh
2. Colby Rasmus, St. Louis
3. Marlon Byrd, Cubs
4. Michael Bourne, Houston
5. Drew Stubbs, Cincinnati
6. Carlos Gomez, Milwaukee
Other teams used to the Pirates trading their young players are drooling over McCutchen.  Good power, great speed, great defense, consistent performance.  Can't ask for much more.  Rasmus is talented player, he struck out 146 times in 464 at bats (that's a lot) but he's got good power and can handle center defensively.  The Genius hates him, which has to be a good sign for his long term future in the game.  Let's hope the Cardinals trade him just to keep Tony happy.
Bourne has led the NL in stolen bases the last two years.  Big deal.
Stubbs hits like a Hall of Famer against the Cubs, but he's pretty mediocre against anybody else.  He's superfast and only 25 so there's hope.  But it's likely that Dusty will tire of him and sign Corey Patterson again to replace him.  And Carlos Gomez?  He's fast and lousy.
Right Field
This is where the Cubs have a platoon of two lefty hitters.  Genius.  This is the final year of the Kosuke Fukudome experience and the Cubs would love to trade him, but his $14 million pricetag makes that unlikely until mid-season and even then the Cubs will have to eat much of the $7 million that he'll be owed then.  Kosuke's an awesome dude, and a solid big league player, but he's not an impact player, he doesn't hit lefties at all and it just didn't work out.  He'll sit a lot so the Cubs can watch Tyler Colvin develop.  Colvin has a good blend of power, speed and defense, but he has no clue what's a strike, and that doesn't bode well for his long-term success.   He struck out 100 times in 394 at bats and only walked 30 times.  He also finished the season with a huge piece of bat sticking out of his chest.  Great?
Position rankings
1. Hunter Pence, Houston
2. Jay Bruce, Cincinnati
3. Corey Hart, Milwaukee
4. Garrett Jones, Pissburgh
5. Kosuke Colvindome, Cubs
6. Lance Berkman, St. Louis
I'm not a big fan of any of the seven players listed here.  Bruce might be better than Pence already, but I've ranked Hunter higher one more year because I'm a sucker for bug eyed hunchbacks with terrible throwing and batting motions.  Bruce overcame a broken wrist in 2009 to post a solid 2010.  But that's really all it was, was solid.  This should be the year he makes a jump in production.
Midget Face posted good overall numbers in 2010 with 31 homers and 102 RBI, but most of it happened in the first half.  After the break he hit forty points less and his OPS dropped 170 points.  So screw that guy.
Jones looked like a budding star after a huge 2009 season, but he was pretty awful in 2010.  His average dropped almost 50 points, his on base average dropped to .306 and his OPS dropped 218 points.  Yes, 218 points.
Berkman's attempt to play right for the Cardinals has to be an elaborate joke, right?  He got too fat in Houston to play the outfield a few years ago (when you're in worse shape than Carlos Lee…you're out of shape) and he didn't do much in Houston or with the Yankees last year.  His on base average is still pretty solid, but how is he worth $8 million these days?  Well, he's not.  He probably should be ranked fourth, but I'm not above pettiness.  I hope he gets hit by a bus.
So what did this little exercise prove?
Nothing.
So we'll do the pitchers on Monday.  And we'll prove just as little.