You now have 51 weeks to forget what channel truTV is on your satellite or cable system.  If you went to college in 1994-1995 you remember truTV as all OJ Trial, all the time.  And in those 16 years since, you hadn't given it a second thought.  Until last week when you needed it to catch six days worth of NCAA basketball games.
As the tournament rolls on to round "four" (seriously, the "First Four" was the first round?) the games have all shifted to CBS and TBS.   Thankfully, it also means some of the creepier announcers have also gone home.
I'm not sure who Bob Wenzel has naked pictures of (my guess is that Bob would like it to be Mike Brey) but every year that guy ends up doing two days worth of games.  The end of Wenzel's reign also means that's it for sideline reporter Jamie Maggio.  I know several of you took a liking to her, much like this guy did: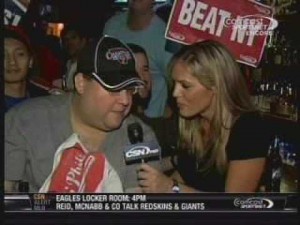 So who does still remain?
Not the teams, though you can see the NCAA basketball odds at BetUS.  Let's see the most important pairings.  The announcers.
Thursday-Saturday: Anaheim (San Diego State v. UConn, Duke v. Arizona)
Vern Lundquist, Bill Raftery, Lesley Visser
CBS/Turner grouped these three so that they'd only have to stock up on Ensure at one of the regional final sites.  Vern and Bill are always enjoyable, and Lesley has always been terrible.  Judging by her rare, and frightening appearances last weekend, she's finally looking older than her husband, Dick Stockton.  Wait, that's impossible, you can't be older than walking death.
Thursday- Saturday: New Orleans (Florida v. BYU, Wisconsin v. Butler)
Gus Johnson, Len Elmore, Reggie Miller, Marty Snider
It's not enough that Reggie Miller ruins at least one NBA game a week, now he has to screw up the tournament?  In these rounds he's paired with Gus Johnson, the horrendously overrated play by play guy, who's main skill seems to be to just yell and scream "Ahhhh-Hahhhh!"  Len Elmore is dull as a butter knife, and Marty Snider did his best work in the '80s as the frontman of Twisted Sister.
Friday-Sunday: Newark (North Carolina v. Marquette, Ohio State v. Kentucky)
Jim Nantz, Clark Kellogg, Tracy Wolfson
Hello, friends.  Nantz's voice is already in Masters mode, as he was barely audible in the early rounds, and he's busy polishing up his end of the championship pun.  The frontrunners this year are "Coach K is A-OK!"  "Nobody's sassier than Kansas!"  And, "Jimmer's totally gonna get laid tonight!"  I vote for number three.
I really want to like Clark Kellogg, but he pretty much sucks.  Tracy Wolfson's cute.  How's that for analysis?
Friday-Sunday: San Antonio (Kansas v. Richmond, Florida State v. VCU)
Marv Albert, Steve Kerr, Craig Sager
I don't care who a man wants to bite in the back while he wears women's underwear as long as he leaves them an appropriate tip.  So I never thought NBC should have banished Marv Albert.  Having him doing NCAA games is awesome.  Marv's the best.  I will not listen to arguments about this.  I also like how people think Steve Kerr has no business doing college games because he's an "NBA guy."  I don't remember Steve bypassing college to go straight to being a three-point shooting tenth man for a decade in the NBA.  Didn't he play at Arizona or someplace?  Wasn't he really good until he blew out his knee, and then he came back with a knee brace roughly the size of Doris Burke, and was really good again?  Yeah, why let that guy announce college games.  More Bob Wenzel!  Bob coached at Jacksonville AND Rutgers!  Whoo hoo!
As for Sager, his pastel pimp suits really livened things up in Tulsa.
As for the studio crews, the Matt Winer experience is over for the tournament.  They're down to two crews now.  Greg Gumbel's toupee will be in New York with Kenny Smith, Greg Anthony and Charles Barkley.  Ernie Johnson will be in Atlanta with Seth Davis and Steve Smith.  Sure, why would you want to pair Ernie with Kenny and Charles.  It's not like they're the most entertaining studio team in sports or anything.  And nothing covers for Charles complete lack of college basketball knowledge (he barely knows anything about the NBA) like Gumbel staring blankly at him.
All this said, being able to watch every minute of any game you want, and the smooth way the ticker at the top of the screen worked, has made for the most awesome tournament (TV wise) ever.  Now, if they could just do something about teams jacking up horrible threes all the time…