Opening day for the Cubs is April 1 this year, which really seems appropriate.  Regardless of when Opening Day is, it always makes you think.  How many things does it make you think?  Well, that's a ridiculous question.  But just off the top of my head (and for no significant reason that I can think of) I can think of 103 things.
103. Do you think Tuffy Rhodes hangs out in Japanese hotel bars on opening day and waits for ESPN to inevitably show replays of him hitting three homers off of Dwight Gooden on opening day 1994?  I would.  You never know when Scarlett Johansson's boyfriend will leave her unattended for weeks at a time.  (Seriously, isn't Lost in Translation a crap movie in retrospect?  You have to think Bill Murray made it because he thought one of the Cohen Brothers wrote that, too.)
102. In 2000 not only did we have to get up at 4 am to watch the Cubs open against the Mets in Tokyo, but Kyle Farnsworth started game two of the season.  How wasn't that a sign that the season was over before it started?
101. Remember the Old Style Opener?  In college we went to game two of at least two seasons of Cubs home games for free because Old Style bought a shit load of tickets and just gave away pairs of them.  The weather was always shitty and the Cubs were always terrible, but how could you pass up that deal?  Judging by ticket sales this year, the Rickettses should call G. Heilmann and see if he wants to fire up that promotion again.
100. I miss Ted Lilly.
99. I can't be the only one who after he found out about the gory details of Luis Salazar eventually losing an eye after being hit in the face with a Brian McCann foul ball who wondered if they put it in a jar and gave it to him?  OK, maybe I am the only one who wondered that.
98. I still want to burn down Tribune Tower for their decision to put opening day last year on WCIU.  The ESPN telecast was blacked out in my area so I had to watch the SportsSouth feed.  Not only was my good friend Chip Caray broadcasting the game, but the only feed I could get that wasn't blacked out was in the eight game grid on MLB Extra Innings.  Between that and Carlos Zambrano crapping his pants all over the mound, I basically spent three hours fighting the urge to kill myself.
97. Remember Kosuke's three-run, game winning homer on opening day 2008?  Yeah…no you don't.  It was a three-run game tying homer.  The Cubs still managed to lose.
96. Cubs fans booed Jason Marquis and Glendon Rusch during introductions before the home opener in 2009.  Shouldn't Cubs fans have been happy Marquis was pitching for somebody else, and that Rusch was still alive?  Cubs fans are the worst.
95. As a tribute to Ron Santo during the opener, Keith Moreland should answer a fax during the first pitch, forget who's pitching for Pissburgh and light his hair on fire.
94. Every team has had bad players on their rosters over the years, but has any team ever had worse lefty relievers than Daniel Garibay and Andy Pratt?
93. What was the bigger opening day omen in Cubs history? Â Willie Smith's walkoff in 1969 or Carlos Zambrano being thrown out of a game in Arizona in the fifth inning…that he was winning 9-2 in 2005?
92. When the Marlins sent World Series rings to be delivered to new Cubs Todd Hollandsworth and Derrek Lee in 2004 shouldn't Moises Alou have killed one of them with a folding chair when they put it on? Â I'm sure he peed on them in the shower, but it's not quite the same.
91. Friday will be the 14th opening day in Desipio history. Â The Cubs have never started a season 0-14 since we started (though the 1997 Cubs had done just that three months before this site started) so this year's team has that to shoot for.
90. Every thing I've seen written about Carlos Pena or heard him say has really impressed me. Â He has to be one of the most well-rounded, coolest big leaguers ever. Â Man, is it going to suck to have to boo him.
89. I've been a Cubs fan as long as I can remember, but thanks to $9 30-packs of Old Style in the '90s I can only remember back as far as February.
88. OK, the first season I remember was 1982. Â I was nine. Â So if you asked me to list my favorite Cub each year from 1982 until now (and let's pretend that you did) it would be:
87. 1982: Bill Buckner
86. 1983: Bill Buckner
85. 1984: Gary Matthews
84. 1985: Shawon Dunston
83. 1986: Shawon Dunston
82. 1987: Shawon Dunston-Brian Dayett (seriously, I loved Brian Dayett)
81. 1988: Shawon Dunston-Andre Dawson
80. 1989: Shawon Dunston -Andre Dawson
79. 1990: Shawon Dunston
78. 1991: Shawon Dunston
77. 1992: Shawon Dunston-Greg Maddux
76. 1993: Shawon Dunston
75. 1994: Shawon Dunston
74. 1995: Shawon Dunston
73. 1996: Leo Gomez…just kidding, Mark Grace
72. 1997: Sammy Sosa
71. 1998: Sammy Sosa
70. 1999: Sammy Sosa
69. 2000: Sammy Sosa
68. 2001: Sammy Sosa
67. 2002: Sammy Sosa
66. 2003: Kerry Wood-Joe Borowski
65. 2004: Carlos Zambrano
64. 2005: Carlos Zambrano
63. 2006: Carlos Zambrano
62. 2007: Carlos Zambrano
61. 2008: Carlos Zambrano
60. 2009: Carlos Zambrano
59. 2010: Koyie Dolan Hill
58. 2011: Too early to tell, but who am I kidding, it's already Starlin Castro
57. Despite the long runs by Sammy (a big fraud who poops his pants) and Carlos Zambrano, my favorite Cub of all-time is still Shawon Dunston. Â WGN showed him coaching first for the Giants in a spring training game a couple weeks ago and it brought a huge smile to my face. Â I can't explain it, I just love that guy.
56. I own a Nomar Garciaparra Cubs jersey t-shirt and I still wear it.
55. If you went to opening day 1993 and you booed Greg Maddux I hope some day your wife gives you a strain of herpes that she could have only contracted by having sex with a donkey.
54. Every time WGN plays a recording of Vince Lloyd saying "The Chicago Cubs are on the air" it gives me goose bumps. Â I'm lame that way.
53. Frankly, I'm still a little pissed that DeWayne Staats left the Cubs for the Yankees.
52. I still use a Domingo Ramos baseball card as a bookmark.
51. I also proudly display this card in my office: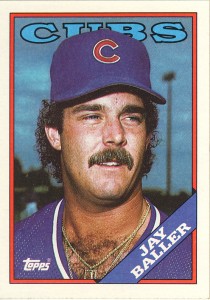 50. I had a partial season ticket plan in 2001 and 2002 at Miller Park, and so I was not only at the first game ever played there (they beat the Reds 5-4 and Hank White walked!) I was also at an All-Star Game that nobody won.
49. I dropped the season tickets in 2002 because I felt I missed too many Cubs games the year before (when they unexpectedly contended all season) and I was rewarded by a Cubs team that finished 67-95.
48. They played long before I was conscious of the Cubs, but I've always had a hunch that I would have liked Billy Williams a lot more than either Ron Santo or Ernie Banks.
47. You know what would be better than a list of my favorite Cubs from 1982 to 2011? Â (I know, EVERYTHING would be better than that.) Â How about a list of my least favorite Cubs!
46. 1982 – Allen Ripley – I know this to be true, because I collected a shitload of 1983 Topps and I got at least one Allen Ripley in every pack. Â I hated that guy.
45. 1983 – Jerry Morales – I'm guessing here, but in '83 I lost a no-hitter when our second baseman ran the wrong way after a ground ball…I mean he literally ran to his right and the ball went to his left for the only hit. Â He was part Mexican. Â So I assume I would have hated Jerry Morales by proxy.
44. 1984 – Larry Bowa – I was 11, and even I knew that Larry sucked ass. Â Look at his line: .223/.274/.269/.542. Â He had an OPS plus of 49! Â Forty-nine! Â He made Ryan Theriot look like Hanley Ramirez. Â And he looked exactly like Artie Ziff.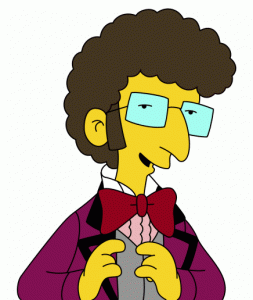 43. 1985 – Ray Fontenot – I hated him because the Cubs traded Henry Cotto (and Rich Bordi, and Porfi Altamirano) for him. Â I loved Henry Cotto. Â Ironically, the Cubs got Brian Dayett (yes!) in the same trade and I didn't hold it against Brian. Â Actually, I would have loved to have held "it" against Brian…wait, am I still typing? Â I should probably just stop now.
42. 1986 – Jerry Mumphrey – Sure, he actually played well, but he was stealing at bats from my boy Brian Dayett!
41. 1987 – Jerry Mumphrey – Same reason. Â But he was out of his mind that year. Â Jerry Fuckin' Mumphrey had a .934 OPS for the Cubs at 35! Â He hit .136 in 63 games in 1988 and retired. Â Did anybody remember how good Jerry Mumphrey was in 1986 and 1987? Â I almost feel guilty for hating him. Â Almost.
40. 1988 – Calvin Schiraldi – I don't think this needs any explanation. Â Does it Calvin?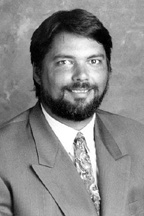 39. 1989 – Paul Kilgus – I blamed him for Rafael Palmeiro being in Texas. Â Him and Jim Frey. Â Not Mitch Williams, Steve Wilson or Curtis Wilkerson, just Paul and Jim. Â I still do, in fact. Â Well, and somebody else: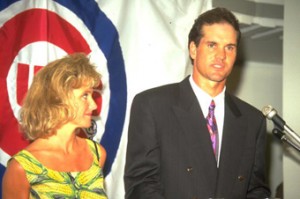 38. 1990 – Marvell Wynne – He got into a fight in front of the Cubs dugout in St. Louis before a game…with Shawon Dunston! Â What an asshole.
37. 1991 – Danny Jackson – I think this was unanimous that year.
36. 1992 – Danny Jackson – Still, unanimous.
35. 1993 – Mike Harkey – Hey, why not fall down the dugout steps again, asshole?
34. 1994 – Ryne Sandberg – He quit. Â He just plain quit. Â I don't think I'll ever forgive him for it, and it's not a small part of the reason I'm glad Mike Quade got his job.
33. 1995 – Take your pick between Todd Zeile (hit .227) and Howard Johnson (hit .195).
32. 1996 – Doug Jones – Yay, our closer can throw 47 miles per hour!
31. 1997 – Mel Rojas – The run of awful closers is really picking up steam!
30. 1998 – Jeff Blauser – More proof that the reason bad hitters light up Cubs pitching is because Cubs pitching is worse. Â Past success may not be indicative of future results.
29. 1999 – Tie: Benito Santiago and Steve Trachsel. Â Hey Benny, don't get on steroids until after you leave the Cubs, thanks! Â As for Trachsel, not only did he lose 18 games, but he did….it…so….sloooooooow…llllyyyyyyy. Felt more like 29 losses.
28. 2000 -Â Â Willie Greene – Seriously, he played in 105 games. Â I had almost forgotten this happened.
27. 2001 – Todd Hundley – Stay tuned.
26. 2002 – Todd Hundley – Again, it's almost like this didn't really happen. Â My favorite moment of the Todd Hundley era was when he detoxed behind home plate on a hot Sunday in St. Louis and passed out in a sweaty heap.
25. 2003 – Antonio Alfonseca – Everything was laughable about El Pulpo. Â The twelve fingers, the twelve toes, the huge belly and his inability to throw strikes.
24. 2004 – Gabor Bako – I irrationally hated Gabor, much like people hate my cousin Koyie now. Â But Gabor deserved it. Â He didn't even have a cool Frankenhand.
23. 2005 – Take your pick — Two months of LaTroy…Neifi's second half…all of Corey Patterson. Â Guh.
22. 2006 – So much to hate. Â Juan Pierre and all of his really expensive outs, Jock Jones or the complete idiot duo of Ronny Cedeno and Jerry Hairston the Lesser. Â I think it has to be Jock.
21. 2007 – Will Ohman – Oh, Will, please throw another 54 foot curveball and then act all tough while we find things to throw at you.
20. 2008 – Ronny Cedeno – You almost have to admire his ability to be out going from first to second on a walk. Â Almost.
19. 2009 – Aaron Miles – His OPS plus was 20.  TWENTY!  He did more psychological damage to me than the thugs who trapped him and Morgan Ensberg at gunpoint did to either of them.  He actually topped Milton Bradley on this list.  At least Milton took the hint and went home.
18. 2010 -Â Â Ryan Theriot – I nearly drove to LA to hug Ned Colletti for being dumb enough to trade for him.
17. 2011 – Who's it going to be this year? Â I'm not going to prejudge. Â But it's going to be Jeff Samardzija.
16. Are you like me, do you love it when fans e-mail Bob Brenly to tell them they're going to get married so he can go through the hilarious, "Yes dear. Â You're right. Â I'm sorry," thing? Â Oh, it's a hoot. Â I am a huge fan of Len and Bob, but when Bob goes into that spiel, I want the press box to fall off the stadium.

15. I'm genuinely excited about the Mike Quade era. Â Oh, I don't think the 2011 Cubs are very good, but I think he's going to be a helluva manager. Â I could be wrong. Â But I won't be.
14. The Cubs open with six games against Pissburgh and Arizona at home and then after a three game series in Milwaukee they go to Houston for three. Â Honestly if they don't go 7-5 or better to start the season, we're going to have to pray that the Bulls are not a mirage.
13. If Andrew Cashner turns out to be a good fifth starter (and he's certainly talented enough to succeed) he'll probably throw 150 to 170 innings. Â In three minor league seasons he threw a total of 177 innings. Â Shit, his arm's going to fall off, isn't it?
12. Five reasons to optimistic:
– Ryan Theriot is a Cardinal!
11. – E-ramis looks healthy, and when he's healthy he rakes.
10. – Dusty's tearing through Reds' pitchers even faster than he did the Cubs or Giants. Â Edinson Volquez has already had Tommy John Disease, Johnny Cueto just caught it, Homer Bailey's hurt and Bronson Arroyo has "yellow fever." Â But it's not you, Dusty, it's just a 20 year run of bad luck.
9. – During select games this year, the Cubs are going to turn Sheffield into a street fair, so there will be clowns on the field and in the street!
8. If you decide on the spur of the moment to go to that day's Cubs game, you will have no problem getting tickets.
7. Five reasons to be pessimistic:
– The Cubs are platooning two lefthanded hitters in right field and two righthanded hitters at second base. Â Oh, and the backup catcher only has one functioning hand.
6. – The Cubs are running out of time for the National League to add the DH so that Alfonso Soriano can only kill them on one side of the ball for the next four years.
5. – John Grabow is healthy enough to pitch.
4. Todd Ricketts is in a panic about the first game because he heard the bad old joke that the Cubs can't serve beer all season if they "lose the opener."
3. – If the Cubs unexpectedly contend all season, we're going to have to listen to morans insisting that Ron Santo is willing it to happen from heaven. Â I liked Ron and I'll miss him, but I'm already dreading that crap.
2. I'm pretty sure that Gail Fischer's recent weight gain is just her awkward way of flirting with Laura Ricketts.
1. Enjoy opening day, it's all downhill from here.