If you didn't know Chris Deluca still had a job at a Chicago newspaper, you're not alone.  But sure enough, there he was on Sunday twatting away about how the Cubs were going to ruin Starlin Castro just like they ruined Corey Patterson.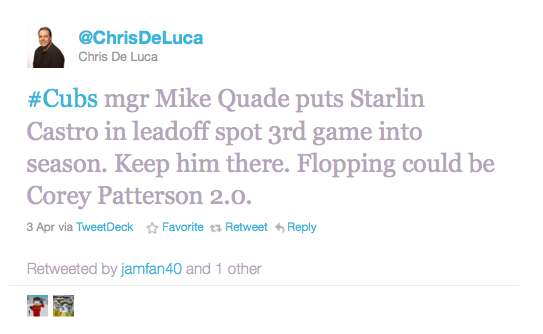 Apparently, Deluca is the sports editor at the Sun Times. Fun job, that must be.  You have to pretend that the overpaid Rick's aren't just rehashing pointless shit every day (they are), humor Joe Cowley and gently assuage Timothy Busfield's fragile, yet enormous ego.
So when you take it all into account, it's not a surprise that Deluca would utter such nonsense.
The comparison makes perfect sense.  Both Patterson and Castro were highly rated prospects.  Patterson for years after he was drafted, Castro for a couple of weeks last year after Ryan Theriot shit the bed at short and people remembered that Castro had a good spring.
Patterson was projected to have the kind of power, speed combination that would make him an elite big league player.
Castro was projected to eventually get pushed from shortstop to second base by some Korean guy and to be a slap hitter who might be kind of good.
Patterson had an excellent first season in the minors at class A Lansing, but then his numbers across the board got worse in full seasons at AA and AAA.  He struck out 284 times (with 107 walks) in 343 games minor league games.
Castro put up solid numbers at every level, starting at 17 years old in the Dominican Summer League.  Castro struck out a whopping 121 times in 284 games with 75 walks in the minors.  Wait, 121 in 284 games isn't whopping.
The Cubs called Patterson up for good in 2002 when he was 22 years old.  He had been the youngest player in all of baseball when the Cubs called him up for a short time in 2001.
The Cubs called Castro up when he was 20 he was (and still is, even a year later) the youngest player in baseball.
Patterson flopped in his first full season.  His average was a mediocre .253, but his other stats were horrendous.  He struck out 142 times in 152 games (with 19 walks) his on base average was .284, his OPS a woeful .676.
Castro's first full season was just a little bit better.  He hit .300 (the first Cubs rookie to finish in the top 10 since some hack named Bill Madlock), he walked 29 times in 125 games (not great, but not nearly as bad as say…Corey Patterson in 2002) with an on base average of .347 and OPS of .755.
Patterson's second season includes the myth that he was having a great year when he tore up his knee near the All-Star Break against the Cardinals.  You look at his numbers and think it must have been true:  In 83 games he'd raised his average 45 points, his on base 45 points (no coincidence that those two numbers were the same since he still wasn't walking, 15 t0 77 K's) and he'd already hit 13 homers (one less than his rookie season) and driven in 55 runs (one more than he had the year before.)
The reality, however, is that after a hot start (.300 ba, .330 oba 5 HR, 29 RBI in April, .333 ba, .345 oba, 6 HR, 20 RBI in May) he started to tank in June (.269 ba, .313 ops, 26 K's in 26 games) and July (.235 ba, .278 oba).  His injury hid the fact that his numbers were in a nosedive.  The Cubs traded for Kenny Lofton in July, he played out of his mind the rest of the way and gave them the real leadoff man that they hadn't had for 14 years before (and haven't had since) and the Cubs went to the playoffs.
Patterson's two month stretch in 2003 was as good as it ever got for him.  He hit .266 in 2004 and struck out 168 times in 157 games.  He hit only .215 with a .254 oba in 2005 and the Cubs traded him that offseason to make room for Juan Pierre.  Woof.
As for Castro, he too is off to a great start to his second full season.  He leads the league in hits, and when he struck out in the third inning yesterday on an Armando Galaragga change up it was the first time all season he had swung and missed at a pitch.
The day Deluca criticized Mike Quade's decision to lead Castro off he went 3-4 with a walk and two triples.  Clearly the kid was pretty unnerved and intimidated by leading off.
There's no comparing Castro and Patterson.  It doesn't apply and it doesn't make any sense.
And how did Deluca handle having a bunch of us challenge him on how stupid his twat was?
With this: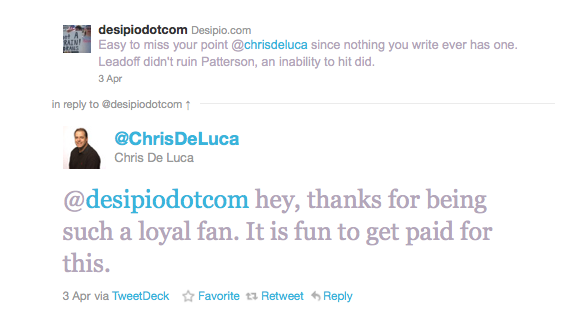 My job will still exist in two years…we'll see about yours, Chris.