The best thing about the Cubs getting a new general manager is that we can all live through the countless, pointless, "Ryno deserves it!" posts about the Cubs managerial job. Â Granted, there's somebody in that job, but nobody has ever had any problem talking about Mike Quade like he's not in the room.
Mike Quade's pediatrician: I'm sorry ma'am, your son's going to be a smooth skinned, hairless freak for a lifetime.
Mike Quade's mom: Well…he'll always have his charm to fall back on.
[Pediatrician and mom laugh uproariously.]
Nine year old Mike Quade: Hey, Sawbones! Â Momsy! Â Knock it off, I'm right here!
There are a fair number of Chicago sportswriters who can't help themselves when given a chance to champion the candidacy of one of the blankest Cubs of all time.  When he played, Ryne Sandberg wouldn't say shit if he had a mouthful, and now he's a leader of men and genie of baseball stratagem?  Really?  Ryne Sandberg?  I don't know about that.  You know, I've heard Luis Salazar has his eye on the job.  Wait, he just has one on his resume.  Somebody needs to put that thing back in its jar.
Cue the link to today's Daily Dump
Talking baseball while congratulating the Bears for limiting the emotional baggage they took on their trip to England: 1. The Cubs passed on Ryne Sandberg a year ago. Could he pass on them this time?
The Cubs should be so lucky. Â Sandberg would crawl to Chicago in a corncob dress for that job.
One of the first questions that Theo Epstein is going to be asked Tuesday will be about manager Mike Quade. It's possible he'll make the call right then and there, but hardly automatic.
That'd be classy. Â There's Quade sitting on the couch in his house in Florida with his dog, a Chinese Crusted Hairless named Mike Junior, and that's how he finds out he lost his job? Â I hope when the Tribune finally cans Phil that they announce it in the paper. Â No, wait, let's hope they announce it somewhere where Phil's fans would read it. Â They could spell it out in flung poop on a bathroom stall at the Lansing School for Special Education.
He could easily buy time by saying he needs to meet with Quade and study the situation before deciding who runs the Cubs in 2012. But no matter what he says, understand that this will be for him essentially the same situation it was  for Jim Hendry a year ago.
Exactly the same situation as Hendry faced last year. Â "Whom shall I pay millions of dollars for the thankless job of managing these stiffs?"
It's a referendum on Sandberg.
Vote no on Prop 23! Our children need to learn how to dive for ground balls!
After managing Triple-A Lehigh Valley to the championship series of the International League,
Average age of the players on that team: 39. Â Check out that roster. Â Ryne really learned how to mold young players into a cohesive unit. Â You know, kids, like Scott Podsednik, Dave Bush, Aaron Heilman, Ronnie Belliard, Pete Orr and Jack Cust.
Sandberg is ready to manage the team he played for in his Hall of Fame career.
The Phillies fired Charlie Manuel?
He would be both a very popular and a very good hire. But it's not clear that he would immediately jump at the chance.
He'd jump at it, but he wouldn't dive for it. Â And how does Phil know he'd be a "very good" hire? Â He has less of a resume than Quade and that turned out to be pretty awful. Â How about this? Â How about other teams train guys how to be managers and the Cubs hire ones who've proven they can do the job? Â Hell, even Jim Riggleman learned how to be an uptight ruiner of arms in San Diego before he fouled things up at Wrigley.
Sandberg has options that weren't available to him a year ago.
That is true. Â His new Hyundai has heated seats.
He has established himself as an heir apparent in Philadelphia,
"Hey Ryne, you want the Cubs job?"
"Nah, I'm going to keep managing the Iron Pigs until Charlie dies. Could be any minute."
and he's definitely on Ben Cherington's radar in Boston.
" Commander Cherington, there's a large, vacant mass coming right at us! Â Our personality sensor can't get a reading!"
The Red Sox considered him to manage Triple-A Pawtucket a year ago, and know his reputation for being a no-nonsense, play-the-game-the-right-way sort, which is exactly what they're looking for to replace player-friendly manager Terry Francona.
Nobody lays down the law like Ryne Sandberg. Â Wait until he tells his team this inspirational story:
"Guys, I was really up against it. Â I'd missed a bunch of the season before with a broken hand. Â My wife was taking naked salsa lessons from two thirds of the outfield and I was struggling. Â I couldn't hit the ball out of the infield. Â It would have been easy to just give up. Â But you know what I did? Â Well, I retired in May and then forced my way back onto the team two years later. Â So let's get out there and put up a fight! Â You know, but also reserve the right to quit and sit it out for a while! Â Let's go!"
Epstein, of course, was the Boston GM when Sandberg was under consideration. He'll have a running start in evaluating him.
Only Phil would take the fact that Theo already didn't hire Ryne for a lesser job as a sign that everything's coming up Sandberg!
Unless he has his own Joe Maddon stashed somewhere
No Maddon stash, but he does have Johnny Pesky locked in a bathroom.
unless he's sold on Tim Bogar, who most recently was Francona's third-base coach, or can snatch John Farrell from the Blue Jays — he probably should try to beat his old organization to Sandberg.
Theo: OK guys, Bogar's a no, Farrell's a no…shit, that's all of the managerial candidates in the world! Â Better get Sandberg on the line, he's all that's left.
Some might worry about a power struggle down the line, about Sandberg using his popularity to try to hang on if he is not a success, about a possibly messy ending.
I think everyone overestimates Sandberg's popularity. Â Sure, Cubs fans like him, but if he sucks as a manager the fans will turn on him in no time. Â And doesn't Phil strangely use the word "about" three too many times in that sentence?
But Epstein has a five-year commitment from Tom Ricketts, and so much backing he's totally overhauling the organization from the start. He has no reason to worry about Sandberg somehow outranking him. That's silly.
So, Phil just recanted the whole argument he just made? Â At least his final two words there sum up everything he's ever written about anything.
Epstein's friends say he is highly competitive, which will make him want to give Ricketts a winner from the start.
Shocking! Â The guy who was the youngest GM in major sports history is competitive? Â You could knock me over with a feather. Â But Theo would run out and strangle a huge bird so that he could then knock me over with a bigger feather.
A proven manager might make that more likely.
Let's try that…and maybe some non-shitty baseball players.
But unless he really believes he can add a huge bat (Albert Pujols or Prince Fielder) and some significant pitching over the next two months, he'll need to build toward success.
Yes, Theo, you need to have this team rebuilt by December. Â I know the season doesn't start until the end of March, but Phil says December is the deadline so get to it. Â Oh, and Theo? Â You're going to probably need to sign Pujols and Fielder. Â Albert played some third this year, try him there, or maybe put Prince in center. Â What he lacks in range he makes up for in gravity. Â Line drives will probably just orbit him until he can snag them.
He could offer Sandberg a two-year deal with an option for a third year, and then see how it goes.
Or, better idea, he could offer Sandberg a no-year deal with an option for never, and then hire a real manager.
If Sandberg grows with his team, that's an ideal scenario. If he turns out to be a disappointment — as Hendry apparently thought he would — then you reboot a couple years in with a guy you are confident can get you to the World Series–whoever that may be.
Sweet Jesus, Phildo. Â Your either/or is to EITHER let Sandberg have a whack at a couple of seasons OR wait two years and then hire somebody who you know will get to a World Series? Â My brain hurts. Â Seriously, Phil, you are giving me a nosebleed.
I've long gone against the grain in thinking this would be the last season in St. Louis for Pujols, who simply would price himself out of one of baseball's smallest markets.
You've also long gone against the grain of coherent thought. Â We're used to it.
He's been a huge bargain in his 11 seasons with the Cardinals and now he's looking for a contract that makes him the highest paid player in the game. It long has seemed to me that he would have to leave St. Louis to get that deal, and his hitting in recent months, especially the three-homer, five-hit Game 3 of the World Series, has pounded home that point. Fox's Ken Rosenthal explored the Pujols market in a recent column.
I love two things about this. Â First, that Phil (and other dumbass writers) act like if Albert has a huge World Series his pricetag will go up. Â As though GMs had no idea he was great, and are just now seeing him play for the first time. Â Second, that Phil throws his readers a bone and links to a writer who actually makes sense on occasion.
Cardinals are lucky that Pujols is such a pro, that he's able to play in a World Series without turning his status into a huge distraction for everyone, but it didn't have to come to this.
Oh, those lucky Cardinals. Â Because Albert's such a pro we haven't listened to speculation that Albert might leave the team…nonstop for seven months. Â Nobody is wasting money printing up phony Albert jerseys on other teams or anything, either: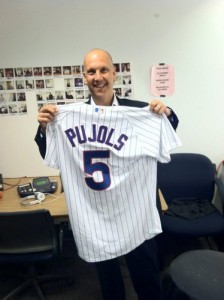 What a pro.
Is this a great World Series, or what?
Oh, is that thing still going on?