Cubs fans take a lot of shit, and most of it is undeserved.
I said "most" of it is undeserved. Â If the way many Cubs fans (not us, of course…we're the brightest of a largely dull bunch) are reacting to the realities of watching a rebuilding baseball team, is an indication of how the next two or three years (minimum) are going to be…shoot us all now.
By far the biggest problem right now is the award winning combination of impatience and stupidity that's running amok among fans and guys with radio and/or TV shows.
Look, this is a terrible baseball team. Â But we all knew it was going to be a terrible baseball team before the season started. Â When your big offseason pick ups are one David DeJesus and three number four starters, and you had a bad team last year…things aren't going to be better.
The whole idea about this season is that the Cubs try to develop young players, while trying to win at least a few games, but also while doing nothing to block the paths of the young players you're trying to move up out of the farm system.
Let's try some bad ideas out and explain why they're so bad.
1. Move Starlin Castro to the outfield.
This is asinine, at least in the near term. Â It's asinine for many reasons. Â First, he's 22. Â He only played 264 games in the minor leagues, and only 187 of those at shortstop. Â He's played 298 games in the majors now. Â To say he's learning on the job is completely true. Â His bat got him to the big leagues before his defense was ready. Â Oh, if only he played on a team with the luxury of working with him on a daily basis and letting him grow into the job in an atmosphere were his errors hurt, but aren't fatal because the team's going nowhere. Â Oh, wait. Â That's exactly what the situation is.
Is it possible that eventually they'll have to move him from short? Â Sure it's possible. Â But not this year. Â This is a year to figure shit out. Â Besides, if you move him to the outfield you do two dumb things. Â His bat is exceptional at short. Â Maybe only Troy Tulowitzki can get you better offensive production in the National League (and Jose Reyes if his hamstrings don't fall off again). Â If you move Starlin to the outfield he's what, one of the 15 or 20 best in the league if you're lucky? Â The other dumb thing is that if you move him to the outfield he immediately blocks Brett Jackson and/or Matt Szczur. Â You leave him at short and he blocks nobody. Â The Cubs have two good prospects in Junior Lake and Javier Baez, but both of those guys project to second, third or the outfield.
Another reason it's dumb (is this reason three..or four?) is that his trade value is highest at shortstop.
OH NO! Â THEY CAN'T TRADE STARLIN! HE'S OUR ONLY STAR!
I've got news for you, Chad, anybody on this team can be traded (well, maybe not Alfonso Soriano but that's not for the same reason). Â The braintrust not only traded the best shortstop in Red Sox history–our boy Nomar–but when Theo was on sabbatical or whatever that was, he helped Jed Hoyer work out a trade of Hanley Ramirez to the Marlins for Josh Beckett.
Everybody says the Cubs only have one guy with big trade value–Matt Garza–but that's because they assume trading Starlin isn't being considered. Â It's unlikely the Cubs will trade him, but it certainly isn't impossible. Â Stranger things have happened. Â You know, like somebody actually trading two live bodies for one Marlon Byrd.
2. Move Jeff Samardzija back to the bullpen.
This is also frustratingly short sighted. Â Samardzija might not work out as a starter, but the idea of moving him out of the rotation and back into the bullpen because the going nowhere by design 2012 Cubs have a terrible bullpen is beyond dumb. Â Just like Castro at short, this is the season to figure out where Samardzija fits long term. Â Like Starlin at short, Samardzija isn't blocking anybody–because Randy Wells is still a nobody–so give him 30 starts and see what happens.
3. Call up the guy we traded Cashner for! Where's Anthony Rizzo?
My guess is that after home games he's at The Lumberyard, watching corn fed Iowa girls make their fathers proud. Â Before that, he's ripping the Pacific Coast League a new one. Â In a perfect world for the Cubs (and that never happens), some team takes Soriano off their hands, and the Cubs move Bryan LaHair to left field and bring up Rizzo to play first. Â Or, LaHair keeps hitting and the Cubs trade him for something useful and move Rizzo up. Â Short of those two things…or Soriano running into the ivy and breaking…everything, or LaHair getting speared Tyler Colvin style by a broken bat, Rizzo's going to hand out lots of singles in Des Moines this summer. Â There are worse things than having lots of success in the minors when you're 22. Â He wasn't ready when he debuted in San Diego last year, he'll be ready this time.
(Although, his struggles have been exaggerated. Â Bruce Levine said last week that Rizzo "struck out in half his at bats with the Padres last year." Â Forty-six isn't half of 128. Â It's a fucking lot, though. Â But Rizzo also walked 21 times, which is…better than nothing.)
4. We traded Byrd, call up Brett Jackson now! Â The Cubs don't want to win! Â I want a Jackson shirsey!
There are two hold ups on the Jackson call up. Â The second is making the first one moot. Â But anyway, the first is that if the Cubs can wait until June 1 to call Jackson up, they'll delay his free agency by a year. Â That's no small consideration if a prospect projects to be one of your better players. Â Especially if your current team's finish isn't really going to be affected by when he starts playing. Â But the second is this. Â He's not hitting at Iowa. Â And EVERYBODY hits at Iowa.
Jackson is hitting .254 in 16 games. Â That doesn't mean he won't hit. Â He hit .297 there last year in 48 games. Â And 16 games isn't much to get fired up about either way. Â But the fact is he's not off to a great start, and he clearly has some stuff to figure out. Â So shut up. Â He's where he should be.
Take the next few weeks and enjoy Tony Campana and the world's largest batting helmet.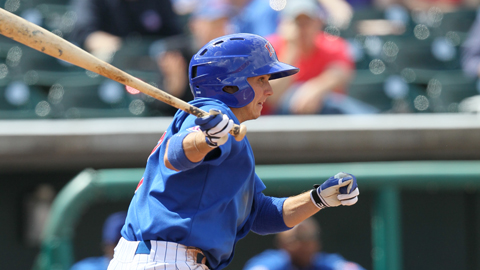 Now batting…Gazoo…the Great Gazoo…centerfield.
5. Why is Chris Volstad such a pussy?
Nobody knows this reason.