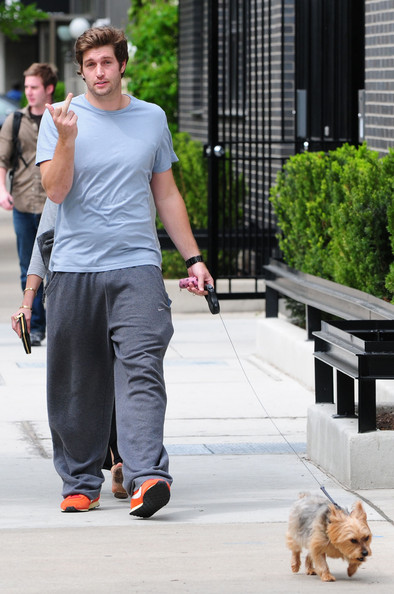 Emasculating haircut? Â Check.
Emasculating dog? Â Check.
Comfy pants? Check.
Orange running shoes that Steve Prefontaine likely tested in 1973? Â Check.
Pink bag filled with rolled up dog shit retrieval bags? Â Check.
Bemused look? Â Check.
Giving the old fuck you to the paparazzo? Â Check.
Jay Cutler's one of my favorite Chicago athletes of all time, and this picture does nothing to detract from that. Â  Little dogs are yippy and jumpy, and actually all kinds of awesome. I never had a small dog until I got married, and I take the damn things for walks all the time, because they're awesome. Â If I were famous and banging (and impregnating) pretty (but washed up) reality TV stars, I'd walk their tiny dogs, too, and I'm sure some TMZ douchebag with a hipstamatic would get a shot of me and the dog, and you know what? Â I'd flip him off, too.
Good for you, Jay Cutler. Â Keep on walking, my brother, little dogs are people, too.
Well they're not people, but you know what I mean.
In the meantime, also enjoy throwing passes to adult sized receivers.