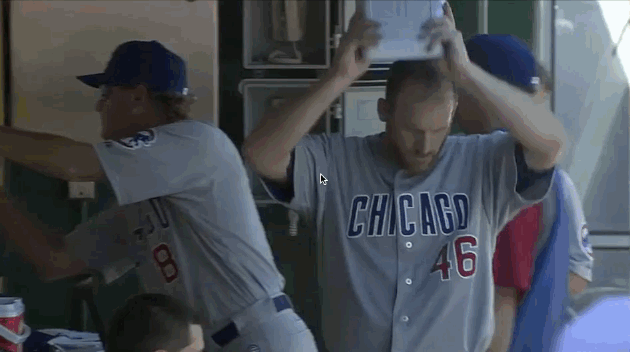 Ryan Dempster, Cubs pitcher 2004-2012
I said all along that all I wanted to do was help the Cubs, and if I could help them by being traded to a contender for some supergreat prospects, then I was happy to do it. Â Theo [Epstein, Cubs President of Baseball Operations] and the little guy who works for him [Cubs General Manager Jed Hoyer] asked me to make a list of teams I'd be willing to waive my 10 and 5 no trade rights to go play for. Â So I did.
Theo Epstein
He did make us a list. Â It was about six feet long, written in crayon and on toilet paper. Â To be honest, I don't even know how you can write on toilet paper with crayon.
Ryan Dempster
It was hilarious. Â And it took me like 17 hours.
Jed Hoyer
We had some problems with Ryan's list.  For one thing, it only included two real teams.  It had a lot of made up teams, like the Cleveland Steamers, the Cincinnati Bowties…it went on and on, it was basically just that one guy's monologue from The 40-Year Old Virgin.  The Dodgers were on it, and the Braves, so that's all we had to go on.  We knew he really wanted to go to the Dodgers.  I mean, it's all he talked about.  How he and Ted Lilly were going to build bunk beds, and a tree house, and something about putting his weiner on Ted's drum set.  I never understood half the stuff the guy was talking about.
Ryan Dempster
Don't even tell me that Step Brothers isn't awesome.
Ned Colletti, Los Angeles Dodgers General Manager
We had a lot of interest in Ryan. Â We knew he wanted to come play for us, and Ted Lilly said Ryan was calling him all the time to talk about it.
Theodore Roosevelt Lilly, Los Angeles Dodgers Pitcher
Let's just say I'd like to murder the guy who put FaceTime on the iPhone. Â To death.
Ryan Dempster
Ted loves it when I FaceTime him. Â I like to do it when I'm in the bathroom working on a project. Â (Winks furiously.)
Ted Lilly
He likes to poop. Â I'll give him that. Â Must be a Canadian thing.
Ned Colletti
We were pretty close to a deal, and were willing to give up our best pitching prospect because we were confident we could sign Ryan to a pretty team-friendly deal for the next year or two, but Ted came in and asked me not to. Â He was, pretty adamant about it.
Ted Lilly
Wasn't that big of a deal. Â I just wasn't sure that Ryan would be a great fit for us, so I asked Ned to really think it over.
Earvin Magic Johnson, Part Owner, Los Angeles Dodgers
Aww, man! Â I heard Lilly told Ned he'd gut him like a fish with a butter knife! Â Ned was like, hell no!
Ted Lilly
That's ridiculous. Â It was a paring knife.
Ned Colletti
Let's just say Ted isn't much of a kidder. Â There was no way I was going to risk it.
Jed Hoyer
Something happened. Â We had the framework to the deal all worked out and then Ned changed his mind. Â I mean, he went 180 degrees on it. Â I'm not sure what happened.
Magic Johnson
I'll tell you what happened. Â Ned was so scared of Lilly he threw up in his pants.
Ned Colletti
No, that didn't happen. Â Well, not that much, anyway. Â Just a little.
Frank Wren, General Manager, Atlanta Braves
I got a call from Jed and he was making Dempster available to us. Â I mean, the guy's having a great year, and we've had some injury problems, and really needed a starter, so yeah, we were very interested.
Ryan Dempster
Something happened to Ted's phone. Â The ringer must have broke because when I call him now…right to voicemail.
Ted Lilly
How would that even work? Â A butter knife? Â Maybe if…yeah, I could probably do that.
Theo Epstein
So we had that toilet paper crayon list of Dempster's and we went to the Braves and it didn't take very long to get a deal.

Frank Wren
Took about an hour of going back and forth. Â We settled on Randall Delgado. Â He's 22, he's got a lot of upside. Â Tough guy to give up, but we're going for it, you know. Â It's Chipper's [Jones, Braves third baseman] last season and we need a starter. Â Dempster's affordable and doesn't come with a long term comittment. Â Perfect trade from our standpoint.
Chipper Jones
You ever try the fried pickles in this place? Â Most people just think wings and tits here, but I like the fried pickles…and the tits.
Theo Epstein
Trade came together quickly and while we tried to get ahold of Ryan to tell him, the Braves ran it by Chipper.
Chipper Jones
I was right here in my office. (Points to his booth in the Peachtree Ave. Hooters) Â Seemed like a good deal to me. Â Dempster's a good guy. Â Like it matters. Â I've been on this team long enough to know what a first round loser looks like. Â This year, it looks like us.
Jed Hoyer
It wasn't hard to find Ryan. Â For the last few weeks he'd been sleeping in the trainer's room. Â We weren't supposed to know, because he'd hide out until everybody left and then make a big pile of Gatorade towels and crawl under them. Â We might not have noticed if he hadn't made a sign that said, "Fort Dempster: No Gurlz Allowed" and hung it up over the towel pile.
Ryan Dempster
That's not true.
It said Fart Dempster.
Jed Hoyer
I know it did.
So anyway, we found him, and after we spent ten minutes guessing the password…
Ryan Dempster
It was "fart."
Jed Hoyer
…we told him about the trade to the Braves. Â We even had the form he needed to sign to waive his trade refusal rights all ready for him. Â And he wouldn't sign it.
Ryan Dempster
I just wanted to give more time for the Dodgers to make a trade offer. Â I mean it's something Ted and I really wanted.
Ted Lilly
No.
Ned Colletti
The day after we pulled our offer for Dempster, I got a package in my office. Â I opened it up and it was a pearl handled paring knife with "Destination: Ned Colletti's Bowels" engraved on the blade.
Jed Hoyer
We tried to re-engage the Dodgers, but Ned wasn't really all that interested. Â It was pretty clear that wasn't going to happen. Â Not sure why they cooled on Ryan, but clearly they did.
Ned Colletti
I like my bowels the way they are. Â And where they are.
Jed Hoyer
So we tried to explain to Ryan that Atlanta was his best shot at the playoffs, and our best trade. Â He said he still wanted to think about it. Â I told him to go home, talk to his lovely wife, think about the kids and make the best decision for him.
Jake Peavy, Chicago White Sox pitcher
What? Â Who? Â Just a second. Â It's for you.
Jenny Dempster, Ryan's wife and mother of their three kids
He asked what I thought. Â I told him it was time to get back to Fart Dempster and leave me alone.
Dave O'Brien, Atlanta Journal-Constitution, Braves writer
I got the story from a guy who works for the Braves. Â So I ran with it. Â Dempster for Delgado. Â We knew that Dempster had the Braves on that toilet paper list, so it was just going to be a formality to get him to sign off on the deal.
Ryan Dempster
I was taking a nap in Fart Dempster and my phone started blowing up. Â I figured it was Ted wanting to do some FaceTime hangin'. Â But it was media guys calling and texting me to confirm the trade. Â I was blindsided by the fact word got out and by the fact that so many media had my cell number.
Every media member in the world
(Laughs uncontrollably)
Ryan Dempster
I didn't turn the trade down.
Jed Hoyer
He turned the trade down.
Theo Epstein
He turned the trade down.
Frank Wren
He turned down the trade.
Randall Delgado, Braves pitcher
They don't did a trade.
Jed Hoyer
We were fucked. Â Hard. Â The Dodgers were out, the Braves didn't know it and were going to give us a really good prospect. Â As soon as Dempster turned down the trade…
Ryan Dempster
I didn't turn the trade down.
Jed Hoyer
He turned the trade down.
Theo Epstein
He turned the trade down.
Frank Wren
He turned down the trade.
Randall Delgado, Braves pitcher
They don't did a trade.
Jed Hoyer
…we had no leverage. Â If the Braves pulled out, I wasn't sure we had anywhere to trade him.
Frank Wren
We pulled out.
Jed Hoyer
I wasn't sure we had anywhere to trade him.
Ryan Dempster
Suddenly, I was a bad guy in Chicago. Â I mean, does that make any sense? Â I wanted to stay. Â Cubs fans want their best players to leave? Â That doesn't make any sense
Theo Epstein
Best players? Â That's rich.
Tom Ricketts, Co-Owner and CEO of the Cubs
What I didn't like about it was that one of our most popular players was being haranged on the Internet by fans for wanting to stay with us. Â It seemed vicious, and we don't like our fans vicious, we like them docile and full of cash. Â It's why there are so many nitrates in the bison dogs.
Todd Ricketts, Co-Owner of the Cubs
My bison's breath tastes like bison food!
Ryan Dempster
I heard the rumors about me and the nanny. Â What are you going to do? Â People can make up stuff, you can't stop them.
Ryan Dempster's nanny
Gross.
Dale Sveum, Cubs manager
I was glad he turned down the trade. Â I like it when my guys want to stay and play for his teammates. Â You never saw Robin Yount trying to get out of Milwaukee. Â And come on, that's Milwaukee. Â It's a complete shitheap.
Frank Wren
For a couple of days we left the trade on the table. Â I know it's hard to leave a city you like and a team you like and I thought he just needed a little while to think about it. Â But after 48 hours, we've got to move on, you know?
Ned Colletti
It was bad news for me when the Braves announced the trade offer was off the table. Â Everybody was going to expect me to get a deal done. Â We'd just made a great trade for future Hall of Famer Hanley Ramirez (currently hitting .226 for the Dodgers), and I was focused on getting some bullpen help. Â I wasn't really in the market for a starter
Ted Lilly
And I was still threatening to gut him like a fish.
Ned Colletti
And that.
Jed Hoyer
We thought about taking Dempster out of the rotation until we could do a trade. Â His turn was up in Pittsburgh, and we were hesitant to let him pitch, because he'd already been on the disabled list twice, and let's face it, the guy is prone to do some stupid shit.
Ryan Dempster
You break one toe trying to leap over the dugout railing after win, and you're labelled for life?
Dale Sveum
I was going to start him. Â We're trying to win games here, you know? Â I think the way we've upgraded in season has shown that commitment. Â You know, Anthony Rizzo at first, huge improvement. Â Luis Valbuena at third…oh, never mind.
Ryan Dempster
I made that start in Pittsburgh and pitched OK. Â And then Dale takes me out, and I wanted to stay in, so I started throwing stuff around in the dugout a little bit.
Jed Hoyer
Hence, the stupid shit I was talking about.
Dale Sveum
If I didn't know better—and I drink gasoline three times a week, so I literally don't know better–I'd say that dugout tantrum was an act. Â He was trying to show how much he cared. I think he thought it would get the fans back.
Chris Bosio, Cubs pitching coach
If he really cared, he'd have thrown some fucking strikes.
Theo Epstein
That start didn't really hurt his trade value. Â He'd already killed it. Â Short of falling off the mound and spiking himself to death, he couldn't have hurt his value. Â We were now faced with the very real possibility that he was untradeable. Â That would not have been a positive development for the organization.
Ryan Dempster
At that point, I thought there'd be no problem getting a Dodgers deal done. Â Just fill out the paperwork, and Ted and I would living it up in La-La land, Vinnie Chase style!
Ned Colletti
The day before the deadline I got a little box in the mail. Â I opened it and all that was in it was a human toe. Â I have no idea whose toe it was.
Ted Lilly
I'm not sure either. Â I've got some just lying around.
Ned Colletti
It was a reminder not to trade for Dempster.
Jed Hoyer
We thought we had another deal the night before the deadline. Â It was going to be Dempster and Reed Johnson for Delgado and a minor league reliever. Â Ryan's kind of afraid of Reed and we knew Reed would want to go, and we thought it might pressure Ryan into signing off. Â It didn't.
Reed Johnson
Let's just say I've had enough of the prop comic experience of being on a team with Ryan Dempster. Â I was ready for a break.
Ryan Dempster
I didn't turn the trade down.
Jed Hoyer
He turned the trade down.
Theo Epstein
He turned the trade down.
Frank Wren
He turned down the trade.
Randall Delgado, Braves pitcher
They don't did a trade.
Theo Epstein
We went to plan B then, and worked out another option we'd discussed with the Braves. Â We gave them Paul Maholm, and got one of the Braves best prospects, Aroyds Vizcaino. Â Problem is, he's got Tommy John Disease. Â Still, not a bad trade. Â If it works out, he's a top of the line pitcher.
Ryan Dempster
That Braves trade was great news for me. Â Now there was no reason not to trade me to the Dodgers. Â I figured it'd be no problem.
Jed Hoyer
The day of the trade deadline, the Dodgers were adamant about not wanting to trade for him. Â Finally, I had him come into our offices and hang out. Â That way if a trade offer came in, he'd be there to sign off and make it happen.
Ryan Dempster
Those offices are sweet. Â Comfy couches, a Golden Tee machine that doesn't need quarters, and free Gatorade! Â I never wanted to leave.
Theo Epstein
I had been afraid of that.
Jed Hoyer
Ned was so uninterested that I asked if I could put him on speaker phone and we let Ryan hear him.
Ryan Dempster
That was kind of influential to me. Â Ned was saying the team wanted to go in a different direction.
Ned Colletti
Shit. Â I was telling him that we didn't want him. Â That there was no chance we could do a trade. Â At one point he asked if I could go get Ted and put him on the phone. Â I went to go find Ted and he was right in the hallway behind my office, sharpening an axe by smashing all the sprinkler heads in that hallway. Â I just turned back around and hung up on the Cubs.
Jed Hoyer
Now we've got about 20 minutes to get something done. Â Otherwise we're stuck with Ryan. Â We get nothing for him, and since we can't take the risk he won't turn down his qualifying offer next year we wouldn't have gotten draft pick compensation for him. Â The Yankees always like to sneak in at the deadline and make a deal, so we called them.
Brian Cashman, New York Yankees General Manager
I loved the idea of grabbing a quality pitcher at the deadline for almost nothing. Â Our pitching coach, Larry Rothschild was with Ryan for years in Chicago, so I called him and asked what he thought.
Larry Rothschild, New York Yankees Pitching Coach
No.
Jed Hoyer
So that was out. Â I knew the Rangers needed a pitcher and Dempster's name had come up with them just a little bit over the past few days while we were working on a Geovany Soto trade. Â Hell, if they'd take a catcher hitting .199, I thought maybe they'd take a guy with the second lowest ERA in baseball.
Jon Daniels, Texas Rangers General Manager
We'd already lost Colby Lewis for the year with an arm injury and earlier that day we found out Neftali Feliz had come down with Tommy John Disease, and we needed a pitcher. Â Our Madduxes [future Hall of Famer Greg and his brother Mike, the Rangers Pitching Coach] weren't against it, but neither was all that fired up about it.
Mike Maddux
We needed a warm body for the rotation. So what the hell?
Greg Maddux
What? Â I gotta go, I've got a tee time in 20 hours.
Theo Epstein
The Rangers had a third base prospect we really liked, Christian Villanueva. Â He's not only blocked by Adrian Beltre, but Mike Olt, one of their best two or three prospects is also a third baseman, so that's who we asked for.
Jon Daniels
Villanueva is like nine years from the big leagues. Â So what the hell?
Jed Hoyer
We had a deal in place, and all we needed was for Dempster to sign off on it.
Ryan Dempster
Texas isn't on my preferred list, but they're good and they wanted me, so I figured I'd do it. Â But I had a great joke I had to do.
Jed Hoyer
He signed his trade waiver with a pen with disappearing ink.
Theo Epstein
I nearly strangled him with a clown shoe. Â I mean it, I was ready to literally kill him.
Ryan Dempster
It was just a joke. Â It was disappearing…then reappearing ink.
Theo Epstein
We had to fax that fucking thing in. Â A fax! Â Who uses a fax machine, these days?
Keith Moreland
(Sighs.)
Theo Epstein
The ink reappears with 30 seconds left before the deadline and we use cutting edge technology—if this were 1979—and get it in just under the wire.
Todd Ricketts
Good thing Todd remembered to pay the Verizon bill!
Ned Colletti
I wasn't sure what happened at the deadline, but the guys were watching MLB Network. Â Suddenly, Ted walked into my office, grabbed the paring knife off my desk, smiled at me and said, "Enjoy solid foods."
I threw up in my pants again.
Theo Epstein
The fact is that while we traded him, and got decent value for him we wasted a lot of time on the deadline day trying to move him, when he should have been gone a week before. Â We might have been able to do some other things if we hadn't been stuck trying to salvage something of value for him.
Ryan Dempster
I'm going to miss the city, and Cubs fans, and my awesome Harry Caray impression—heeeey, how about those Cubbiezzz?—it's been a great time. Â I can't wait to come back in a few years and get my number retired.
Jed Hoyer
Let's just say a lot of guys went to the clubhouse to help him pack.
A lot.