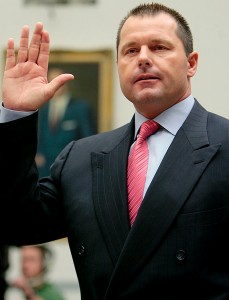 I never knew that I got a Baseball Hall of Fame ballot, but after seeing the Chicago Tribune list of guys on their staff who do (Fred Mitchell, Phil Hersh and Teddy Greenstein, for three) I'm pretty sure that I must have one. Â So I went to the Internets and downloaded me one, and I'll just fill it in and mail it to Rob Neyer. Â I'm pretty sure that's how this thing works.
Jack Morris –Â Because I was a kid in the '80s, I can't believe Jack Morris isn't already in the Hall of Fame. Â He threw a no-hitter on national TV in front of God, Ernie Harwell and Vin Scully and the White Sox one year, he was awesome on the 1984 Tigers and he's still pitching game seven of the 1991 World Series. Â He won 254 games, he struck out nearly 2,500 guys, he had a 2.97 ERA in seven World Series starts, what's not to like? Â That he was an asshole? Â That when he finished his career with the Indians, he would actually fly home between starts? Â Well, yeah, that's kind of a dick move. Â Also, a vote for Morris makes it easier for people to vote for Curt Schilling, and that should just never happen.
But screw it. Â He should be in. Â YES.
Jeff Bagwell –Â Did you know Jeff Bagwell and Frank Thomas share the same birthday? Â They were both born on May 27, 1968. Â Yes, of course you knew that, because dopes have been making a big deal out of it for a decade, at least. Â What you didn't know is that they were actually conjoined twins, but when they were six years old, they ran for an elevator in a Wichita hotel, Frank made it in, Jeff didn't and the elevator went up and ripped them apart. Â Hah, of course that's not true. Â There are no hotels in Wichita with elevators.
I'm surprised Bagwell got such poor Hall of Fame support last year, though not surprised he didn't get elected. Â He was a really good player. Â He hit for average, he hit for power, his batting stance made it look like he was taking a dump at home plate, and he was one of the best throwing first basemen ever. Â You know, for whatever good that is worth. Â I can surmise that his lack of support is for two reasons. Â One, the writers want him and his longtime boyfriend, Craig Biggio to go into to the Hall of Fame together, so that Chip Caray can sit pantless in the front row and enjoy the scene, and two, everybody's pretty sure Bagwell was chock-full-o-steroids.
And why do people think that? Â Well, Bagwell was famously traded from the Red Sox to the Astros in 1990 for reliever Larry Andersen, because the Red Sox didn't see how a guy with six career homers in two minor league seasons could handle a corner infield spot on a big league roster.
Let's go over part of that last sentence again.  The Red Sox didn't see how a guy with six career homers in two minor league seasons… Holy crap.  It's true.  He hit two homers in 1989 and then four in 1990.
Then, he hit 15 homers in 1991 playing half his games in the Astrodome, and won Rookie of the Year. Â Of course, he was only 23, and the Red Sox never make a mistake. Â Aside from his post-pubescent power surge, the rest of the steroid rumors hinge on him playing with Ken Caminiti for a while.
I'm on the fence about Bagwell, but I'll vote for him, mainly because he played one entire season with a squirrel attached to his face: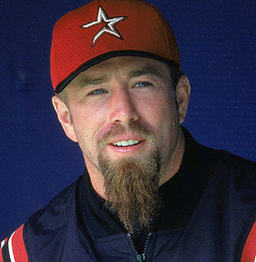 YES
Lee Smith –Â He pitched 18 years in the big leagues, racked up almost 500 saves and once saved a game by letting a Pete Rose line drive him in the ass and deflected it to Paul Noce. Â His best seasons came as a Cub (eight years, including six ill-fated starts) and a Cardinal. Â But he also pitched for six other teams including eight games for the Yankees in 1993. Â Here's what you need to know about Lee Smith's Hall of Fame credentials. Â Baseball brain Jim Frey felt he was only worth Al Nipper and Calvin Schiraldi in 1987, when he was 29 years old. Â That trade created a hole in the bullpen that Frey would later fill by trading Rafael Palmeiro (and others) to Texas for Mitch Williams (and others). Â So screw Jim Frey, and screw Lee Smith. Â NO.
Tim Raines –Â This one, I don't get. Â Why isn't Tim Raines in the Hall of Fame, already? Â The guy was awesome. Â Ricky Henderson was the greatest leadoff hitter of all-time, and Raines played at the same time and was about 95 percent as good. Â OK, maybe 90, but still, that's pretty damned good. Â He stole 808 bases and was only caught 146 times. Â Starlin Castro got caught 146 times last year. Â He got on base (.385 career OBA), he hit for average (career .294 average and he won the batting title in 1986). Â He even had power, hitting as many as 18 homers in a season. Â Sure, he had a cocaine addiction, and spent a couple of seasons sliding head-first to avoid breaking the coke vials in his back pocket, but it was the '80s, man! Â The only guy not on coke in the '80s was Mitch Webster. Â YES.
Alan Trammell –Â When Barry Larkin was inducted last year, it caused a bevy of "why is he in and not Alan Trammell" columns, and it's a pretty good question. Â Trammell was the best shortstop in the American League for 12 years (well, for some of them) between 1978 and 1990, had some pop, got on base, drove in runs, played a good defensive shortstop and has a career .993 postseason OPS. Â He should have been the 1987 AL MVP, but he lost the award to noted gas station owner George Bell, he won four gold gloves, six All-Star games, and three Silver Sluggers, for whatever that's worth. Â I'm voting for him because he was 3-0 as Cubs' manager, filling in for Lou Piniella when Lou got suspended for kicking dirt on an umpire, and then sat in on one of our best gamecasts, ever. Â YES.
Edgar Martinez – I loved watching Edgar hit.  I also loved watching him field, because it was hilarious.  My fondest memory, was Lou trying to get Edgar some extra at bats one year by giving him a cameo at third (long after he'd become a full-time DH) in an NL park during interleague, and Edgar chased after a foul ball and ran right to the disabled list.  But mostly, I loved watching him hit.  I had heard about this for years, and saw it for real at the 2002 All-Star Game.  Edgar took the first round of BP with the donut on his bat.  It was amazing.  In his second round he smoked line drive after line drive each one about ten feet to the left of the previous one all the way from the first base line around to the third base line.  I hate the DH, but it's a thing, and Edgar was one of the best ever at that thing.  So, YES.
Fred McGriff – Oh, fuck NO.
Larry Walker – Larry Walker was a really good player in Montreal, and then when he signed as a free agent with Colorado his numbers went off the charts.  He won three batting titles and hit .366 one year and didn't win the batting title.  He also got hurt a lot and missed lots of games, and played his final season and a half in St. Louis which is a huge red mark on his career.  If not for the inflated Coors Field numbers, Larry wouldn't get serious Hall of Fame consideration, so NO.
Mark McGwire –Â Here's where we get to the interesting stuff. Â It depends on how comfortable you are with the idea of trying to decide if a player who you know used steroids would have been a Hall of Famer without them. Â The question is a fool's errand. Â But we're not trying to solve world hunger here, we're just trying to determine how much more a guy can charge for his autograph once he gets a plaque in a hallway at the Hall of Fame. Â For me, the McGwire answer is simple. Â No. Â There's no chance in hell this mongoloid would have amassed Hall of Fame numbers without turning himself into a hellbeast. Â After his rookie year, he settled into a Rob Deer-like existence. Â He'd hit 30 homers, he'd walk a lot, he'd strike out a lot and he'd hit .230. Â He was a useful player, but that's about it. Â Then he bottomed out in 1991 and hit .201 with 22 HR and 75 RBI. Â And then he miraculously bounced back in 1992 with 42 homers, 104 RBI and raised his batting average 67 points. Â He looked like a new man. Â And then his body broke down and he played a total of 74 games combined in the next two seasons. Â When he came back from that he was even more cartoonish than ever. Â He says he took the steroids to get over injuries and that they didn't help him on the field. Â We all know that's bullshit piled on bullshit. Â The bulk of Hall of Fame candidacy lies in the five seasons between 1993 and 1998 when he hit 284 homers, and posted a 191 OPS plus. Without that ridiculous production (he averaged 57 homers a year, for chrissakes) he'd have had no chance at the Hall. Â So he still doesn't. Â NO.
Don Mattingly –Â I'm always surprised that Mattingly doesn't get more support. Â In his prime he was awesome, one of the best hitters ever, and he played for the vaunted Yankees (even though they were hardly vaunted when he played there) and his production dip came because of a bad back, and even then he still hit at or around .300 the rest of his career and finished with a .307 lifetime average. Â He was an MVP and he won nine gold gloves. Â He was Keith Hernandez with power. Â Then again, Keith's not going to the Hall of Fame, either. Â NO.
Dale Murphy –Â Murphy had a weird career, to say the least. Â He was a hotstot catching prospect until one day he couldn't throw the ball back to to the pitcher. Â Then he became a pretty solid outfielder who struck out a lot. Â Then, for six seasons he was the best player in the National League. Â He won back to back MVPs in 1982 and 1983 and probably should have won it again in 1984, but writers get tired of voting for the same guy, and Ryne Sandberg had one of the best all-around seasons in two decades. Â And he was great again in 1985. Â Dale's numbers dropped in 1986 from the 36 HR, 100+ RBI pace of 1982-1985, but bounced back in 1987 when he hit a career high 44 homers and had his best ever season .997 OPS. Â And then…
He was bad. Â Oh, sure he still hit 20 homers in 1988, 1989 and 1990, but his batting average dropped in to the .220s, his on-base average fell by a HUNDRED points, and his slugging average by a 160 points. Â He was 32 and he wasn't great anymore in fact he wasn't even that good. Â He was traded in 1990 to the Phillies for Jeff Parrett, Jim Vatcher and Victor Rosario. Â Huh?
In his prime he was a gold glove centerfielder (he won five of them) with great power. Â He was a stud. Â It seems to me he's penalized for going from great to bad in one offseason. Â One of his closest player comps in Hall of Famer Ron Santo. Â Santo's numbers did the same thing, but he had an excuse…he was a diabetic. Â Seems we're penalizing Murphy for having stable blood sugar. Â YES.
Rafael Palmeiro –Â What an asshole. Â He's never going to get into the Hall of Fame, because he got caught using steroids after he'd already compiled every number he'd ever need to get in. Â Talk about not knowing when to quit. Â Three thousand hits, five hundred homers, zero suspicions, and in the waning days of his career on a shitty Orioles team he flunks a drug test. Â This is worse than banging Ryne Sandberg's wife and being traded to the Rangers. Worse than turning down a trade to the Cubs in 2003 because he wanted to re-sign with Texas, and then they didn't re-sign him anyway. Â Worse than winning a Gold Glove in a season when he only played 28 games at first base. Â Actually, that last one was pretty awesome. Â NO.
Bernie Williams –Â A gold glove centerfielder with power and speed, and he played on all those great Yankees teams in the '90s and early '00s. Â Bernie was a really good player, but hardly a Hall of Famer. Â He won a batting title in 1998 and had a five year peak when he was an annual MVP candidate, but he was pretty much done as an impact player at 33 and didn't have nearly the peak years of a guy like Murphy. Â Plus, the whole guitar playing stuff was annoying. Â NO.
Sandy Alomar Jr. –Â He was a good player for a long time, and then a player for even longer than that. Â It was like he was never going to go away. Â NO.
Craig Biggio –Â In the Baseball Reference All-Time player rank he's 66th, right in between Ryne Sandberg and Tim Raines and that seems about right. Â Biggio's going to go to the Hall of Fame because he got 3,000 hits, voters loved that he played three positions (catcher, second and outfield) even though he was a shitty outfielder, and he was just so adorable. Â Chip Caray has to change underwear every time he mentions Biggio's name. Â He was an excellent hitter, and after a horrific 1993 season (he was caught 17 times in 32 stolen base attempts) became a great base stealer. Â He started winning Sandberg's Gold Gloves after Ryne retired the first time, but Biggio was never in that class defensively. Â He had good range and a limited arm and he threw weird. Â He also killed the Astros in 2006 and 2007 by sticking around just to get that 3,000th hit and going back to second. Â Ed Lynch still has nightmares about the guy. Â In the offseason after the 1995 season, the Cubs were going to make a huge offer for him, and he was interested, and then Sandberg decided he wanted to come back, and the Cubs didn't have the balls to tell him no. Â That's just so typically Ed Lynch, isn't it? Â YES.
Barry Bonds – The argument for Bonds is that he's one of the five best players ever, and though we all know he used steroids, that he already had established himself as a Hall of Famer before he started using them.  If you believe the book Game of Shadows, Bonds was so pissed off at the attention Sammy Sosa and Mark McGwire were getting for hitting homers and being all juiced up, that Barry said screw it and started using himself.  At the time he was already a three-time MVP and one of the best players in the game, probably the best.  He suffered through an injury plagued 1999 season, one in which he famously bent his elbow backwards to break up scar tissue just to get back in the lineup (I get queasy thinking about it).  And by 2000 he was ready to show us what it would look like if the best player also decided to cheat.  What it looked like was mind-boggling.  In 2001 he set the single season home run record, from 2001 to 2005 he led the NL in on base average, slugging, OPS and OPS plus every year, and he threw in batting titles in 2002 and 2004.  He posted OPS pluses of more than 250 three times.  He led the league in walks 12 times in his 22 big league seasons.  He led the league in intentional walks 12 times in 22 seasons.  He was intentionally walked 120 times in 2004.  Nobody had ever been intentionally walked more than 68 times in a season before that…and it was him…the year before.  Of the top ten seasons of intentional walks ever, Barry is there seven times.  With McGwire it was a case of, would he have been a Hall of Fame player without steroids and the answer was no.  With Bonds, the answer would have been yes.  And I'm voting YES for him, because even though he is a world-class dick, you almost have to admire him (almost) for showing us what a truly great player on steroids looks like.
Jeff Cirillo –Â A nice player who had some good seasons in Milwaukee went to Colorado and still couldn't hit homers and then went to Seattke and couldn't hit anything. Â NO.
Royce Clayton –Â What? Â NO.
Roger Clemens – You can make the "he would have been a Hall of Famer without steroids" case for Clemens, just like Bonds.  When Clemens' career ended the first time in 1996 he had won 192 games, three Cy Youngs and four ERA crowns.  But he wasn't really an elite pitcher anymore.  His ERA had gone up, he was still getting lots of strikeouts, but his best days were behind him.  And then he signed with the Blue Jays, dropped his ERA by almost two points and won back-to-back Cy Youngs.  We know now that he was cheating his ass off, and that it continued in New York for five years, and then two more full seasons in Houston and then those two annoying, "I'm not pitching until June" seasons.  You really can't vote for Bonds and not Clemens, because it's the same thing.  It's a great player cheating and becoming even greater.  Clemens posted a 1.87 ERA in 32 starts when he was FORTY-TWO.  It's insane, and it was all bullshit.  I'm going to make a flawed argument here, admittedly, but the difference to me is that Clemens' career was clearly trending downward when he started using 'roids, while Bonds' was still chugging along.  So while Barry's took good years and made them great, Clemens' made great years out of whole cloth.  I know, it doensn't work, and it doesn't make sense and I'm not voting for him because he's even more of an ass than Barry, and that is saying something. NO. 
Jeff Conine — Fairly well-known fact, he was a world-ranked handball player. Â Little known fact, he was also a world-ranked handjob giver. Â NO.
Steve Finley – While playing with Ken Caminiti on the 1996 Padres, suddenly went from a guy who averaged nine homers per season to a guy who averaged 26 homers a season from age 31 to 39.  He was part of  Bob Brenly's 'Roid Patrol that won the 2001 World Series.  I'm not sure if you knew that Bob won the 2001 World Series.  NO.
Julio Franco — Franco had an amazing career, from his completely jacked-up batting stance to the tree limb that he used for a bat, to the fact that he played until he was 48 (at least), and that he won a batting title one year (1996, Texas, .341) and then hit .107 points worse the next (granted he was hurt). Â Franco tried to delay his Hall of Fame snub by playing until every Hall of Fame voter died. Â Alas, some still live. Â NO.
Shawn Green — He had four really good years, and one really good day in Milwaukee. Â I've been to Milwaukee dozens of times, and that's one more good day than I've had there. Â NO.
Roberto Hernandez –Â Seriously? Â No, really, Roberto Hernandez? Â NO.
Ryan Klesko –Â Jason Bere tried really hard one day to get him in. Â And, unless there's a Hall of Fame for telling every writer ever that you surf with Navy SEALs, then, NO.
Kenny Lofton –Â The MVP of the Cubs 2003 LCS win over the Marlins…oh, sorry, some days I like to pretend that actually ended well. Â Lofton was a great leadoff man who averaged 65 stolen bases (yes, AVERAGED) from 1992 to 1996, he also was an ass, and that's why he played on nine different teams in his last six years. Â That said, if the Cubs had re-signed him in 2004 they'd have gone to the playoffs. Â NO.
Jose Mesa –Â Completely choked away a World Series away in Cleveland, and then threatened to have Omar Vizquel murdered. Â Nice guy. Â NO.
Mike Piazza – He's the best hitting catcher ever, and though rumors of all kinds surround him, nobody had any proof that he did steroids.  He also once had to hold a press conference to confirm he wasn't gay.  Ahh, New York, isn't it the best?  He won a Rookie of the Year Award, finished in the top ten in MVP voting seven times, hit .300 or better ten times, hit 426 homers, and though he was lousy throwing out basestealers he was a pretty solid catcher.  I'm going to vote YES for him because I'm not an idiot, but I'm going to hope Tommy Lasorda dies before the induction just so we don't have to listen to any more of his shit.  We get it, the Dodgers drafted him as a favor to you.  Shut up, already.  Don't you have a hooker to hire to crap on your chest?
Reggie Sanders –Â Two things about Reggie. Â One, his middle name is Laverne. Â Two, he was so imminently replaceable that he played on seven different teams in seven years from 1998 to 2004 but wasn't traded. NO.
Curt Schilling –Â He won almost 40 fewer games than Morris, and the first nine years of his career he was mostly a fat, mediocre douche, but then from 1997 to 2004 he was pretty damned good. Â He pitched well in "big games" he annoyed the shit out of his opponents and his teammates, and his postseason record is 11-2 in 19 starts with a 2.23 ERA, including 4-1 in seven World Series starts with a 2.06 ERA, and it should have been 5-1 but Bob Brenly (did you know Bob won a World Series in 2001?) took him out of a game in the Bronx for no good reason only to let BK Kim shit his pants…again. Â Schilling is going to go into the Hall of Fame someday (he's already a first ballot pick for the Hall of Insufferable), but no thanks to me. Â NO.
Aaron Sele –Â You have got to be kidding me. Â NO.
Sammy Sosa –Â From his 30-30 season in 1995 through 2004, Sammy averaged 49 homers, 127 RBI and a 149 OPS plus. Â His 1990 season with the White Sox was unique, he was the only player in either league to have 10 or more doubles, triples, homers, stolen bases, assists and errors (seriously, nobody was ever that all-around for better and worse). Â When the Cubs got him in spring training of 1992 he was this raw, do-everything athlete. Â He had no plate discipline, he had a haircut so bad that Andre Dawson once said of him (ironically) "I feel sorry for his hat." Â He also had a big smile and endless amounts of bullshit. Â For his first six years with the Cubs he was frustrating, because he had so much talent, but wasn't getting much out of it. Â He didn't hit for average, he never got on base, he threw balls over the backstop trying to throw out runners and he never threw to the right base. Â Then, in 1998 he suddenly was a superstar. Â He hit 66 homers, he was the MVP, he led the Cubs to the playoffs and he French kissed the dugout camera after every homer. Â He loved him some Sammy. Â His teammates were pretty much always tired of his act. Â The media didn't know what to think when he arrived for that 1998 season puffed up like a tick. Â He was massively strong, no longer fast, but much more productive. Â His 2001 season was incredible, he hit 64 homers, drove in 160, had a 1.174 OPS, a 203 OPS plus and led the league in runs and total bases even though he was the only guy on the team who could hit. Â So with Sammy, we ask the question we asked of Bonds, Clemens and McGwire. Would he have been a Hall of Famer without steroids? Â No f'ing way. Â He wasn't even as good as Ruben Sierra before he got big. Â Sorry, buddy. Â NO.
Mike Stanton –Â Uh…NO.
Todd Walker –Â Another great from the 2004 Cubs. Â Todd could hit doubles, grow a beard in a day and botch a double play with the best of them. Â NO.
David Wells – He won more games than Schilling, and his postseason numbers are pretty good, 10-5 with a 3.17 ERA in 17 starts and 10 relief appearances.  My favorite stretch of his career was when he won 20 games for the Blue Jays in 2000 then was traded to the White Sox in 2001 and won five games, then went to the Yankees in  2002 and won 19 games.  Hee hee.  He once got drunk at a Saturday Night Live afterparty and threw a no-hitter the next day.  He pitched on ten different teams in 21 years (several of them more than once), never was in shape, and annoyed people at every stop.  He had a great, and colorful career.  But NO.
Rondell White –Â One of my favorite Cubs of all-time, RonDL could really hit, and in his Expos day was a great all-around player, but he could never stay healthy. Â He hit .310 with a .897 OPS in two seasons with the Cubs, but missed 65 games in his only full year there. Â He had a nice career, and hit .284, but played in less than 1500 games in 15 years. Â NO.
Woody Williams –Â The 2001 Cubs would have made the playoffs except the Cardinals traded for this shitbird (for Ray Lankford) on August 2, and he had the only competent stretch of his life, and went 7-1 with a 2.28 ERA in 11 starts. Â Screw him. Â NO.
So there you have it. Â My official Hall of Fame ballot. Â It's full of just as much hack reasoning and bad decisions as the real ones. Â Actually…probably less.