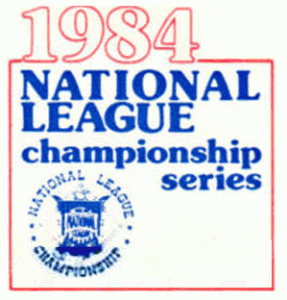 All winter long I've been tempted to take the time to watch the replay of game five of the 1984 National League Championship Series between the Cubs and Padres. Â Why? Â I mean, I know how it ends, and it's ugly and painful. Â But I was 11 years old when it happened, and I've never seen it since, so I don't feel like I remember any of it really. Â I know the famous stuff that happens, but I kind of want to re-live it. Â What doesn't kill you makes you stronger, right? Â Isn't that what Kelly Clarkson sings while she's eating pancakes by the table full?
So I paid my $2.99 for the offseason monthly fee to watch whatever you want on mlb.tv and fired up the game from October 7, 1984. Â Cubs at Padres. Â Rick Sutcliffe versus Eric Show Part Deux, broadcast on ABC, the afternoon that Walter Payton broke Jim Brown's career rushing record.
The open has Earl Weaver, Don Drysdale and Reggie Jackson in awful royal blue blazers all talking about how awful it would be to gag away a 2-0 series lead. Â Weaver actually admits he's blown a 3-1 lead in a series before.
Then they send it to the field where Tim McCarver and Steve Garvey are taking about how Garvey went 4-5 in game four and hit a game winning homer off of Lee Smith. Â It was 29 years ago, and I'm pretty sure that listening to Garvey now, that I'm going to kill myself. Â Garvey says it was a special moment for his "special wife" and "special daughters." Â As we now know, Steve could have been referring to dozens of people around southern California.
Also, the umpire's strike has just ended…like that very minute. Â The first four games of the series were handled by replacements, and there has always been a lot of thought that the huge crowds at Jack Murphy Stadium intimidated the replacement umps. Â Or, you know, the Cubs choked. Â I've heard it both ways.
Garvey…standing next to McCarver appears to be 5'2. Â Because he is.
McCarver sends it to commercial, "After 166 ballgames there is only game left for one of these ballgames. Â The final game of the season coming up for one of these teams." Â Are they playing for a spot in the World Series or is this the Hunger Games?
Seriously, the winning team goes to the World Series, but all any of the five assholes who has talked to this point has talked about is how the loser goes home. Â That seems healthy.
The Cubs are being introduced and there's a great shot of Dallas Green, in the stands, drinking a beer, wearing a yellow dress shirt with about six buttons open on it. Â Dallas is clearly shitfaced. Â Who could blame him?
The Cubs are introduced and the Padres fans greet the announcement of each player with "Who cares?" Â Not you guys, since you averaged about 6,000 fans during the regular season.
Rick Sutcliffe is warming up in the bullpen. Â It's 85 degrees, Weaver and Reggie will bitch about how hot it is, and Sutcliffe is wearing a sweatshirt. Â Of course he is.
Alan Wiggins is introduced as the leadoff hitter for the Padres. Â He died of AIDS. Â Why couldn't he have given it to Garvey?
Bobby Brown is playing center because Kevin McReynolds was injured in game four trying to take out Ryne Sandberg on a double play. Â The first of hundreds of phantom injuries for McReynolds. Â Garry Templeton is batting eighth, he's so coked up he has no idea what sport he's playing.
McCarver is now interviewing NL President Chub Feeney in the stands. Â Chub says the umps have agreed to go to "binding arbiration" with Baseball Commissioner Peter Uberroth. Â No "t" in arbitration when Cubs says it.
Former Padres player Nate Colbert is in full uniform to throw out the first pitch. Â He looks like a poorly tubed sausage. Â I assume he was coaching, otherwise he's just a lonely fat man wearing a full baseball uniform to sit in the stands and watch a game.
Speaking of that, John McSherry is introduced as the third base umpire. Â Drysdale says McSherry almost didn't make it to the game in time. Â The umpires must have shipped him freight.
Eric Show is pitching for the Padres. Â Too bad Andre Dawson wasn't around yet to chase him into the dugout and beat him senseless.
Show struck out 104 batters in over 200 innings in 1984. Â Ooh, impressive.
Bob Dernier leads off for the Cubs. Â He was 4-13 with five runs scored in the first four games. Â He takes the first pitch, and that's the last time a Cubs leadoff hitter has ever taken a pitch.
Dernier lines softly to center and Wiggins catches it, Reggie acts like it's Willie Mays in the Polo Grounds because Reggie is the worst.
Sandberg was 6-15 in the first four games. Â He crushes a ball that had triple written on it and Graig Nettles speared it. Â The great play, however, does not hide the fact that Nettles spells his first name wrong and is wearing yellow socks.
These Padres uniforms are some kind of ugly.
Gary Matthews is up. Â He was 3-13 in the first four games with two homers. Â Show's first pitch was up and in and Gary doesn't like it. Â The second pitch is also up and in, Sarge throws his bat and glares at Show. Â Sarge was a badass.
Reggie says, "Another one inside and we're gonna go duke city."
Who knew that in 1984 Reggie Jackson was a '20s mobster?
Sarge fouls off a pitch to go 2-2 and then draws a walk. Â Yes, the Cubs used to actually walk. Â Well, this team did at least.
Leon Durham is the cleanup hitter. Â He's got the Jheri curl going, the gold chains, and Sarge steals on the first pitch and could have crawled to second. Terry Kennedy's throw went about 37 feet.
So with a runner in scoring position, Durham can get the Cubs an early lead. Â Drysdale is pretty sure any good pitch above the waist is going to get Leon out because Leon's hands are too high in his stance. Â Weaver agrees. Â Leon does not agree, Show gets one up and Leon crushes it. Â The really long two run homer puts the Cubs up 2-0 in the first.
And for all the talk about the loud Padres crowd, the Cubs fans at Jack Murphy are loud as hell. Â So there you go, they staked the best pitcher in baseball to a 2-0 lead in the first against a team he dominates. Â What could go wrong?
Keith Moreland is hitting fifth, he's 5-15 so far in the series. Â The Cubs have already tied an LCS record for most homers with eight.
Moreland walks, and Andy Hawkins is warming up in the Padres bullpen. Â I haven't seen this game in 29 years, and guys, I think the Cubs are gonna win!
Ron Cey is up. Â He's 5'1. Â Garvey is 5'2. Â Davey Lopes is smaller than either of them. Â Unless Bill Russell was the size of his twin brother on the Celtics, I think the Dodgers infield of the '70s was all dwarf.
Moreland and Garvey and chatting it up at first. Â Talk about a dull-fest.
Cey gets jammed…how with those stump arms that's possible I don't know. Â But the inning ends with the Cubs up 2-0.
ABC plays an interview from earlier that day between Drysdale and Sutcliffe. Â Sutcliffe says he's disappointed to not be starting game one of the World Series. Â Oof. Â Good omen.
Sutcliffe says, "If was a betting man, I'd put the weight on my shoulders. Â I like our chances."
As we all know, Sutcliffe was 16-1 with a 2.69 Â ERA, and get this, 39 walks and 155K's in 150 innings. Â Well, OK, then.
Following Cubs losses he was 8-0 in nine games. Â There's no way they can lose!
Jim Frey had Sutcliffe pitch seven innings in the 13-0 game one win. Â So remember that the next time you want to kill Dusty for doing the same thing with Mark Prior. Â I'm not saying don't kill Dusty, I'm saying, kill Frey, too.
Wiggins bunts right to Cey for the first out. Â Weaver is audibly disgusted by the strategy.
Tony Gwynn, the 1984 batting champion is hitting second. Â He fakes a bunt, and Weaver is about ready to go home. Â Gwynn was about 200 pounds less then than he is now, and he was fat then.
Sutcliffe contends he should and could have pitched game  four, and that Frey told him, "We'll go with Sanderson and if he loses you can win tomorrow."  Sutcliffe thought that was the dumbest reasoning ever.
Sutcliffe makes Gwynn look bad and strikes him out.
That brings up Garvey. Â Get this. Â Garvey is 7-17 in the series with SIX RBI, and in his career is a .352 hitter with 11 homers. Â God, I hate that guy.
Garvey loops one to right and Moreland stumbles in after it to end the inning.
End of the first, Cubs 2, Padres 0.
Jody Davis is up and ABC shows his game four homer off Tim Lollar that tied the game. Â Jody tied the game twice, in fact. Â JO-DEE! Â JO-DEE!
Jody gets a hold of one and homers down the line in left. Â Three nothing Cubs. Â I've got to go find what I did with the Betamax recordings of the Cubs-Tigers 1984 World Series.
ABC has a great shot of Terry Kennedy giving his glove the Ted Lilly treatment as he watches Jody's homer go.
One of the Hobbits is up now. Â Apparently is Larry Bowilbobaggins. Â What? Â Larry Bowa? Â Whatever.
Show can't throw strikes but Bowa keeps slapping balls foul down the third base line. Â Remember that when he talks baseball strategy on MLB Network.
Instead of taking his walk, Bowa loops one to Mellow Carmelo Martinez for the first out.
Sutcliffe is up. Â He was 2-4 in game one with a homer. Not that it's one of the most famous homers in Cubs history or anything. Â Think about how famous that homer and Kerry Wood's game seven homer are. Â Being a Cubs fan sucks.
Sutcliffe takes a huge hack at the 2-1 pitch, and grabs his back. Â He must be OK, because he lines the next pitch to right for a single. Â Eric Show's day is done. Â He's shit the bed in back to back playoff starts and the fans give him a nice hand because they're morons.
Hawkins' first pitch to Dernier is a routine double play grounder to Wiggins, but he kicks it and can only get Sutcliffe at second. Â Who knew you needed t-cells to turn two?
Let's see if Sandberg can make them pay for the extra out?
Dernier is stealing, the Padres pitch out, the throw was too high and the tag was late, but John McSherry blew the call. Â Glad the real umps are back.
Weaver is impressed that Padres manager Dick Williams would pitch out  with a 2-1 count.  Earl seems to be less impressed that any team would bother to try to steal base.
Nettles grounds out to Sandberg for the first out.
I never understood why the Cubs wore solid white pants with these "road" blue jerseys. Â The pants were ugly, too, with a single red and single blue stripe down each leg. Â The white pants only made it worse for Sanderson, when he pissed himself in game four, everybody noticed.
Kennedy lines one back to Sutcliffe that hits him in the glove, it rolls to Cey who makes a great play and throws Kennedy out at first, and Paul Runge calls him safe. Â Reggie thinks Leon left first base too early. Â Whatever the case, the Padres have a runner.
Reggie thinks that Sutcliffe is "too good to group four or five hits together against" and you have to hit a homer to beat him. Â Bobby Brown is no match, and Sutcliffe blows him away with a fastball.
When Weaver hears the velocity was only 89 he muses, "When you throw that, that low, you're asking for it."
Dave Dravecky is up in the bullpen, at the time he was still a lefty.
End of two: Cubs 3, Padres 0.
Hawkins is still in and he gets Sandberg to pop out weakly to left.
Sarge is overreacting to every pitch even close to the inside. He's trying to bait Hawkins. Â But he doesn't need to, and he walks for the second time.
If Garvey pulls his pants up any higher he'll be playing for the adre instead of the Padres.
On the 2-2, Matthews takes off on a hit and run as Durham swings and misses, if he had just run to second he'd have been safe, but he stopped and the Padres had time to fix their botched rundown.
Templeton does a line and then grounds to Sandberg.
Whoever the hell Mario Ramirez is, he's hitting for Hawkins. Â Mario hits one about 40 feet…backwards…and Jody hauls it in for the second out.
Weaver points out that the Dodgers beat Sutcliffe "Eighteen starts ago and he hasn't lost since." Â Is that good. Â That seems impressive.
Sutcliffe misses on a 2-2 curve, Wiggins fouls two other pitches off and the last pitch looks like strike three, but he doesn't get the call. Wiggins walks, but on the next pitch, Gwynn grounds to Durham.
End of three: Cubs 3, Padres 0
Dravecky is in and he gets Moreland to pop out to left. Â Drysdale, for the first time today, reminds us the Cubs haven't been in the World Series in 39 years, when they played the Tigers, who they would face if they won today. Â How did they go three full innings without that nugget?
Weaver says he'd be reminding the players, "Get as many as you can, don't be in a hurry." Â Frey's too busy shitting his pants to talk.
Dravecky strikes out Cey, and is working on a streak of 4 2/3 IP of scoreless pitching against the Cubs in the NLCS. Â Great?
Jody grounds to second and the Cubs are done in the fourth.
McCarver is interviewing Peter Ueberroth on the field, and asks him what the issues he's going to "arbit" with the umpires are. Â Ugh.
Arbit does not mean arbitrate, but are you shocked McCarver doesn't know that?
Sutcliffe falls behind Garvey 2-0 and he's sweating like a pig. Â Take the sweatshirt off, dummy.
Garvey lines out weakly to Moreland. Â Then Nettles pops straight up to Sandberg. Â Nobody has hit the ball hard yet. Â Not even close, really.
Weaver's wondering if Kennedy's disputed infield hit ends up being the only hit, how many times people around the country will see the replay. Â That's so cute.
Matthews chases a ball down the line into the corner, gets a glove on it, it pops up and he grabs it with his bare hand for the third out.  It's a terrible play that ends up being a great save.  All we needed was a guy in a turtleneck and headphones to knock it out of his hands.  Instead we head to the fourth: Cubs 3, Padres 0.
Everything's coming up Milhouse!
On the replay, a fan did reach down and tried to knock it out of Matthews' hand. Â Amazing. Â I had no idea that ever happened.
Bowa loops one to center and Bobby Brown almost dropped it. Â Reggie says it wasn't just an ice cream cone, it was "a double decker." Â I'd like to go to Reggie's house and leave an upper decker in his bathroom.
Sutcliffe is up and Earl is already touting him as the NLCS MVP, him or Jody. Â It's the FIFTH, Earl!
I'm gonna need a fifth in a minute.
Reggie says, apropos of nothing, "Rick Sutcliffe loves kids."  Uh…OK.  Thanks, Reggie.
Dravecky is for the third time in the series ripping through the Cubs. Â Sutcliffe swings at back to back ball four pitches and strikes out.
ABC Sports is using Super Slo Mo and Reggie is asking Don about it. Â Drysdale says, "We had it for the Olympics and it is super." Â So there you have it.
Reggie says, "Edwin Moses uses electrolysis to analyze his runs!" Â And to make his legs smoooooth.
Dernier grounds to Nettles, and the Cubs offense appears to have packed for Detroit.
Brown grounds easily to Sandberg. Â The first 13 outs have been really easy.
Here's Mellow Carmelo with one out in the fifth. Â Martinez smokes one to center, but Dernier gets the shades down and outruns the ball. Â Two outs and Garry Templeton is up with Dravecky on deck. Â If Garry gets on, Dravecky will get pinch hit for. Â And, Templeton grounds to Durham who kicks it away from Sandberg. Â Durham should have had it, but if he had just missed it, Sandberg would have the play.
But, Drysdale points out, Sutcliffe didn't really hump it over to cover first. Â So there's that.
Kurt Bevacqua is the pinch hitter, and like everybody else on the Padres bench he's got an impressive porn stache.
The whole team looks like Bob Brenly.
Sutcliffe falls behind 2-0 to the mighty Bevacqua, then misses badly with ball three. Â Sutcliffe rallies back to 3-1 and gets pornstache to fly to center.
End of five: Cubs 3, Padres 0.
Drysdale says Cubs fans are 'starting the countdown right now.' Â Not to 12 outs, to lifelong misery. Â That's more of a count up.
Sandberg fouls out to Gwynn, as Greg Lefferts is the news pitcher. Â Lefferts is an old Cub, and he looks just like Bevacqua.
ABC's graphic says the Padres got Carmelo Martinez and Lefferts in a three way. Â Man, that's an ugly three way.
Matthews is jammed and Templeton almost loses a popup in the sun. Â Almost.
Lefferts hangs one and Durham just misses a double, but it goes just foul. Â Then Lefferts doesn't hang the next one, and Leon misses it by three miles. Â The Padres bullpen is apparently the greatest ever.
McCarver is now interviewing umpire union rep Richie Phillips as a bunch of drunk Padres fans scream at both of them. Â Great TV.
I will give the Padres fans some begrudging credit. Â They are going crazy down three runs, and the Padres haven't even threatened yet. Â Cubs fans in that spot all go into the fetal position.
Wiggins bunts past Sutcliffe, Durham gets to it and would have thrown out Wiggins, but Leon drops it. Â Just plain drops it. Â Awful.
Gwynn lines one to left, runners at first and second and nobody out. Â Jim Frey comes out to the mound to apparently clap at Sutcliffe. Â It didn't look like he said anything. Â He just applauded. Â The man's a genius. Â Reggie says as a hitter, when the manager comes out, you know the pitcher is going to go right after you. Â Well…yeah.
Sutcliffe is working Garvey up and in (everything is up to that tiny little bastard) and he falls behind 2-0. Â The 2-0 pitch looks like a good curveball, but it's called ball three.
Garvey dives out of the way on a pitch nowhere near him, and it's ball four. Â There's nobody out. Â The bases are loaded and nobody is up in the bullpen.
Nettles files deep to center. Â Wiggins scores. Â Gwynn tags and goes to third, and since Sammy Sosa's not in the outfield, the throw comes to second so Garvey can't tag.
The Cubs bullpen finally wakes up and it's Dennis Eckersley and Steve Trout, two starters who will take forever to get warm. Â Honestly there isn't a reliever who can warm up down there?
Kennedy lines one to left and Sarge makes a great diving catch. Â He loses his hat (natch), his glasses, but not the ball. Â Gwynn tags and scores, but Garvey is still at first with two outs. Â If Sarge misses it, the game's tied with Kennedy on third. Â Great play. Â 3-2 Cubs.
Bobby Brown continues to suck and he grounds to Durham. Â The Cubs escape with the lead.
I can't get over how great Matthews' catch was. Â Can you imagine how many times we'd have seen that if the outcome had been different? Â As it is, it's the first time in almost 30 years I've seen it.
After six: Cubs 3, Padres 2
Moreland lines hard to left for the first out. Â The Cubs haven't had a hit since Sutcliffe's single in the second.
Let's repeat that. Â The Cubs haven't had a hit since Sutcliffe's single in the second. Â Holy shit.
Cey flies out to center. Â ABC is obsessed with showing the home plate shadows. Â Some things never change.
Jody grounds weakly to short to end the inning. Â The Cubs are just sitting there, waiting to be passed.
Sutcliffe is still in, and he's got the ass end of the lineup. Â The Padres have Goose Gossage up in the bullpen ready to pitch the eighth and ninth if necessary. Â One of these managers has actually won something before. Â Can you tell?
The Cubs have nobody up in the bullpen now. Â Nobody. Â Does that make any goddamned sense? Â You have no tomorrow if you lose, hell, ABC spent the first half hour telling us nothing but that. Â You have to give yourself options. Â At this point, the only option is to let Sutcliffe continue to melt down.
Sutcliffe is out of gas. Â He's missed badly on three pitches to Martinez. Â Frey ambles down and stares at his lineup card. Â They're getting Trout up, as Sutcliffe walks Martinez on four pitches. Â Now Sutcliffe is bent over tying his shoes. Â You can tell it was early on in his Cubs' career. Â By 1989 he couldn't see his shoes, much less tie them.
Templeton bunts, Cey doesn't even look at second, where he would have had a shot, but throws to first. Tim Flannery is hitting for Lefferts. Â Now would be a nice time for a lefty pitcher.
Sutcliffe fakes to second. Â As we'd learn over the next six years, when he got tired he started looking for reasons to not pitch.
He does pitch and Flannery hits an easy roller to Durham, who lets it go right through his legs to tie the game. Â That's three easy plays Durham has botched in the last five innings. Â That play was approximately 500 times easier than the one Bill Buckner got immortalized for botching. Martinez scores the lead is over. Â The game's not over. Â But it sure feels like it is. Â Being a Cubs fan is the worst.
McCarver is reporting live from the railing behind the Cubs bullpen. Â He opines that Frey is saving Trout for Gwynn. Â He could do it now, as Wiggins takes a half swing at one and loops it to left for a single. Â Two on, one out and Sutcliffe is staying in to face Gwynn, likely because Frey is afraid to have anyone else face Garvey. Â Fuck Steve Garvey.
Gwynn a grounder to Sandberg that takes a big hop, Sandberg whiffs on it, it rolls into left, two runs score and it's 5-3 Padres. Â If that ball doesn't take that ridiculous bounce it's a double play and the Cubs would go to the eighth tied at three. Â San Diego hasn't been this loud since the last Village People concert.
Frey has given up and leaves Sutcliffe in to face Garvey who singles and puts the Padres up 6-3.
Frey wanders out to get Sutcliffe, with Trout coming in to pitch to Nettles. Â Bad plays, bad luck and a complete disappearance of offense. Â I knew how it went and I still can't believe it to see it.
I can't believe in an elimination game a starting pitcher can be left in long enough to not only lose a three run lead, but to put his team three runs down.
Nettles hits one to Durham who actually catches this one and goes to first for the second out.
Walk-sac bunt-error-single-bad hop double-single. Â Ugh.
Trout strikes out Kennedy. Â Amazing what happens when you actually use your bullpen.
End of seven Padres 6, Cubs 3.
Gossage is in and Luis Salazar is in center. Â Yes, center. Â Well, he had both eyes then.
Thad Bosley comes in to hit for Bowa. Â Gossage blows Thad away on three fastballs. Â Ugly.
Frey is emptying the bench. Â Richie Hebner is hitting for Trout. Â Drysdale is shocked at how much better Goose looks today than he did last night. Â Oh, great. Â How fun for him.
Great scene here. Â Gossage comes inside on Hebner, who pretends it hits him in the leg (it didn't.) Â The umps buy it and Hebner is on first with one out and Dernier coming up. Â Nobody argues it. Â ABC shows the replay and Drysdale says, "I'm sure it hit him." Â I'm just as sure it didn't. Â Who knew that Richie Hebner was AJ Pierzynski before AJ Pierzynski was?
Dernier pops to second, and Sandberg digs in. Â He takes a heater for strike one. Â He just gets a piece of the next two to stay alive and then singles to center, with Hebner going to third. Â The Cubs have the tying run at the plate with one out. Â Who knew?
I mean seriously, did you know the Cubs had the tying run at the plate in the eighth inning of this game? Â Me neither.
Sandberg steals second without a throw.
Matthews takes a ball to get ahead 2-1. Â Here you go. Â Gossage had been touched up the night before. Â Now's the time to put some doubt back in their minds.
Sarge waves through a fastball and fouls another one off.
Gossage goes up and away and Sarge can't catch up.
Ugh.
(I still think Sarge was a badass.)
Warren Brusstar is in to pitch the eighth and face Luis Salazar. Â ABC just showed an even drunker Dallas Green sitting in the stands. Â He'd stay four more years (most of them in that same seat, still drunk) and this was by far the best it would ever get.
Salazar hits one over Dernier's head for a triple. Â Dernier ran a long way and almost made a spectacular catch.
Frey has to bring the infield in with nobody out and Carmelo up.
The Padres try to squeeze, but Martinez misses it and Salazar ran blindly (hee hee) home for the out.
As Drysdale and Weaver rip the squeeze attempt, Carmelo strikes out. Â Templeton's up there swinging a boat oar and and grounds weakly to Brusstar.
End of eight: Padres 6, Cubs 3
As the top of the ninth starts, Drysdale is reading off the list of luminaries the Padres had in their opening day lineup in 1969 the day the franchise played its first game. Â Because Cubs fans haven't heard enough about 1969.
Durham, his pants shitting complete, lifts one into the corner and foul into the Padres bullpen and Gwynn makes a great running catch, nearly colliding with Tim Stoddard, already planning his barnacle like presence at every Cubs Convention to come.
As the ABC guys start congratulating the Cubs on a "great season," Weaver says, "Look how far they've come, they started spring training three and 18 and they made it all the way to the last game of the championship series." Â Yeah, because spring training records are a thing.
Moreland singles, and Drysdale says, "The Cubs won't quit. Â If you want to kill them, you have to kill them."
And we get one more reminder that there's a live presidential debate between Ronald Reagan and Walter Mondale tonight. Â And…Ripley's Believe it Or Not, and then Hardcastle and McCormick!
Just watching the credits makes me realize why Brian Keith killed himself. Â Also, did you see Ogre from Revenge of the Nerds in a prison scene in the credits? Â Who says ABC didn't have big stars before Dynasty?
Cey pops to Garvey and that leaves Jody.
Jody hits one hard to third, Nettles backup, flips to second, where Moreland is inexplicably sliding on his back like a fat kid failing at snow angels. Â Don says, "And the Padres have won it all."
Lee Smith slowly wanders in from the bullpen and hugs Leon. Â What a nice moment, they choked on back to back days. Â Somebody should make a bobblehead out of that.
Garry Templeton is in the clubhouse drinking ALL of the champagne.
Garvey is the MVP and tells Tim, "We have great chemistry. Â Especially Templeton and Wiggins, those two are actual chemists!"
Garvey tells McCarver that the game four homer is the "Greatest thrill of my life." Â Fuck him.
Dravecky thanks the Lord and says the Padres were "Team Positive." Â Wiggins was on team tested positive, that's for sure.
I so wanted Dravecky to thank the Lord for giving him a great arm. Â I'm the worst.
Gossage says that "That game last night was one of the greatest I've ever seen." Â Well, sure, glad MLB.tv doesn't post that one, then.
Now that I'm done watching the game I'm pissed. Â That choke was even worse than I thought it was. Â Not only the final three games, but even just this one. Â Andy Hawkins, Dave Dravecky, and Craig Lefferts pitched five and two third of hitless relief and allowed only one baserunner. Â Holy shit.
Sutcliffe didn't have his best stuff, though he was changing speeds and pitched really well for five innings. Â But in the sixth he clearly got tired. Â All these years I was mad that Frey didn't pitch Sutcliffe in game four, but held him back to potentially start the first game of the World Series. Â Judging by how quickly he hit the wall in game five there's no way he'd have done better in game four.
The parallels from game five here to game six in 2003 are striking. Â Both times the Cubs staked their best pitcher to a 3-0 lead late in the game. Â Both times the pitcher was less fresh than he should have been because his asshole manager pitched him too long with a 13 run lead in his first start. Â Both times the ace pitcher was unable to stop the bleeding, and of course, both times the defense went to shit.
Sutcliffe, like Prior, was unable to get a strikeout when he really needed it. Â Granted the two guys Sutcliffe really needed to K were Gwynn and Garvey, no easy task. Â But if he could have struck out Nettles or Kennedy in the seventh, it would have been a different game. Â Instead both hit rockets for sac flies off of him. Â I'm not pretending it's easy to strike somebody out, but Sutcliffe was the best pitcher in the NL that year.
Then again, if Leon Durham had used his glove instead of a skillet, the Cubs would have won.
And, by the way, if anybody is glad MLB.tv doesn't have game four available, it ought to be Tim Stoddard. Â The guy made a fucking mess out of the seventh in that game, and cost the Cubs their first real chance at winning the series.
I don't know why I thought watching this game would be fun. I don't know why I ever think watching any of them will be.