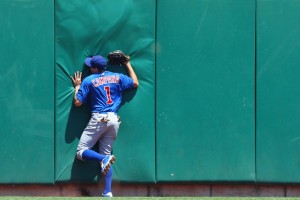 We actually podcasted on time this time, and posted it in a timely fashion, so many of our musings are still somewhat current.
I don't show up until 4:30 in, so feel free to just skip to that part, because that's when the Podcast gold starts.
So what do we talk about this time?  We spend a lot of time talking about Tony Campana, I suggest a new segment called "What are the dumbest Cubs fans worrying about now?"  I think it has promise.
In a marked detour from past podcasts we talk about baseball a lot, and then we end up talking about movies a lot again, and wait until you find out how big Warren's head is.  I mean, holy shit.
More news we break is that we're seriously considering recording these as Google Hangouts so you can see us!  I have no idea why you'd want to, but hey, everybody can't be as pleasing to the eyes as Dave Kaplan.