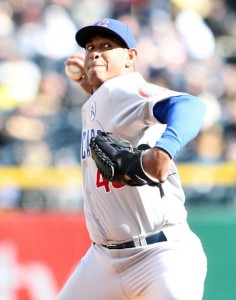 Yesterday's opener was a new experience for most Cubs fans. Â Starting pitcher Jeff Samardzija was terrific, striking out nine and allowing only two hits over eight innings. Â The defense, except for the first ball hit at human wombat Brent Lillibridge was also good, with Starlin Castro turning in two impressive plays that required him to range deep into the hole and make strong, accurate (did I mention accurate) throws. Â Anthony Rizzo, after not homering in an actual Cacti League game all spring, crushed the first pitch he saw for a two run shot. Â The Cubs won 3-1, are over .500 for the first time since very early 2011 (seriously) and most people are bitching about Carlos Marmol.
Sigh.
It's a good thing smart people like you and I understand what's going on. Â It's comforting, when surrounded by idiots, to know that you are right and they are…idiots. Â Cubs fans are a special kind of dumb.
We're not racist dumb like Cardinals fans, or trailer trash dumb like White Sox fans, or obese cheese obsessed dumb like Brewers fans. Â We're cluelessly optimistically dumb. Â It's just as sad, if not as revolting as the other three.
Cubs fans know, though they appear loathe to admit it, that this season does not matter. Â Wins and losses are irrelevant. Â Well, wins are irrelevant, losses will prove to be helpful. Â It doesn't make the losing entertaining. Â But you and I (and not those other dopes) understand that losing is part of the deal. Â This team isn't good enough to win enough games to be relevant. Â So there's no need to try to squeeze a few extra wins out of a team that probably won't win 70 games even if you tried to do it.
So there were two head scratching things that happened yesterday.
1) Samardzjia pitching the eighth inning. Â He had already thrown 94 pitches, which is probably enough for your first start of the year, especially when you are presumably a vital long-term piece of the franchise's plan, AND your team shut you down for the final three weeks of last season to save wear and tear on your arm. Â If the bullpen can't hold a 3-0 lead with six outs to go while you go to the clubhouse to have an Old Style and brush your hair 100 times like Marsha Brady, well, it doesn't really matter.
2) People freaked out when Carlos Marmol struggled trying to get a save.
It's Carlos Marmol. Â Did you guys just meet?
There are 9.8 million reasons why Marmol is the Cubs closer, and they'd like to get out from at least some of them. Â The only chance they have of trading him is for him to pitch well. Â It's not like that's far-fetched. Â From the All-Star Break to the end of last season, Marmol was 2-1 with a 1.52 ERA and had 12 saves on a team that only won 13 games in the entire second half (I might need to look that last stat up.)
This is what Marmol does. Â He walks people, he hits them, and he strikes people out. Â When the Cubs are good (I guess IF they ever get good is more like it) he's going to be gone. Â He's going to be on another team, or off riding a horse in the Dominican or something. Â For now, the thing they have to do is put him in save situations and hope he does what he did in the second half of last year. Â There's no reason to lose your shit when they bring him in, in the ninth.
The Cubs goal this year is to see their good young players (Samardzija, Castro, Rizzo, Valbuena) continue to improve. Â (Oh, you noticed I included Valbuena, did you? Â Good for you, Benedict Cumberbatch, your observation skills are tremendous.) Â It's also to see if they can trade some of their veterans (Soriano, DeJesus, Marmol, etc.) for new young players. Â This isn't rocket science. Â There's no pennant to win this year. Â That's not to say I want to see them lose. Â But trying to maximize an asset along the way isn't the worst idea.
So calm down. Â He's Carlos Marmol. Â He's at most five months away from leaving. Â Maybe, just maybe, if they can get a nice run of him early he gets traded for something. Â Also, maybe, just maybe he continues to stink and then he gets released.
Besides, it worked yesterday. Â He came in, he struggled, they got him out, they got to 27 outs before Pissburgh tied or won the game.
Just try to relax. Â You're still a few years away from a time when it's acceptable for this team to give you an aneurysm.
Rest up. Â Enjoy the stress-free respite, because when (if) they get good, they'll give you the best headache of your life.