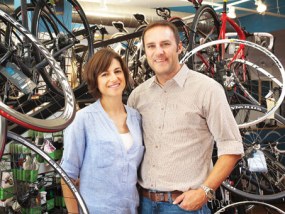 From today's Sun Times it's pretty apparent that Gordon Wittenmyer isn't going to stop writing about how the Cubs:
a) have no money
b) have huge, crippling, staggering, suffocating debt
c) can't pay free agents
d) refuse to pay free agents
e) are charging way too much for tickets when they aren't trying to win
The mere fact that this is all wrong or exaggerated won't stop him from writing it every day. Â Or at least, precedent says it won't.
So, let's look back at the article that started it all. Â His Easter Sunday rabbit turd in the gift basket to the Rickettses.
PITTSBURGH — So just how good is the Cubs team that will take the field Monday against the Pirates to open yet another season of low expectations?

Maybe this is a better question: If the teams switched uniforms, would anyone know the difference?
Well, the Cubs would have Andrew McCutcheon, so I'd be for that.
In 31/2 years of Ricketts family ownership, the Cubs have gone from the top of the economic food chain in the National League Central to a team that operates and even looks like the small-market Pirates, who have endured 20 consecutive losing seasons.
They went from a team that overspent on free agents and hadn't developed a position player of any note since Mark Grace to a team that is trying to develop players, since free agency is mostly full of guys past their prime playing days and right in their prime earning days.
"He's behaving like he's a mid-market team," famed sports economist Andrew Zimbalist said of Cubs chairman Tom Ricketts, whose family owns the most profitable team in the majors in the third-largest market in the country.
"Famed sports economist," oooh, how prestigious. Â It's right up there with "acclaimed periodontist" and "prolific mower of lawns."
The most profitable thing was based on Forbes magazine throwing a big bucket of "let's just guess" at the wall, but there's no dispute that the Cubs make a fair amount of money from dopes like us who just can't help ourselves. Â I say this as the owner of a leather recliner that has a panel in the top that I can zip the Cubs logo into, because…I'm an idiot.
In terms of their timeline to be competitive, the Cubs could have a problem because their mid-market behavior appears to be caused as much by the debt left from the Ricketts' highly leveraged purchase of the team as any premeditated rebuilding process.
I'm not a famed sports economist, but this smells like wrong to me. Â Wrong, of course, smells like bullshit.
Zimbalist, an economics professor at Smith College in Northampton, Mass., cautions against using baseball spending levels as a basis for criticizing ownership,
But let's do it anyway, right Gordo! Â Eat the Ricketts! Â Eat the Ricketts!
pointing out the light correlation between performance and payroll and what might be nothing more than a function of a longer-range business plan.
A plan? Â This is the first I have ever heard of this, could it be that one was set forth upon the hiring of young Theodore Epstein, Esq?
But the original point becomes especially relevant when measured against promises made by ownership to fans and its baseball department since taking control of the franchise from Tribune Co. in the fall of 2009, especially in light of a recent Forbes report listing the Cubs as the most profitable ­Major League Baseball team and the fourth-most valuable at $1 billion.
I remember the press conference where the Ricketts family stood there and promised to spend whatever it takes to buy a World Series, and now they aren't, and they are lying, and I think we should all go down to Lincoln Park and let the air out of all of Todd's bike tires!
Look, I don't particularly care for the Rickettses. Â They kept Crane around for chrissakes, how bright can they be? Â But this franchise has been in dire need of a rebuild since 1940, and it's never had the balls to do it. Â The easiest thing in the world is to do what they'd done for the 69 years since then and that's patch together a roster with some overpriced older guys and wish things would end differently.
As, the sage philosopher once said, "Wish in one hand and shit in the other and see which one fills up first."
And, nice touch where Gordon restates his Forbes fact again…this time actually giving them credit. Â Wouldn't you have loved to have graded one of his ponderous term papers?
In fact, Ricketts opened the door to criticism when he called a then-frozen $146 million big-league payroll at the time of the purchase "unsustainable."
I'm shocked that an ownership with a terrible TV deal, a terrible radio deal, limits on their in stadium advertising and on and on and on didn't want to keep the payroll at a level that was artificially inflated by Crane, John McDonough and Jim Hendry in the final days of the Tribune regime. Â Not wanting to spend money and being unable to do so are different things. Â Gordon should know that. Â He has the ability to buy shirts that fit, just not the desire to do it.
That was despite the relative market advantage, growing team revenues within the $8 billion industry and repeated public pledges to maintain the existing annual percentage of operating revenue for baseball operations.
There is little doubt that the Cubs planned to spend wildly on the draft and international free agency, only to get bungholed when actual cheapskate owners like Jerry Reinsdorf rammed through spending restrictions on both, under the guise of "leveling the playing field for the small market teams." Â The reality is that the restrictions make it harder for small market teams to attract and collect talent. Â One of the most efficient ways to do it was to go above slot to pay previously thought "unsignable" draft picks. Â The cap on the money you can spend on international free agents is every bit as absurd.
Wittenmyer makes no mention of that, he just seems to think the Cubs should be spending money on something.
For all the talk from Ricketts about the family's "mission" to win, dozens of conversations with banking experts, attorneys, sports economists and baseball officials inside and outside the organization suggest that ownership's focus since the purchase has been to climb out from under the heaviest debt load in the majors.
Were any of these banking experts, attorneys and baseball officials "famed?" Â If not, why bother?
It explains almost every conspicuous move by the business operations since then, from the push for more concerts and football and hockey games at Wrigley Field to various efforts for public partnerships in achieving Wrigley renovations to the infamous (and since-departed) noodle in front of the ballpark.
How dare they try to make more money! Â This is America! Â Pay some Chinese to do something!
As for the noodle, though…fuck that awful thing.
â—† â—† â—†
Look at the Sun Times getting all fancy!
Under the plan by which family patriarch Joe Ricketts agreed to commit liquidated TD Ameritrade stock, his four children, led by Tom, paid $171 million and financed the remaining $674 million of the purchase price through outside private-company investors, bank loans and a family trust. A $175 million portion of it is due for payoff or refinancing in October.

While some have called the Ricketts' financing of the $845 million purchase "novel" and "creative" in published reports, others call it a "mess."
I leave all of my financial analysis up to Lenny Dykstra, and he agrees with Gordon that this was a "mess."
What kind of fucking trained monkeys set up this sale? Â They paid $171 million in cash and financed $674 million? Â What kind of fucking morons would do that? Â Don't pay ANY of it in cash! Â Well, except for the stuff you borrow from your secretary or that masseuse who you know wants you big time. Â You think I bought Wayne Gretzky's house with money? Â That's the dumbest fucking thing I've ever heard, and I heard Daryl Strawberry try to explain how a cell phone works, once. Â What? Â Yes, I HAVE pants. Â Because I don't want to wear them, that's why.
Even two years ago, a source with direct knowledge of the paperwork told the Sun-Times it would prevent the Cubs from spending significantly on the big-league product for several years. That prediction has coincided with an austerity-based rebuilding program.
Gordon's right. Â This "austerity-based" rebuilding program sucks. Â They should do it like the Nationals did. Â Draft Stephen Strasburg and Bryce Harper and pay a billion dollars to Grizzly Adams Werth to play right and win 98 games! Â Jesus Christ, just pay somebody!
The family trust portion of the financing is the key, insiders say.
$10 says those insiders are shut-ins, the ultimate insiders.
Experts in the area of family trusts say that an incentive for using that vehicle — which otherwise comes with one of the biggest tax bites in banking — is to shield personal assets from loan liability.
Whenever possible, you should expose your personal assets. Â Right, Lenny?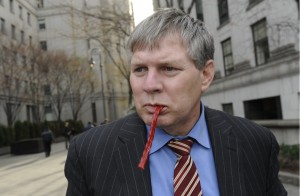 But that, in turn, comes with strict requirements for the business operation of those assets, including meeting bank "covenants" that often dictate revenue-to-spending and profit-to-cost relationships across periodic deadlines.

That could help explain why the Ricketts' takeover of the Cubs coincided with immediate and continual budget cuts for the baseball operations, according to multiple front-office sources, including periodic midseason cuts that trimmed existing, promised budgets, such as amateur spending.
Look out, Gordon's about to bitch about scouts not being able to rent cars anymore, and having to drive the ones the team owns! Â Anarchy!
As for the trimmed amateur spending thing…this would be another good time for Gordon to explain how the rules changed.
But…no.
Ricketts, through a family spokesman, didn't dispute that the debt structure has influenced operating budgets, but he denied any negative impact on the long-term "strategic" efforts of second-year team president Theo Epstein and general manager Jed Hoyer to build a winner.

"All I can tell you is when Theo and Jed get to the point where they need more resources to execute their plan, the Ricketts family will be there for them,'' spokesman Dennis Culloton said. "It's as simple as that."
Nobody is a bigger expert on simple than Dennis Culloton.
He's a famed simp.
Culloton characterized the complex and heavy debt structure as a "requirement" of then-Tribune owner Sam Zell for Zell's tax benefit, though others characterize it more as a function of Joe Ricketts' unwillingness to sink more of the family's fortune into the team.

Asked why the family hasn't paid down much of the debt now that it's 3½ years clear of Zell, Culloton called it a "complicated process."
It involves math and such.
Culloton said the $32.1 million figure Forbes used to illustrate the Cubs' profitability is "not accurate."
Who has two thumbs and inaccurate franchise profit numbers?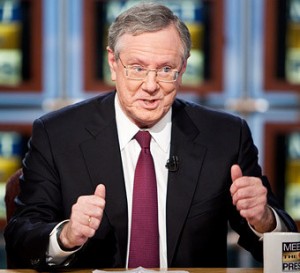 Regardless of the actual number, multiple sources said business operations president Crane Kenney told staff last summer he learned the team was MLB's "most profitable." Culloton did not specifically dispute that.
What he did dispute was Gordon's claims that his breath mints were of adequate strength.
â—† â—† â—†
It's doubtful Epstein knew exactly what he was working with when he left the Boston Red Sox for the Cubs in the fall of 2011.
No shit. Â He took the job, didn't he?
He declined to talk specifically about what his expectations were and what his budgets have been since arriving.
Clearly he's covering things up! Â Gordon wants to see your budgets, Theo. Â Give him a little taste!
But the guy who outbid the field to land Japanese pitcher Daisuke Matsuzaka, a key to the Red Sox' 2007 World Series championship, didn't come close to beating the competition with his 2011 posting bid for Yu Darvish. The Texas Rangers' winning bid was less than Epstein's $51.1 million bid for Dice-K five years earlier.
Well, that Daisuke thing worked out so well for Theo and the Red Sox I'm shocked he didn't want to try that again.
The Los Angeles Dodgers blew the Cubs away with a winning posting bid of $25.7 million for Korean pitcher Ryu Hyun-Jin this winter.

The Dodgers, now THAT is a team that knows how to light money on fire. Â Do THAT!

"We have enough revenues to execute our plan given the stage that we're in," Epstein said, "and we expect with our business plans to have a lot more resources, soon, when the time is right to increase our spending."

But Epstein also told CSNChicago.com in late March:

"Our ability to leverage our market size into financial advantages is more difficult than I expected. "I thought that would have been something that was easier for us to do, and do now. Instead, it's something that is out of necessity probably several years away.
You got him! Â Way to go Gordon, he used the word "soon" with you and "several years away" to Pat Mooney. Â Your honor THIS WHOLE COURT IS OUT OF ORDER!
"But given the timeline we're on, that's not the worst thing in the world, as long as we get there."
Because Cubs fans are not patient. Â Another hundred years of losing and we might start to look for other things to obsess over.
National-TV revenues will increase for all teams starting next year, with between $20 million and $25 million more going into the Cubs' coffers. The team is expected to leverage its opt-out clause with WGN to substantially increase local over-the-air revenues by 2015.
More Andy Griffith Show reruns for the rest of us! Â Yay!
And if the Cubs get the Wrigley Field renovations done according to plan, their own estimates at one point last year suggested at least $95 million of additional annual revenue, according to a team source.

Even the financing of the renovations, according to internal club documents, will result in tens of millions of dollars in Stadium Investment Credit against their revenue-sharing bill through MLB.

"What [Tom Ricketts] is doing is what most owners would do," Zimbalist said, adding that the real judgment day will come when Epstein says the team is ready to win, pending a free agent or two, and Ricketts has to decide whether to write the check.
Oh, so that's when we'll know? Â Because we can't know now, so Gordon's really just making a big deal out of something on the off chance that a few years down the road you can maybe he'll be right? Â We'll be sure to e-mail him at his new job at Castlemania, George Castle's version of Grantland.
â—† â—† â—†
Are these things really necessary?
Until then, Cubs fans are being asked to pay some of the highest ticket prices in baseball. Prices jumped 23.9 percent in 2008, 12.4 percent in '09 and 10.1 percent in '10, according to Wilmette-based Team Marketing Report.

That last hike came in the Rickettses' first season of ownership, and the prices have remained essentially flat since then.
Wait, so things in Chicago cost more than they do other places? Â Why, this is news to me.
Meanwhile, big-league payroll has gone down roughly 25 percent, with no commensurate spending in other areas of baseball operations. Amateur spending has been limited dramatically by MLB since then. The Cubs made one-time capital investments in a computer system and video equipment but cut scouting costs by leasing a fleet of cars and cutting per diems.
There it is! Â I knew he'd get to that old saw. Â The scouts don't get to rent cars anymore. Â And they were doing such a great job before with those rental cars. Â Hey, unless you go Alamo, there's no way to find talent like Hayden Simpson.
Even the state-of-the-art Dominican Academy, scheduled to open next month, cost a modest $7 million.
Who knew Dominican real estate was so cheap? Â And it's on the Haitian side, no less!
Imagine where the ticket prices will be when the renovations are done and the team is, presumably, competitive again.
I imagine they'll be higher. Â And that the tickets will have unicorns on them!
It all means that, as Cubs ownership continues to wrestle with its debt — and eyes an important fiscal deadline in October — ticket-buying fans are subsidizing the very process that might price many of them out.
Stop buying tickets, fans. Â It only encourages them to pay down debt.
"Unfortunately, it's part of sports," said Chicago-based sports business consultant Marc Ganis, who consulted for Tribune Co. on the Cubs sale and has worked extensively with other teams, including the New York Yankees.

"Look at the Yankees' [even higher] ticket prices, and the thing you know you're getting with the Yankees that you haven't gotten with the Cubs is a team that's fighting for a championship year in and year out, that you know — maybe with the exception of this year — will spend and do everything possible it can to get there.
What I like is that when the Yankees have a shit team like this year they charge less for tickets. Â Why tickets are free until Derek Jeter gets off the disabled list. Â Oh, wait. Â They don't? Â You're telling me that tickets are priced at the maximum level teams thinks fans will pay for them, regardless of payroll or anything else? Â That's crazy talk!
"No matter how much positive feeling there is for Tom Ricketts as the nicest guy, that's never been the perception of the Cubs. In New York, George Steinbrenner wanted to win more than anybody, and they knew it."
And look at the Yankees, they're out there adding payroll as quickly as possible with no regard to any possible penalties.
But wait…there's more. Â My favorite take on this by Gordon so far is one he expressed on the Mully and Hanley Show on The Score on April 4:
He was talking about how the Cubs are trying to follow the Red Sox blueprint for winning with Theo and a shitheap of an old ballpark. Â But Gordon says they're doing it wrong:
The Boston Red Sox have been their model for growing revenue and making an old ballpark work and the whole thing," he said. "If you go back and look at what the Red Sox did, they won in '04, they won in '07 and then they went crazy trying to capitalize on that. That's when most of the changes, the significant major changes in marketing that team took place and shutting down the streets and modifications of the ballpark and a lot of the other revenue-growing things. They capitalized on winning. Here, they're capitalizing on 'wait 'til next year.'"
Holy shit, he's right! Â The way to rebuild your team is to win two World Series in four years…then rebuild! Â Theo's already a year behind schedule! Â That sandbagging mother…