So the Matt Garza era is over in Chicago. Â The man good enough to be traded for Sam Fuld, has been shipped off to Arlington, Texas where he'll join a really talented team with a batshit crazy (and likely coked up) manager. Â Garza will fit right in. Â Though at some point he's going to hit Adrian Beltre with a shaving cream pie, accidentally touch Adrian on the head, and Adrian will bludgeon him to death while Elvis Andrus laughs like it's the funniest thing ever.
The Cubs got an excellent haul for Garza, who was going to fetch a similar haul last year when his elbow fell off in a game at Busch Stadium in mid-July. Â That was supposed to doom his trade value for this year because now Garza was another guy with an arm injury and only this season on his contract. Â But Matt put together a great six start stretch where he coupled excellent pitching with a group of terrible offensive opponents, and turned into the best pitcher on the market.
In return, the Cubs got a skinny class A pitcher with a lot of talent in CJ Edwards, a fifth-starter type in Justin Grimm, a player to be named later (likely to be the whitest Ramirez of them all, Neil), and Mike Olt!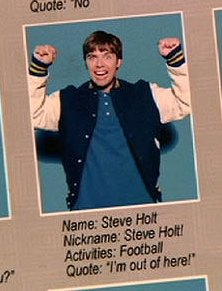 Anyway, let's hope Mike ages better than Steve (ARRESTED DEVELOPMENT SEASON 4 SPOILER AHEAD)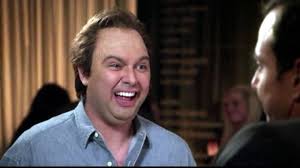 Mike Olt is a third baseman by trade, a righty power hitter with an above average glove. Â The Cubs tried to get him for Garza last year, and the Brewers wanted him in any Zack Grienke trade with the Rangers. Â This winter down in the Dominican League Mike took a pelota to the cabeza and suffered a concussion. Â He battled vision problems the whole first half this season and sucked, but he's getting better and hitting well now. Â He'll be hanging in Des Moines for a while, hitting on chubby girls and running through corn mazes, or whatever else they do in Iowa these days.
The Cubs also drafted a third baseman, with the second pick of the draft this year, and Kris Bryant has signed, and is off in Boise wearing a hideous uniform and pretending to really like potatoes.
You can watch him take BP. Â Why? Â I have no idea. Â Nice camera work, too.
So anyway, what's with all the third basemen? Â It's not like the Cubs don't already have a stud playing there, already.
Take it from Dale Sveum who says this about Luis Valbuena:
He's pretty much the greatest hitter ever. Â You know, sort of.
If that's not a ringing endorsement from a guy who looks like he's about to be set on fire by somebody from the Sons of Anarchy Motorcycle Club Redwood Original, I don't know what is.
Not only that, but the Cubs have Cody Ransom as the other half of that third base platoon and you might not believe this, but Cody Fuckin' Ransom is slugging .579 and has a .939 OPS.
And, I thought for a while I was imagining this, but this picture seems to prove it. Â Cody Ransom has the biggest hands…ever: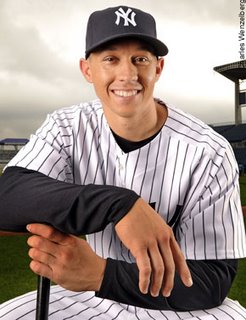 Look at those things. Â Run for your lives!
The Cubs have an embarrassment of riches. Â If these four guys can all contract diabetes they'll combine to be the second greatest third baseman in team history.
So anyway, people want to know what the Cubs are going to do with all these guys. Â Luckily, I have a solution.
Luis Valbuena:Â The man who bat flips on ground balls up the middle cannot be allowed to leave this team. Â I need Luis. Â I have to have Luis in my life. Â Plus, he's actually kind of good. Â For a long time batting average has been an overrated stat. Â Why shouldn't walks count? Â Luis is one of the few Cubs who is actually patient, he gets on base, he plays solid defense. Â But here's the thing. Â Third isn't even his best position. Â He's a second baseman. Â Remember when the Cubs moved a plucky young third baseman across the diamond and he went on to become a Hall of Famer? Â (No, not Manny Trillo, this guy…)
Send Darwin Barney and his anemic .221/.269/.343/.612 packing. Â Just brag about his Gold Glove until some dopey GM buys it and trades for him. Â Then put Luis at second and instantly gain 34 points of OPS+. Â Then start writing the induction speech.
Cody Ransom:Â Alfonso Soriano is on his way to the Bronx any day now to rejoin his beloved Yankees, and Alex Rodriguez is about to get the lifetime boot for PED use. Â Send Cody with him. Â He's already played there once (he had a 92 OPS+ in two years there–he was almost average!) so they'll love him. Â Or something.
Kris Bryant:Â He's in rookie ball right now (and struck out all five times he batted in his debut) and it's going to be a little while, though he'll probably end up at Kane County before the year's over. Â Everyone is sure he's going to hit, but nobody's really sure if he's going to make it at third. Â He's got a strong arm and he's athletic so a corner OF spot shouldn't be too hard for him to learn. Â But there's no reason not to give him a long look at third.
Mike Olt:Â When Luis skips across the infield, the Cubs might as well bring up big Mike and let him play the rest of the way. Â Luis and Cody are solid at third, but Olt should be a defensive upgrade, and this team loves to hit doubles or solo homers and strike out, and Olt can do all three. Â Regardless of how well he plays there, you wonder if all four of these guys aren't just killing time until the Cubs move one of their prized youngsters over to third.
Because–
Holy shit.
Anyway, things have advanced a long way from the plan in April 2012 to just let Ian Stewart play third.

Ugh.