So, on Saturday, the Phillies fired folksy old Charlie Manuel and replaced him as manager with Ryne Sandberg.  Cubs fans had three reactions:
That's nice for Ryne.
Who gives a shit?
THE CUBS ARE SO STUPIDS! WHY DIDN'T THEY HIRE RYAN SANDBURG TO MANAGE THE TEAM, HE'D MAKE STARLIN CASTRO MAKE NO ERRORS OR ELSE!
Two of our favorite deep thinkers, Chicago Tribune national baseball writer Phil Rogers and erstwhile Cubs blogger dumbshit Al Yellon both wrote predictably vapid hot takes on the subject.
Let's hit the highlights:
Ryne Sandberg always said he just wanted a chance to manage a big league club. He has that now, even if it isn't with the one team he most wanted to manage.

Sandberg's No. 23 flies from the right-field flagpole at Wrigley Field. He would have loved to manage the Cubs if Jim Hendry or Theo Epstein had given him the chance.
Sandberg asked the Phillies if they could fly a flag for him to make him more comfortable.  They ran a corncob dress up the leftfield foul pole on Saturday and Sandberg threatened to retire.
Since they didn't, the Hall of Fame second baseman carries one extra bit of motivation into his new job as interim manager of the Phillies. Sandberg can stick it to his old team by turning into the second coming of Frank Robinson.
Congratulations, Ryne Sandberg is the first black manager in American League history!  Wait, that can't be right.  So you're saying he should manage for 16 years, never finish first, average a fourth place finish and have a sub .500 career record?  Dare to dream.
Sandberg already has managed Domonic Brown, Freddy Galvis, Darin Ruf and other young players who will be essential to the Phillies becoming competitive again after a slide to .500 last season and a dive toward 90 losses this year.
Really, Freddy Galvis AND Darin Ruf?  How can you argue with that kind of pedrigree?
He's the perfect guy to handle the next few seasons, which figure to be difficult ones after Amaro and the team's ownership kept sinking dollars into a post-prime nucleus of players.
If the Phillies are bad the next "few seasons" Sandberg's going to get fired.  That's how it works.  Not that a national baseball expert should actually comprehend that, though.
Sandberg, doubted in part because he did not wear his ambition on his sleeve as a player, has worked his way to the job the way .225 hitters do.
From 1994 on, he basically was a .225 hitter, so he got some practice in.
He spent four years riding buses and planes in the Cubs' system, climbing from low-A Peoria to Triple-A Iowa, and then two more as the Phillies' Triple-A manager before joining Manuel's staff as third base coach this season.
So, he actually trained to be a manager?  What a novel idea.  Also novel, not giving the Cubs any credit for giving him a minor league job in the first place and promoting him along the way.  The way most describe it, they chained Ryne to the water heater in a basement and only gave him a few chicken bones and body lotion.
Hendry should have given Sandberg a shot to manage in 2011, and might have if the Cubs had not strung together a misleading 24-13 finish after Quade had replaced Lou Piniella the season before.
It's truly criminal that Hendry didn't tab Sandberg to manage the great Carlos Pena-Marlon Byrd-Doug Davis 2011 Cubs.  What a missed opportunity.
Epstein could have righted a wrong by bringing Sandberg back from the Phillies' system when he replaced Hendry but he wanted Dale Sveum, with whom he had worked before, and not a franchise icon, who down the road could be difficult to dismiss.
Dale's going to be harder to dismiss.  Who wants to fire a manager who's likely to beat him to death with a tire iron?
For what it's worth, Epstein made the right call. Sveum, hired with the security of a three-year contract, understands that his bosses are looking a long way down the road in trying to build a team loaded with star players younger than 26.
Indeed, if there's one thing these Cubs are, it's "loaded with star players younger than 26."
Sandberg could have done that job, but with his resume and reputation could he have endured 100-loss seasons? That's debatable.
Since the Phillies are worse, Ryne's going to get the chance to find out.
So what did Al have to say about this?
Before I begin this article, I have a request.
No need.  We've already all signed your Do Not Resuscitate order.
If you are not interested in this topic, please pass it on by.
Got to admit, the guy really knows how to write a captivating lede.
There are people for whom Ryne Sandberg means a great deal, even though he's now the manager of another major-league team.
Well, give them a moment, then…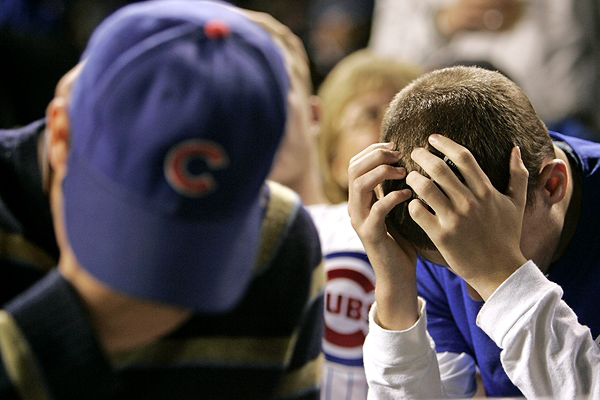 It's for those people I'm writing this, and because the hiring of a manager who was a Hall of Fame player as a Cub (and who also managed for several years in the Cubs minor-league system) is relevant to this site as a Cubs/baseball site. Thank you.
Good job of using an entire paragraph to justify writing about Ryne Sandberg on a Cubs site.  What a stretch.
As most of you know, I was a proponent of Ryne Sandberg being named Cubs manager, both after the 2010 and 2011 seasons.
And, I'm pretty sure your endorsement is what sunk his candidacy both times.
Jim Hendry, 2010 — "Let's go with Sandberg…wait, Yellon thinks it's a good idea?  It must be the worst idea ever, then!  The next guy that walks in the room who isn't Ryne Sandberg gets the job."
Mike Quade — Excuse me, has anybody seen my prosthetic eyebrows?
Two different Cubs executives made different choices for that position, for different reasons. We may never know what those reasons are.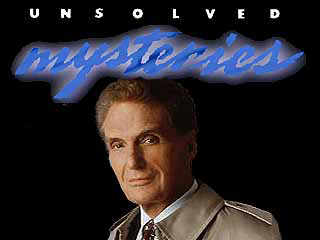 it appeared that Sandberg had done everything he could to prove himself worthy of the position, but choices like that are made in baseball — indeed, in almost any business — for reasons known only to those with hiring power.
In any business if you manage different divisions for four whole years you get to be CEO.  It's the law.
What I do want to say is that this managerial hiring is unique in modern baseball history. There is no other Hall of Fame player in recent times — perhaps, in any era — who did what Sandberg did.
Quit a month and half into a season, leave the team high and dry, then two years later use your popularity to force the team to bring you back?  Nobody's done that?  Gee, what a tragedy.
Gary Carter managed several years in the Mets system, but never made it to the big leagues as a manager.
He didn't gut it out like Sandberg did.  You didn't see terminal brain cancer stopping Ryno's dreams!
Teams used to do this all the time with their great players, particularly the Giants, who were successful with that concept; Hall of Famers Bill Terry and Mel Ott both managed the Giants after their playing careers, and except for the Giants' hiring of Leo Durocher, the first manager of the Giants who did not play for the team wasn't hired until 1977.
That's one sentence.  There's a semi-colon in there for some reason.  It makes no goddamned sense.
It's not that we don't just not believe you, it's that we don't give a shit.  At all.
Al tries to make his case by saying that current Cubs who played for Sandberg in the minors all thought he was awesome.  He supports this claim by quoting exactly one of them from this Carrie Muskat Rambling.
Soon to not be a Cub anymore Darwin Barney —
The main thing was his competitive nature and the way he prepared for every game, even as a manager," Barney said.
"He didn't say too much when things weren't needed to be said.
When he did say things, you definitely listened because it was very timely and to the point.
I think he became a players' manager pretty quick. He's a guy you think about and you want to go to battle with him."
Of which Al, wrote…
Now if such a manager had been anyone except Ryne Sandberg, wouldn't you want that man as Cubs manager?
Those exact things were said, by lots of guys about this guy, who is not Ryne Sandberg: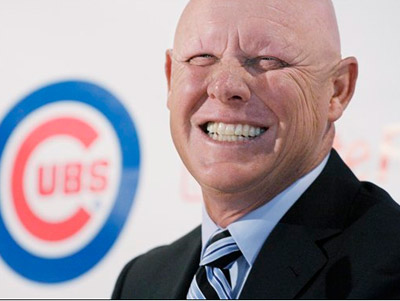 Sandberg was widely praised as a manager in the Cubs organization and was named Manager of the Year in the Pacific Coast League in 2010.
Nothing predicts managerial excellence like being the Pacific Coast League Manager of the Year.  Check out these luminaries over the last 15 years:
Lorenzo Bundy, Bobby Jones, Ryne Sandberg, Tim Wallach, Pat Listach, Frank Kremblas, Chip Hale, former Cubs legend Dan Rohn (PCL Manager of the Year 2001, 2004, 2005), Tony DeFrancesco, Brad Mills, Phil Roof, Greg Biagini, Terry Kennedy.
Oh, and Quade won minor league Manager of the Year awards in 1991 and 1993.
For whatever reason, it didn't happen. Only time will tell if Sandberg will succeed as a major-league manager; though his tag is "interim" for now, I don't think there's too much doubt that he'll be offered the chance at the full-time Phillies job, maybe on a two-year deal.
Gee, really, a two-year deal?  Now that's a vote of confidence.
Perhaps someday, the situation will be such that he'll fit as a Cubs managerial choice.
After two last place finishes in Philly, he can come to the Cubs and extend his streak.
Until then, I wish Sandberg much luck in Philadelphia and hope the Phillies win many games for him — except when they're playing the Cubs, of course.
LOL!  Good one, Alvin!
I'll be very interested in seeing the reaction when he first steps onto the field at Wrigley two weeks from now to make a pitching change.
Cubs fans gave the illustrious David DeJesus a 20 minute ovation when he got traded to the Nationals, hell they'll be throwing babies out onto the field for Sandberg.
That ought to sell some tickets, right?
Sure, nothing moves ducats like the chance to watch a guy sit in a dugout for three hours.