Our buddy Al Yellon took a break from his annual vacation on Fire Island to voice his depression that Theo Epstein FAILED AGAIN and couldn't talk Joe Girardi into dumping the New York Yankees for the Cubs. Â Al says he's going to write just a few words, but goes on for…ever, but let's just hit the highlights.
I wish Joe well — and wish him luck, too, because the Yankees seem poised to enter a decline phase.
Terrible decision, Joe. Â The Yankees are about to suck, and you could have been basking in the glow of the mighty Chicago Cubs! Â Hell, the Yankees don't win the World Series every year, they've only won 27 of them in 100 years, so on average they have to wait nearly FOUR YEARS before they can celebrate another world's championship. Â It's gonna be a rough two fifths of a decade, Joe!
It doesn't necessarily matter who the next manager is, as long as he is willing to adapt to situations and not just go by-the-book.
The Cubs will only be saved by someone who isn't obsessed with reverting to some written out plan.  We need somebody who can fly by the seat of his pants.  It's a tragedy that we couldn't get Joe Gi…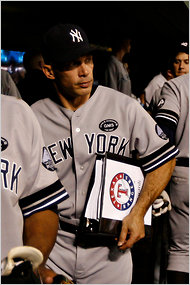 …oops.
A perfect example of that can be found in Game 4 of the Tigers/Athletics division series. Max Scherzer, who was the Tigers' best starter this year (yes, better this year than Justin Verlander, and by a considerable margin by bWAR), would have been on normal schedule to start Game 5. But Jim Leyland brought him to pitch in relief in the middle innings. Why? Because he's the best pitcher on the staff and the Tigers had to, HAD TO, win the game or go home for the winter. Scherzer struggled a bit but then got out of the inning with two amazing strikeouts. If you watched the game, you saw how pumped up he was and how pumped up the team was after that.
Lookit Al breaking out the sabermetrics! Â Wow! Â Though, bWAR might not mean what he thinks it does. Bringing in Scherzer was a gutsy move. Â But what made no sense was Leyland not leaving him in for the ninth, especially once the Tigers pushed their lead to four runs. Â Your best pitcher was finally warmed up and throwing well, you've already burned him from being able to pitch game five, why not ride him for three more outs? Â Instead, Leyland went conventional and brought in his closer…who gave up two runs and almost the game.
But I want someone who'll think outside the box situationally in that way. Remember when Lou Piniella put Sean Marshall in left field for a batter, because he wanted him to stay in the game? The situation worked, even though the Cubs didn't win the game. That's the kind of thinking I want; that's the way a manager can affect the results of games.
That's the kind of thinking you want. Â Hey, we actually agree on something. Â I'd like them to hire another manager like Lou, too. Â I know dopes like Dave Kaplan immediately dismiss Lou's time here even though in his three full seasons the Cubs finished first, first and second. Â You know Al, I think you and I are going to be regular pals. Â I'll head over to Oscar Mayer and stock up for our picnic lunches in the left field bleacher corner.
The Cubs have never really had an outside-the-box type of manager, one who's willing to take chances and experiment and do things that the media will crucify him for if they don't work.
Wait. Â What? Â Never? Â You just gave an example. Ahh, screw you. Lou was the epitome of the out-of-the-box manager. Â He tried to turn Ryan Dempster into a starting pitcher in the middle of a homestand. Â He somehow found a lineup that Jock Jones couldn't kill. Â He was so sure his starting pitching was so thin in the 2007 playoffs that he tried to sneak Carlos Zambrano out of game one after six innings, just so he could pitch him again in game four. But as much as Lou was still willing and able to try anything, the Cubs had a manager in the late '80s who didn't try anything…he tried EVERYthing.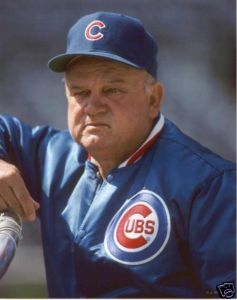 Don Zimmer did every batshit crazy thing you could try during his three run run as Cubs manager.  He pulled the old rotate-my-lefty-and-righty-relievers by having them switch between left field and the mound (and he did it with Les Lancaster and Paul Assenmacher–it would have been great to see Assenmacher try to catch a flyball).  He once called for a hit and run with the bases loaded.
Rick Sutcliffe stole home once against the Phillies in a game Zimmer managed.
I'm not making this up.
Anyway, Zimmer did a lot of crazy shit and because he looked like a gerbil and he was in charge of the single most fun Cubs season in my lifetime (1989), he's revered for it.
Oh, and Zimmer should get special mention for this story, as told by Mark Grace:
"One day Rick Sutcliffe gave up back-to-back home runs in Cincinnati. And in Cincinnati, they shoot off fireworks after a Red hits a home run. And Sutcliffe was pretty intense on the day he pitched. So Eric Davis takes him deep and Paul O'Neill takes him deep right after that. So Sutcliffe is all pissed off, and Billy Connors comes out to the mound and Sutcliffe yells at him, "I know I gave up f—ing back-to-back home runs and get your f—ing ass back in the dugout and tell Zimmer to f—ing settle down there, too."
Billy looks at him and says, "I know you have everything under control, Rick. I just wanted to give that guy running the fireworks a little time to reload."
So let's not pretend the Cubs have never had innovative managers.  Even if you are only writing it to advance your own faulty narrative.
Look, people here think I bash Theo all the time but I will give him credit for one very important thing — he's always looking for the next way to "beat the system" when it comes to building a roster. You saw that in the spending on international free agents last summer. Now I want to see that kind of thinking in hiring a manager.
Nice of Al to give Theo credit for "one thing."  The guy's done nothing for the Cubs since he took over.  The farm system isn't ranked in the top five in baseball, the bad contracts haven't all been expunged, scouting and development haven't been completely overhauled, the future is bleak…blah, blah, blah.
I want a guy who is willing to try different players in different roles, different lineup spots, different relief roles, if what they're doing isn't working — and also someone who, when he sees something IS working, has the wisdome to leave it alone.
I'd like a guy who knew how to spell wisdom.
What Al is describing is every manager.  It's hilarious, actually, that of all the managers he's seen run the Cubs while he's been perched out there like a hen in the left field bleachers, it's Dale he singles out for not being imaginative enough.  Dale tried different batting orders all the time, he shuffled his bullpen constantly.  Nothing worked because his teams were terrible.  What Al describes as his ideal trait for a manager is chaos.
Baseball players are such creatures of habit that Lou used to get shit from players for not telling them the day before if they were going to get a day off.  They said it was so they could prepare properly for a different role that day.  We all know what it really was, was permission to stay out extra late, get extra drunk and extra laid the night before.  Good managers stick with what they know will work and let it work.  They also know when to try something else.  That's what makes them good.
That's the guy I want managing the Cubs. I'm not sure if any of the candidates I've heard mentioned are that guy, and obviously, the Cubs aren't close to being a playoff team — but find this kind of manager, and maybe he can help the Cubs get there.
You hear that Theo?  FIND THIS MAN!  If you cannot find him, then create him out of your Ivy League genius!  Bring us this man and we shall make him king and he shall lead us to greatness or the second wild card spot, whatever comes first!
The Cubs wanted Joe Girardi for his experience and managing a playoff team.
They wanted him because he's proven to be a capable manager and to get some naive assholes to buy season tickets based on the guy sitting in the dugout.
There aren't many out there available like that; as I noted above, I'm not sure who my choice is. I'll mull this and probably write something again early next week,
Do not tarry!  We must know of your suggestion post haste!  Jesus Christ, Al, nobody gives a shit who your choice is.
I know what I don't want — not another Dale Sveum type, please. Enough of by-the-book managing.
Do you think Al will ever realize that what Theo and Jed actually want is by the book managing?  They, and most GMs these days, feel like they can provide their manager with a gameplan, based on stat trends that will give the manager scenarios to use his players in the most optimal way, and if the manager will just execute that gameplan, the team will be better off?  The part of Dale's tenure that Al claims to not like is the part that Theo and Jed thought he did well.  They want to write the book and have the manager follow it.
It's truly amazing that you can sit and watch every game, go home and try to process the game to write about it and still never understand it.
Al has a rare gift, gang.  His like shall never pass this way again.
We hope.