So the Cubs finally have a new manager. Â I for one was getting pretty antsy about the whole thing. Â Mostly because they have a game coming up…in four months.
They have hired Rick Renteria. Â Renteria has served the last few years as the Padres bench coach, dispensing pearls of wisdom to Bud Black. Â He spent eight years in the minors as a manager, including a season in lovely Geneva, Illinois managing the Kane County Cougars.
The Cubs placed an emphasis on this search on the things that Dale Sveum lacked. Â They wanted a guy with a proven track record of player development. Â They wanted a guy who can communicate in more than one language. Â They wanted a guy who looks like Don Zimmer and Lou Piniella got shitfaced one night in Tampa and had a love child. Â They also wanted a guy who tried to distance himself from a once-promising, but ultimately unfulfilling career as a player, by drastically changing his name.
It's what they got. Â Former players of Renteria's laud his ability to instruct, to educate and to run a game. Â Renteria speaks two languages. Â Two more than Sveum.
He's so adorable, there's almost no chance the crack Cubs marketing staff won't create some version of this in his honor: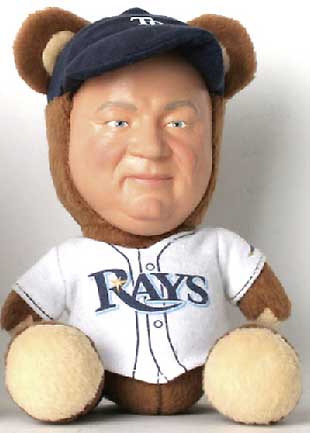 The Mariners and Tigers both interviewed Renteria, which took some extra effort because he had hip surgery after the season and the interviews had to come to him.
As a player, Rich Renteria was a first round draft pick of Pissburgh. Â He played in the big leagues, but he was kinda shitty, and out of shame he changed his name to Rick Renteria. Â Savvy move. Â Pretty good odds he'll be Dick Renteria in about two seasons.
Renteria impressed the Cubs with his well-thought out answers, his grasp of player development and Jed especially liked the view up Rick's hospital gown. Â Wink wink.
The Tigers picked Brad Ausmus over Renteria, but that's a different situation. Â That's a ready to win now team full of veterans who need a steady hand. Â They were basically looking for somebody solid who could hold down the job until they can fumigate all of the Marlboro stench out of the manager's office there.
The Mariners hired former Cubs superstar Lloyd McLendon, because with GM Jack Eyechart's job in jeopardy, nobody but Lloyd was willing to take the job.
So that left the Cubs job, and Renteria excitedly drove his Rascal to the phone to say yes to Theo Epstein when it was offered to him.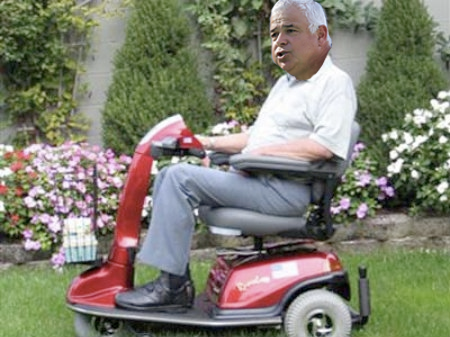 It looks like a solid hire.
It also looks like Lieutenant Harris from the Police Academy movies.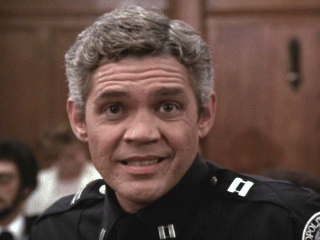 How could this brand of leadership go wrong?
Morons are claiming that Theo Epstein is on the hot seat and he can't afford "another" mistake with his manager selection.
That is bullshit, of course. Â Theo's first manager did exactly what he was supposed to.
Dale Sveum lost, and did it with a unique kind of mumbled dignity. Â The Cubs lost 197 games in two years, yet still managed to get enough production out of key veterans to trade them for young players, and they did it without a major embarrassing incident, something that had become all too common in recent (give or take 104) years. Â If Dale had shown proof that he was a guy who could help develop the young players coming up, he'd have earned that third year on his contact. Â But he didn't. Â So it's time for phase two and that's why Renteria is here.
We don't know much about his ability to manage a game.  We do, however, know that there's a fair chance the Cubs will get into a big brawl this year, and  that's always fun.
Renteria was the manager of Team Mexico in this spring's World Baseball Classic, and with the spunky Canadians beating them handily in the ninth inning of a pool play game, the Mexicans got pissed that Chris Robinson bunted to lead off the ninth. Â Apparently Rick hadn't reminded his players that run differential is a key tiebreaker in pool play, and so it behooves teams to score as much as possible, regardless of whether the game normally would have gone to the absurd "unwritten rules" by that time.
The worst part? Â The Canadians beat the shit out of them in the game, and in the fight.
So a lot (too much) will be made of how Rick bonds with Starlin Castro this spring. Â I suspect that just letting him go back to hacking at everything at the plate will "fix" Starlin's offensive struggles. Â For all the shit he took, Dale made real strides with Starlin on defense, and from the All-Star Break on, Starlin was a very good defensive shortstop. Â Likewise, Anthony Rizzo is likely to have a bounceback year average wise (everything else was pretty good last year), no matter what language the manager speaks, be it English, Spanish or Sveumese.
It'll be interesting to see if Mike Olt's medicated tear duct returns him to the plus offensive player he should be, and just how quickly Kris Bryant and Javy Baez force their way into the lineup. Â After miserable seasons from 2010-2013, things are finally starting to look up as far as having a team we can actually enjoy watching.
Hey, I didn't say the bar was set all that high yet.