Spring Training starts this week…well, at the least the part where guys play catch and we pretend like winter will be over soon. Â So now seems as good a time as any to break down the mighty Chicago Cubs position by position.
Today? Â Let's squat.
Catchers
Welington Castillo, George Kottaras, John Baker*, Rafael Lopez*, Eli Whiteside*
* – non roster invitee
If it seems like Welington Castillo has been around forever, it's because he kind of has been. Â This is his fifth big league season, even though he played just a handful of games in 2010 and 2011. Â And last year was the first time he'd been the starter. Â He celebrated it by walking once in his first 36 games. Â (That's not a good sign.)
But interestingly, he ended up walking 34 times (33 times in his last 77 games, which isn't terrible), and after a slow start he hit .288/.388/.475/.863 in the second half. Â A solid defender with a chance to be even more than that, is it possible that the only truly established piece of the rumored Cubs Core is the catcher?
Most importantly, Welington is changing his number from 53 to 5, which will not only make him look slimmer, but presumably also allow him to play like Johnny Bench. Â So that's nice.
Backup catchers get a lot of attention on the north side, mostly because two of the all-time greats have played there over the years. Â There is of course, the greatest backup catcher ever: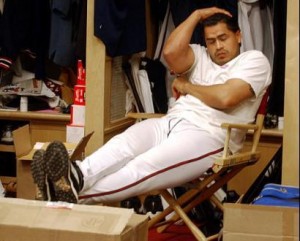 The second best? Â Really, do you even need to ask?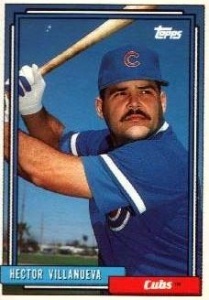 And let's not forget Gabor Bako…pictured here missing the tag on another shitty ex-Cubs catcher, Jason Kendall.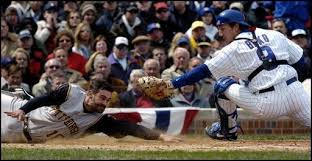 So, George Kottaras has a lot to live up to. Â And, given his career OPS plus of 96 he just might be a little overqualified. Â Oh, don't worry, he's not a good hitter, though he will take a walk, which is nice. Â Case in point, in 58 games with the Brewers two years ago he posted an on base average (.409) a cool 200 points higher than his batting average. Â Hell, that's harder to do than win a batting title.
He's also an incredible athlete. Â How many guys can turn a routine infield pop up into this?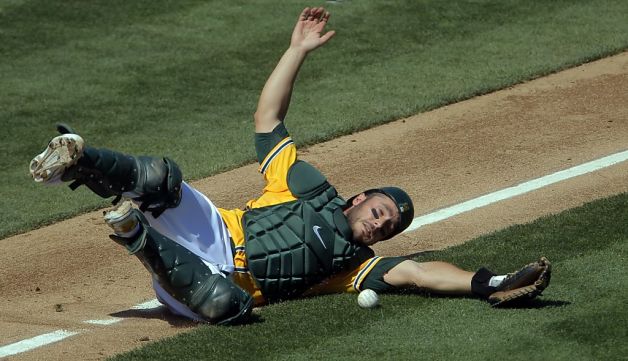 John Baker's an interesting guy. Â He was in the Midwest League when I was in 2003, and was a plus offensive player. Â He hit .314 with an .871 OPS for Kane County. Â He was 22 and a top prospect. Â All in all he's spent 10 years in the minors putting up decent numbers .272 BA /.768 OPS, but after a couple of promising partial big league seasons in Florida to start his career he just hasn't hit. Â He's 32, and the Des Moines ladies will love him.
Rafael Lopez followed Buster Posey at Florida State, and he's still sort of young (same age as Welington), and like Kottaras and Baker he's a lefty batter. Â In fact, he looks like a Kottaras in training if you look at his offensive numbers in the minors. Â Hey, everybody's got to have a plan.
Speaking of Posey, Eli Whiteside was one half of the platoon that tried to replace Posey in San Francisco the year he blew out his knee. Â Eli got his only extended playing time in the big leagues that year, and put up an OPS plus of 63. Â Hey, it could have been worse…in 2012 it was…it was 12.
So…catcher is basically Welington Castillo and…let's just hope Welington stays healthier this year.
Next up…infielders.