Spring Training starts this week…well, at the least the part where guys play catch and we pretend like winter will be over soon.  So now seems as good a time as any to break down the mighty Chicago Cubs position by position.
Monday we checked out the catchers.
Today? Â The embarrassment of riches (or, just embarrassment) that is the Cubs infield.
Anthony Rizzo, Darwin Barney, Starlin Castro, Luis Valbuena, Donnie Murphy, Mike Olt, Christian Villanueva, Josh Vitters (holy shit, really?), Logan Watkins, Arismendy Alcantara, Javier Baez*, Kris Bryant*, Ryan Roberts*, Chris Valaika*, Jeudy Valdez*
* – non roster invitees
Half of the Cubs infield that will celebrate the first World Series win in more than 100 years (Did you know the Cubs have gone more than a century since their last world's championship? You'd think people would talk about that more.) is not only supposed to be on the roster, but locked up with nice long-term contracts. Â And while you can't say that the struggles in 2013 of Anthony Rizzo and Starlin Castro cost Dale Sveum his job, you also can't say they didn't.
In Rizzo's case, he didn't struggle as much as people think. Â His batting average sucked (.233) but you know what? Batting average sucks. Â Screw batting average. Â It's a horrible indication of your batting ability. His on base average wasn't that great (.323) and his slugging average wasn't all that wonderful either, (.419). Â OK, so he had a down year. Â What he was probably suffering from was exhaustion. Â The Cubs didn't have a backup first baseman! Â The horror! Â Rizzo only got two days off all year. Â I'm surprised he didn't die right on the field. Â He's only 24 years old, he can't handle that kind of workload. Â I think we should all sue Theo Epstein for providing Anthony with a dangerous workplace atmosphere.
OK, fine. Â So he really didn't have a good 2013. Â It was his first full season in the big leagues. Â Still, he finished fifth in the league in doubles, fifth in extra base hits and sixth in walks. Â And he was fourth in the league in Juan Pierre (outs made), wait, that's not helping his cause. Â Anyway, this is a big year for him because it's his third year getting meaningful time in the big leagues. Â It's a year he needs to make some adjustments. Â I think he probably will. Â Why? Â Because he's pretty good. Â How's that for science?
As for his cornerstone buddy Starlin, this is also a big year for him. Â His offensive numbers regressed to levels we didn't think he'd ever drop to. Â In the two years Starlin has played in the Epstein regime, a conscious effort was made to get him to be more patient at the plate. Â It hasn't worked. Â It kind of didn't work in 2012, his third season in the league and the first time he didn't hit .300, and it crashed and burned last year when he hit only .245. Â Starlin's too good a hitter for that. Â Late in the year the Cubs told him to just go back to the way he used to hit. Â Be aggressive attack any pitch you think you can hammer. Â It's not that easy to do that in-season, so like Rizzo, this is a big year for him. Â The chains are off, just go play.
Defensively, Starlin's error total showed modest improvement (from 29 in 2011 to 27 in 2012 to 22 last year), but from the All-Star Break on last year he was noticeably improved. Â This is also important for Castro, because one of the top prospects in baseball is starting to nip at his heels. Â Either one of them is going to have to switch positions, or one of them is going to have to switch teams.
What are we going to do with Darwin Barney? Â On one hand he's a tremendous defender, one who earned his Gold Glove in 2012 and probably was more deserving of it last year than the guy who won it. Â On the other hand he's a pretty heady player, who makes good decisions in the field and on the basepaths. Â On the other, other hand? Â Oh, whatever, he's also a bad offensive player, on a team that can't afford to punt offense at any position, and I'm not sure any team can afford to punt offense at second base, anyway. Â In four seasons, Darwin's OPS plus is 71. Â That's–how should I write this delicately–pickled horseshit. Â Seventy-one? Â At second base?
He doesn't walk much, he doesn't strike out much (though maybe he should have struck out more last year, he hit into 22 double plays), he doesn't hit for power (33 extra base hits all season), he doesn't steal bases (four). Â What he does is play excellent defense at the fifth hardest position to play on the field. Â He's also not that young. Â This will be his age 28 season. Â THIS is his prime. Â Oof.
In my current MLB The Show Franchise I tried to sneak Darwin through waivers to send him to AAA. Â Virtual Ned Colleti claimed him, saving me his entire salary. Â Virtual Ned Colletti is basically real Ned Colletti. Â Except with a better moustache.
Last year the Cubs got pretty fair production out of a couple of Luis Valbuena platoons at third base. Â In the first half of the season it was Luis and Cody Ransom, in the second half it was Luis and Donnie Murphy. Â That's neat.
It also needs to stop.
Look, I love Luis more than a man should love another man, but if you're playing him at third base it's because you not only have no other options, but you started a fire that killed any potential options before they could start to germinate. Â At second base, Luis' not a horrible option. Â It's his natural position, he's an excellent defender there, and his 94 OPS plus last season was almost FORTY better than Barney. Â But…Luis cannot hit lefties at all, and is a utility player on a good team. Â His defense at third is good, he can play short if needed and, he's an all-around swell guy.
As for Murphy, he basically hit a homer every four starts for the Cubs last year. Â Dale Sveum did the math and predicted Donnie would hit 70 this year. Â Another reason Dale's back to caddying for Ned Yost these days. Â Murphy can also play second, third and short, and he bats righty. Â He's also 31 and has never played more than 52 games in a season. Â There's a reason for that. Â He's not very good.
So that leaves third base for MIKE OLT!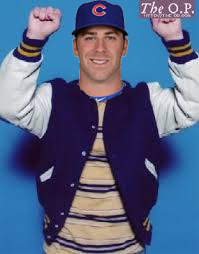 Two years ago the Cubs were set to trade Matt Garza to Texas in a deal centered around MIKE OLT! Â Only to have Garza's arm fall off in St. Louis and kill the deal. Â Then last year, the Cubs reopened talks with Texas for Garza and Olt was no longer the centerpiece of the trade, mostly because in the meantime he got hit in the head with a baseball in Winter League and went blind.
For the Cubs, vision is not a requirement, merely a plus, so they got him thrown into the Garza deal. Â Olt had struggled in AAA for Texas before the trade, but once he got to Iowa he was…even worse.
By the end of the season, the Cubs and Olt had figured out what was wrong with his eye, and he's heading to Spring Training ready to win the third base spot outright.
When he was healthy, Olt was a top prospect. Â He's a plus defender with good power and he enjoys striking out. Â He played at that baseball hotbed UConn, but moved quickly through the Rangers system, hitting homers and doubles and walking and whiffing until he Adam Greenberged himself in Santo Domingo. Â MIKE OLT!
Olt kind of needs to hurry up and win the job if he's ever going to, because two of the Cubs better prospects are also third basemen. Â The Rangers, ironically, traded Christian Villanueva to the Cubs in the Ryan Dempster deal two years ago, because they had Olt, and while Villanueva doesn't have Olt's power, he's also considered a good defender. He hit 19 homers last year in AA, though he posted a not-so-good .317 on base average. Â He won't turn 23 until June, though, so there's that.
The guy Olt is really trying to beat to the job is Kris Bryant. Â There is some doubt about whether Bryant can stick at third long-term, but the Cubs would love it if he could. Â Bryant was the second overall pick in last year's draft, and after an 0-5 night (with five strikeouts) in his pro debut in Boise, he laid waste to both the Northwest League and the Florida State League. Â The Cubs have him ticketed to start the season at AA Tennessee, with a big league ETA of sometime next season. Â That arrival could be delayed if they decide they need to move him to the outfield, because they'll have to teach him how to play there. Â They could do what the Nationals did in 2006 with Alfonso Soriano, which was to point to left field and say "play out there now." Â Or they could do it the right way.
The Cubs have moved Josh Vitters to left field, even though they still have him listed as an infielder on the roster. Â The last two years, when healthy, he's hit well at Iowa. Â But hell, everybody hits at Iowa. Â He's still only 23, so there's no sense in giving up on him, but his shot gets longer all the time.
Logan Watkins got his big league call up last year after a steady progression through the minors where he walked a fair bit, didn't strike out too much and stole some bases. Â He's still young (doesn't turn 24 until August) and could probably replace Barney without most people noticing. Â Faint praise, that.
The guy the Cubs want to eventually win the second base job is Arismendy Alcantara. Â He'll head to AAA with Javy Baez, and it'll be interesting to see if the two alternate positions while they try to find a viable alternative to SS for Baez should they need him to play somewhere else. Â Alcantara was the shortstop at AA Tennessee until Baez was called up and he moved to second to accommodate the phenom. Â Alcantara has promising power (55 extra base hits last year) though he strikes out too much. Â He's also athletic enough for short, which makes him attractive at second. Â He made 20 errors in his half season at short last year and 13 more at second. Â So, when he makes it to Wrigley if you sit behind first base there's a good chance Starlin or Arismendy will throw you a ball during the game.
Javy Baez should, barring the unforseen, make his big league debut at some point this season. Â What position it's at will be interesting. Â His raw power has impatiently pushed him through the minors and last year he posted a ludicrous line of 37 HR, 111 RBI and .920 OPS between A+ and AA. Â He also made 44 errors in those two stops, including an astounding 31 in 73 games at Daytona. Â But what really stands out was how well he played after getting to AA. Â That's the stop in the minors that challenges a player the most, and Baez destroyed the Southern League. Â In only 54 games he hit 20 homers and drove in 54 runs and his .294/.346/.638/.984 slash line belied the fact he was only 20 years old. Â What is fascinating is that the temptation is to give Baez the Manny Machado treatment and shift him to third for a couple of years then figure out if he ever moves back to short, but with Olt and Bryant there, the Cubs might push him to second instead. Â Can you imagine having a guy hitting 40 homers a year at second base?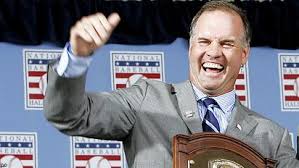 I know, crazy, right?
Ryan Roberts is best known for three things:
1. He's got a shitload of tattoos.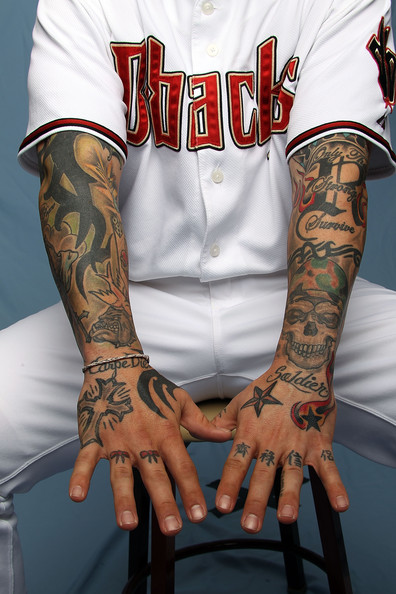 2. He's not Brian Roberts.
3. He's not very good.  Though he can "play" several positions including second, third, left and he has four innings of play at first base, so this dumbshit should be thrilled at the prospect he might make the team.
Chris Valaika is a former UCSB Gaucho who apparently produces approximately 26 gigatonnes of carbon dioxide every year. Â Impressive? Â Not really, you do the same thing.
And, let's not forget Jeudy Valdez, whoever the fuck that is. Â He's apparently a career minor leaguer formerly of the Padres organization that crawled into Rick Renteria's carry on bag at the airport and stowed away to spring training. Â Good hustle, Jeudy!
So there you have it, 2000 words on the Cubs infielders. Â Someday four of these guys might actually start a playoff game at Wrigley. Â Or they might all start a Dodge dealership together.
Next up…the outfielders.