Spring Training starts this week…well, at the least the part where guys play catch and we pretend like winter will be over soon.  So now seems as good a time as any to break down the mighty Chicago Cubs position by position.
Monday we checked out the catchers.
Tuesday we dug up some poop on the infielders.
Today, we profile the guys who get paid to run into the ivy.
You can tell a lot about a team by the quality of its outfielders. Â It's the place where good organizations showcase guys with great speed and power. Â The Cubs? Â It's where they put guys who are physically able to stand for three hours.
Ryan Sweeney, Junior Lake, Nate Schierholtz, Justin Ruggiano, Brett Jackson, Jorge Soler, Matt Szczur, Albert Almora*, Chris Coghlan*, Aaron Cunningham*, Ryan Kalish*, Mitch Maier*, Darnell McDonald*, Casper Wells*
* – non roster invitees
Doesn't it seem like Ryan Sweeney is a better player than he is? Â Maybe it's because he's a fairly graceful outfielder, with a nice looking swing, but when you watch him play you think, "Hey, this guy's pretty good." Â Only, he's not, really. Â He's not terrible. Â He's a career .278 hitter who gets on base a little .336, and has no pop (.385 career slg), and he doesn't run much (18 stolen bases in eight seasons.) Â He showed better power for the Cubs last year, tying his career high with a whopping six homers (in 70 games, the other time he did it, it took him 134 games). Â Part of his problem is that he hasn't gotten much of a run in any season other than 2009 in Oakland when he played those 134 games. Â He's either gotten hurt like he did last year, running into the wall, or because his stats are so underwhelming, he's been replaced. Â The Cubs signed him to a two year deal with an option for 2016, so they must think he's worth running out there until the prospects develop, but then again he came cheap, ($1.75 million) so he's already got the fourth outfielder contract going for him.
Nate Schierholtz finally got a chance to play (basically) every day, and he made the most of it…for three months. Â At the All-Star break, Nate had put up some pretty solid numbers. Â He was hitting .269, slugging .498 and had 11 homers and 34 RBI. Â The Cubs were wisely hiding him from lefty pitchers and it looked like he'd be a solid bet to be flipped to a contender in the second half. Â But then his second half happened. Â He hit .230, his slugging dove 63 points and his on base average went from a not so great .327 to a Corey Patterson-esque .268. Â His HR and RBI were the same, he hit 10 and drove in 34, but the bad second half percentages earned him a return trip to the Cubs this year. Â Sorry, Nate. Â Maybe this year they'll trade you to a real team.
Junior Lake had an interesting year. Â In 2012 he finally made good on his immense promise and made some real strides at AA Tennessee. Â His average, on base and slugging all made tangible jumps over his 2011 stint there. Â  Then, he went to the winter league and played very well. Â He came to spring training last year with a shot at moving up to AAA and putting himself back on the radar for an eventual big league call up. Â His spring started good, and then he broke a rib and disappeared. Â He was out the rest of the spring and early in the season.
When he finally got to Iowa he played mostly third base, but they mixed in a little outfield (and I mean a little, six games in right), and he was hitting pretty well. Â All the Cubs outfielders were taking turns getting hurt and they needed a body, so lo and behold, on July 23, there was Junior Osvaldo Lake standing in center in Coors Field, the seventh time all year (at any level) he was playing outfield. Â He had three hits in four at bats and stole a base. Â He got hits in the next two games there, too. Â And then went nuts in the subsequent series in Arizona, going 4-5 with a homer in the opener, another homer the next night and had 10 hits in the series. Â He's 6'3, he weighs 215 pounds and runs like a deer, so why isn't he talked about more?
His minor league track record is spotty. Â He strikes out too much, he doesn't get on base as much as you'd like, and he doesn't have great power. Â But…he's only 23, and he is undeniably physically talented. Â He was supposed to just come up and fill in on that road trip, but he never went back to Iowa. Â At the end of the year his numbers were OK. Â He hit .284/.332/.428/.760 for an OPS plus of 106. Â He only stole four bases (and got caught four times) and he struck out more than once per game. Â The good news for him is that he's going to get plenty of at bats this year. Â But he'll have to do more with them, because even on his shitheap of a team, six homers and 16 RBI in 64 games isn't going to cut it in left field.
Because the Cubs are going to try to platoon at every outfield spot this year (that's not that much of an exaggeration) they needed a righty companion to Sweeney and/or Schierholtz and they worked a deal with the Marlins for the great Justin Ruggiano. Â You probably had sort of heard of Justin, because in 2012 some assclown in your fantasy league probably picked up up for a buck during the season and got .313/.374/.535/.909 out of him in 91 games, he even threw in 13 homers and 14 stolen bases for good measure. Â That kind of break out was obviously unexpected, as he'd flamed out in three previous big league shots, all with Tampa Bay. Â The Marlins thought they really had something.
And then he was as bad in 2013 as he had been good in 2012. Â .222/.298/.396/.694 in 128 games. Â His OPS plus dropped 52 points. Â Ouch, babe. Â So the Marlins decided they would rather have a lefty version of him and traded him to the Cubs for Brian Bogusevic.
Remember Brett Jackson? Â You probably do. Â Handsome kid, lots of athleticism, good centerfielder, good power, walks a little, strikes out ALL THE TIME? His 2011 season included a nice run at Iowa, so 2012 was the year he'd make his move. Â Instead, he was just OK at Iowa, and the Cubs called him and Josh Vitters up anyway. Â Both struggled. Â Jackson struck out in almost exactly half his at bats (59 Ks in 120 ABs). Â So he was ticketed back to Iowa in 2013 with a revamped swing, and he got hurt, then he sucked and he got demoted to Tennessee and he sucked and where his future is, nobody really knows. Â He looks like a big league centerfielder. Â He just doesn't play like one. Â That's a problem.
Jorge Soler's season got off to a great start. Â He was playing in the Florida State League in Daytona against whatever the hell the Clearwater Threshers are, and he got into a pile up with a second baseman while breaking up a double play. Â Apparently, that second baseman, Carlos Alonso, stepped on Jorge. Â Pleasantries were exchanged and during the changeover between innings, Jorge grabbed a bat and threatened to take on the entire Threshers dugout. Â He earned a little infamy and a five game suspension for it. Â Ahh, youth.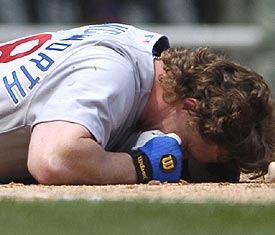 Of more importance was Soler played well in high-A, but Todd Hollandsworth'd his shin and broke it.
Without the high-quality Cuban healthcare Jorge grew up with, his leg was slow to heal and he ended up missing the rest of the season. Â That's the loss of important development time for a 21 year old, who was looking like a move to AA was coming relatively soon.
He'll probably start the year at AA, and his power-speed combo still rates pretty high in the Cubs plans. Â He was healthy enough to play in the Arizona Fall League, where his swing impressed, but his effort did not. Â The Cubs claim he was under orders to throttle it down since he was still recovering from a broken leg, but I'm sure Bob Brenly was having none of that nonsense.
Was he, E-ramis?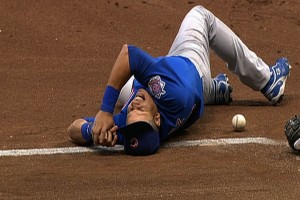 Did you know the Cubs have not just one former college football star on their roster, but two?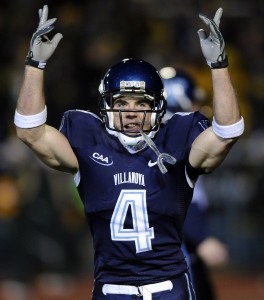 That's right, not only do they have Jeff Samardzija, but they have a fiery little sparkplug named Matt Szczur, who also has a terribly spelled Polish name and gave up dreams of football stardom (heh, heh) to play for the beloved Cubs. Â You probably know that he cut short a season playing football at Villanova because his stem cells were a match for a little girl suffering from leukemia.
So yeah, it'd be pretty cool if Matt Szczur played a little major league baseball at some point. Â Maybe this year. Â He's made steady progress through the Cubs system. Â His on base stills are improving, which is important, because he's all wheels and no power (his career slugging is less than .400). Â He's never going to be a star, but he's also never going to be Tony Campana…thank God.
Because the big league team is so bad, Cubs fans are fixated on the top prospects in the system, and the thing we hear all the time is that Albert Almora is not the most talented of the top prospects, but the best bet to be a good player. Â Basically his ceiling is lower than the other guys, but so is his floor. Â Must be an oddly shaped room.
Almora is only 19 (he turns 20 in April) and he's already had success in the Midwest League, so he's ticketed for Daytona to start 2014. Â So he's still a ways off, but the Cubs are bringing him to big league spring training, which shows just how much they value him. Â One thing we know, the kid's not afraid to work:
Maybe I wasn't kidding about the Cubs running out a platoon at every outfield spot. Â If 2009 National League Rookie of the Year Chris Coghlan makes the team, he could very well be Junior Lake's left field platoon partner. Â But if he's going to make the team he's going to need to do a 180-degree turnaround. Â He was a dubious Rookie of the Year choice anyway, given that Andrew McCutcheon seemed a better selection at the time. Â But other than those two, the field was a little thin. Â How thin? Â JA Happ finished second, Tommy Hanson third, and the illustrious duo of Casey McGehee and Randy Wells finished fifth and sixth.
Coghlan does bring versatility, he can play (well, stand at) third, second and all the outfield spots, and he's a lefty bat. Â Just don't get too attached.
Aaron Cunningham is from Alaska, he's played for the A's, Padres and Indians, and he plays all three outfield spots. Â Honestly, I have no idea who this guy is.
Theo and Jed have brought in another of their old Red Sox draft picks in Ryan Kalish. Â Kalish is another guy who can play all the outfield spots, and who has had some success in the minors. Â Injuries have limited him the last couple of years, so it'll be interesting to see what he looks like after playing only 33 games in 2012 and none last year. Â He'll likely go to Iowa to start the year, but if he hits, he could do what Ryan Sweeney did and end up with a mid-summer call up and a fair amount of playing time. Â Or, he could meet a nice girl in Iowa and open a Culver's.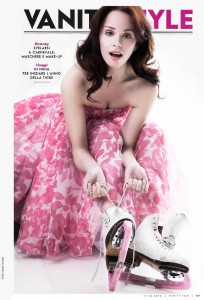 So, I'm admittedly a big fan of the ladies ice dancers from Italy and France (mostly because unlike the figure skaters they don't look 12 years old), and during the Olympics I learned that both of them train in Novi, Michigan, not far from Detroit. Â Well, guess who else is from Novi? Â Cubs outfield wannabe Mitch Maier. Â What were the odds?
Maybe Mitch can get a few days off during spring training and we can take a road trip to hang with the ice queens in Novi? Â Or, maybe not.
Mitch spent a long time in the Kansas City system, and spent parts of six seasons with the Royals, where he was…not very good. Â He's 31, he spent all last year in AAA for the…you guessed it, Red Sox…and I don't think you need to head out and buy a Mitch Maier Cubs shirsey.
Speaking of the Red Sox, last year the Cubs brought in Darnell McDonald, who did not hit very well at Iowa, but in a limited run at the end of the year he did play well for the Cubs. Â Darnell has played 16 seasons in the minors, is 35 and if he's on the roster it's not a really good sign.
Charles Casper Wells the Fifth spent a little time two years ago with the White Sox, and honestly, that's probably enough exposure to him for Chicago sports fans, and given that there have been four other Casper Wells before him, it's probably enough exposure to him for anybody.
This Cubs outfield is a boatload of suck. Â So we have that to look forward to, all year.
Next up in the Cubs Preview series….the bullpen. Â Try not to get too excited.