Spring Training starts this week…well, at the least the part where guys play catch and we pretend like winter will be over soon.  So now seems as good a time as any to break down the mighty Chicago Cubs position by position.
Monday we checked out the catchers.
Tuesday we dug up some poop on the infielders.
Wednesday we looked at the sorry state of the outfielders.
Today, let's look at the Cubs most glaring perennial weakness…their relief pitching.
Alberto Cabrera, Kyuji Fujikawa, Blake Parker, Hector Rondon, Zac Rosscup, James Russell, Pedro Strop, Jose Veras, Carlos Villanueva, Arodys Vizcaino, Wesley Wright, Marcus Hatley*, Tommy Hottovy*, Carlos Pimentel*, Armando Rivero*, Brian Schlitter*
* – non roster invitee
Bad teams almost always have bad bullpens. Â It makes sense, if you only have a handful of decent pitchers, chances are you are trying to start them. Â But this Cubs bullpen has a chance to be not terrible. Â Not a good chance. Â But a chance.
Last year the Cubs started the season with Carlos Marmol as the closer, then it was going to be Kyuji Fujikawa, then his arm fell off and it was Marmol again, and then, amazingly, it ended up being Kevin Gregg. Â Ugh.
Marmol is off in Miami where one of his wild pitches is guaranteed to break that aquarium they have in the backstop. Â Gregg was supposed to get flipped at the deadline, but the other teams remembered he was Kevin Gregg so that didn't work, then he got caught in a weird he-said:he-said with Dale Sveum (more of a he-said:he-grunted) that ended with Theo Epstein dropping a pile of f-bombs on him and threatening to release him with just a few days left in the season. Â Gregg remains unsigned. Â That is not a surprise.
This year, the Cubs already have their closer figured out. Â They signed Jose Veras. Â Yeah, THAT Jose Veras. Â Eight teams in nine seasons, Jose Veras. Â Imminently replaceable Jose Veras. Â But hey, he came cheap, and if you aren't planning on winning many games, you might as well not pay a guy a lot to finish them off for you.
Jose's not a bad pitcher, in fact he's been pretty good the last two years, and he's almost guaranteed to get traded sometime before July 31, and that might open the door for…
…my man Pedro Strop to be the closer. Â The Cubs decided to give Strop a couple games to close to end last season, and it's what set Gregg off on his weird little tantrum. Â Pedro started his career with the Rangers and got traded to the Orioles at the waiver trade deadline (August 31) in 2011 for Mike Gonzalez. Â Pedro pitched very well in that final month of the season and then followed it up with a really good 2012 season. Â But last year after pitching in the World Baseball Classic for the Dominican he was awful to start the season for Baltimore, and he never rounded back into shape for them. Â When they traded him with Jake Arrietta to the Cubs in early July for the great Scott Feldman and Steve Clevenger, Strop was sporting a nifty 7.25 ERA.
But once he got to the Cubs he was good again. Â In 37 appearances he allowed only 22 hits and 11 walks against 42 K's and only gave up one homer. Â In fact, even when Pedro was bad, he was hard to hit a homer off of. Â He allowed only four for Baltimore last year, and has never allowed more than five in a season. Â Long-term, you'd think he's in line for a serious shot at the closer job.
Alberto Cabrera had an up and down 2013. Â He was a starter at AA Tennessee and pitched well going 9-3 with a 3.20 ERA in 18 starts. Â He doesn't strike out a lot of guys, he's barely over one per inning in his minor league career. Â When he was promoted to Iowa he pitched exclusively out of the bullpen and struggled, with an ERA over seven, more hits than inning pitched and almost as many walks as strikeouts. Â He did make seven relief appearances for the Cubs where he didn't fare too badly. Â He's only 24 even though he's been in the Cubs system for eight years. Â And I couldn't pick him out of a police lineup.
Kyuji Fujikawa signed a two-year deal with the Cubs before last season with a club option. Â He pitched in 12 games and got two saves for the Cubs before he blew his arm out. Â He's 33, and if the Cubs get anything out of him this year it'll be a huge surprise. Â But hey, he's got weird hair, so that's something. Â The Cubs had basically signed him so that when they traded Carlos Marmol they'd have a closer in waiting. Â If you remember, Carlos had actually pitched well to end the 2012 season and the Cubs were sure they could flip him in the offseason (and did until they backed out of a Dan Haren trade with the Angels). Â Then Marmol sucked and they were lucky that Ned Colletti is a dummy, but by then, Kyuji was in the hospital with Tommy John Disease.
Blake Parker had a nice year for the Cubs last year, even though he's best remembered for a game he didn't pitch in. Â On June 16 the Cubs had a 3-0 lead going into the ninth at Citi Field against the Mets. Â Matt Garza and James Russell had both pitched well and it was time to go to the closer and Dale Sveum decided even Marmol couldn't blow this one. Â So in came Carlos, as Blake also warmed up in the bullpen.
Marmol made quick work of the lead. Â Marlon Byrd lead off the ninth with a homer. Â Then Lucas Duda walked. Â John Buck singled. Â Omar Quintanilla bunted the runners to second and third, and the great Kirk Nieuwenhuis hit a three run homer. Â Drive home safely. Â Cubs fans lost their minds. Â HOW COULD YOU NOT BRING IN BLAKE PARKER? Â Dale muttered something about how any big league pitcher ought to be able to hold a three run lead with nobody on. Â People have never thought more fondly of Blake Parker than the day he stood on the bullpen mound and watched Carlos Marmol shit his pants.
There are bad Rule 5 pickups (Dave Patten), meh Rule 5 pickups (Lendy Castillo) and solid Rule 5 pickups, and thanks to being on a terrible team that could afford to hide him in the bullpen for half a season, Hector Rendon turned out to be pretty solid. Â A once top prospect with the Indians, Hector missed almost all of 2011 and 2012 with injuries. Â He pitched in 25 games in the first half and he was bad, as you might expect given his lack of pitching for TWO WHOLE YEARS. Â But in the second half he made 20 appearances, cut his ERA in half, posted a 2:1 strikeout to walk ratio and gave up only 19 hits in 25 innings. Â Until his time with the Cubs he'd been a starter, and there's a good chance he'll go to Iowa this year and back into the rotation. Â But at the very least he proved he could be an effective reliever. Â Not bad for the price of a waiver claim.
Zac Rosscup has been a solid reliever in the Cubs system the last few years and he's a lefty, so that's always nice. Â His numbers at Tennessee last year were very good (but he was 25 and pitching in the Southern League so they should have been.) Â But he also made nine scoreless appearances at Iowa, and posted a 1.35 ERA in ten games with the Cubs. Â Of course he also walked as many guys (seven) as he struck out. Â The Cubs are so high on him that they signed Wesley Wright to be the second lefty in the bullpen after James Russell.
Speaking of Russell. Â You know what? Â He's pretty good. Â Which is probably why teams keep trying to trade for him. Â In fact, his presence on the roster was the reason Theo and Jed could trade Sean Marshall to the Reds a couple years ago. Â Russell is durable, he doesn't walk people and he's gotten better at keeping the ball in the park. Â He also has a lot of hair, and he sweats a lot. Â You don't get analysis like this just anywhere, gang.
You wonder if the Cubs signed Wright so they could more seriously entertain offers for Russell. Â I like to think they signed him because he's always been destined to be a Cub. Â His Baseball Reference similarity scores include such Cub luminaries as Yorkis Perez, Larry Casian, Steve Wilson, Neal Cotts and John Grabow. Â If he ever cranks it up to Chuck McElroy or Paul Assenmacher range, look out!
I always like it when teams let a guy go and then try to trade for him, which appears to be the case with Toronto and Carlos Villanueva. Â Maybe they just miss his sweet handlebar mustache, but they are rumored to be after the erstwhile swingman. Â Carlos is a solid pitcher who can be mediocre starting or relieving. Â I hope he kept his passport.
When the Randall ("They don't did a trade") Delgado for Ryan Dempster trade died thanks to Dempster's "I only want to pitch for the Dodgers" stance two seasons ago, the Cubs ended up making do with a Paul Maholm for Arodys Vizcaino trade. Â Vizcaino was a top Braves prospect who was in the early stages of recovering from Tommy John Disease, but by all accounts was really good. Â He's more legend than anything else to this point, since he hasn't recovered sufficiently to pitch in an actual game yet. Â He did throw off a mound late in the season last year and Theo nearly unpleated his pants talking about how filthy Vizcaino's stuff looked. Â Should he be fit to pitch this year he'll no doubt check out the Des Moines nightlife for much of the year, with an eye on a Wrigley debut in the second half.
Did you know the Cubs had Marcus Hatley in their farm system? Â The former Bears GM who died a few years ago? Â Holy shit, Theo was right, that system is really thin in pitching.
All nine members of the Tommy Hottovy Fan Club must be psyched that the former Red Sox and Royals reliever and Wichita State Shocker landed a new job in the midwest. Â He's a lefty who has spent ten years in the minors, but pitched well in a very short stint in KC last year.
But if he always throws like this, maybe he's actually right handed?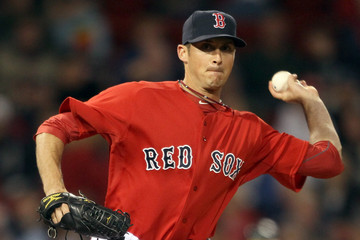 Because every Rangers prospect has to eventually play for the Cubs, Carlos Pimentel is in camp. Â He's only 24, but has been around for a while (seven seasons.) Â The Cubs save money on scouts by only hiring one guy and just having him go to every Round Rock game.
Armando Rivero is Cuban and is listed as being 25, so he's really 40. Â He pitched at three levels last year (Kane County, Daytona and Tennessee), actually pitching well at two of them. Â He signed for $3 million and the Cubs don't have to add him to the 40 man roster yet, so expect him to start the year at Iowa. Â I always find it odd that people with options have to go to Iowa. Â That seems like a place you go only when you have no other option.
And finally (the Internet stands and applauds), the Cubs have invited back to spring training the most aptly named Cub since Lou Sernotalentassclown pitched for them in the 70s…it's Brian Schlitter! Â He hasn't pitched for the Cubs since 2010, but the memory of those seven games (and 12.38 ERA) won't ever fade.
So the Cubs need to whittle this assortment of studs down to a seven man bullpen? Â Gonna be a pretty tough task for our boy Chris Bosio. They might need to bring back the bunt tournament just to settle things.