Spring Training starts this week…well, at the least the part where guys play catch and we pretend like winter will be over soon.  So now seems as good a time as any to break down the mighty Chicago Cubs position by position.
Monday we checked out the catchers.
Tuesday we dug up some poop on the infielders.
Wednesday we looked at the sorry state of the outfielders.
Thursday you got 2,500 words on the woeful bullpen.
So today, all that's left are the starting pitchers.
When this is over, there will have been almost 12,000 words in a spring training preview for a team that isn't likely to win more than 72 games. Â What are we doing with our lives?
Jake Arrieta, Dallas Beeler, Justin Grimm, Edwin Jackson, Brett Marshall, Neil Ramirez, Chris Rusin, Jeff Samardzija, Travis Wood, Jason Hammel, James McDonald, Kyle Hendricks*, Eric Jokisch*, Jonathan Sanchez*, Tsuyoshi Wada*
* – non roster invitee
One of the things that has been impressive in the first two years of the Theo and Jed regime is their ability to find decent starting pitching on the cheap, and then flip some of that for useful parts. Â Their two best examples so far have been Paul Maholm and Scott Feldman. Â This year, they're going to try it with Jason Hammel and James McDonald. Â Good luck with that.
But a real key to it has to be pitching coach Chris Bosio. Â Dale Sveum brought Bosio in, and the two are pals who played together in Milwaukee. Â So it must have been kind of awkward when Dale got fired, headed down to see how Bosio was handling their new unemployment and Chris said, "Yeah, about that."
Cubs pitching coaches outliving their managers isn't a new thing. Â Hell, Larry Rothschild made it through Don Baylor, Dusty Baker and Lou Piniella. Â Cubs hitting coaches do not fare so well, they get fired about every seven weeks. Â In fact, the Cubs don't even advise them to rent, they just put them up on a cot in a store room behind the clubhouse. Â That's not bad enough, but it turns out that Yosh snores.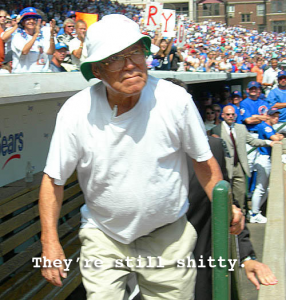 Anyway, so while the Cubs have been awful the last few years, you would actually expect their starting pitching to be worse than it really has been. Â I'm not sure if that's comforting or depressing.
The big question this year is will Jeff Samardzija get traded. Â It's just the kind of move that will infuriate the dumbest of Cubs fans, which, we all know, is also the vast majority of Cubs fans. Â He's the perfect storm, really, because:
He's local -Â He grew up in northwest Indiana, and went to a little Catholic university where he played some football in addition to baseball.
He's unique -Â An All-American football player who eschewed the NFL for the Cubs, he also looks like a really big Allman Brothers Band roadie. Â He's easy going, good with fans, beloved by his teammates and a pretty easy guy to root for.
He's pretty good, but not really good –Â For the longest time, you could (legitimately) excuse Jeff's inconsistencies on the fact he just hadn't pitched a lot. Â Because he was playing football at Notre Dame he obviously didn't play fall baseball, and the lovely South Bend climate limits the length of the spring season. Â So when he signed with the Cubs he hadn't pitched a lot. Â He made it to the big leagues after just 60 minor league appearances and he was useful, but mostly selectively used in 2008 in the Cubs bullpen. Â He bombed in 2009 and went back to the minors and only made a cameo appearance in 2010. Â But in 2011 he was a very good part of the big league bullpen, shifted to full-time starter in 2012 and was more than solid. Â Last year he pitched more than 200 innings and struck out more than 200 batters. Â But he wasn't better than he was in 2012, he just pitched more.
He's pitched enough now that he's no longer inexperienced, and whatever advantage there was to him not having many miles on his arm when he signed is mostly gone after seven years of professional pitching.
What Samardzija is, is a pretty good starting pitcher, and those aren't easy to find. Â But he's not a top of the rotation starter. Â He gives up too many hits and he's too inconsistent. Â So while Cubs fans value him like a number one or two starter (because on this shitty team he is that), it's not his true value.
If Theo and Jed can elicit a package of players for him that you would get for a real number one or number two, they should do it. Â One thing they have proven in their first two years is that they will not let the reaction of the fans or media impact the moves they make (which seems obvious, but most front offices eventually cave).
Is it possible they'll sign Samardzija long-term? Â It depends on three things:
1. No other team offers them a package for him that they like.
2. He's willing to sign one, because so far he hasn't been.  (It's almost like he likes playing for the Cubs, but maybe eventually wants to pitch for a team that doesn't suck. Gasp!)
3. He needs to agree to be paid like a number three starter, not a one or a two.
Behind Samardzija, there's another guy who is probably a three on a good team, and it's Travis Wood. Â I like to think of Travis as a slightly less homicidal version of Theodore Roosevelt Lilly (one of my favorite Cubs of all-time.) Â Wood finally took the step last year and pitched to his potential. Â Like Samardzija he pitched 200 innings, and he was actually much better than Jeff. Â His innings were up, his strikeouts were up, his walks were down and his hits allowed were down. Â He was the lone Cubs All-Star, which given the relative awfulness of the team, was, as Bernie Lincicome used to say, akin to having the best toupee at the barber shop.
Edwin Jackson was a disappointment. Â The mere signing of Jackson was a surprise, given that it necessitated a four year contract, but the Cubs liked the fact that he pitches a lot of innings, doesn't get hurt and they signed him for what was basically the cost of an annual qualifying offer every year for four years. Â He was coming off a nice run where he pitched well after a late season trade in 2011 to the Cardinals and then a productive year as the fifth starter on the Nationals, but last year he got off to a lousy start and never really righted the ship. Â He pitched fewer innings than 2012 in the same number of starts and gave up more hits. Â He was lucky to keep his ERA under five. Â But there's always next year!
The Scott Feldman trade (which also cost the Cubs the athletic marvel that is Steve Clevenger) brought the Cubs not only Pedro Strop, but one-time Orioles top prospect Jake Arrieta. Â The Orioles had given Jake a lot of chances to establish himself in their rotation and he'd managed to crap himself every time. Â A move to the lowly Cubs with a heaping helping of Des Moines looks like it may have done Jake a big favor. Â Talent is not a problem. Â He has a great arm. Â Consistency has always been the issue. Â And, he was impressive in nine late season starts for the Cubs. Â He allowed only 34 hits in 51 innings–but he's always been hard to hit. Â What still has to improve is his walk rate. Â One big change the Cubs were finally able to get him to make (I'm sure the Orioles tried) was they got him out of the mode of trying to strike everybody out. Â His strikeouts per nine were down, but it did not translate into teams hitting him more. Â What it did was get him out of so many long counts which means he can pitch deeper into games and he shouldn't walk as many guys. Â Though his 37 K's and 24 walks with the Cubs isn't what you want to see. Â Thirty-seven and 14 would be more like it. Â But if he was a finished product, he wouldn't be a Cub.
Speaking of Orioles cast-offs, Jason Hammel gets the Maholm-Feldman spot this year. Â Because he his first three years as a full-time starter were in Colorado it's hard to tell just how good he is. Â Once he got to sea level in 2012 with Baltimore he had a very nice season. Â But last year he was not good. Â He's 32 and he's the fourth starter because the laws of nature insist there has to be one. Â Maybe Bosio will work some magic on him and they can flip him at the deadline for a once top prospect in somebody else's system who is suffering from lupus. Â A guy can dream.
The fifth starter job is likely to be a contest between former Pirate and Dodger James McDonald and Chris Rusin. Â To avoid the never-ending Brooks Raley-Chris Rusin confusion, the Cubs waived Raley to add McDonald to the 40 man roster. Â Raley even got claimed. Â So that nightmare is over. Â McDonald pitched at every level last year for the Pirates as he came back from a shoulder injury. Â He did not pitch particularly well at any of them. Â He had put together a couple of pretty good seasons for Pissburgh in 2011 and 2012, but his control was poor last year. Â If he's healthy, he'll be a solid pickup for the Cubs. Â If he's not…
…Rusin did a solid job filling in as a starter last year when one of the Cubs real starters was hurt or got parole and got to go play for a non-Cubs team someplace. Â He made 13 starts and he was exactly league average. Â He doesn't throw particularly hard, and he seemed to run out of gas in September, but that shouldn't be considered that much of a surprise. Â The 31 starts he made between Iowa-Chicago were the most of his career. Â He's only 27, and because he's lefthanded he'll probably get another 1,000 chances to make it in the big leagues. Â But league average may be the top of his potential.
Justin Grimm came over in the Matt Garza trade and he was a pretty good get. Â Theo and Jed are familiar with him because they drafted him in 2007 but he decided to play at the University of Georgia, and in his time in the Rangers system he was a pretty solid starter. Â His minor league success hasn't translated to success in the big leagues as a starter, but he's only 25, and in 10 appearances out of the Cubs bullpen he was pretty good. Â Long-term he profiles as starter, but it wouldn't be a surprise to see him make the team out of spring training in the bullpen.
Another guy in that same trade (how many guys did the Cubs for Garza?) was Neil Ramirez. Â Here's Neil: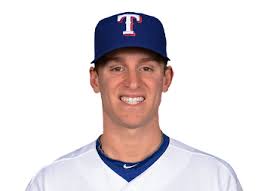 He was the player to be named later, most likely because the Cubs wanted to make sure he was really named Ramirez. Â Actually, it was because he's had some arm issues. Â When he's been healthy he's been pretty solid. Â A first round draft pick out of high school in 2008 he's pitched at every level. Â He's 24 so it's about time for him to make is big league debut. Â Lord knows the Cubs will run through plenty of pitchers this year. Â So Neil should be one of them.
Kyle Hendricks is another former Ranger (for goddsakes, is it a prerequisite?), who came over in the Dempster trade. Â He was very good last year, going 13-4 with a 2.00 ERA between Tennessee and Iowa with only 128 K's in 166 innings, but also only 34 walks. Â He was an eighth round pick out of Dartmouth, which means Dave Kaplan will want him to be the Cubs manager. Â He's probably due for some Iowa time to start the year, but he's a guy with a career 2.42 minor league ERA, so he looks like an actual prospect. Â Who knew?
When the Cubs included Eric Jokisch in their pre-Cubs Convention mini camp for pitchers at Northwestern the media acted like the only reason Jokisch was there is because he played at Northwestern. Â Well sure, that probably had something to do with it, I Â mean, somebody there had to know where the locker room was, but Jokisch had a good year at Tennessee last year after a good half season there the year before. Â Nothing in his minor league track record screams out that he's much more than a future bullpen arm, though.
You know how the Mariners have turned Oliver Perez from once solid starter who went horribly bad into a pretty effective reliever? Â That's what the Cubs are going to try with Jonathan Sanchez. Â Control has always been Sanchez's problem. Â Even in his best year in the big leagues (2010 with San Francisco) he won despite his control. Â In fact, he led the league in walks that year. Â In fact, his 2009 no-hitter came in his first start back after being demoted…to work on his control. Â He's floundered recently. Â He started last year in Pissburgh but was released after four starts. Â He ended up in Albuquerque, eating Los Pollos Hermanos and allowing 114 baserunners in 66 innings. Â Don't get too attached.
When the Orioles (you see the Cubs only acquire guys who have been dumped by the O's, Rangers or Pissburgh, apparently) signed Tsuyoshi Wada he was coming off a very successful career in Japan, and had just enjoyed the two best seasons of his career. Â Then he caught Tommy John disease and never pitched for Baltimore. Â He made it back last year and pitched at AAA Norfolk where he made 19 starts with some, but not a lot of, success. Â He's a lefty, and a small one at that, and doesn't throw particularly hard. Â He struck out a guy per inning in Japan, which curiously still convinced somebody to nickname him Dr. K, but he didn't come close to that in Norfolk. Â He's 32, and is a long shot to make it, even on a shitty team like the Cubs.
So, can you patch together a solid rotation out of these parts? Â Good luck. Â The worst part is that unlike the offense, there aren't any really exciting pitching prospects in camp. Â If Pierce Johnson and CJ Edwards are the best the Cubs have to offer for hope (and they are), they'll be doing it away from the main fields in spring training. Â At this point, that's probably in their best interests.