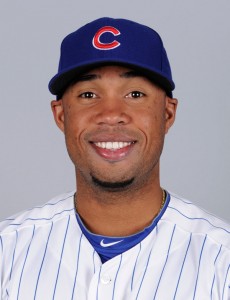 So sure, we got scooped last week by the dreamy Patrick Mooney, but that doesn't mean we're not going forward with it. Â Today starts what is definitely a spring-long first-person account of the Cubs season by the greatest Cub of them all, Luis Valbuena. Â How long into the season this goes…well, only God, Emilio Bonifacio and Rick(y) Renteria know for sure.
So, spring training started last week. Â I counted and this is my eleventh one. Â I've had them in Tempe (Mariners), Winter Haven, Florida (Cleveland), Goodyear, Arizona (also Cleveland), Dunedin, Florida (Blue Jays) and Mesa (Cubs). Â The new park is pretty cool, but the best part is that we didn't bother to tell Donnie Murphy that we had a new ballpark. Â He played catch with a chain link fence at Hohokam for twenty minutes last Monday until he figured out he was in the wrong place.
I'm really looking forward to this season. Â Coming to the Cubs two years ago was the best thing that's happened in my career. Â They got me off waivers from the Blue Jays and I spent some time in Iowa in 2012, and then they realized that Ian Stewart sucked, they blamed it on his wrist and I've basically been the third baseman ever since. Â They're going to pay me two million dollars this year. Â Two million. Â No way, I'd make that kind of money on a real team.
I grew up in a village in Venezuela called Caja Seca.  If you know any Spanish, you know that it translates to English as "dry box."  Feel free to make your own jokes.
When I was growing up in Dry Box, I wanted to either be the greatest futbol player in the world or play baseball in America. Â You hear about all the great teams like the Yankees and the Dodgers. Â When I was a kid, the Yankees won the World Series like every year. Â So when a big league scout offers you a contract, like the Mariners offered to me, you figure you'll go right to the big leagues, play for the Mariners for a few years, then sign for a billion dollars with the Yankees.
My first year in the minors, I played in Everett, Washington for the Aqua Sox.
I'm 3,000 miles from home, it's raining every day, and the team I'm playing for is named after shower shoes?
The next year I get sent to Appleton, Wisconsin to play for the Wisconsin Timber Rattlers. Â Our first game that year was in some place called Burlington, Iowa. Â At the concession stand you could buy fried butter on a stick. Â I thought I was poor growing up…
I got promoted the next year and went to Jackson, Tennessee. Â Our centerfielder that year was a guy named Charlton Jimerson. Â He had the whitest sounding name of the guys we hung out with, so when we'd order pizza we had to use his name and his credit card, otherwise the pizza never came. Â Great town, Jackson.
I made my big league debut in Arlington, Texas on September 2, 2008 for the Mariners. Â I got to pinch hit in the ninth with two outs against Frank Francisco. Â I hit a grounder between first and second that both the second and first baseman went after. Â The first baseman, Hank Blalock, got it and threw to Francisco covering first, and Frank dropped it and I was safe.
The Rangers asked me if I wanted the ball.
Think about that.
There's a keeper for your mantle. Â What's this ball for you ask? Â Oh, that's the great Frank Franciso error of 2008. Â I politely passed.
For a while, I regretted it. Â I made three starts at second over the next nine days and was 0-11. Â There are guys who play for ten years in the minors and never get eleven big league at bats, or never get to run the bases because Frank Francisco can't catch an underhand toss.
I got another start on September 11 against Jered Weaver of the Angels. Â In my first at bat, I struck out. Â 0-12 to start my career.
In my second at bat I flew out to center. Â 0-13.
In my third at bat, Weaver is out, and Jason Bulger is pitching. Â Finally, somebody I can hit.
I struck out. Â 0-14.
We're behind 7-3 going into the ninth, and I'm batting second. Â I figure we're down enough that Jim Riggleman won't pinch hit for me. Â Scot Shields is pitching for the Angels and Kenji Johjima is leading off for us. Â He singles to left.
So now, not only am I up again, but there's going to be a big hole on the right side with the first baseman covering, so I'm going to just roll one through that hole and get my first hit.
Except with a four run lead, and Kenji running (he was really, aggressively, not fast) they're not holding him on. Â Doesn't matter, I line one to right on one hop and get my first big league hit. Â A nice clean one.
Problem is, since I've been in the big leagues for 10 days, nobody remembers it's my first hit, and the Angels just throw the ball back to Shields.
So, do I stand at first like a dumbass and watch Shields pitch it to Ichiro, or do I stand up for myself and assert my God given right to the baseball to commemorate my first big league hit?
I stand there like a dumbass.
Ichiro grounds into a double play and I'm forced at second and as we're both running off the field he asks Shields to see the ball. Shields flips it to Ichiro who runs off the field with it.
We're in the dugout and Ichiro still has the ball. Â Nobody is paying any attention to him but me, because he's got MY ball. Â It's my fault he has it, but he has it. Â I have a second chance to get the ball back. Â I'm about to ask him about it and he walks to the top step of the dugout, grabs the roof of the dugout and pulls himself up a little bit and I see him roll the ball to some fat little kid sitting in the front row.
Shit.
I just sit down, and justify to myself that guys who are 1-15 in the big leagues don't get to keep their first hit. Â I should have kept the stupid Frank Francisco error, it would be a more fitting reminder of my career.
A couple minutes later, Ichiro is standing in front of me. Â He speaks Japanese (of course), English and Spanish. Â His Spanish is actually really good. Â In Spanish he asks me, "Luis. Â Are you ever going to ask for THIS?" Â He reaches into his back pocket and hands me a ball. Â The one he gave the fat kid was a batting practice ball that he used just to trick me.
To this day if you swing by my house in Dry Box, you'll find one baseball on the mantle. Â It's in one of those clear plastic holders and it has Ichiro's signature on it and he wrote 4-6-3 under it. Â The greatest double play ball of all-time. Â At least for me.
I didn't last very long in Seattle. Â They traded me that offseason in a three-team trade that even I can't remember off the top of my head. Â I have to look it up when people ask me. Â Here's why:
Seattle to Cleveland: Me.
Seattle to Mets: Sean Green, JJ Putz, Jeremy Reed
Mets to Seattle: Mike Carp, Ezekiel Carrera, Maikel Cleto, Aaron Heilman, Jason Vargas
Mets to Cleveland: Joe Smith
Cleveland to Seattle: Franklin Gutierrez
Basically I got traded to Seattle for Franklin Gutierrez, and it took nine other players and another team to make it happen.
I played three seasons for the Indians where I played mostly shortstop the first year, then Asdrubal Cabrera came and so I played mostly second the second year, and then Jason Kipnis came and I played mostly nothing the third year.
I got released after the 2011 season and Blue Jays claimed me. Â And I made such a great impression on them that spring that they waived me, too and the Cubs got me.
Anyway, the guy from Desipio offered me a lot of money to keep a diary-thing during spring training. Â He hasn't paid me any of it yet, which in hindsight is probably a mistake on my part, but he seems honest enough, and a little weird. Â It's a better offer, even if he stiffs me the cash he promised–than my other which was to do weekly interviews on a new sports talk station in Chicago. Â They had me interested until they told me it was on 87.7 FM. Â Even in Venezuela we know sports talk is an AM thing not an FM thing, and that even if it were on FM, that your radio doesn't go all the way down to 87.7 FM. Â Even the shit Hugo Chavez makes up is more realistic than that.
Anyway, our new manager is giving us our one spring pep talk today, and our fake games start on Thursday, so I'll have plenty for you next time.