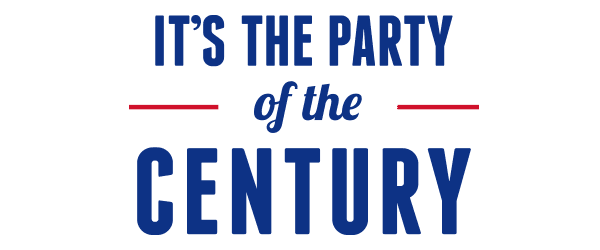 So the Cubs are billing this 2014 season the "Party of the Century." Â Oh, boy.
They released the promo schedule today. Â Keep in mind it's Wrigley's 100th anniversary, so some of the giveaways are not entirely Cubs focused. Â For instance in July they have a promotion where you get a bobblehead version of the Dave Matthews Band tour bus and it releases liquified feces off a bridge onto your bookshelf every 30 days. Â So there's that.
But let's look at what they're giving away. Â Every homestand celebrates a different decade.
Opening Week
April 4 v. Philadelphia – Opening Day – Cubs magnet schedule
Just what you always wanted, a handy reminder of every day the Cubs will lose this year. Â Put it on your beer fridge to help feed your alcoholism.
April 5 v. Philadelphia – Cubs magnet schedule
Same shit, different day.
1910s
April 18 v. Cincinnati – Joe Tinker Bobblehead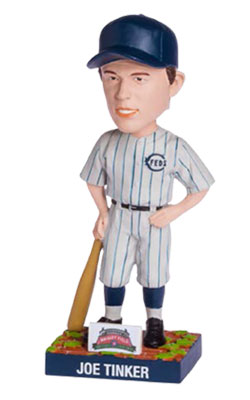 Before there was Ernie Banks, Joe Tinker was considered the greatest Cubs shortstop of all-time. Â The Hall of Famer posted a career on base average of .308, and an OPS plus of 96. Â Umm…but hey, the poem!

April 20 v. Cincinnati – Diecast Train Engine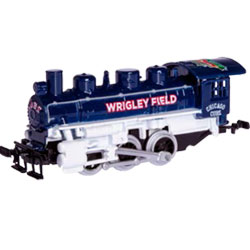 Dan Plesac will be on hand to do his awful Cubbie Blue Express Train bullshit.

April 23 v. Arizona – Chicago Federals Jersey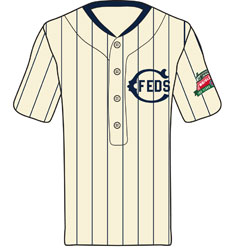 Oh, you don't get the jersey. Â But the Cubs will be wearing them, so you can look at them! Â Maybe Crane will sell you a copy of this drawing?

1920s
May 2 v. St. Louis – Red Grange Bobblehead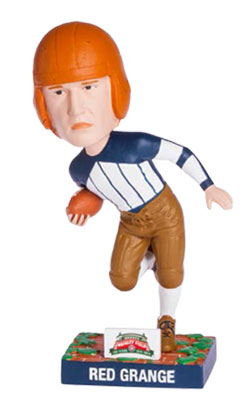 Why, it's the Galloping Ghost himself, University of Illinois and Chicago Bears superstar Red Grange, and he's wearing a pumpkin on his head.

May 3 v. St. Louis – Cubs Fedora Hat
Two great things about this awful giveaway. Â They are giving out 10,000 of them, so about 8,500 Cardinals fans will get them, and the Cubs feel the need to call it a "fedora hat" as opposed to all those other fedoras that are out there.

May 4 v. St. Louis – Cubs Yo Yo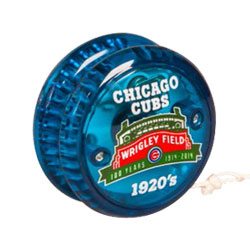 Look at this cheap piece of shit. Â I hope the 8,500 Cardinals fans who get this strangle themselves with it.
May 6 v. White Sox – "Pink Out" t-shirt
For fuck's sake.

1930s
May 16 v. Milwaukee – Babe Ruth's Called Shot Bobblehead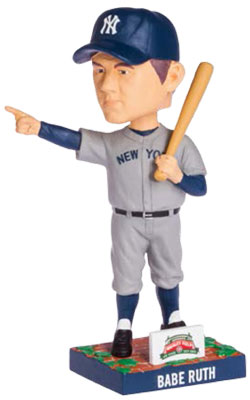 The Cubs really are the worst. Â This is like the Red Sox doing a Bill Buckner bobblehead with Mookie Wilson's ground ball rolling through his legs.

May 17 v. Milwaukee – Umbrella
This will come in handy at those July home games when you get fed up and try to jump out of the upper deck.
May 18 v. Milwaukee – Viewmaster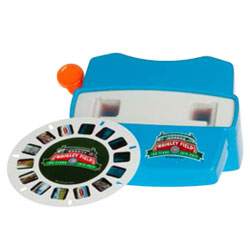 Ugh. Â I'll bet the photos on that thing are keepers. Â Probably great stuff like Kal Daniels falling down around third base and being tagged out by 65 feet. Â Or Neifi bunting with the tying run on second and two outs in the ninth.

1940s
June 6 v. Miami – All American Girls Bobblehead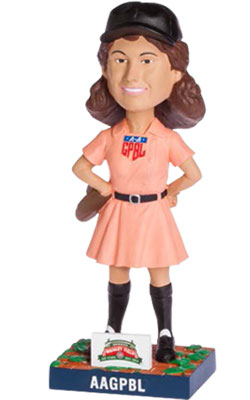 Jeff Samardzija in a dress. Â How quaint.

June 8 v. Miami – Andy Pafko OYO Mini Figure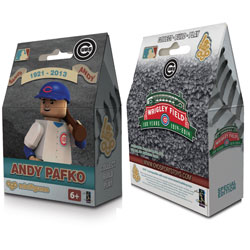 I'm sure Dandy Andy would be proud to have a Lego knockoff designed in his honor. Â Hey, at least it has his birth and death dates on it. Â That's not morbid at all.

1950s
June 20 v. Pissburgh – Ernie Banks Bobblehead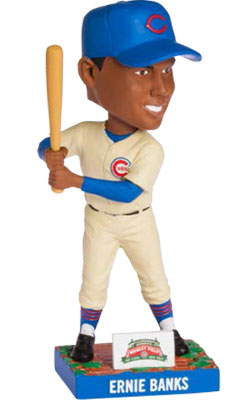 This looks just like Ernie Banks. Â As portrayed by Mario Van Peebles.

June 22 v. Pissburgh – Cubs Mr. Potato Head Keychain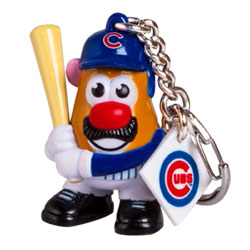 Nothing says hours of fun like a Mr. Potato Head where the pieces don't come off. Â This is basically a Barry Foote figurine.

June 27 v. Washington – Wrigley Field 100 Tote Bag
A tote bag? Â A tote bag? Â Why not just kick the first 10,000 fans in the nuts?

1960s
July 11 v. Atlanta – Gale Sayers Bobblehead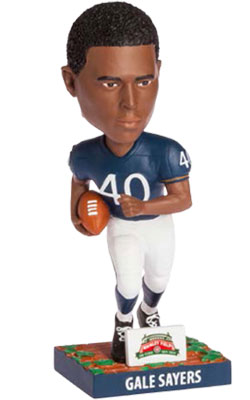 Just give me 18 inches of shelf space. Â It's all I need.

July 13 v. Atlanta – Cubs Etch A Sketch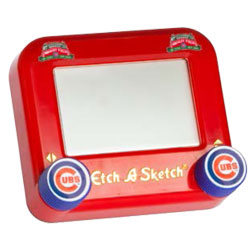 Really? Â This is what they're giving out. Â It's not like the Cubs had any good players during the 1960s or anything. Â Hey, how about a useless toy? Â It comes in handy because Crane writes the rooftop agreement on it and then they shake it up and throw it at him.

1970s
July 25 v. St. Louis – Jack Brickhouse Bobblehead
This could be cool. Â Who knows, though. Â They don't have a picture of it. Â It's probably of Jack being kicked to the curb while a drunken Harry Caray falls out of a limo.
July 26 v. St. Louis – Ernie Banks Replica Statue
I like this idea, and I'm sure they'll have a typo on it, just like they did the actual statue. Â But why don't they also have one of Ron Santo's statue? It's the coolest one they have.
July 27 Â v. St. Louis – Cubs Magic Baseball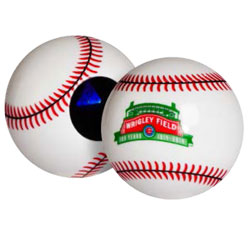 Will the Cubs be shitty forever?
"Without a doubt."

1980s
August 8 v. Tampa Bay – First Night Game Bobblehead
No picture of this yet. Â I assume it's of Morgana and her comically sized funbags do the bobbling while she molests Ryne Sandberg at home plate.

August 10 v. Tampa Bay – Cubs Rubik's Cube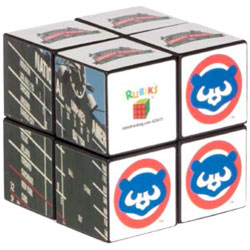 It's only has four squares per side instead of nine because Cubs fans are too dumb to have any hope of solving a real one. Â This shit is really awful. Â They expect to actually sell tickets with this crap?

1990s
August 22 v. Baltimore – Kerry Wood 20 Strikeout Bobblehead
When it bobbles you can actually hear his ulnar collateral ligament tear.
August 24 v. Baltimore – Gracie the Swan Beanie Baby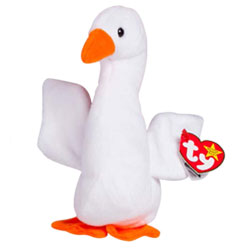 Gracie was the pinnacle back when John McDonough first figured out people will buy tickets just to get completely unrelated shit. Â The only good thing about this stuffed animal is that you can use it to fake a breathalyzer test.

2000s
September 5 v. Pissburgh – Greg Maddux 3000th Strikeout Bobblehead
It's not of Greg, it's actually just Omar Vizquel watching strike three go past.

September 7 v. Pissburgh – Build-a-Bear Doll
It's a stuffed animal you have to make yourself. Â Nothing says fun like manual labor.
Wow, what an assortment of shit.