So, The Big Lead is reporting that Fox Sports will announce this week that they will replace Tim McCarver with not one, but two analysts, to join the Joe Buck smarm-fest in their number one baseball booth starting this season.
One choice is fairly inspired. Â The other, is Harold Reynolds.
The choice of Tom Verducci is a good one, because he's done a good job when given the chance to do some games on MLB Network, he's smart, he's articulate and it's absurd to think you have to have played big league baseball to talk about it. Â Even though Verducci did spend five days as a Toronto Blue Jay in spring training one year, and wrote a very good piece about it for Sports Illustrated.
Not that Verducci is perfect. Â His first foray into baseball analytics was his so-called "Verducci Effect" which basically said that any time a young pitcher makes an innings pitched increase of more than 30 innings from one year to the next he's going to crumple into a heap next to Kerry Wood and Mark Prior. Â Saying most pitchers will get hurt if anything happens is a pretty fair bet, because most pitchers get hurt regardless. Â Baseball Prospectus took a large dump on the Verducci Effect last year.
But one bad idea doesn't disqualify you from the booth. Â I mean just look at Harry's shirt: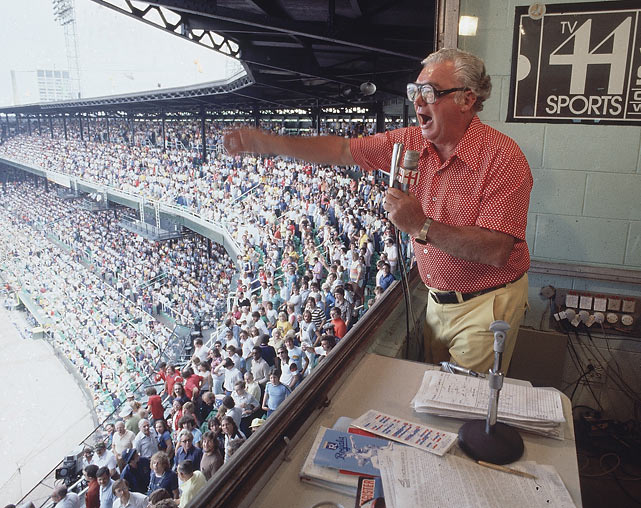 That didn't keep him out of the booth. Â (Look, old Comiskey, with fans in it! Â The Royals must have traveled well.)
The other new analyst though?
Sigh.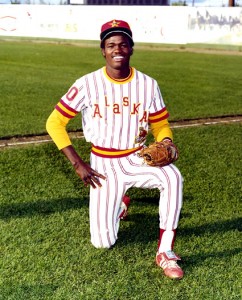 I mean, Harold Reynolds seems like a very nice guy. Â He looks and sounds good on TV, he played baseball at a high level. Â He's perfect.
Well, except for the fact that he doesn't seem to actually understand baseball. Â It was frustrating enough when he was one of the rotating cast of experts on ESPN's Baseball Tonight (remember when we used to actually watch that show?), saying stupid things. Â (He once said ERAs were going up league wide because the baseball that year had the MLB logo on it and it made it easier for batters to identify breaking pitches.)
But then he got fired for hugging a female co-worker a little bit too long in the parking lot of a Boston Market. Â (Boston Market's newest marketing slogn: Don't wait to get the taste of BM in your mouth!")
Harold claims the hug didn't happen at the Boston Market, but earlier in the day and he and the woman went to Boston Market later. Â Ooh, the scandal!
In his suit of ESPN, Harold's lawyer noted that his client doesn't "smoke, drink or use foul language."
That right there should disqualify him from this job.
With Harold canned for over-hugging, the airwaves were safe, until MLB Network hired him for their launch and gave him an even more prominent role than he ever had at ESPN. Â It just gives Harold more airtime to say stupid shit.
What Harold is, is a much more likeable version of Joe Morgan. Â Both frustrate you in their inability to appreciate what's truly important in the game they are describing. Â They aren't alone, it's a common thread among bad baseball announcers.
But after a while MLB Network became so aware of the fact Harold was saying stupid shit that they gave him and Brian Kenny a show, where it was Kenny's job to yell at Harold for saying stupid shit:
Harold's a big believer in cutting edge things like:
a player's spot in the batting order can affect his performance on defense
your fastest player should lead off, even if he can't get on base
your best hitter should bat clean up because that's how you did it in little league, apparently because the first three guys will get on and he'll hit a grand slam—every time.
great hitters get hits, not walks
steroids don't help you hit a baseball
no closer ever pitches well when the game is tied or his team is ahead or behind by four or more runs
Derek Jeter is still the best shortstop in baseball because…intangibles
And I could go on, but instead, I'll leave you with Harold's explanation of OPS.
It's been real interesting in the last couple years as I've watched how the importance of statistics has taken over how to analyze a baseball game. I used to play for an old time manager named Dick Williams who used to tell me, "The situation will dictate what happens." He used to call me to his office and say, "I should never have to give you a sign. You should know this is a bunt situation, you should know this is a situation where you need to take a strike, you should know the situation calls for getting the man over. I should never have to give you a sign, the situation dictates what happens."

But what I've been witnessing while I've been a broadcaster is everyone using these stats to try and explain the game of baseball. Not all statistics work. Some do, some don't. And one of the stats that has become real popular is OPS. On-base plus slugging. All of a sudden, it's this stat that defines whether a guy is a good ball player or not. And the fact of the matter is, if you're a power hitter then the situation will dictate what a pitcher does with you – either walk you or pitch you real careful. So more than likely you're going to end up on base and therefore your on-base percentage goes up. This in my mind has become the stat that everyone thinks is the be all and end all. It is not. If you have a ball club that's a great offensive team then that changes everything. But if you have a guy like Adrian Gonzalez, for example, his OPS is going to be high – he's got a lot of home runs and walks a lot…because you're not going to pitch to him. Power guys like Giambi and Dunn have always had high OPS because no one wants to pitch to them. But it takes two hits to score them from first.

This is how the game has changed. Dick Williams is pulling his hair out. This is not something people have reinvented in the game. You can go all the way back to Dave Kingman. When Kingman was hot, you didn't pitch to him. If he wasn't hot, you pitched to him. Big power hitters swing and miss and strikeout. Or they hit home runs and walk. And at the end of the year their OBP is always going to be higher than most of the other guys on the team because they clog the bases.

A few years ago this stat grabbed my ear when someone said that Ichiro doesn't walk enough. So I said, "What do you mean?" And they said his OBP could be so much higher if he walked more. The guy gets 200 hits a season! And he scores over 100 runs. I think that speaks for itself.

So as the old, wise Dick Williams used to tell me, "I should never have to give you a sign. The situation dictates what happens."
To put it mildly, Fox never wants us to enjoy a baseball game. Â First Tim McCarver. Â Now this.